DISCLAIMER: This content is provided for informational purposes only and is not intended as legal, accounting, tax, HR, or other professional advice. You are responsible for your own compliance with laws and regulations. You should contact your attorney or other relevant advisor for advice specific to your circumstances.
Despite the downfall of cable, restaurant video marketing has never been more important than it is right now. Last year, approximately 75% of internet traffic was video-based.
This means that if you want your restaurant marketing efforts to get noticed, you need to use video in some capacity.
I know what you're thinking:
"I don't need video for my restaurant."
"I don't know how to make a video for my restaurant."
"What would I even do with video for my restaurant?"
Well, worry not. We'll answer all of these questions to help the video marketer in you emerge, ready and eager to get creating.
Once you build a foundation, make sure you add a line item for video marketing in your restaurant marketing plan and budget.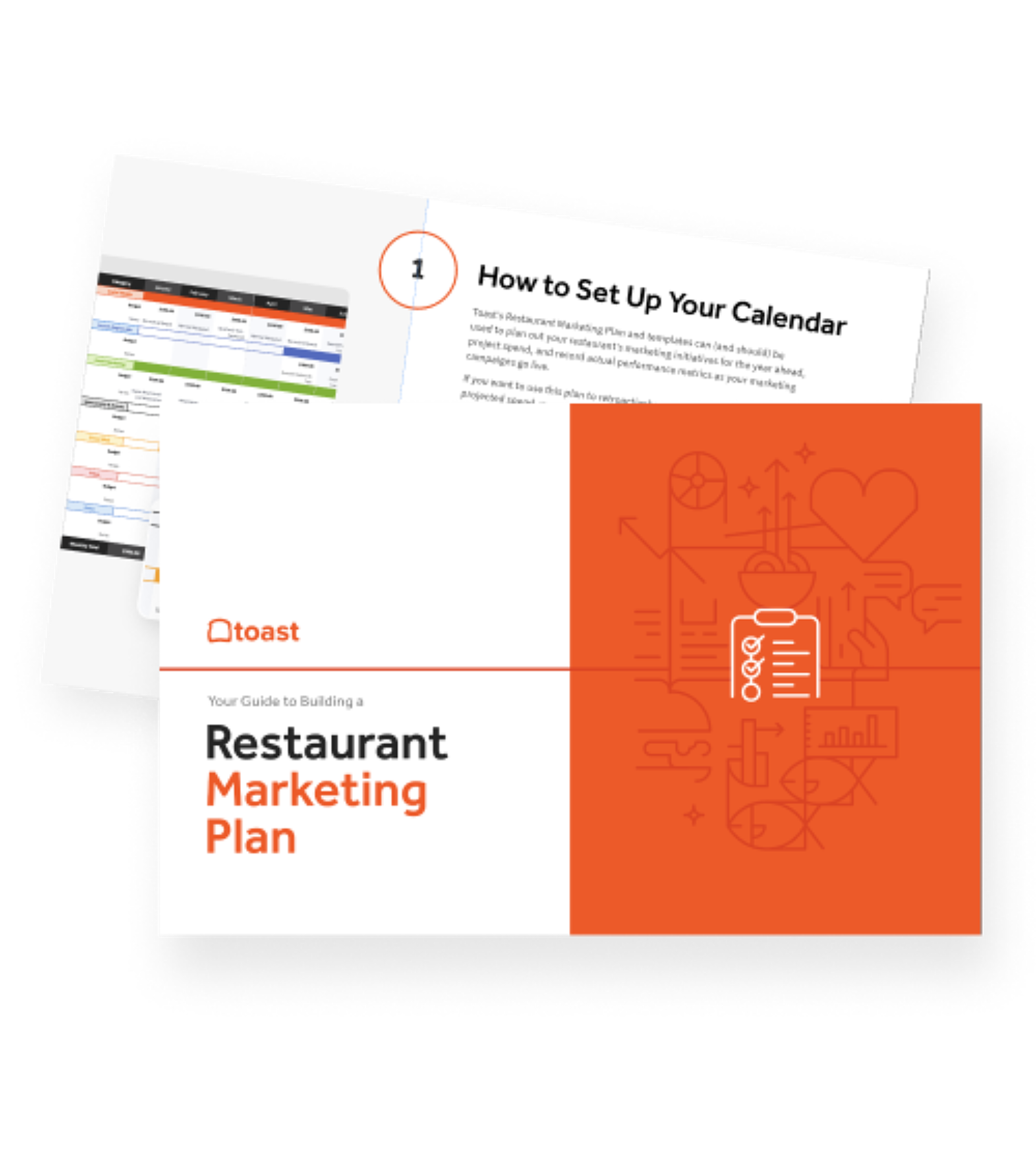 Restaurant Marketing Plan
Create a marketing plan that'll drive repeat business with this customizable marketing playbook template and interactive calendar.
Download
Tools for Restaurant Video Marketing
Now that iPhones and other smartphones have the ability to shoot in 4K, the stage is ripe for restaurants to produce high quality restaurant video marketing and promotional content.
Apps like Filmic Pro and MAVIS, which turn your smartphone into a high-quality video-making powerhouse, and we all know how easy it is to connect with current and potential guests through restaurant social media marketing.
While Filmic Pro and Mavis are both paid apps, they offer something that your regular iPhone or android video app can't offer: the ability to record and export high-quality video with total control of the image.
Used in conjunction with inexpensive hardware peripherals like a Melamount Stabilizer (which costs less than $40), any restaurateur can produce high-quality video without having to buy or rent expensive camera equipment.
The obvious next question is: What kind of restaurant videos should we create? Well, don't worry about creating an Oscar-worthy film. 56% of videos published in the last year were less than two minutes.
Fortunately for you, consumers want quick, easily digestible content, so you don't have to spend too much time (or money) with restaurant video production.
That said, what guests will respond to may not always be crystal clear, so here are a few ideas to help get you started with restaurant video.
1. Grand Opening Announcements
If you're starting a new restaurant, you want as many people as possible to know who you are and what kind of cuisine and atmosphere they can expect when they walk through the door for your grand opening.
Shooting a quick video showcasing these can be a great way to immediately familiarize your customers with your style and get people excited.
Dining area
Popular dishes
Your staff
The kitchen and cooking process
This can be especially useful if you have a soft launch with your dining areas full of people. Check out PizzaRev's grand opening video below. In one video, PizzaRev establishes their brand, concept, atmosphere, and even shares the charities they support.
Another example of a great grand opening announcement is BDK Restaurant in San Francisco, which recently re-opened as Tratto.
Not only does the video show the aesthetic of the restaurant, but we also get a peek into the kitchen, the team, and the food being prepared; everything shown in the video is meant to make the viewer feel that they're more than just another patron, but rather a privileged guest with an all-access pass.
This kind of openness can help to build a sense of familiarity between the customer and the restaurant.

If you've got the budget and your concept is high-profile, hiring a professional video crew to capture your grand opening may be worthwhile.
If not, use some of those apps and resources I mentioned earlier, post the video on Facebook, and target your local audience with some advertising money for what will probably be a lower cost.
2. Show Why Your Customers Love You
Quite often, then best type of promotion does not come from you; it comes from your customers.
Bareburger has a number of videos in which customers of different nationalities share what they love about the restaurant, from their favorite menu item to the fact that Bareburger uses reusable materials as part of the decor of their restaurant, reinforcing their organic and all-natural message.
Not only does this help to establish their brand, but it also adds a more human and community-friendly aspect to their messaging.
Asmara Eritrean Ethiopian Restaurant in San Diego has another video that's a great example of the power of your customer's voice. In the first section alone, they introduce a customer who has never had Ethiopian food before, show how much she enjoyed it, and also show that they have vegetarian options for those not familiar with the cuisine.
Further along, they introduce more of the culture attached to the cuisine, namely using the flatbread as a utensil, which sets them apart from other, more traditional restaurants, allowing for a new experience.
3. Host a Cooking Show
A great way to build community, as well as get people in the door, is to show exactly how you cook your guests' favorite dishes.
Not only does this give your guests a "behind-the-scenes" look at your location, but it also introduces them to your chefs. UK restaurant The Aldwark Arms uses this as an opportunity to help potential guests familiarize themselves with the types of food that they offer.
Chef Robert Young of Bastone Restaurant in Royal Oak, Michigan is another example of how a cooking show can be used to bring in customers.
Not only does Chef Young teach you how to cook a delicious meal, he highlights that they serve the same meal, and use the same techniques in the restaurant for those who don't want to try at home.
4. Feature Your Food and Drinks
Much like showing how you cook your dishes, a surefire way to entice your followers to come in is to feature one of your new or more popular beverages. Elephant Walk does this in a simple yet powerful way. In this clip by Phantom Gourmet, Elephant Walk speaks to the originality of their cuisine, what goes into their spring rolls, and what sets them apart from other Asian-inspired restaurants.
Even better? Elephant Walk's quality food spoke for itself, and actually attracted a local food program to come to them to create a video.

Zoukis Mediterranean proves that you don't need to have a long video to prove a point. In the video below, which lasts only fifteen seconds, they advertise their featured dish, steak kebobs, with no dialogue or overused terms.
With only their logo, high-quality photos of the dish, and the final result (along with their address and phone number), Zoukis Mediterranean does more in a short amount of time than some can do with a full page advertisement in a local magazine.
5. Feature Your Chefs
Some of your best assets are the individuals that invent the dishes your guests love.
Interviewing your chefs on where they came from and how they approach developing their dishes can help to personalize your brand and create a connection between you and your followers.
Here's Chef Jamie Bissonnette of Toro and Coppa telling his story of why he became a chef and what goes through his mind to create unique dishes. This adds a more personal touch to their customer's dining experiences.
Restaurant Video Marketing: Not as Hard as It Sounds
I've seen many people become apprehensive when it comes to producing video for their business due to the learning curve, cost, and time.
However, what many don't realize is that they already have everything they need from tools to concepts to enhance their marketing efforts with video.
Even if you don't have access to a high-cost production team, focus on what your restaurant has that makes it unique, and you'll attract more guests to your restaurant with video.