DISCLAIMER: This content is provided for informational purposes only and is not intended as legal, accounting, tax, HR, or other professional advice. You are responsible for your own compliance with laws and regulations. You should contact your attorney or other relevant advisor for advice specific to your circumstances.
COVID-19 has changed the restaurant business swiftly and dramatically. As cities go silent, restaurants that have chosen to stay open are trying to keep up customer engagement as much as possible. While you can't currently delight your guests by bringing over a complimentary dessert to their table or having meaningful in-person conversations with them, there are other ways to encourage return customers, without depleting your profits.
Offering physical gift cards might not be the best option for your restaurant as social distancing is enforced, but by offering e-gift cards, anyone can give your business a boost from their sofa. Regardless of whether or not people are currently allowed to dine in at your restaurant, there's still a lot of opportunity to use gift cards to promote (and fund) your restaurant.
If the idea of gift cards is new to your restaurant, there's no time to waste. Check out Toast Now™, which allows you to set up digital channels, like e-gift cards, online ordering, contactless delivery, and a mobile ordering app. This can be implemented immediately, with no hardware or POS purchase required.
Your community wants to help. Local businesses all over the country are being supported by their neighbors in various ways, like donations, ordering take out or delivery, and purchasing gift cards for future use.
Advertising your e-gift cards is really important right now, as they're proven to attract new customer visits as well as return customers, and it costs you almost nothing to sell them. Additionally, you can use the cash generated for weeks, months, or even years before the card is redeemed, which is ideal during this time of uncertainty. It's important to be tactful and honest with your approach when advertising, so here are some ways to market your e-gift cards.
How to Market Your Gift Cards
Create a Marketing Strategy
Before considering how to market your e-gift cards, creating a marketing plan is an important first step. You should evaluate who your target audience is, which social channels they are on, and a budget that is realistic. Once you've figured out these components, you can expand to say how much of your restaurant marketing strategy will veer toward gift card advertising, and you can begin marketing your gift cards with a much more thorough planning process.
Promote Them Everywhere
You can have the greatest food, the best promotions, and the most useful bonuses, but if you don't let anybody know about your gift card program, it's doomed to fail.
Let customers know about your gift card program. The following platforms can be effective ways to tell of your gift card availability:
In-Store Card Display (at hostess stand, in waiting area, at cash register, etc.)

In-House Signage, Posters, and Displays

Menu Call-outs

In-House Email List

All Social Media Channels

Server Suggestion/Upselling

Table Tents

Direct Mail

Storefront Signs

In-Store Video Screens

Local Sports and Event Programs

Menu Inserts

Your Restaurant App
While some of these options won't work given the current circumstances, you can use them in the future to get the word out once things are "back to normal."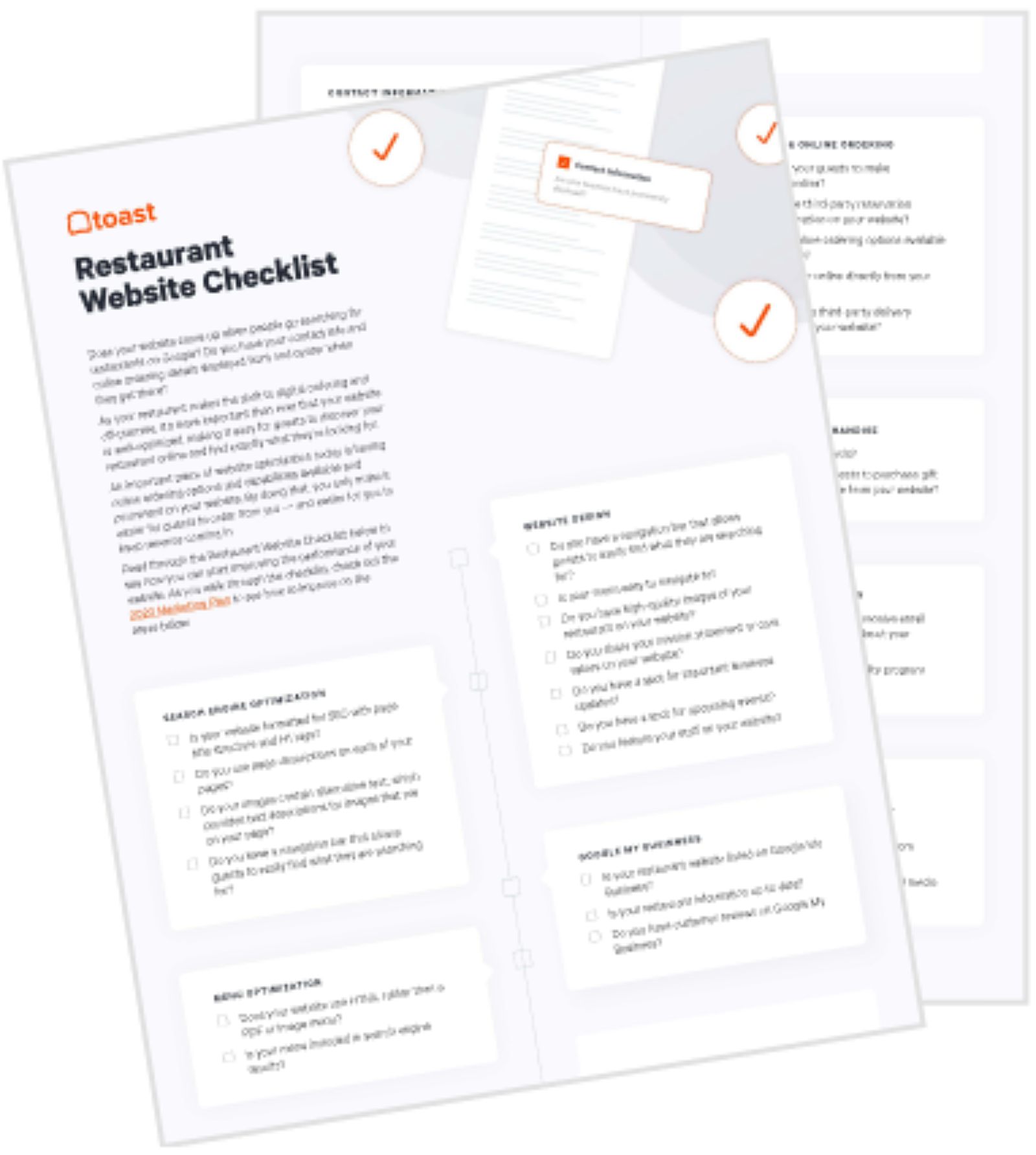 Restaurant Website Checklist
This template will help you update and optimize your website, so guests can easily find and order from you.
Download
Be Honest
Your customers want to know the truth, even if it's a tough pill to swallow. Right now, for many restaurants, gift card purchases are their only chance of remaining open. If your restaurant is in the same boat, that's a message that needs to be conveyed to your audience.
There's a real advantage to speaking in a straightforward, human way — if you can show your audience your vulnerabilities, they will respond positively. Things don't always go according to plan, which is evident today as a wrench has been thrown into the economy and our industry.
But if you can show your guests that you are fighting, and that you need their help to keep up the fight, you're solidifying the bond that you've likely built with customers through chatting in person. You're showing that they matter, and you're urging them to support businesses they care about, and they'll listen.
If you're using gift card sales to give back to your staff, who are probably working significantly fewer hours, tell your customers that. Loco Taqueria is giving 50% of their gift card sales directly to their staff, which is a huge incentive for those looking to help their local community and restaurant workers specifically.
Show Gratitude
Another important thing to remember during this time is that you have customers that care so much about your business. Show them just how thankful you are that they're willing to support you.
Pandemic or not, your restaurant runs because of caring individuals that keep coming back for your amazing entrees, delectable desserts, and to-die-for drinks. The relationship that you've built with your patrons means the world to you, so let them know that.
The Union Market shared just how impactful the support of their community has been to keeping their small staff working, and used their instagram post to write how incredibly grateful they are.
Atomic Taco shared their gratitude as well, acknowledging both their loyal and new customers that have helped their business during this unsettling time.
Entice Guests With Future Visits
It's tough being cooped up in your house, and everyone is feeling that right now. Remind your guests that this too shall pass. Give them a glimpse of what the future can hold. Talk about your patio seating that's excited to host your summer parties; talk about your staff that is eager to serve their regulars again; talk about your business with hope for the future.
We all need a little positivity right now, and though it may be challenging to focus on the light at the end of the tunnel, it will keep you, your staff, and your customers in the right headspace. Tell your guests that their gift card purchases are essentially loaning a small amount of money to your business, and simultaneously remind them that they will eventually be able to eat a delicious meal at your restaurant thanks to that mini-loan.
Use Community Gift Card Platforms
There are sites that aggregate gift cards from all kinds of restaurants so guests can easily view and select which restaurant they'd like to support. Rally for Restaurants does just that, while also donating $1 for every gift card purchase shared on social to organizations that help restaurant workers. These types of sites get tons of traffic, so that's a lot more eyes on your restaurant.
Offer Promos
Giving customers a discount is a great incentive for them to purchase a gift card for the future. Consider implementing some sort of discount. This will help you sell a larger number of gift cards, which will help your bottom line.
You can choose to offer a percentage off any gift card purchase, like Art of Salad, or you can offer a free gift card with a certain purchase amount, like B2 Bistro & Bar is doing.
Include Gifts
If you have merch, chances are it's probably not flying off your shelves at the moment. Use your merchandise as an upselling technique to get customers to purchase gift cards. For those that love your restaurant, giving a gift of some sort will warm their hearts and let them know that they are being thought of during this time, too. Cafe Selmarie is offering a free coffee mug with every $50 gift card purchase, which gives customers even more of a reason to purchase.
Using different tactics to grab your customer's attention is essential, especially now because you don't have the typical foot traffic in your restaurant. Advertising your gift cards and e-gift cards everywhere, being honest, showing your gratitude, offering promos, and talking about the future are all effective ways to get customers to buy gift cards.
Related Restaurant Marketing Resources