According to Toast's Restaurant Success Report, the three most popular channels that successful restaurants use are social media advertising, charity and event sponsorship, and traditional Newspaper ads.
But where do you advertise and how do you stand out so you can prove the ROI of these restaurant ads?
Here are 10 creative restaurant advertising ideas your restaurant can try.
1. Facebook Location Ads
With a complex yet customizable ad manager, you can make many different types of ads in Facebook with different objectives.
Location ads also allow you to target potential customers within a certain radius of your restaurant and track whether they saw your ad and visited your restaurant after the fact.
The main call-to-action on this ad is, of course, to Get Directions. See the Church's Chicken example to the left.
Facebook will then track, using the phone's geolocation data, whether your ad influenced this customer's visit. Church's Chicken here saw an 8x return on ad spend thanks to this campaign.
2. YouTube Ads
48% of restaurateurs said they use or would use YouTube as part of their restaurant marketing strategy in 2017 according to the Restaurant Success in 2017 Report.
That's not surprising, as YouTube has 1 billion unique users now visiting the video-sharing website every month, or nearly one out of every two people on the Internet.
If your restaurant doesn't have a YouTube strategy, you might be missing out. Create promo videos like this one from Pont Breaux's in Louisiana.

Showcase that video all over your social channels and website, but also be sure to consider YouTube advertising as something to test. YouTube works on a pay-per-view model, so you only pay when people are watching your video. You can even target the ads so they only appear to people in your area
3. Google Search Ads
We've talked about restaurant SEO before. But have we mentioned SEM?
Search engine marketing (SEM) is the act of bidding for certain keywords, like "italian restaurant in Boston," to appear on the first position of Google search results.

This strategy is for the advanced restaurant marketer. There are certain keywords that may make sense to bid on (such as "best italian restaurants" above) and some that may not (such as "best restaurants"). The more search volume a keyword has, the more expensive it is, in most cases, so run this test on keywords that hit the sweet spot.
We recommend Google Keyword Planner for this keyword research, as you can start a campaign right from there. Tools like OpenTable restaurant marketing can also make this simple.
4. Instagram Ads
Instagram might be the most important social network for your restaurant. Diners love to post pictures of their food on Instagram under hashtags like #eeeeeats and #foodies. The foodie culture lends itself to this social network particularly well.
That's why it makes absolute sense for your restaurant to advertise on Instagram, putting money behind your best pictures of menu items and sending people to your online ordering platform or your reservations software.
For example, Visit California showcases some of California's restaurants in this carousel ad, which allows you to swipe through colorful photos of menu items.

They of course are using these ads to showcase restaurants participating in restaurant week or restaurant month in California, hopefully driving foot traffic to these locations.
5. Twitter Ads
Have you heard that Domino's now lets you order pizza through an emoji on Twitter? With over 330 million active users on Twitter every month, it would be crazy not to take advantage of this audience.
Poncho No. 8, a restaurant in London, promoted their grand opening through Twitter ads, inviting people to follow them and visit the restaurant day of for "freebies and amazing food." Twitter ads are a great way to get exposure in your local area.
6. Yelp ads
Yelp is a controversial platform: some love the review site, and some hate it.
However you feel, managing your Yelp reputation is essential for your business. Like Google Adwords, you can move your restaurant reviews to the top of the search engine results through Yelp advertisements.
With Yelp ads, you can target searches in your local area, and even pay for placement on competitor business pages. These ads also work for mobile or desktop devices.
A recent study showed that Yelp ads for restaurants increase the visits to a restaurant's Yelp page by 25% on average, and increased the number of purchase intentions: generating directions to the business increased 18%, clicking through to a restaurant's website increased 9%, and calling the restaurant from Yelp increased 13%. This is a worthwhile platform to test ads, as many diners turn to Yelp first to figure out where to dine out.
7. Chamber of Commerce Ads
Time to get creative. Your local Chamber of Commerce wants to see small businesses succeed. So why not add Chamber of Commerce ads to your restaurant marketing plan in 2018?
The Chamber of Commerce, in many cases, has addresses and email addresses for people throughout the town, and key guidelines for how to advertise with them.
For example, many Chamber of Commerce organizations send out a packet to new members of the community with recommendations for businesses to frequent. That's where your restaurant could have an ad!
The Richardson Chamber of Commerce sends a weekly email calendar, banner advertisements on business directory search pages, and email ads to send to thousands of businesses in the community.
Find your local Chamber of Commerce and ask about advertising opportunities in your area!



8. Sponsor a local team or be in the school musical playbill.
Speaking of local advertising opportunities, we can't ignore these fun offline opportunities.
Many towns have local sports teams that need sponsorship for equipment, uniforms, etc. This is the perfect opportunity for your restaurant to pitch in, plus get your logo on these uniforms.
Sponsormyteam.com matches recreational sports teams with local bar and restaurant sponsors. That's a great place to start to look for these sponsorship opportunities. Otherwise, ask around. Your local Chamber of Commerce may know of a team!
Another local advertising opportunity that restaurants can take advantage of is buying a page in the school musical playbill.
In this example, Somerset Grille showcases their hours, location, and a few pictures of their awesome food in a playbill for the Somerset Berkley Regional High School's production of Sister Act.
9. Snapchat Ads
Snapchat is the fastest growing social network ever, with more and more millennials and Gen Z'ers joining the app and Snapchatting their friends. Restaurants can capitalize on this network in two ways by buying Snapchat filters.
Snapchat geofilters can be added to images Snapchatted in your restaurant. In this article, Good Milkshake Digital shares a success story: they paid for a restaurant Snapchat story for $15. 41 people used the filter and it reached 1800 new people. That's 1800 new people seeing the great dining experience in your restaurant! Learn how to create geofilters here.

Snapchat also just added a new feature called context cards that aggregates information from TripAdvisor reviews and FourSquare tips, allows people viewing to hail a ride from Uber or Lyft even has the ability to link to reservations and the menu.
10. Swarm and Foursquare Ads
Swarm is an app that launched in May 2014 and is a rebranding of the popular app Foursquare. The app lets people check in to locations and meet up with their friends, gamifying the location-sharing app.
The new Swarm allows users to check in and see an interactive map showing exactly where you've been. It also allows you to see a timeline of events, including who was there with you.
When a user checks in to a certain area, you can serve an ad to your restaurant (perhaps sharing your latest promotion) to keep your restaurant top of mind.
To learn how to set up ads on Foursquare and Swarm, check out this article.
What are your restaurant advertising tips?
Where do you advertise your restaurant? On which platforms have you seen the most success?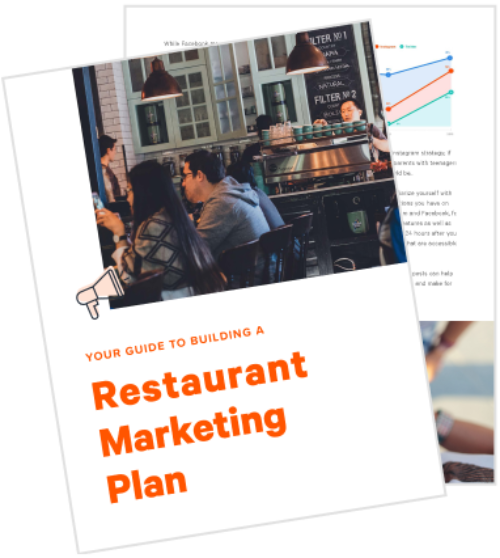 Restaurant Marketing Plan
Create a marketing plan that'll entice and engage the customers you want with this customizable marketing plan template and interactive calendar from Toast.
Download