DISCLAIMER: This content is provided for informational purposes only and is not intended as legal, accounting, tax, HR, or other professional advice. You are responsible for your own compliance with laws and regulations. You should contact your attorney or other relevant advisor for advice specific to your circumstances.
You know that song that's been burrowed in your brain for the past few days? Something about it — the chorus, the melody, tempo — refuses to leave you alone.
Fast food restaurant slogans work the same way. By necessity, they're shorter than a song— the point is to be brief, effective, and memorable. Catchy restaurant slogans capture the attention of a target audience, establish brand awareness, and create a unique tagline that makes your restaurant stand out.
Restaurant slogans often serve as first impressions; tone-setters that can help shape a customer's perception of a restaurant for years to come. It's an opportunity to leave an indelible mark with consumers, and stay relevant in an evolving market.
While fast food chains preach an in-and-out mentality, their catchphrases should be anything but. The more memorable a slogan is, the better chance a restaurant has of staying at the forefront of customer's minds.
What are Restaurant Slogans?
A restaurant slogan is a phrase you create to describe what makes your restaurant special. Your slogan will be used throughout various elements of your marketing plan, it's important to make sure it's clear, memorable, and effective.
To stick with the music metaphor, restaurant catchphrases are a lot like a song's chorus or opening bar. It's the very first thing customers will think of in regards to your brand.
Burger King – Have it your way.

Dunkin Donuts – America runs on Dunkin.

McDonald's – I'm lovin' it.
These famous slogans have instant brand recognition, create a positive association with the restaurant, and foster familiarity with customers worldwide.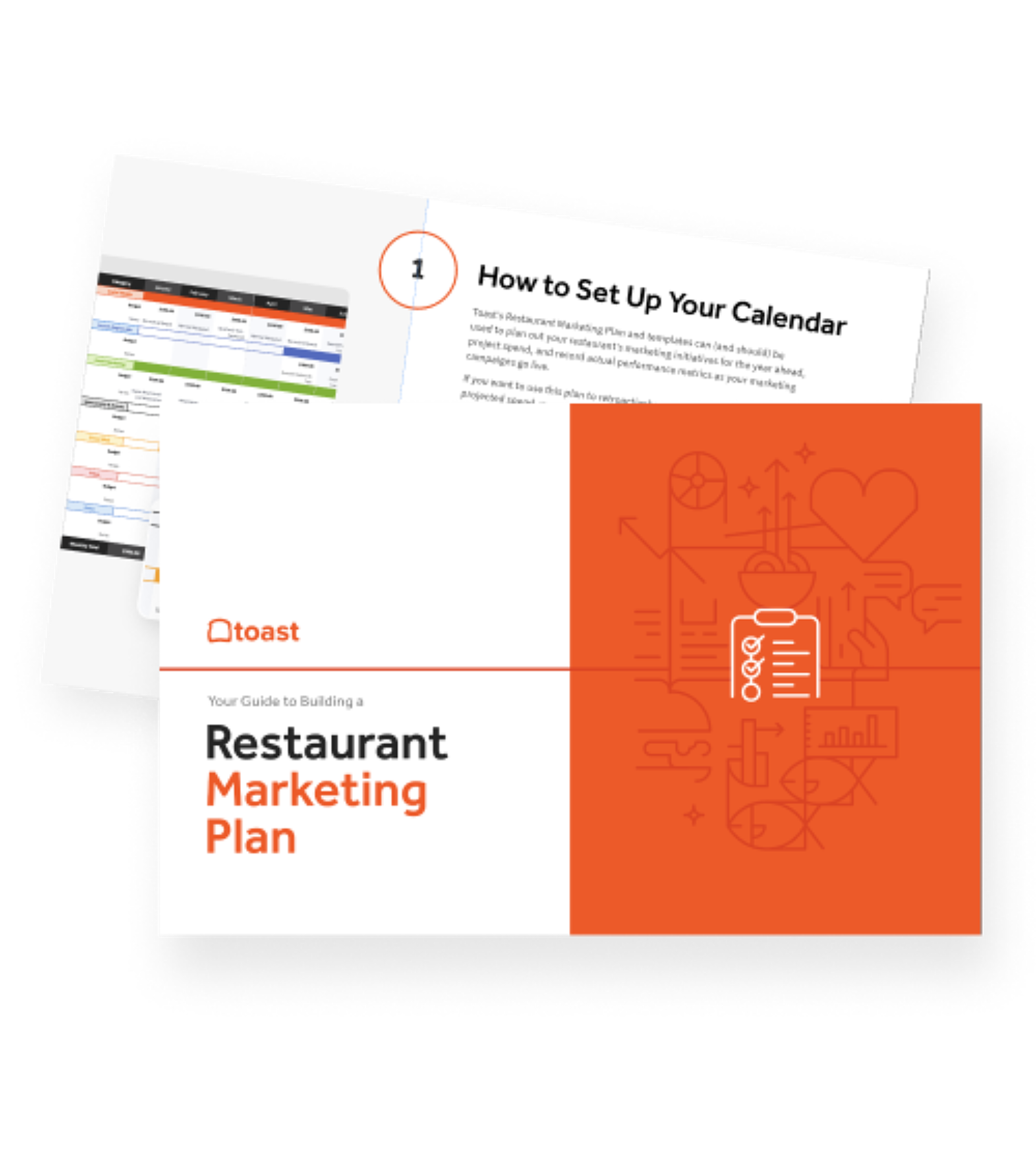 Restaurant Marketing Plan
Create a marketing plan that'll drive repeat business with this customizable marketing playbook template and interactive calendar.
Download
How to Make a Restaurant Slogan
Like a good song, the right elements need to fall into place. Which means your ideas will probably need to be workshopped — a lot. When deciding what your restaurant's slogan should be, there's a lot to consider, such as:
Who your target audience is.

How your slogan will align with your values and brand.

How to get your point across with as few words as possible.

Pre-existing popular slogans.
In this article, we'll walk you through how to create a unique slogan for your restaurant, using popular slogans that successful restaurants have used as examples.
There tends to be a recipe for success when it comes to restaurant slogans. The Daily Meal writes that the most successful slogans are "short and snappy; they somehow define what the product is, and most importantly they know their audience."
What are some popular restaurant slogans?
IHOP – Come hungry, leave happy.

Subway – Eat fresh.

Wendy's – Where's the beef?
What makes a restaurant slogan popular or catchy?
Restaurant slogans should be easy to understand, simple, and short.

Slogans should be specific to your cuisine or mission.
There are several catchy slogan generators out there, if you need some inspiration. You can also use your staff, customers, and vendors as helpful resources, to help brainstorm a tagline or slogan.
Consider your Audience
A fast food restaurant's primary appeal is convenience. Knowing that, chains work to create easy-to-eat dishes in a hurry because they know who their audience is.
When planning any restaurant marketing strategy, it's important to be aware of the audience you wish to target. Are the majority of your customer's families, or do college-age kids frequently dine in? This plays into how you design your slogan and brand your restaurant.
If your restaurant is international, there are certain language barriers to consider. For example, when KFC launched the slogan "Finger-lickin' good" in China, it translated to "Eat your fingers off" — which isn't exactly what they intended to convey!
Don't Use Generic Descriptions
Saying that your restaurant provides "great service at a reasonable price" doesn't differentiate you from your competition. Make sure your slogan identifies what's unique about your establishment, instead of simply stating what a customer would expect from any restaurant. Consider your concept, your type of cuisine, and your intended message before you decide on a slogan.
Take Olive Garden's former slogan: "When you're here, you're family." Their aim was to convey that eating at their restaurant was similar to eating at your own kitchen table. Their never-ending salad and breadstick options are meant to be enjoyed by an entire group, and the environment is conducive to having lively conversations. None of that is explicitly stated, but the messaging still comes across.
Use descriptive imagery to boil down your services, ambiance, and culture into a tight catchphrase or slogan.
Keep it Short and Sweet
It's important to be direct and to the point with your language. This will help make sure your slogan sticks in customers minds. Restaurant slogans should consist of 10 words, max, and ideally, much less.
Using writing techniques like alliteration or rhymes will help slogans roll off the tongue. Consider Arby's slogan of "Good mood food."
This may go without saying, but it's definitely best to associate your brand with positive language. HubSpot uses Reeses's Peanut Butter Cups as an example when it comes to the power of positive restaurant slogans. "'Two great tastes that taste great together,' gives the audience good feelings about Reese's, whereas a slogan like Lea & Perrins', "Steak sauce only a cow could hate," uses negative words.
Enlist Your Staff and Customers
If you're having trouble coming up with a restaurant slogan, include your managers, your front and back of house staff, and even your customers. Host a contest to see who can come up with the best slogan and offer a reward — either monetary or otherwise — to encourage participation. You can even host a big reveal party and offer specials and discounts on your menu items as a great way to increase the hype. It's all part of building your restaurant brand.
The Best Restaurant Slogans of All Time
Coming up with catchy slogans is an art form, and these restaurants have it down pat. Here are some of the most memorable examples, to get your creative juices flowing.
Fast Food Restaurant Slogans
Arby's – We have the meats.

Burger King – It takes two hands to hold a Whopper.

Carl's Jr. – Don't bother me, I'm eating.

Hardee's – Feed your happy.

In-N-Out Burger – Quality you can taste.

KFC – Finger lickin' good.

Pizza Hut – No one outpizzas the hut.

Qdoba – Food for people who love food.

Sonic – Service at the speed of sound.

Taco Bell – Live mas.

Wendy's – You know when it's real.

White Castle – The crave is a powerful thing.
Recognizable Restaurant Taglines
Applebees – Eatin' good in the neighborhood.

Dairy Queen – Hot eats, cold treats.

Dunkin Donuts – America runs on Dunkin.

Five Guys – Always fresh, never frozen.

IHOP – Come hungry, leave happy.

Olive Garden – When you're here, you're family.

Papa John's – Better ingredients. Better pizza.

Subway – Eat fresh.
Funny Restaurant Slogans
El Pollo Loco – When you're crazy for chicken.

Harvey's – Meat. Fire. Good.

Long John Silver's – We speak fish.

Pat O'Brien's – Having Fun Since 1933.

The Purple Pig – Cheese, swine, & wine.

Zero's Subs – We're hot and on a roll.
Catchy Restaurant Taglines
Arby's – It's good mood food.

McDonald's – I'm lovin' it.

Popeye's Chicken – Louisiana fast.

Quiznos – Mmmmm… Toasty!

Taco Bell – Yo quiero Taco Bell.

Wendy's – Where's the beef?
Descriptive Restaurant Slogans
Bahama Buck's – The greatest sno on Earth!

A&W – Where the food's as good as the root beer.

Blaze Pizza – Fast fire'd.

Chili's – Fun. Fresh. Flavorful.

Chipotle – Food with integrity.

Honeygrow – Do more with your vegetables.

Hot Chick, Inc – A fried chicken story.

Jack in the Box – We don't make it 'til you order it.

Jimmy John's – Freaky fast, freaky good.

Off the Grid – Follow the smoke and go.

Ruth's Chris Steakhouse – Some people call it a sizzle. We think of it as an anthem.

Waffle House – Good food fast.
Crafting a Great Slogan
There's an art to saying a lot with a few words. Creating a slogan can be a tough process, and it might be stressful to put dollars behind something you're not 100% sure of. If you're thinking of creating a slogan for your restaurant, there's good news — nothing is final and you're always welcome to change it, just like many of the leading restaurant brands in the world have done.
If you spend time gaining perspective on how you want to represent your restaurant and who you're targeting, as well as use creative and descriptive language, your slogan may just stand shoulder to shoulder with McDonald's, Burger King, and KFC!
Related Restaurant Opening Resources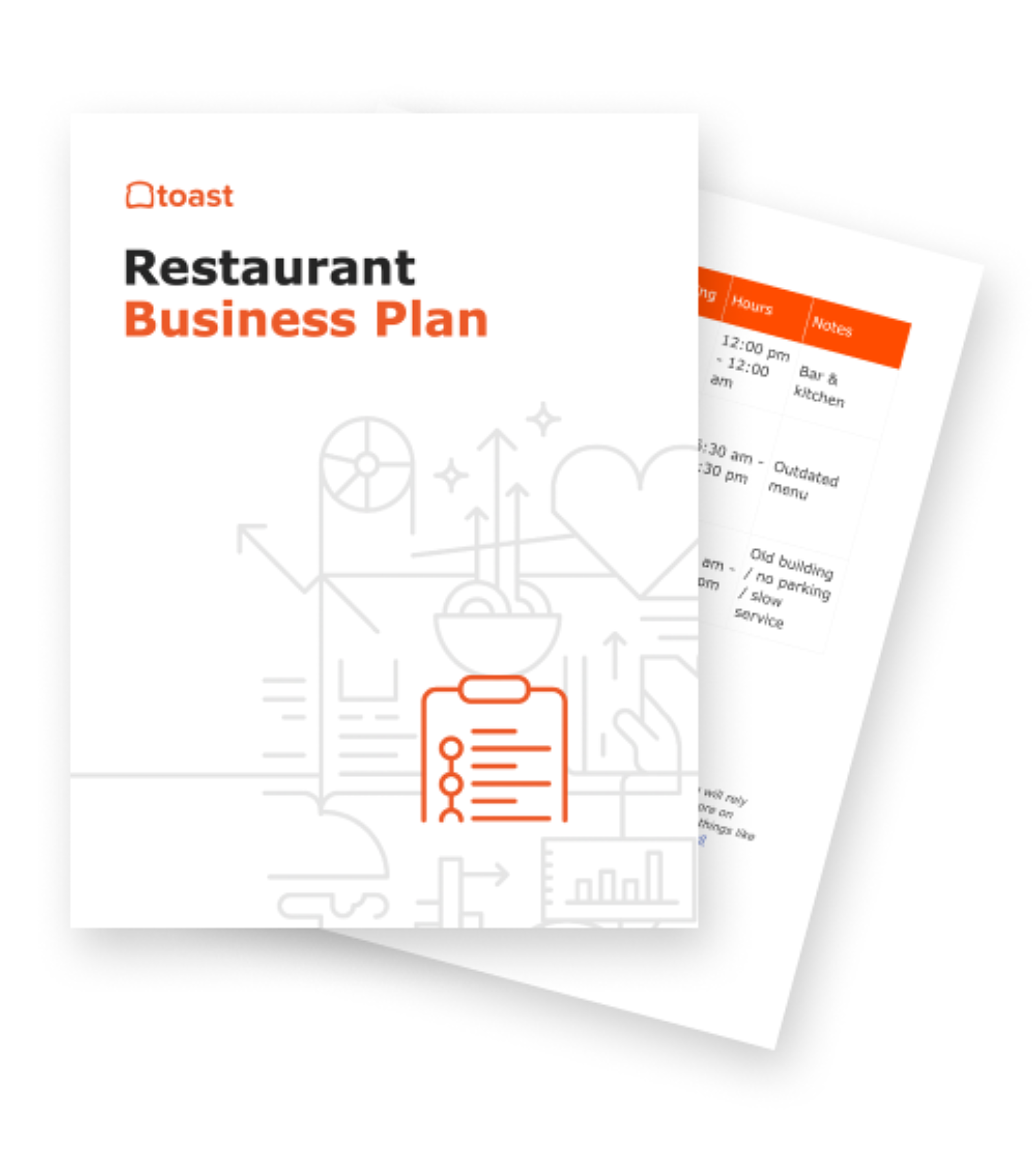 Restaurant Business Plan Template
No matter where you're at in your restaurant ownership journey, a business plan will be your north star. Organize your vision and ensure that nothing is overlooked with this free template.
Download