Ba-da-ba-ba-da, I'm lovin' it.
You'd be hard pressed to find someone who didn't sing that tune in their head as they read along. It's permeated the minds of kids and adults alike to remind everyone of the golden arches just around the corner. While McDonald's has cycled through a whole slew of slogans over the decades, this one has stuck the longest.
There are plenty of benefits to creating a catchy restaurant slogan, like capturing the attention of your target audience, establishing brand awareness, and creating a unique tagline that makes your restaurant stand out.
McDonald's isn't the only restaurant that has used slogans to their advantage — many restaurants across the globe use slogans to capture guests' attention.
Famous Restaurant Slogans
Burger King – Have it your way.

Dunkin Donuts – America runs on Dunkin.

McDonald's – I'm lovin' it.
These famous slogans immediately create brand recognition, a positive association with the restaurant, and a familiarity that follows customers nationwide and even around the globe. Businesses can incorporate a lot of what makes famous restaurant brands successful by emulating the tried and true tactics for branding your restaurant, from slogan to customer service, and more.
When deciding what your restaurant's slogan should be, there's a lot to consider, like:
Who your target audience is.

How your slogan will align with your values and brand.

How to get your point across with as few words as possible.

What are some already popular slogans?
In this article, we'll walk you through how to create a unique slogan for your restaurant, along with some popular slogans that restaurants have used over time.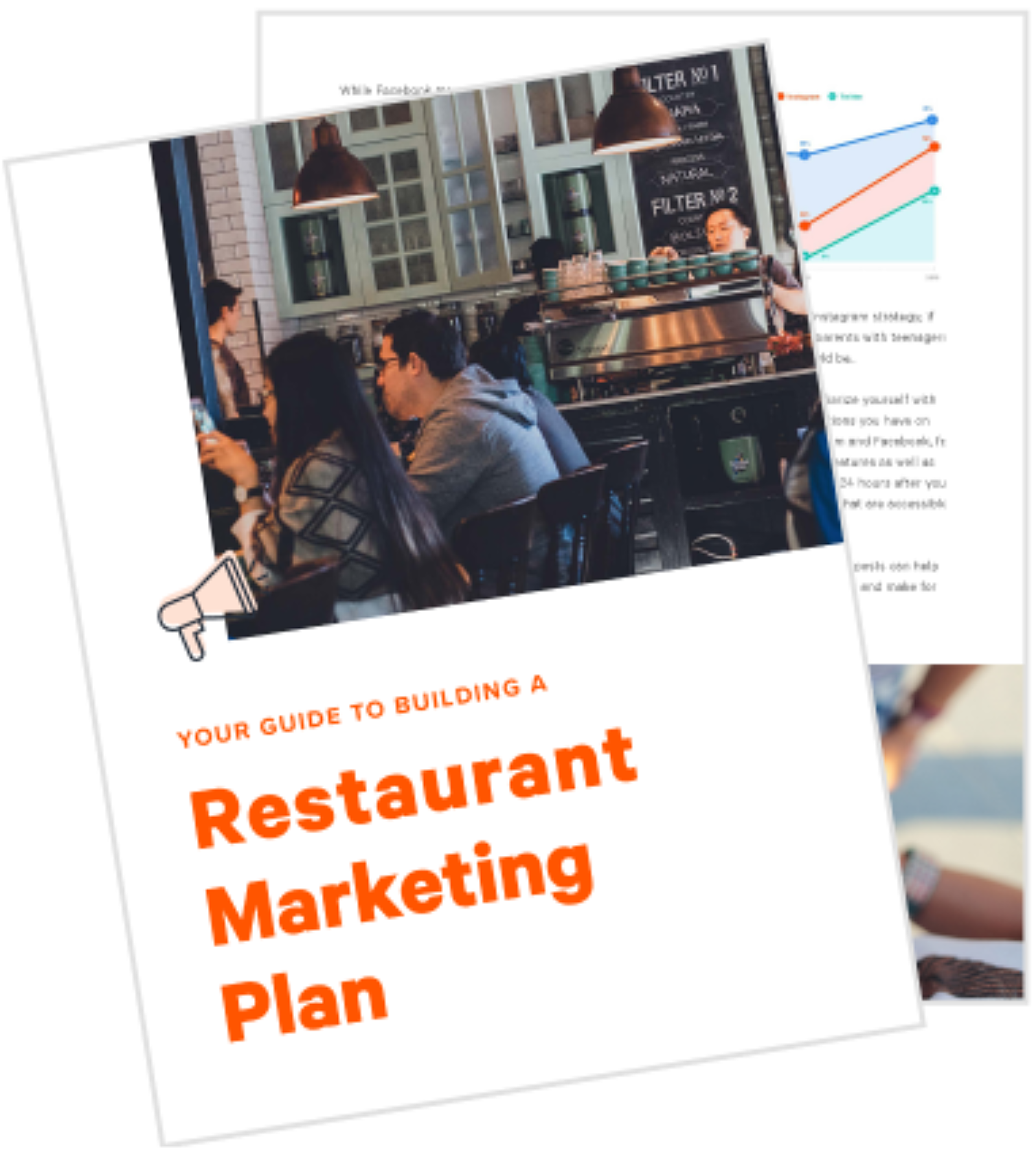 Restaurant Marketing Plan
Create a marketing plan that'll entice and engage the customers you want with this customizable marketing plan template and interactive calendar from Toast.
Download
How to Make a Restaurant Slogan
Restaurant slogans come in many shapes and sizes, but there tends to be a recipe for success to get your slogan to stick. The Daily Meal writes that the most successful slogans are "short and snappy; they somehow define what the product is, and most importantly they know their audience."
What are some popular restaurant slogans?
IHOP – Come hungry, leave happy.
Subway – Eat fresh.
Wendy's – Where's the beef?
There are many famous restaurant slogans, but what makes a good restaurant slogan? And what makes a restaurant slogan popular or catchy? We'll outline the steps to create your slogan, but keep in mind:
Restaurant slogans should be easy to understand, simple, and short.
Make your slogan specific to your cuisine or mission.
Use your staff, customers, and vendors to help define your restaurant tagline or slogan.
There are several catchy slogan generators out there, but if you're looking to create something totally original, here are some general guidelines to follow when creating your restaurant's slogan that will help you stand out in a sea of generic quips.
Consider your Audience
When planning any restaurant marketing strategy, it's important to be aware of the audience you wish to target. Are the majority of your customer's families, or do college-age kids frequently dine in? This plays into how you will design your slogan and brand your restaurant in general.
It's also important to consider if there are any language barriers if your restaurant is international. For example, when KFC launched the slogan "Finger-lickin' good" in China, it translated to "Eat your fingers off," which isn't exactly what they intended to convey.
Don't Use Generic Descriptions
Saying that your restaurant provides "great service at a reasonable price" does not differentiate you from your competition. Make sure that the slogan you choose identifies what is unique about your establishment, not just statements of what customers would expect from any restaurant. Consider your concept, your type of cuisine, and your intended message before you decide on a slogan — all of these factor into how creative you can get.
Take Olive Garden's former slogan: "When you're here, you're family." Their aim was to convey that eating at their restaurant was similar to eating at your family dinner table. Their never-ending salad and breadstick options are meant to be enjoyed by the whole table, and the environment is conducive to conversations. None of that is explicitly stated, but the messaging still comes across. Using a catchy, interesting slogan can do that.
Keep it Short and Sweet
Being direct and to the point with your language is as important as brevity. To make sure that your slogan sticks in the minds of your potential customers, use as few words as possible. Restaurant slogans should be 2-5 words that are easy to remember.
As a general rule of thumb, restaurant slogans should be short, try to keep your slogan under 10 words. Using writing techniques like alliteration or rhymes will help it roll of the tongue better. For example, the Arby's slogan "Good mood food" listed below keeps it short and to the point with the use of three rhyming words.
This may go without saying, but it's definitely a good idea to associate your brand with positive language. Try to avoid using negatives when talking about your restaurant — even if it's meant to be a compliment.
HubSpot comments on the power of positive restaurant slogans, "Reese's Peanut Butter Cups' slogan, 'Two great tastes that taste great together,' gives the audience good feelings about Reese's, whereas a slogan like Lea & Perrins', 'Steak sauce only a cow could hate,' uses negative words."
Enlist Your Staff and Customers
If you're having trouble coming up with a restaurant slogan, don't fret. It's hard, and it's not always the right move for every restaurant, so consider that as well. But just because nothing immediately comes to mind, don't rule out the idea of a slogan completely.
Include your managers, your front and back of house staff, and even your customers. Host a contest to see who can come up with the best slogan, and offer a reward — either monetary or otherwise — to encourage participation. You can even host a big reveal party and offer specials and discounts on your menu items as a great way to increase the hype.
Creating a restaurant slogan is all part of building your restaurant brand. Your brand encompasses your customer experience from the moment they interact with you on social media, in person, on your website, the radio, or however they first encounter your restaurant. Use a descriptive, catchy, or memorable restaurant slogan to create a powerful first impression.
The Best Restaurant Slogans of All Time
Coming up with catchy slogans is an art form, but these restaurants have it down pat. Some of these are famous slogans, and many are for fast food chains, but some are smaller, local restaurants, that use their slogans to get the word out about their restaurant — and the messaging really sticks. Here are 50 catchy restaurant slogans to get your creative juices flowing.
Fast Food Restaurant Slogans
Recognizable Restaurant Taglines
Funny Restaurant Slogans
Catchy Restaurant Taglines
Descriptive Restaurant Slogans
Crafting a Great Slogan
Creating a slogan can be a tough process, and it might be stressful to put dollars behind something you're not 100% sure of. If you're thinking of creating a slogan for your restaurant, there's good news — nothing is final and you're always welcome to change it, just like many of the leading restaurant brands in the world have done over time.
If you spend time gaining perspective on how you want to convey your restaurant, who you're targeting, and use creative and descriptive language, your slogan can be one in a million.