If you want to do just one restaurant marketing activity that will take approximately 10 minutes of your time and yield the most customers for 0 cost, optimizing for local search is the one thing you should do. Immediately.
Some quick restaurant SEO (search engine optimization) statistics to inform this conversation:
43% of all Google searches are local or location-based (and growing)

Over 50% of mobile searches are local or location-based (and growing)

As referenced in a recent survey of 11 restaurant clients, you can assume that ~40% of all visitors to your restaurant website are visiting on a mobile phone.
Local or location-based searches happen in two ways:

1) a would-be guest enters the location directly into the search parameters: Perhaps "Italian restaurant in Boston MA"

2) a would-be guest is nearby and Google returns search results based on a device's GPS coordinates: Someone in Boston, MA, searched for "Italian restaurant."

In either case, these searches are incredibly vital to your restaurant's online traffic and foot traffic.
Restaurant Website Checklist
This template will help you update and optimize your website, so guests can easily find and order from you.
Get free download
When does your location matter?
Your location matters any time a person is trying to find a product or service close to where they are or based on its proximity to a location.
For location-relevant businesses like restaurants, of course, location-based searches are critical. In a local search, you are not trying to rise above nationwide or global competitors in the search engine rankings. Instead, you are competing with a much smaller local pool. And the conversion — meaning your website-viewer converts into a customer — is much faster: In the restaurant industry, around 30% of searches convert to paying customers immediately, 60% convert within an hour, and 80% convert eventually (according to this Google study).
30% conversions immediately and 60% conversions within an hour.
These aren't window shoppers. These are people that are immediately seeking to become customers.
These searches are happening in Google Maps on any browser, or the Google Maps app on iOS or Android. Results are pulled from your Google My Business information.
Google My Business
At one time, Google had a service called Google Places. Over time, Google Places has been sidelined and increasingly merged with Google+ functionality, which was also sidelined, to form Google My Business.
This is Not Restaurant SEO (Search Engine Optimization)
To be clear, this is not website search engine optimization — which involves making the content and copy on your website more accessible or optimized for search engines to crawl and index. Instead, this is off-site optimization that positions your restaurant as the best choice for local queries.
Local optimization centers around giving Google the best information possible about your business in their "yellow pages" directory, keeping the profile updated and active, and enabling Google to match queries with the best results.
And when the query is a local or location-based search, Google will use this information before using standard search engine results (which is where your restaurant SEO might be a factor).
How to work on your Local Pages
Be as comprehensive as you can.
Keep all of your contact information current and correct (address, phone numbers, website URLs). Fill out your hours and description. And above all, make sure you have one or more categories selected.
The categories are critical, so make sure that you include all categories that match your offering. For example, if you're an Italian restaurant, make sure to select both the "Italian restaurant" category as well as the "restaurant" category.
Then make your listing catchy by adding your best cover photo, along with 5 or more other photographs to showcase (people often judge exclusively on imagery). Make those images as appealing and beautiful as possible, showing off your food and your restaurant's vibe.
Google My Business Pages Are Your New Landing Pages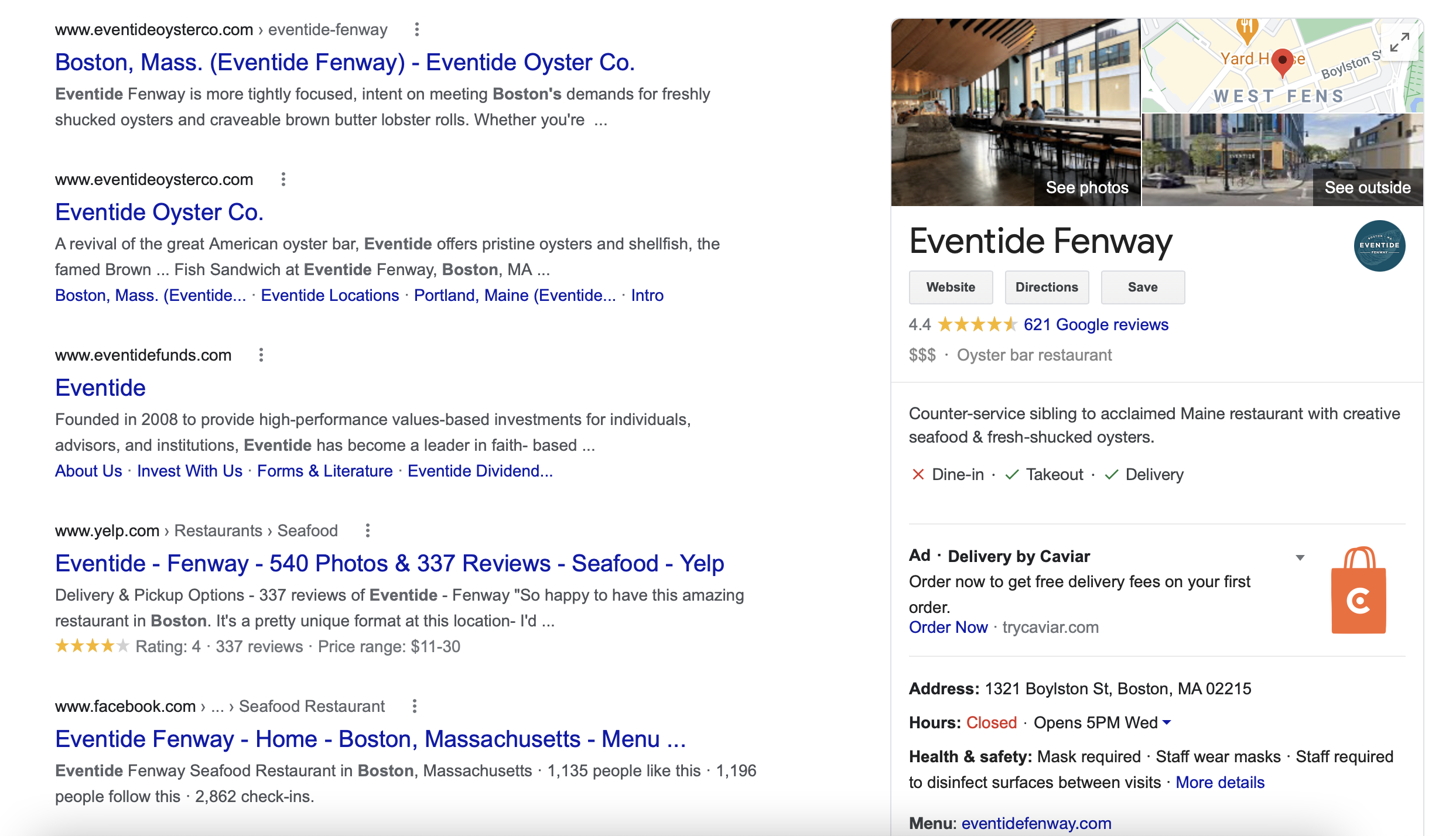 Eventide Fenway is a perfect example of why it is so important to take control over your Google My Business profile.
Eventide essentially owns its search engine results page. Its listing is complete and comprehensive: it has included almost every detail that any restaurant would want to ensure accessibility to potential clients/customers: address, phone number, directions, hours, links, and images.
Eventide is immediately showing its website's capture points or action items before any customers have even reached the website or online ordering platform. For example, it includes what its current availability looks like (takeout, dine-in, and delivery), which online ordering platforms it uses, where to find the menu and more.
As a result, Eventide's profile encourages what search professionals call "zero-click": All the information is easily accessible right there on Google, so there is no need for a potential customer to even click through to a website.
Local Search and Its Importance for a Local Restaurant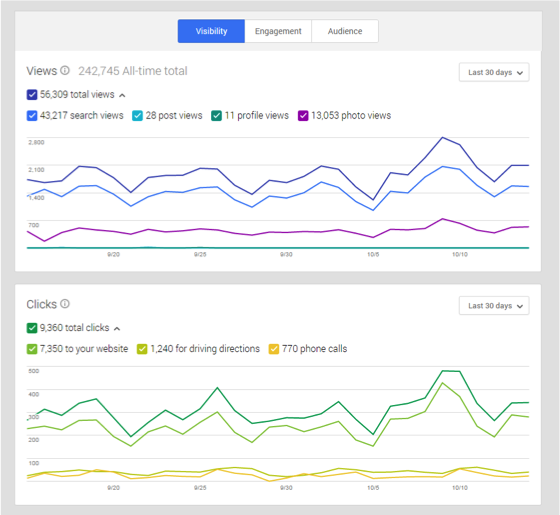 How to best leverage the internet to grow your business obviously evolves over time. But at the core: Understanding your target audience, how people are looking for you, and how people are finding you are important aspects of your web strategy, no matter how things may shift.
Let's look at how this plays out with one example: a one-location popular restaurant in a major city. For clarity, "clicks" in this graph represents the number of clicks to their website (this includes the number of clicks to their business's website from local search results in Google Maps, Search, and Maps for Mobile).
The Findings
Over 30 days, the business's information from Google My Business was displayed:
43,217 times in search views

28 post views

11 profile views

(totaling 43,256 views)
From that information, it had actions of:
7350 clicks to the website

1240 clicks for driving instructions

770 phone calls

(totaling 9360 clicks)
This has a click-through rate (CTR) of 21.6%.
Putting This in Context With the Rest of the Website's Traffic:
Over the same 30-day period of time:
The website received a total of 23,722 sessions

Google Search resulted in 14,221 of those sessions

The website was viewed in Google for 23,463 impressions

From all of Google Search, the website recorded 7,506 clicks

Google Organic Search accounted for 60% of all traffic to the website
Takeaway Observations From This Data
Google Local Search clicks to the website were responsible for 52% of all of the Google Search traffic to the website, and 31% of the total traffic to the website.
If we sum the driving instructions and phone calls as "goal conversions" (as those for a restaurant generally imply a firm movement toward a sale), this is an equivalent of an 8.5% bonus to the goal conversions of the website, as their goals have been fulfilled before the user even visits the site.
Looking at the differences between the Google Webmaster Tools data of impressions (23,463) compared to the Google My Business search views (43,217), we can deduce that the Local Search displays are providing an additional 184% bonus search exposure to the business beyond the standard Google Web Search.
The Value of Google My Business
Google My Business needs to be a prominent piece of every local restaurant marketing strategy and search strategy.
Integrating data like this for marketing is essential to best optimize your customer experience. As the local search market grows, local businesses need to maintain a presence within local search results through online marketing efforts and ideally integrate with an online ordering for restaurants, and this is where your Google My Business listing comes into play.
Related Restaurant Resources
DISCLAIMER: This content is provided for informational purposes only and is not intended as legal, accounting, tax, HR, or other professional advice. You are responsible for your own compliance with laws and regulations. You should contact your attorney or other relevant advisor for advice specific to your circumstances.