DISCLAIMER: This content is provided for informational purposes only and is not intended as legal, accounting, tax, HR, or other professional advice. You are responsible for your own compliance with laws and regulations. You should contact your attorney or other relevant advisor for advice specific to your circumstances.
Why do discounts appeal to us as consumers? Simple. Because they allow quality and value to work in tandem — and it's hard to say no to free stuff.
And when your restaurant's traffic as high as it normally is — could be a particular season, month, or day of the week — restaurant discounts can be enormously useful.
The right deals can attract tons of new customers to almost any restaurant, whether you run a bar or pub, a pizzeria, a fast-casual restaurant, a fast-food franchise, or a full-service restaurant. Even fine dining restaurants sometimes offer discounts disguised as special prix fixe menus.
Why offer restaurant discounts? In short, they're popular. Here are some stats:
To truly help your restaurant's growth, you can't just offer discounts for discounts' sake — it's vital that you choose the right discounting strategy for your restaurant. And most importantly, being too lax with discounting can quickly impact your bottom line, so make a plan, stick to it, and track the results through your restaurant point of sale.
Let's explore 10 different types of restaurant discounts you should consider offering to your diners and building into your restaurant marketing plan. Then, we'll discuss three strategies you can use to maximize the value your discounts provide.
Restaurant Marketing Plan
Create a marketing plan that'll drive repeat business with this customizable marketing playbook template and interactive calendar.
Get free download
Types of Restaurant Discounts
1. Restaurant BOGO (Buy One, Get One)
A tried-and-true discounting method, BOGO (or buy one, get one) is easy to implement and calculate, plus customers see it as a valuable offer. Plus, you can make several modifications to the BOGO structure and still see the results of in your POS system.
Buy one, get one free: "Buy one bowl of ramen and get a second bowl for free."

Buy one, get one half off: "Buy one sandwich and get the second for half price."

Buy one, get [specific, cheaper item] free: "Buy a steak, get a side of mac and cheese free."

Buy [certain amount of product], get [specific, cheaper item]: Papa Gino's offers a free large pizza with the purchase of two extra-large pizzas. This discount pushes out more inventory and leads to a larger average ticket size.
That last option, where you require a bigger upfront purchase to get a cheaper add-on, is a great way to assess if your BOGO promotions are effective enough to justify the cost of giving away free inventory.
If that promotion drives tons of new customers, you can rationalize trying out a more costly BOGO promotion to bring in even more new guests.
Pros of BOGO Discounts: Customers can save up to 50% on their entire check, helping to build a solid base of repeat guests.

Cons of BOGO Discounts: Depending on how much you give away for the "get one" part of this deal, it might not be cost-effective in the long run. It's wise to use this discount sparingly and on menu items you can afford to lose profit on.

How to Make the Most of Your BOGO Discounts: Do the math on how profitable your items are and pick low-cost dishes to give away. Offer the promotion for a limited time, and track the results so you know the baseline for next time.
2. Combo Deals
Popularized by fast-food value meals, combo deals are mutually beneficial to both the restaurant and its customers. Guests want a full meal and most restaurants are happy to oblige with a combination of foods and a drink that are priced in a way that saves the consumer some money while encouraging a larger ticket size. It's basically a built-in upsell.
Any restaurant can offer a combo. Whether you brand it as a combo, a lunch or dinner special, a prix fixe menu, or something else, you can tinker with the title, offer, and presentation to suit your style.
You can even use combos to upsell larger-sized meals for parties and events. Momofuku Ssam Bar in Brooklyn has a separate large format dinner menu that serves 6-10 people for $250, including a cured and slow-cooked pork shoulder with tons of sides and condiments.
For small parties or events that don't quite call for catering but will feed more than a handful of people, combo deals are the way to go.
Pros of Combo Deals: They're effective at bulk selling and churning through inventory, and they lead to larger ticket sizes.

Cons of Combo Deals: The bigger the combo, the greater the risk to your profit margin.

How to Make the Most of Your Combo Deals: Be very strategic about what you include in your combos, and adjust the combo or the price if you notice your profits dipping.
3. Time-Based Discounts
Happy hour discounts are old hat for bar owners: Lowering prices on food and drink is a staple for bringing in the after-work crowd. Not a bar? No worries. The happy hour approach works for traditional restaurants, too, even if they don't serve alcohol. Plus, according to Technomic and Statista, happy hour food prices are actually more important than drink prices to consumers.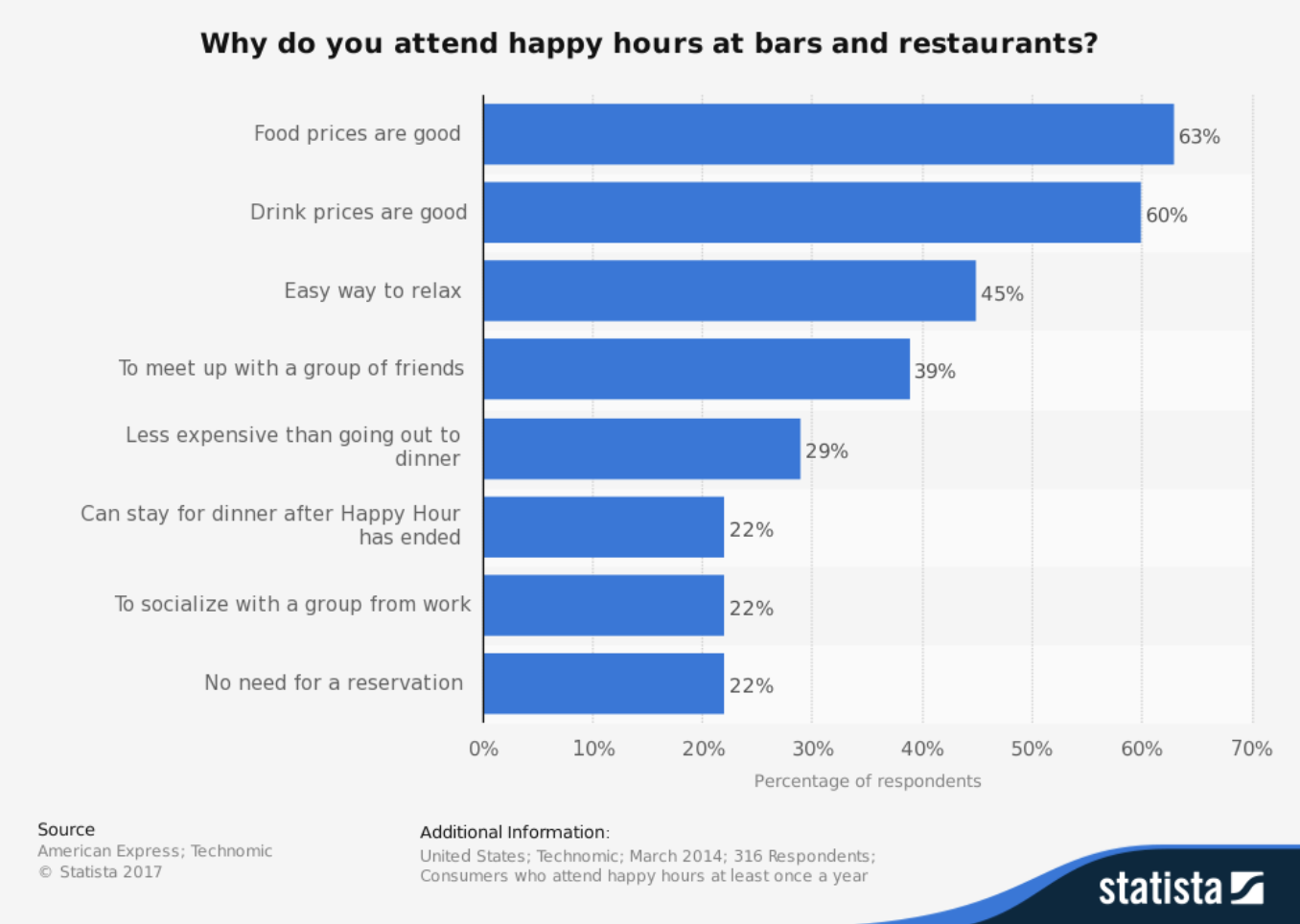 A happy hour menu can be a calling card for your restaurant.
You can also use this discounting strategy for off-peak hours — maybe from 2:30 p.m. to 4:30 p.m. on weekends — to even out your busier and slower times for a more balanced business day.
Pros of Time-Based Discounts: Happy hours can increase foot traffic when your day is slow and can capture the popular after-work crowd.

Cons of Time-Based Discounts: Guests may become accustomed to cheaper food prices and only choose to visit during cheaper times — why pay more for what they can get more cheaply at other times?

How to Make the Most of Your Time-Based Discounts: Offer a different, more elevated experience during non-happy hour times, and market these full-price times as ideal for dates and celebrations.
Heads up: In some states, happy hour is illegal. In some cases, however, this ban only applies to alcohol — not food — so you can change your meal and appetizer prices as you see fit. Check with your local jurisdiction for more details.
4. Percentage-Based Comps
You can give percentage-based comps whenever and however you like, but make sure that you keep track of all the comps in your POS.
For example, your restaurant may have standing rules that all firefighters eat for 20% off or that friends and family of servers get a 10% discount. You might have a discount policy for regulars, and your restaurant should have a policy that comps means for customers that complain, send food back, or experienced a longer-than-normal wait.
Ryan Egozi, of SuViche Hospitality Group in Florida, tells his managers that if a customer is unhappy, they should comp their whole meal, not just a dessert or a drink. "I'd rather comp $100 than $20, knowing that $100 is going to get me back my guest," he said to us in an interview for The Garnish podcast.
If this is part of your restaurant discounting strategy, make sure you have a POS system with accessible and permissions-based discounting options so you can always track who comped what, and why.
Pros of Percentage-Based Comps: It's an easy way to show appreciation for certain groups and your regulars. Plus, it can get unhappy customers to give your restaurant a second chance.

Cons of Percentage-Based Comps: If comps are given out too often, your bottom line will be negatively affected.

How to Make the Most of Your Percentage-Based Comps: Get your staff familiar with your discounting policies, and follow up with servers after every shift about any comps or discounts they provided.
5. Calendar-Based Discounts or Specials
Are Tuesdays usually a slow one for your restaurant? If so, you can offer a discount or a profitably priced special on Tuesdays to try and bring in crowds and increase sales. (Want to learn how to do that sort of restaurant analysis? Check out this post.)
Lloyd's Restaurant & Lounge in Atlanta is great at this. They boost sales for Monday, Tuesday, and Wednesday with different deals: Monday night is snow crab night, prime rib is on Tuesday, and fried chicken on Wednesday. As you can see, they also do a happy hour every weekday.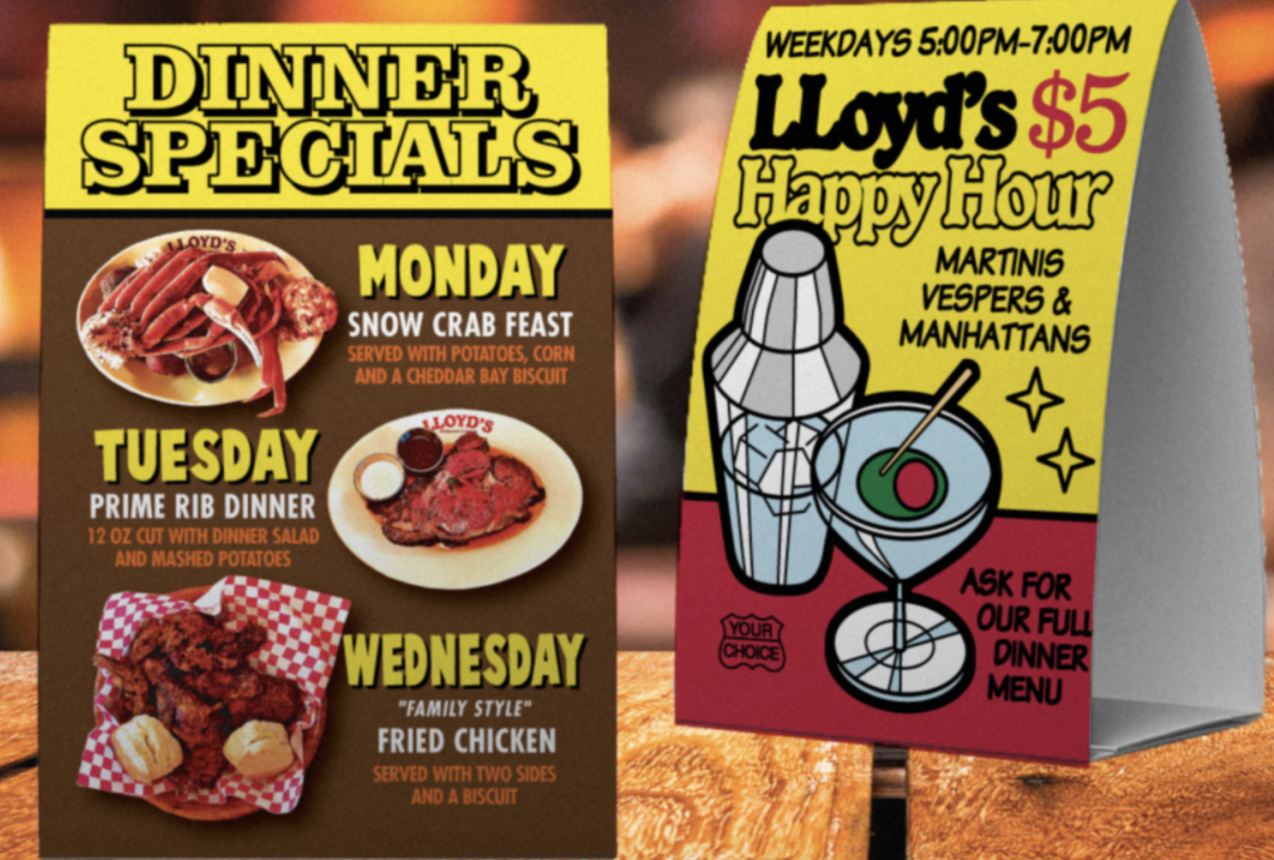 You can take it a step further by applying discounts for specific months or for special events. If you offer calendar-based discounts like a special Super Bowl savings event or Valentine's Day offers or a Christmas-themed deal for the month of December, you can draw in hungry people looking to celebrate. These events also tend to yield larger ticket sizes because people tend to treat themselves on these occasions.
Pros of Calendar-Based Discounts: They can boost your sales during slower times of the week and the year.

Cons of Calendar-Based Discounts: Like happy hour, these discounts can lead to guests not wanting to pay full-price for the same items on normal days.

How to Make the Most of Your Calendar-Based Discounts: Make sure your guests know that specific-time offers aren't for all the time, but that your restaurant will welcome them back happily any time. Consider offering a small discount — say, 10% off — for their next visit, which you can send via email. This is also where outstanding service and food come in: If the guest experience is amazing, they won't mind paying a little more next time.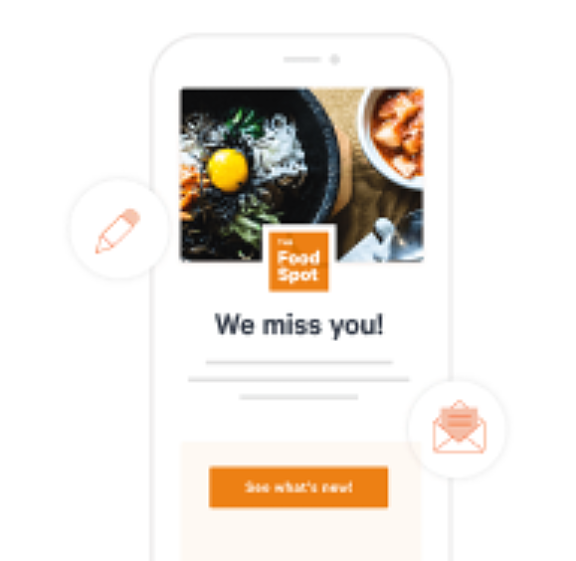 Learn how guest marketing tools can help you get your customers coming back.
Read more
6. Dollar Off Discounts
Want to reward customers who make big purchases? Keep it simple with a "Buy $X, get $X off" promotion. Common in pizzerias, this strategy is helpful in getting that family of four to spring for the extra side of fries.
If your restaurant caters or hosts large events, consider offering a discount for these big orders. The promise of $200 off banquet checks of $2,000 or more can fill up your bigger rooms and help you keep inventory moving.
Pros of Dollar-Off Discounts: They incentivize guests to place larger orders, meaning you're selling more.

Cons of Dollar-Off Discounts : Sometimes the math doesn't work out. Let's say someone was planning on ordering $25 worth of food, but sees a $5 off $30 coupon. To take advantage of this, they order something else for $5 to apply the coupon. But since they just met the requirements of the discount, you basically gave that customer $5 worth of free food.

How to Make the Most of Your Dollar-Off Discounts: Make these discounts one-time or limited-time offers, or have a high price threshold before the dollars can be deducted.
7. First-Party Discount
When customers want to do an online order, many often stroll over to a third-party provider like GrubHub or DoorDash and end up paying more. By steering toward your own online portal, however, they receive a first-party discount that can end up saving them some money.
Pros of First-Party Discounts: It promotes awareness of your online platform and can point customers toward using it when they want to use contactless ordering.

Cons of First-Party Discounts: To hit profit margins, restaurants can't always show their full menu.

How to Make the Most of Your First-Party Discounts: Let the people know it's there! One way to do this is to bump the prices of your third-party platform dishes and to significantly decrease prices on your own ordering system.
8. Gift Card Discounts
To gift card recipients, it's like free money! To conjure more excitement around receiving one, restaurants can offer gift card discounts that round up and offer more value than was already available. For example, a $50 gift card can be rounded up to $60 in value.
Pros of Gift Card Discounts: They draw attention to your restaurant and can prompt users to try different dishes without fear of spending actual money on items they might not like.

Cons of Gift Card Discounts: Lack of clarity around how much is on the gift card and, thus, how much a customer can actually save in the long run.

How to Make the Most of Your Gift Card Discounts: Educate consumers on their gift card balances and what kind of discounts are available to them.
9. Birthday Discounts
What's better than a customer choosing to celebrate another year around the sun at your restaurant? Giving them the opportunity to save the money while doing so. Birthday discounts can help make your restaurant a destination for customers to spend all their big days at.
Pros of Birthday Discounts: Restaurants can engage customers and sign them up for loyalty programs and messaging. With the input of their name, birth dates, and other information, restaurants can contact them about upcoming birthday discounts and other deals that might be of interest.

Cons of Gift Card Discounts: They only come around once a year. If the only discounts happen around the time of customers' birthdays, they might forget about visiting your restaurant when other deals are on the table.

How to Make the Most of Your Birthday Discounts: Keep in regular contact with customers about your discounts. Ramp up that correspondence a month and two weeks out from their birthday so they keep your place in mind as a potential celebration spot.
10. AARP Restaurant Discounts
AARP restaurant discounts could be a great way to bridge the gap when foot traffic is down in a restaurant. Because senior citizens eat and socialize on their own time, these discounts can bring them in and lead to big ticket gatherings down the line.
Pros of AARP Restaurant Discounts: They can lead senior citizens into restaurants during non-peak hours. Plus, if seniors enjoy the atmosphere and offerings, they can bring their families back for larger gatherings.

Cons of AARP Restaurant Discounts: These discounts happen during non-peak hours, meaning ticket prices could be down.

How to Make the Most of Your AARP Discounts: Keep AARP members in the know about whatever senior discounts are available to them. Then, keep them updated and let them know about large party opportunities where they can have family gatherings at discounted rates.
How to Make the Most of Your Restaurant Discount Strategy
Every financial decision your restaurant makes should drive more revenue and be easily supported by data. That's why we suggest you plan through what any discount idea would look like before you start promoting it — instead of just picking one of the above ideas and running with it.
To make your restaurant discounts profitable and efficient, use best practices within your restaurant POS system. This applies to veteran restaurateurs and for those who are new and need an opening a restaurant checklist.
1. Track All Discounts — and Watch Out for Trends
If your servers, bartenders, and cashiers are too quick to discount, it'll eat into your bottom line. Make sure your restaurant tech supports a feature that tracks who gives discounts and why.
For example, if a percentage-based discount is consistently applied at dinner when the guest has a bad experience, make sure you can go one step further and learn what mistakes caused the customer's displeasure. Are servers dropping food? If so, maybe you should revisit your staff training. Is food consistently sent back for being too cold? Check in with your kitchen managers to see if something is going wrong during the cooking process.
When discounts are applied as intended, there shouldn't be a problem. But realistically speaking, this won't always happen. Keep a close eye on your staff to keep track of mistakes and areas of improvement. This way, you build a stronger staff and keep the discount protocol from being abused.
2. Auto-Apply Discounts
Your employees are only human. Sometimes, they'll enter in a large cheese pizza and a large pepperoni and completely forget that this combo qualifies for the "large cheese, large one topping for $14.99" special.
When the customer pays, they may look at their receipt and notice that it doesn't include the combo discount they thought would apply to the order. Next thing you know, the manager has to come over and void the order, while the customer is forced to wait longer (and feel a little cheap, maybe).
Make sure your restaurant POS system auto-applies any applicable discounts. That way, your servers and cashiers don't need to remember every single promo code or combo special and can focus on the speed and accuracy of ordering.
3. Maintain Creative Control
No POS provider should tell you what kind of discounts you can or can't offer in your restaurant.
If you want to offer BOGO discounts and percentage-based comps, you should be able to do just that. That's why we recommend working with a restaurant POS with an open discounts feature, like Toast POS, so you can build discounts that are best for your business and your customers.
Are you ready to give your consumers equal amounts of value and quality? Read this guide to restaurant marketing and download a customizable copy of our restaurant marketing plan.
Related Restaurant Operations Resources