Valentine's Day is the second-most popular day to dine out in America after Mother's Day, with around 70 million people heading to a restaurant on February 14.
According to the National Restaurant Association, the most common criteria for choosing a Valentine's Day restaurant are:
It's the favorite restaurant of one partner.
The atmosphere is romantic.
The restaurant has a special menu or promotion.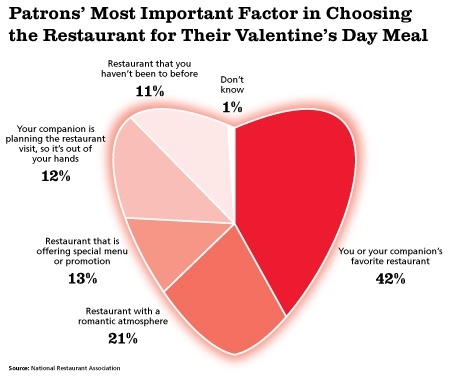 While dining and eating out is a gift given by 35% of those in a relationship, 82% of people would rather receive an experience rather than a gift from their significant other.
If you orchestrate an unbelievable Valentine's Day experience and market it in the right way, all of your tables could fill up.
Some restaurants tend to play it safe and do the same thing that the restaurant across town is doing. The National Restaurant Association found that the most frequent Valentine's Day specials in restaurants were:
Special menu items (63%)
Prix fixe menu (45%)
Celebratory drinks or desserts (34%)
Only 13% of restaurants offer a more experiential dining visit for their guests with entertainment or music.
To capture a piece of the millions of dollars set to be spent in restaurants next Valentine's Day, try one of these unique, experiential approaches to make your special event stand out.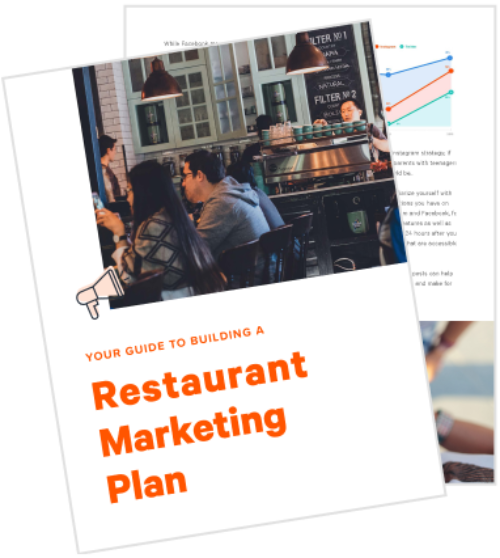 Restaurant Marketing Plan
Create a marketing plan that'll entice and engage the customers you want with this customizable marketing plan template and interactive calendar from Toast.
Download
1) Come Up With a Theme
Most restaurants will stick with an expected "Love is in the Air" theme for Valentine's Day. Found Kitchen and Social House in Evanston, Illinois built their prix fixe menu around classic movie romances. According to The Chicago Tribune, featured courses included "a mini pastrami sandwich on rye with a side salad (dressing on the side) inspired by 'When Harry Met Sally,' a grilled steak al forno with pasta, which Cher makes for Nic Cage in 'Moonstruck,' and others."
2) Host a Class
Red Lantern hosts a sushi making class for couples. According to Eater, guests even get a gift to take home with them as well. A meal and an experience? What's not to love?
3) Cater to the Families
Married couples with kids may not want to spring for a babysitter, so why not spread the love and make an event for the whole family?
Above is a Facebook event for Dunlay's in Chicago, where parents can enjoy a romantic meal for two and kids can be entertained at a Valentine's Day card designing station.
Since kids are the staples of some relationships, finding a way to appeal to couples with children opens up a world of potential diners.
4) Leverage Your Gift Card Program
Valentine's Day shouldn't be a one-and-done event in your restaurant. In fact, one-third of consumers "say they would also like to receive a restaurant gift card on February 14," according to the NRA.
Promoting your gift card availability as early as right now could catch the eye of someone looking to buy a gift for their sweetheart. This has the potential to increase sales on and after Valentine's Day and generate more revenue from your restaurant gift card program.
5) Engage Your Social Media Following
Holidays are an excellent opportunity to raise awareness for your restaurant social media accounts.
Restaurant chain Mimi's Cafe has found a way to increase traffic to their both Facebook page and their restaurant on Valentine's Day. Those who declare their love on the Mimi's Facebook page get a free entreé for their efforts.
Mimi's CMO Steward Slocum said, "Love is in the air at Mimi's and also online. We embrace the opportunity to provide a free entrée offer to those who share their love on Mimi's Facebook page leading into the lovers' holiday.
7) Run Ads on Facebook and Google
If you have a bit of money to spare, Facebook ads and Google ads can really go a long way.
On these ads, make sure your restaurant name is front and center, as well as an imperative, or what we in the marketing world refer to as a call-to-action. An example of that is: "Reserve today!" or "Book now!"
Below, The Russian Team Room in New York followed these best practices, and because they were able to front some money, are the top ad result for "Manhattan Valentine's Day reservations."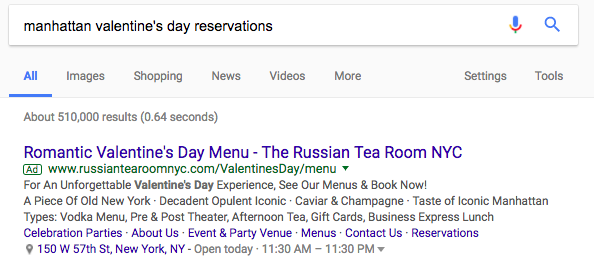 When you click on their ad, you're redirected to a prix fixe menu for their Valentine's Day event, as well as a prompt to download the PDF menu or book a table immediately.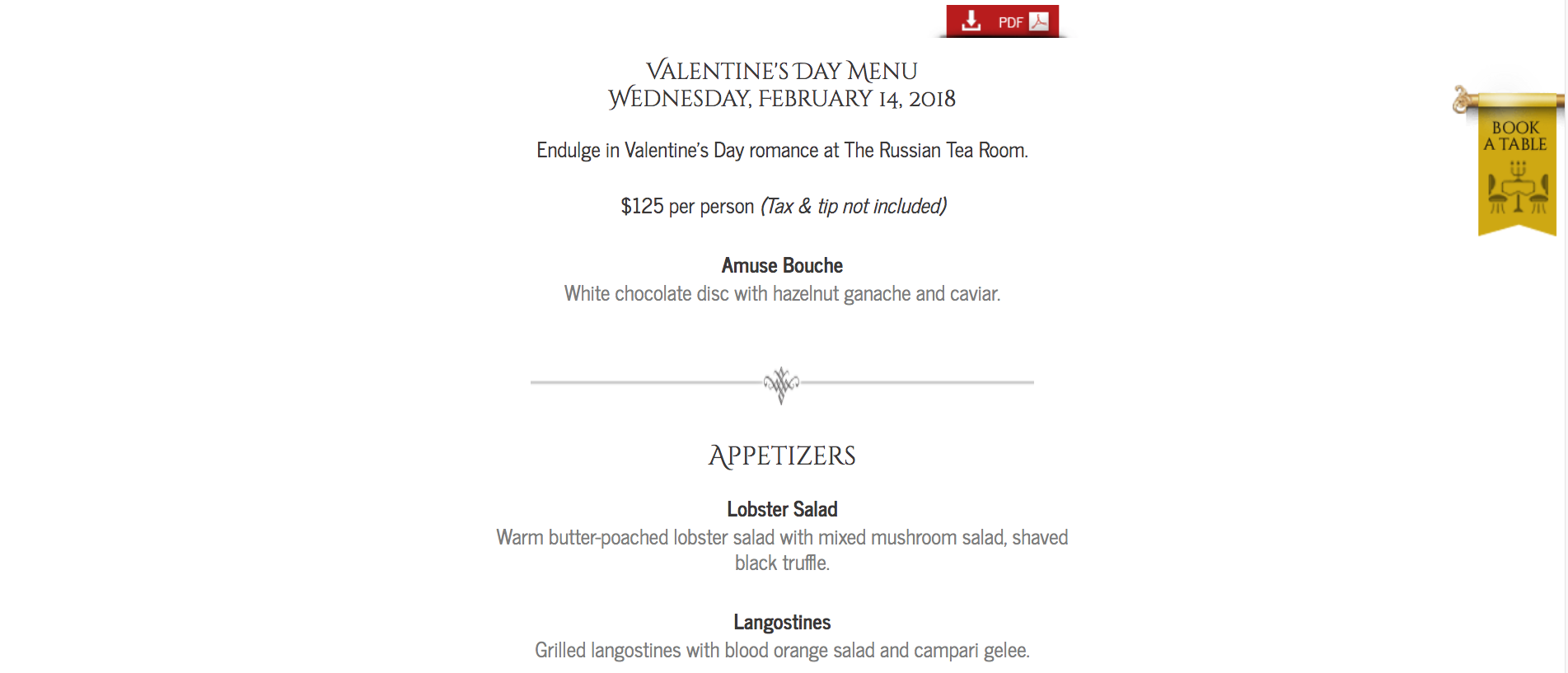 Spread the Love
Valentine's Day is sure to be a good day for both restaurants and diners. If you haven't gotten started on your Valentine's Day marketing plan yet, download the Restaurant Holiday Handbook for more ideas.