While many people entertain the idea of opening a restaurant, few manage to actually make the leap. Opening a restaurant is a big venture, and it's certainly not for everyone. With long hours and many tasks to juggle -- designing a new menu, choosing a location, hiring the right chef -- it can be overwhelming, to say the least.
We've helped several restaurants get started with our all-in-one POS system. We've observed what's worked (and what hasn't worked) when opening a new restaurant. With this intel, we've published a roadmap for restaurant startups, The Restaurant Startup Kit, to be your one-stop resource for everything you need to open a new restaurant.
However, there are a few fatal mistakes we see new restaurateurs make over and over again that deserve to be highlighted.
Here, we've gathered those mistakes into one place. Watch out for these blunders as you go through the process of opening a new restaurant.
Mistake #1: Not identifying your restaurant's value proposition
If you can't describe the value of your new restaurant in one sentence, it's time to take a brainstorming break. What purpose does it serve to the community? What demographics do you want to reach? How does it compare to other restaurants in the area? You'll need to define your restaurant's value proposition not only to differentiate your restaurant, but also to have a pitch ready for investors and business leaders. In order to get other people to buy into your vision, you need to be able to clearly and concisely identify the aspects of your proposed restaurant that will allow it to succeed.
Mistake #2: Leaving accounting and financing decisions until the last minute.
Too often new restaurant owners get so swept up in designing their restaurant's look and layout that they forget to focus on financing first. You may need to take out a loan from the bank. You may need to search for budget food delivery solutions. These are things you shouldn't wait until the last minute to research. As an owner, much of your time will actually be spent in Quickbooks rather than on the restaurant floor. That's why you need to create a business plan before looking at locations, dabbling with the menu, or hiring employees. Create a budget based on what you will have to spend, estimate how much money you need to bring in through sales, and project your future profit margins.
Mistake #3: Getting stuck in the restaurant licensing and permits process.
We've talked about licenses and permits before. You may need a foodservice license, a liquor license, a music license, a certificate of occupancy, and an assortment of other licenses and permits depending on your state's regulations. You will most likely have to pay to apply for these licenses and permits, and you may have to give away sensitive information in order to get approved. In the Restaurant Startup Kit, we share a coveted resource for licensing and permits research, as well as examples of government web pages with application portals.
Mistake #4: Hiring anyone who wants to work at your restaurant.
You can't afford not to be picky when selecting staff members for your new restaurant. Your servers are your greatest assets -- your eyes and ears on the floor -- and you need to be able to trust them to deliver an unparalleled customer experience. Your chefs, on the other hand, are the heart of your restaurant, producing the food that your community will love and praise. When interviewing new candidates, ask questions to get people talking about their passions. See if they can transfer that passion to your restaurant. Focus your efforts on hiring the perfect head chef first, then post job openings for managers, waitstaff, and other positions depending on the style of your restaurant.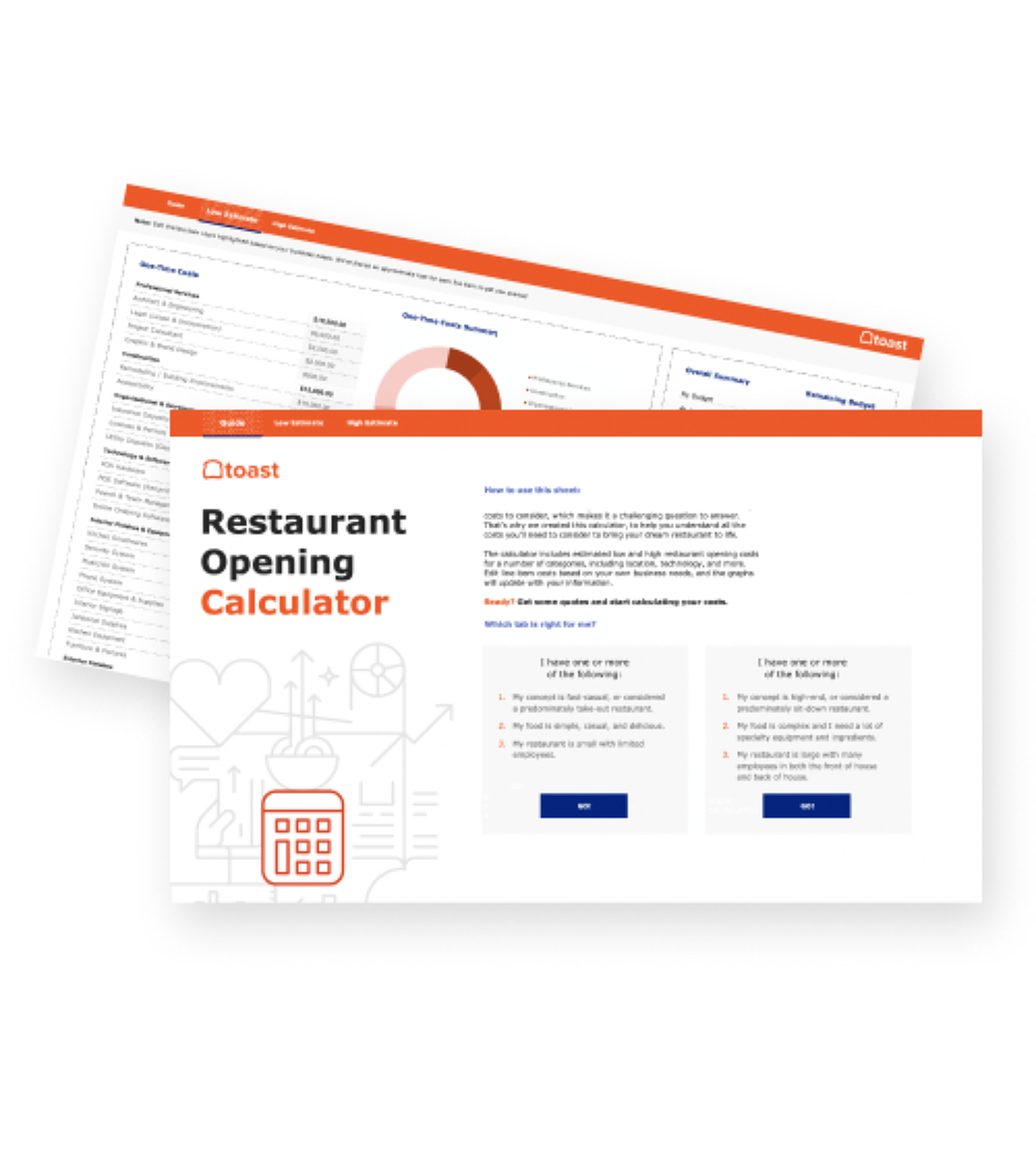 Restaurant Opening Calculator
This calculator lays out some of the fundamental financial costs of opening a restaurant, so you can start planning and bring your dream restaurant to life.
Download