Whether you own, operate, or manage a restaurant, you likely pour yourself into the business — and you do it all with motivation, passion, and grit. And more likely than not, you want your team to feel inspired to do the same. You want them to crack their knuckles and walk into each shift with a sense of excitement and determination.
Sounds nice, right? Well, getting your employees to that dream state is doable, and one way to get there is through employee engagement. Employee engagement is about more than just making your team happy, though. It's about creating a deeper emotional commitment between your staff and the restaurant, through activities you can fold into your operations.
Engagement is more than a fluffy idea. Restaurants with engaged teams tend to experience: better hiring, training, and retention results; improved productivity and guest service; and even a positive impact on their bottom line. A Gallup study found that engaged teams show 21% greater profitability than their competitors.
Let's walk through what exactly employee engagement is and which activities you can implement in your restaurant to keep staff passionate, committed, and loyal.
What is Employee Engagement?
At first glance, employee engagement can come across as a vague idea, but it's become a tried and true business strategy. This article from Forbes, written by employee engagement expert Kevin Kruse, provides a helpful definition: "Employee engagement is the emotional commitment the employee has to the organization and its goals. This emotional commitment means engaged employees actually care about their work and their company. They don't work just for a paycheck, or just for the next promotion, but work on behalf of the organization's goals."
Let's apply this to a quick example. A happy or satisfied employee might show up for their shift on time and get all of their work done across that shift with no complaints. No more and no less. But if they see that a restaurant down the block is hiring for the same position, with a bump in pay, it wouldn't be too surprising to see them jump ship.
An engaged employee is different. Their coworkers are more like friends than just people they work with. They work overtime if the restaurant needs it, without needing to be asked. They share ideas for ways the restaurant could improve operations or better connect with their community. They've become attached to your restaurant's culture, values, and goals. You've given them something they can believe in and goals they can work toward. That employee is dedicated, wants to work hard because they believe in the business, and is much less likely to leave than an employee who's simply satisfied.
Here are four ways you can take your employees from satisfied to engaged, and build a culture of employee engagement that'll pay off big time.
4 Ways to Keep Your Restaurant Staff Engaged
1. Schedule regular one-on-one time
There are so many great benefits you can get out of productive one-on-one time with your employees. Your team will value the individual attention and interest, and you'll be able to learn a lot about what's working and what isn't.
First things first: You have to decide on a check-in schedule, depending on what makes the most sense. Are weekly, biweekly, or monthly check-ins the way to go? During busier weeks and shifts, can you keep your check-in quick and more informal? Every restaurant is different, so figure out what works best for you and your team.
Once you've started scheduling these regular one-on-ones with the team, you have to figure out how to keep them productive. Decide what you hope to accomplish in each one-on-one — that could mean providing or soliciting feedback, finding out what obstacles employees are running into, learning about or checking in on their goals, and more generally asking how they're doing. You don't have to stick to a strict schedule, but a meeting agenda will help you stay organized.
Ask your team what they hope to accomplish during one-on-one time. Some might say they're interested in spending more time talking about long-term growth and professional development, others might be more interested in sharing ideas to help the team and improve the guest experience. Asking your team what would be most valuable to them, and catering to those needs on an individual level, will show them that you care.
You might choose to keep your one-on-ones shorter and less structured, and that's okay. What matters is that you're actually carving out time to check in on your staff. You're working to create a deeper bond between them, yourself, and the restaurant.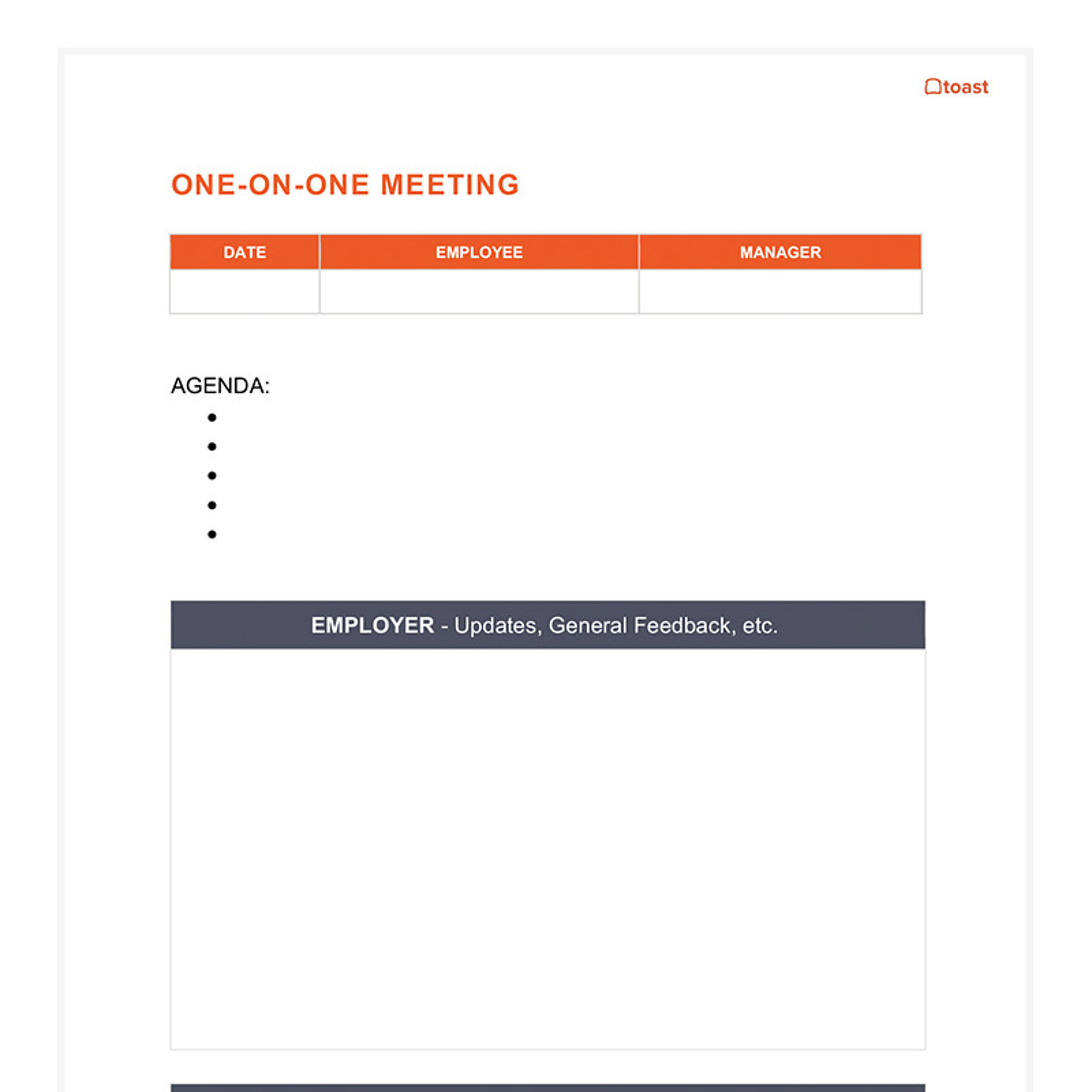 One-on-One Meeting Template
Make weekly, biweekly, or monthly check-ins with employees productive with this customizable Word doc for your one-on-one meeting agendas.
Download
2. Provide training and clear steps for growth
To keep employees engaged, give them a clear idea of what opportunities lie ahead. Without a clear path forward, there's not too much stopping them from detouring and carving out a new path elsewhere.
How can they grow? What new skills can they learn? How will they learn those skills? What actionable steps will it take for them to get promoted? These are all questions you can help answer through a structured employee training program.
When creating an employee training program for your restaurant, think through questions like these:
How can I create and promote professional growth opportunities for all of my team members? You might invite subject matter experts like a mixologist or a specialized chef to teach them new skills. Host a restaurant industry networking event one night, or set your team members up with like-minded mentors. Offer access to a hospitality-focused e-learning platform like Typsy. Send them out to visit one of your wine, cheese, or coffee vendors.

What kind of training is my team interested in? You don't have to guess when you can just ask them. Ask your team in person or send out a survey to get their thoughts and share which types of training they'd be interested in pursuing. You might find your front-of-house team is looking for more detailed customer service-based training, or that some employees are looking for clear paths to promotion.

How often should I provide on-the-job training? That'll depend on your restaurant, but the more often you provide training, the better. Maintaining a regular training calendar will help. You can choose to require staff to individually partake in training at different points in their tenure, based on their roles and skill levels, or you can have the whole team come together for training you feel would benefit the group as a whole. Blend those two systems together, and play around with it to see what works best.
Providing your staff with regular training and access to resources shows them that you're invested in their learning and growth — that is, skills and experiences they'll be able to apply in the restaurant. Plus, it's teaching them things they might not have learned otherwise, which may inspire them to continue pursuing careers in the industry.
Hear how Irene Li, owner and operator of Mei Mei Street Kitchen, keeps her team engaged by providing constant training and learning experiences.
Irene Li Shares the Positive Impact of Constant Staff Training
At Mei Mei, staff are always learning, whether it's from each other, in restaurant finance workshops, or from external facilitators.
3. Open your books and get the team involved.
Speaking of valuable skills and learning, say hello to open-book management, a powerful business strategy to keep dedicated employees engaged and accountable.
Open-book management is a system where restaurant managers share the finances of the business with their employees, letting employees see how their work contributes to revenue and giving them a greater understanding of their business impact. It takes every staff member and management approval, and often creates a greater sense of ownership among the team.
Doug Marschke is the owner of Underdogs Too, The Taco Shop at Underdogs, and Tacko in San Francisco, and has seen a lot of success with open-book management at his restaurants. Particularly in terms of staff engagement and retention.
Doug told us, "[Open-book management] keeps everyone involved; everyone acts as a sort of owner. It made all the staff realize how hard the restaurant business is and how pennies really do matter. It also gives them insight into how much money I'm actually making. Our model requires us to be very busy in order to actually make anything, so people always assume that I must be a millionaire. But to see how much money and revenue we have to make in order to generate a small profit per month, I think it goes a long way in changing the mindset of our staff and gives me as an owner a little bit more credibility."
It works for Doug, and it's working for a number of other restaurants including Juliet, Mei Mei, Paris Creperie, and The Rail Trail Flat Bread Co. But open-book management isn't for everyone and isn't without its challenges. It requires a retooling of your staff training strategies and techniques, too. But if you're up for it, the long-term benefits — from improved staff retention to increased job security — are hard to deny. Check out this article to learn more about open-book management and how it impacts employee engagement.
4. Bring the team together as much as possible
It might seem obvious, but a surefire way to keep your employees engaged is to forge stronger bonds across the team.
A study by Officevibe found that 70% of employees say having friends at work is the most crucial element to a happy working life. Making friends with coworkers is more than a nice-to-have for employees, too. It opens the door to a ton of other benefits: open communication and collaboration, sharing of ideas and feedback, peer-to-peer training, higher engagement and productivity, and more.
To create a culture where friendships can naturally develop and thrive, start small by celebrating personal events and milestones. Acknowledge employees' birthdays, work anniversaries, engagements, or whatever special occasion it might be in team meetings and dinners. Give them a physical card signed by fellow staff and maybe even a personalized gift from the team. It shows that you, and the team, care about them on an individual level.
Similar idea, but celebrate when team members really succeed on the job. Have a server who's been outperforming on upsells? Have someone on the back-of-house team who really stepped up after a member of the team quit? Give them nice shout-outs in team meetings, in your email newsletter, or on social media.
Start with those smaller individual recognitions, but then go one step further and promote team bonding and activities.
Pre-shift meetings help break down any divide between front-of-house and back-of-house staff while getting everyone focused, informed, and pumped up for their shift. Team meals, either before shifts or once a week, cultivate a sense of community among the team in a low-stress environment. They're also a great way for you to have your staff try out and discuss new dishes as a group.
And speaking of low-stress environments, take the team out of the restaurant once in a while. Is there a local charity the team feels passionate about? Take a morning or afternoon off to volunteer with them and give back to your community. Another idea? Plan an afternoon or night out for a group activity — a trip to the movies, rock climbing, a yoga class, whatever it might be.
Activities like these, small or large, all help lay the groundwork for a more engaged team and, in turn, foster a high-performing restaurant environment.