This post was last updated on May 14, 2020.
DISCLAIMER: This content is provided for informational purposes only and is not intended as legal, accounting, tax, HR, or other professional advice. You are responsible for your own compliance with laws and regulations. You should contact your attorney or other relevant advisor for advice specific to your circumstances.
Alongside Georgia and Tennessee, Texas was one of the first states to begin lifting COVID-19 stay-at-home orders. With the order expiring on April 30 in Texas, all restaurants, retail stores, movie theaters, and malls were allowed to reopen on May 1 — with limited capacity and numerous restrictions and guidelines in place.
But just because dine-in restrictions in Texas are starting to ease up doesn't mean that every restaurant owner wants (or is ready) to reopen. At least not yet.
"As a company, we prefer to gradually take steps back to normalcy at a safe, gradual speed."
Herb & Beet, a fast-casual restaurant in The Woodlands, Texas, is one business that's made the decision to not open for dine-in service right now. And they're not alone. According to a recent poll by the Texas Restaurant Association, about half (47.4%) of the state's restaurants said they would hold off on opening.
"With the reopening of Texas happening sooner than expected, we are very cognizant of our state's infection numbers and plan to reopen according to the CDC's recommendations," Herb & Beet co-founder and general manager, E'leece Miner-Lorey, shared with us.
"With the mass operational changes that have taken place at Herb & Beet, reopening and all the imperative sanitation, distancing, and safety logistics that follow would definitely put us into extreme overdrive. As a company, we prefer to gradually take steps back to normalcy at a safe, gradual speed."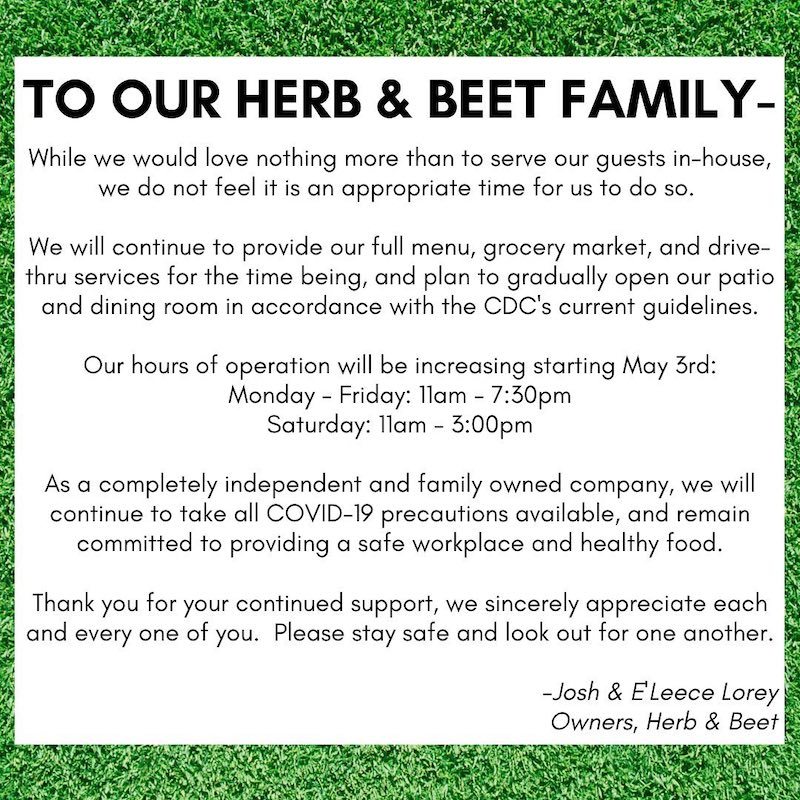 Herb & Beet opened in June 2018 and has been in business for just under two years. In that time, they've built up a shining reputation as a go-to spot for healthy spins on Southern staples.
"We saw a void in the market that needed filling with something that is more vegetarian-forward but also meets the Texas type of cuisine that people expect," E'leece told us. "We knew we had to find a balance between the two. And our philosophy with the menu is fresh food, so we make everything fresh every morning."
They brought a dedication to farm-fresh, healthy food and locally-sourced ingredients to their community, at the heart of Herb & Beet's mission since their doors opened. When stay-at-home and social distancing restrictions started as a result of COVID-19, E'leece and her husband and co-founder, Josh Lorey, didn't falter on their mission. Instead, they got creative to make sure they could keep their community fed, employees working, and revenue coming in.
One of their first initiatives was to create a make-shift "drive-thru" station, a popup tent set up in front of the restaurant to allow for minimal contact during ordering and pickup. They've found serving customers this way keeps lines moving quickly, and by using a handheld POS, they can guarantee contactless ordering and payment processing. In addition to shifting the ordering process, they saw a need for providing large family meal orders and started selling "Beet Boxes" as an additional revenue stream.
On top of those creative tactics, E'leece and Josh have tapped into their access to local ingredients to start selling groceries. They quickly integrated these new grocery items into their online ordering system so guests could easily order online for same day pickup.
"We have seen a much needed bump in revenue," E'leece told us. "And guests have appreciated our no-contact, same-day services as opposed to crowded grocery stores."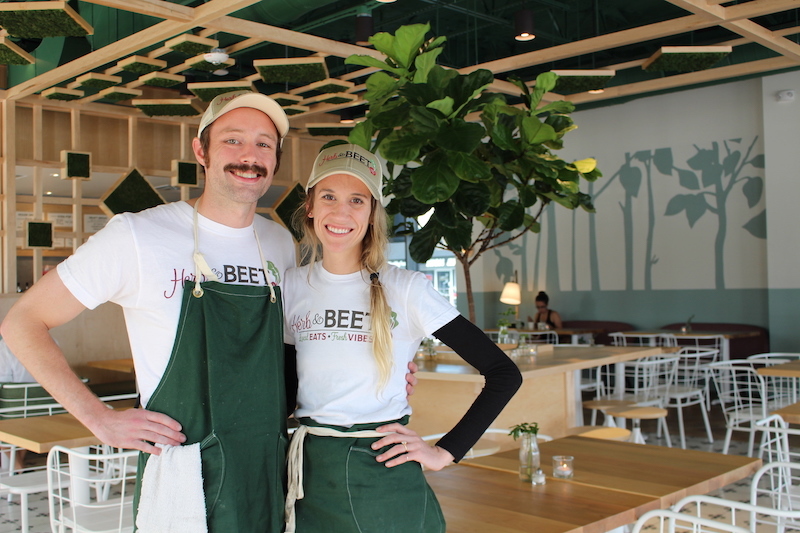 For every restaurant, the decision to reopen will vary and depend on a number of factors, including finances, resources, staff and guest safety concerns, and other liabilities. While E'leece and Josh have decided to put their full reopening on hold, they've been thinking ahead about the steps they'll take to gradually reopen.
"Our plan is to leeway in-house dining by starting with our patio," E'leece shared. "Guests can still enjoy Herb & Beet on a 'real plate' with proper social distancing, and without any chance of staff infection inside the restaurant. Once our state's official COVID numbers decrease for 14 consecutive days, we'll reconsider a modified version of dining room service."
"As a small, fairly new restaurant in the area, we have never been more proud of our little restaurant."
Despite all of the uncertainty and challenges the COVID-19 pandemic has brought on, E'leece and Josh have found bright spots and inspiration by looking to their community and the dedication of their employees. "We have experienced an overwhelming amount of support from our community, which has been a much needed sense of confidence for both my husband and myself," E'leece said.
"As a small, fairly new restaurant in the area, we have never been more proud of our little restaurant. Our team members have readily adapted to necessary changes, and we are very honored to receive much-needed community support during these trying times."