In the restaurant industry today, good people are hard to find and harder to keep. Even prior to the pandemic, recruitment and retention have long been major pain points for restaurant owners and operators.
The COVID-19 pandemic has ushered in massive change in the restaurant industry. Many restaurants were forced to close, and others had to make the challenging decision to let go of valued staff and reduce their workforce.
By May 2020, the industry was down 5.9 million jobs, and the number of restaurant jobs scheduled was down 75%. 17% of restaurants closed for good, and laid-off employees had to find new ways to make ends meet.
Now, as restaurants reopen and guests rush to dining rooms, restaurants are looking to hire again. Many are reporting serious challenges with finding staff in this environment. But these days, the restaurants who are able to find and keep their staff are those who put their workers first with great pay and benefits. Many are increasing menu prices to afford it, and being transparent with their customers about the reason for these changes.
At the core of a restaurant is great food and great service, but without your team, there's no restaurant. So how do you manage in a market with a labor shortage?
In this guide to navigating the restaurant industry labor shortage, we'll cover:
Why there's a restaurant industry labor shortage

How the labor shortage could affect your restaurant

Ways to overcome the labor shortage and find hiring success
First, let's dial it back and walk through the problem itself.
Why Is There a Restaurant Industry Labor Shortage?
COVID-19 exacerbated a massive underlying issue in the industry. Wages are too low, and employees are not feeling valued for their work, or incentivized to stay long-term.
And now, although the industry is recovering, many restaurant employees have left the industry for good. Low wages, no benefits, no room for growth, and industry instability have long contributed to the industry's high turnover rates. The industry talent pool is smaller and more competitive than ever before – with everyone looking to hire.
Restaurant operators need to work even harder to position their businesses as a great place to work, and clearly define what sets them apart from the competition. Above all, employees value good wages, healthcare benefits, and professional development – all of which need to be laid out from the beginning of their most entry-level employee's career. Though this requires higher up-front investment, emphasizing these aspects create long-term employees, instead of managing short-term turnover rates.
Though these problems were exacerbated by COVID-19, they're not new. Even pre-COVID, the industry had a hard time hiring (and retaining) staff, specifically chefs, line cooks, and other back-of-house mainstays, for a while now.
What's to blame? Too many kitchens and not enough cooks. The Bureau of Labor Statistics projects the demand for cooks to grow 6% over the next 10 years, which is faster than the average for all other occupations. The thing is, this hiring desert restaurants are finding themselves in at the moment isn't solely affecting the back of house. It's a buyer's market for restaurant staff; America has a surplus of restaurants with not nearly enough talent to go around.
So if a member of your restaurant staff were to leave because they're unhappy with one or more aspects of working in your restaurant, they have a ton of choice when deciding where to go next. And with most restaurants low on staff right now, they're happy to hire them.
Recruiting new employees is a difficult task because the restaurant industry has earned a poor reputation for workplace quality. It's famous for high-stress shifts in hot kitchens, with few employee benefits and often low wages. These long-standing issues have had a significant impact on workplace satisfaction in both front and back of house. To add to it all, recent amendments to the U.S.'s immigration program and crackdowns on domestic undocumented workers have reduced the number of available workers for restaurant jobs, as undocumented workers have traditionally been a significant part the restaurant staff community. "Immigrants, including Salvadorans and other Central Americans, make up more than half of the staff at my restaurants, and we simply could not run our businesses without them," said celebrity chef, philanthropist, and immigrants-rights advocate José Andres in an op-ed for the Washington Post in 2018.
Here's another thing. Though The National Restaurant Association asserts teen involvement in the restaurant labor force has reached pre-2008 financial crash levels, The U.S Bureau of Labor Statistics projects the number of teens in the labor force to drop by 660,000 over the next 10 years as the number of teens choosing to pursue entrepreneurial opportunities, as well as experience – like volunteer opportunities and community service gigs – that look good on college applications.
Baby Boomers returning to the workforce present restaurants with an attractive labor pool – the number of Americans 55 and overworking in restaurants grew 70% between 2007 and 2018, reports CNBC – yet their participation won't be enough to offset the deficit created by Gen Z foregoing shift work in their teens.
How the Labor Shortage Could Affect Your Restaurant
The good news? Labor shortages aren't impossible to navigate, but they do require some creative thinking, perseverance, patience, and a hearty scoop of time and energy.
Restaurant owners and managers must be prepared to shift their thinking — and, to a degree, their businesses — to attract and hang on to quality employees.
Though the effects of a labor shortage will differ depending on your markets and restaurant type, here are some ways the current restaurant industry labor shortage could affect your operations.
1. Guests might have to wait, and you might have to reduce your opening hours
With fewer front-of-house staff available to serve guests and fewer back-of-house staff available to fulfill on- and off-premise orders, your guests' dining experiences could suffer. Restaurant guests hate having to wait longer than anticipated, whether it's for a table, for their meal, or their check. Wait times are almost guaranteed to increase when you're short-staffed.
In front of house, fewer staff members mean larger sections to work. With more responsibilities, your staff will be forced to budget more of their time getting orders, entering them in the point of sale, running orders, and getting payment, and less time connecting with guests over what's on their plate or in their glass. You could lose that warm connection that guarantees a visit in the future.
In back of house, fewer cooks on the line mean longer wait times for orders to be fulfilled. This will affect table turn times in front of house, making you unable to accommodate the same amount of checks in a night as before, ultimately costing you money.
In response, many restaurants around the country have had to reduce their operating hours due to lack of staff, cutting a whole day or cutting lunch service every day, for example — which reduces operating costs in the short term, but also reduces revenue.
2. Profit margins could shrink.
With fewer staff members and a slower pace, you'll decrease the number of checks you do in a night. With less revenue flowing into your restaurant, you're left with a shrinking operational budget that will substantially affect your purchasing decisions.
The average restaurant profit margin falls somewhere around 5%. With an expected increase in labor overhead as wages increase, restaurateurs can expect their profits to take a bigger hit in the coming years.
Though a labor shortage could initially mean less spend on labor costs, as you lose employees and need to pay fewer employees to work longer hours, overtime laws will come into effect. Make sure you stay compliant and protect your business. Plus, if you're providing a less-than-stellar guest experience because of being short-staffed, your sales will go down too.
3. Staff could leave for something better.
For those who rely on the service industry as their primary or sole source of income, it's unfortunately normal to work long days and late nights only to barely reach the poverty threshold. Excluding tips, the average annual wage of a restaurant employee hovers between $11,000 and $27,000, with servers at the lower end of the scale and chefs at the top.
Today's restaurant staff are motivated to pursue opportunities that offer competitive compensation, meaningful employee benefits, work perks, and a safe, supportive working environment. If your restaurant offers front-of-house staff standard minimum wage plus tips and your back of house slightly above minimum wage, staff might not think working at your restaurant will provide them with a paycheck that covers the bills. And thanks to the COVID crisis, many longtime industry workers have chosen to leave the restaurant industry altogether.
To combat the current labor shortage, restaurants are getting more competitive with offering employee benefits and new compensation models. If your restaurant doesn't meet the workforce's expectations, it's easy for staff to leave and immediately find a better option.
How to Overcome the Labor Shortage and Keep Your Restaurant Running
Today, few restaurant managers have the luxury of kicking back and watching resumes roll in. Instead, they're actively sourcing from unlikely places and designing incentives and benefit programs to prove restaurant work isn't "just a job" but a career (and a good one at that).
Here are some tactics to help you stay above water in the face of a labor shortage.
1. Double down on staff retention.
Your existing restaurant staff are never more valuable than when you're in the middle of a labor shortage. Replacing hourly employees is already costly, and when there are fewer job seekers in the market for new opportunities, the time spent, money spent, and revenue lost from hiring adds up.
Before you start recruiting new staff, look inward and focus on what it was about your restaurant that caused your employee to leave. Employee exit interviews – a discussion with a departing employee about their experience working for your business – are one of the best tools available to improve culture and workplace satisfaction. You get it right from the horse's mouth: the good, the bad, the ugly, and hopefully tips on what you can do better. Our guide to reducing restaurant employee turnover includes an exercise that will help you understand why your employees are leaving through honest employee interviews.
Besides exiting employees, your existing staff each have their own opinions on what's great and not-so-great about working in your restaurant. Ask them for their feedback and come up with an action plan based on common things you hear mentioned. Employee loyalty is earned through transparency, honesty, appreciation, and respect.
Start conducting one on one meetings regularly with each of your staff members. Not only is this a great way to gather feedback about your workplace, but it leaves staff feeling supported, helps solve problems before they grow, and shows your staff that you care about them and their career growth.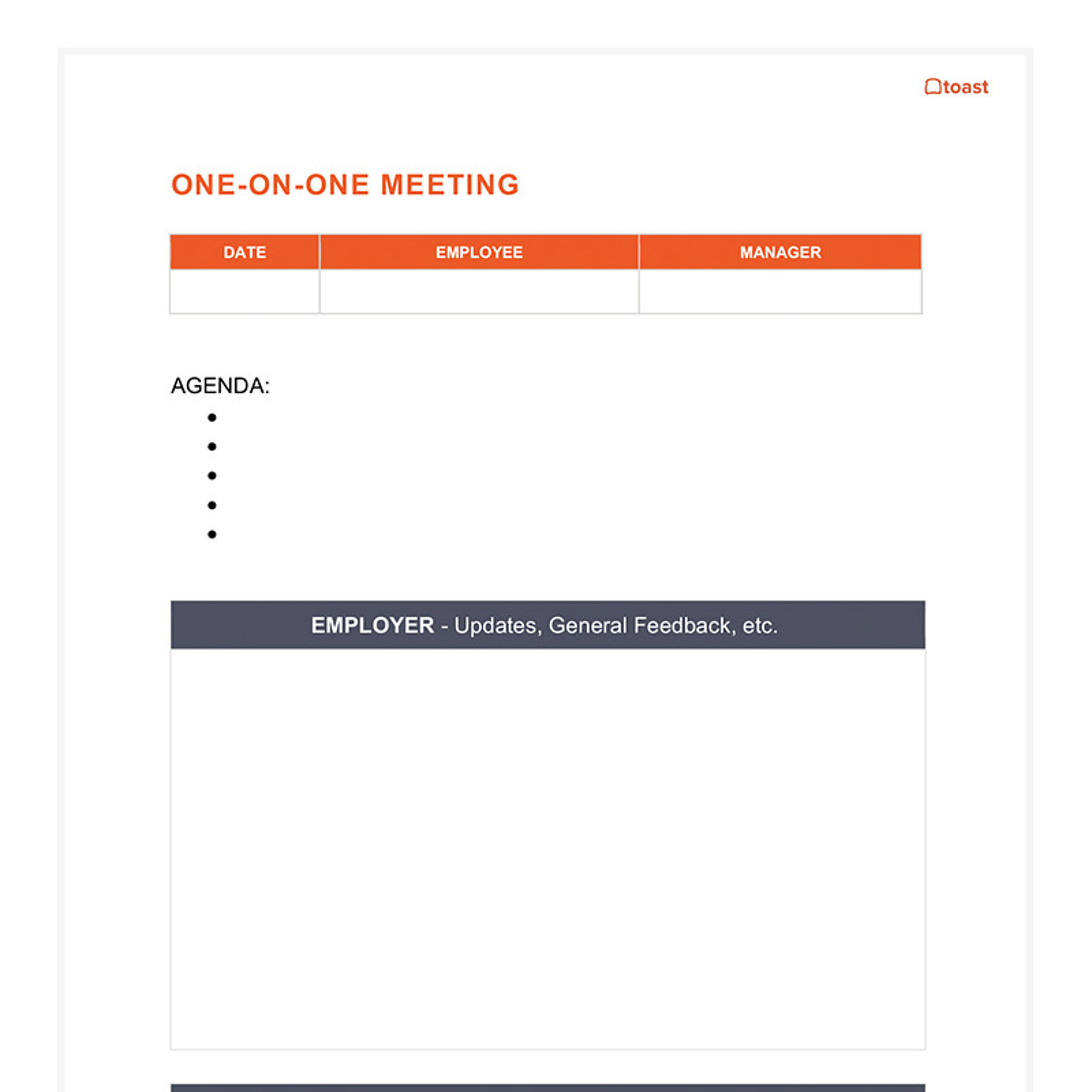 One-on-One Meeting Template
Make weekly, biweekly, or monthly check-ins with employees productive with this customizable Word doc for your one-on-one meeting agendas.
Download
2. Spread the word about open roles.
Because we're in the middle of a labor shortage, you can't just rely on your usual hiring tactics. Here are some outside-the-box hiring tactics to try:
Reach out to your community. If you have friends with teenage kids, see if they're looking for part-time work or a summer job.

Create an employee referral program that motivates your staff with rewards for successfully referring their friends, family, and greater networks to open staff positions. You could also consider opening this to the public: Put a small print out in checkbooks, on tables, and in takeout orders offering a reward – like a free meal – for any referred candidates you successfully hire.

Host a hospitality networking night where you invite front- and back-of-house staff from restaurants in the area to meet. By tying your brand to an event centered around community building and career growth opportunities, you're bound to get a resume or two.

From hospitality job boards to ads on social media, cast a wide net to ensure you're getting a larger pool of candidates to choose from. Many job sites and social media sites allow you to target your ads to people within a certain geographical area; this could help you get in front of job seekers who would have manageable commutes to your restaurant.
3. Shake up your business model.
From gratuity-free and restaurant co-ops to open-book management and profit-sharing, there are several non-traditional employment models available to restaurateurs who are finding their existing staff management model isn't attractive for potential employees.
Open-book management, for example, is popular among restaurateurs and staff because it engenders a culture of ownership and empowers your employees by showing them exactly how the restaurant is doing and how their work impacts results.
But does it work? Henry Patterson, CEO, and founder of ReThink Restaurants, trains restaurants in implementing open-book management and profit-sharing model through hands-on, financial literacy training. While the average restaurant profit margin falls around 5%, ReThink Restaurants considers 10% basic health, with the majority of their clients hovering somewhere in the mid-20's. A business model that increases profitability, employee retention, and workplace satisfaction? Sign me up.
4. Take care of your team.
Take a hard look at your restaurant employee benefits and ask yourself: Are these benefits enough to make my restaurant a top choice for prospective employees?
Though it might seem like just another operational expense, employee benefits are worth their weight in gold for the substantial impact they have on employee retention and recruitment. With the cost of replacing one hourly restaurant employee surpassing $5,000, finding room in the budget for benefits seems like a no-brainer.
Health insurance, profit-sharing, on-the-job hospitality skills training, the flexibility to pick up on-call shifts, year-end bonuses, and free-shift meals are just a few ideas worth considering. If you're unsure about whether an employee benefits package is worth the investment or if potential and existing staff will think it meaningful, try out a performance-based incentive first, like accruing PTO based on the number of hours worked or setting up health-care benefits that kick in once a staff member has reached their one-year anniversary.
When restaurant employees feel supported by their employer through great pay and benefits, they're happier and can do their best work. According to Market Watch, more than half of American consumers (56%) said they are living paycheck to paycheck and restaurant employees are no exception, many of whom have limited or no emergency savings.
The ability for your employees to access their wages when needed, before payday, is becoming more and more essential. Financial stress is a significant mental burden that can lead to burnout, absenteeism, and turnover, and earned wage access can help alleviate these issues. Offering earned wage access can improve restaurant employee experience, increase financial stability and improve retention.
According to a PwC employee financial wellness survey, one in four employees were distracted at work by personal finance issues in the past year and 54% said financial or money matters caused the most stress. By providing earned wage access, employees can reap the benefits of greater financial flexibility.
5. Take advantage of technology.
Technology, like Toast Go and Order and Pay can help increase efficiency while working with fewer employees. Technology like these streamlines the dining experience: your guests can order and pay at their convenience, while decreasing the amount of servers you need on the floor (and increasing average check sizes!).
And, while guests are doing the ordering themselves, servers can focus on the hospitality aspects of their jobs: talking to and connecting with guests, giving menu advice and checking in on meals.
Guests can order food and drinks whenever they're craving them, not having to wait for a server to come over before ordering another round.
Staff is saving time, increasing the efficiency of service, and guests are still happy and well taken care of.
Labor Shortage? You got this.
A labor shortage isn't easy for any business owner or operator to fight – especially in an industry like ours. Recruiting and retaining quality employees is tough to do, but not impossible.
The key is making your team feel valued, compensated well, and well taken care of, and with some time, attention, and the above tips in your back pocket, your restaurant will continue to thrive.