A referred candidate is faster to hire and train than a traditionally sourced candidate. How do we know this? Word on the street. But also, study after study show that the best recruiting practice is to ask your current employees if they know someone who might be a good fit.
According to the Bureau of Labor Statistics, in 2018 there were 5.4 million workers in the restaurant industry. While that labor pool seems massive, searching for great employees can still be tough. In the 2019 Restaurant Success Report, we learned most restaurateurs rank hiring staff as a top challenge. And replacing an hourly employee can cost nearly $6,000 for a restaurant.
It's not just hiring, either — it's hiring the right team members who will stick around. The annual restaurant employee turnover rate is at an all-time high of 75%. This means three-quarters of employees are unlikely to stay in a restaurant job for a whole year, leaving restaurateurs in a constant cycle of replacing staff.
Hiring staff shouldn't be so damn hard. Restaurant owners and managers have the deck stacked against them when it comes to hiring and retaining great talent. But an employee referral program can make hiring a little easier.
What is an employee referral program?
An employee referral program is a recruiting and hiring strategy where current employees refer people they know for jobs at their places of work. Employers can encourage employees to refer candidates through rewards and benefits.
Building a referral program is one of the best ways to find employees for your restaurant. Your current team members have a vested interest in bringing in people who will make the workload lighter, not heavier. They'll also be more likely to introduce candidates who add to your culture. Employees are happier when they're working with people they want to work with.
In most cases, it's cheaper to hire using referrals, even when you're offering a referral bonus for every hired candidate. Plus, new hires who are recruited through an employee referral program produce 25% more profit for their companies than new hires who are recruited the old fashioned way.
It's a win-win. Mostly.
There's danger in hiring within your circle.
Employee referral programs come with a certain level of risk. Employees tend to refer candidates who are similar to them. Whether intentionally or subconsciously, they'll bring in candidates with similar career experiences, similar socio-economic backgrounds, similar communities, and similar perspectives. And that type of sourcing can pose a risk to the diverse makeup of your team.
In 2017, PayScale asked 53,000 U.S. workers if they had received an employee referral or were connected to an employee at the company at which they currently work. That research discovered that referrals disproportionately benefit white men more than other groups. Women and minority applicants seem to be less likely to receive an employee referral. Of course, this depends on industry, department, location, and even role, but because the majority of restaurant positions (especially in leadership) are held by men, it's dangerous to hire only the friends, family, and coworkers of those who hold most of the jobs.
There are ways to prevent a hiring bubble while still running a great referral program. Many businesses try to extend the reach of their sourcing efforts, offer incentives for more diverse candidate referrals, or make sure hiring teams include a diverse range of team members. We'll dig into that more below.
Here's how to build your employee referral program and find the employees you've been searching for.
1. Start With Focus
The first step to any new program is to figure out your goals. What do you hope to achieve? How do you want the program to grow? And over what period? Who will be involved? And is that actually achievable?
Having a clear vision of what you want to accomplish will help you focus on what matters most and clearly communicate the value of a referral program to your team.
Maybe your first goal is to cut 50% of spending on hiring ads or recruiters. Maybe you need to hire five people in the next month. Maybe you want to bring in employees with a different or more diverse skill set. Or maybe you want to set a goal around staff turnover: hire people who have long-term career goals in the industry so they stick around for more than two years. Whatever it is, be specific.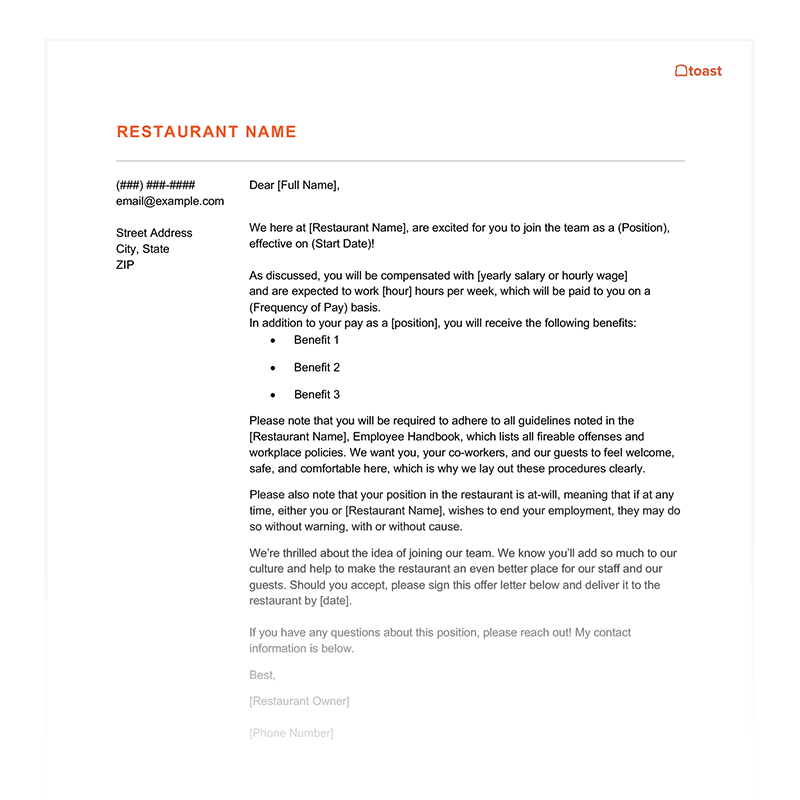 Offer Letter Template
When offering jobs to new hires at your restaurant, use the offer letter template to outline wages, benefits, and expectations.
Download