This post was last updated on Jul 30, 2020.
DISCLAIMER: This content is provided for informational purposes only and is not intended as legal, accounting, tax, HR, or other professional advice. You are responsible for your own compliance with laws and regulations. You should contact your attorney or other relevant advisor for advice specific to your circumstances.
It's hard out here for a restaurant owner. Besides worrying about skyrocketing rent costs, a nationwide labor shortage, and an oversaturated marketplace, restaurant owners and operators now need to add Hepatitis A to their watch list.
Yes, you read that right: Hepatitis A, the devastating, viral liver infection we thought we squashed from existence with the invention of a preventative vaccine. Think again.
Here's what you and your restaurant need to know about the Hepatitis A outbreak in restaurants.

Employee Handbook Template
Outline your restaurant's staff policies in this customizable Word doc to help restaurant management and staff get on the same page.
Download
The Hepatitis A Outbreak Explained
On June 11, 2018, the Center for Disease Control (CDC) issued a health advisory warning Americans of a Hepatitis A outbreak affecting 10 states and counting.
The 10 states currently experiencing widespread Hepatitis A outbreaks are:
Arkansas
California
Indiana
Kentucky
Michigan
Missouri
North Carolina
Ohio
Tennessee
Utah
West Virginia
If you would like to learn more about Hepatitis A, the scope of the outbreak, and resources available in your area, check out The CDC's website for additional information.
According to the CDC, between January 2017 and April 2018, over 2,500 cases of Hepatitis A were reported. Hepatitis A is a highly contagious liver infection predominantly transmitted via "person-to-person through the fecal-oral route (i.e., ingestion of something that has been contaminated with the feces of an infected person)" says the CDC.
In layman's terms, the disease is contracted when a person doesn't wash their hands thoroughly after using the bathroom and spread when said person proceeds to interact with another via touch or handles food or drink that others then ingest. According to the CDC Hepatitis A Fact Sheet, outbreaks can happen "especially among people who use drugs, people experiencing homelessness, and men who have sex with men."
Food-service workers are at a higher risk than workers in many other industries, since their daily responsibilities include directly handling food and drink, person-to-person contact when serving meals and drinks to guests, and interacting with discarded food items that individuals have touched or partially eaten.
One of the most at-risk groups for contracting Hepatitis A are people who use intravenous drugs, and in some communities, there is an overlap between intravenous drug users and part-time food-service workers. Says Dr. Sarah Moyer, Medical Director of Public Health and Wellness for the State of Kentucky, "People who use drugs may seek part-time work at places like food-service establishments, leading to the potential for Hepatitis A spread...we encourage other businesses to either donate vaccine or immunize their employees against Hepatitis A."
The restaurant arm of the food-service industry has a long, sordid relationship with substance abuse and substance abuse disorders. In 2015, a study conducted by The Substance Abuse and Mental Health Adminstration (SAMSHA) found the foodservice and hospitality industry to have the highest rates of substance use disorders and third highest rate of heavy alcohol use of all employment sectors.
Populations, like restaurant and food-service workers, who suffer from widespread substance abuse and substance abuse disorders typically see a correlated spike in drug and alcohol related illnesses, including Hepatitis A. When the aforementioned illnesses are communicable by touch alone, their impact can be disastrous, devastating entire communities and states, much like what we're currently witnessing with the 10 state Hepatitis A outbreak.
Though the scope of impact from the Hepatitis A outbreak varies from state to state, the ease of transmission has made this Hepatitis A outbreak especially impactful in a short span of time. The city of San Diego alone saw 369 hospitalizations, 557 recorded cases, and 20 deaths resulting from Hepatitis A in 2017; as of July 2018 The State of Michigan has seen 694 hospitalizations, 859 recorded cases, and 27 deaths as a result of a state-wide Hepatitis A outbreak – officially making Michigan's outbreak the worst in the country.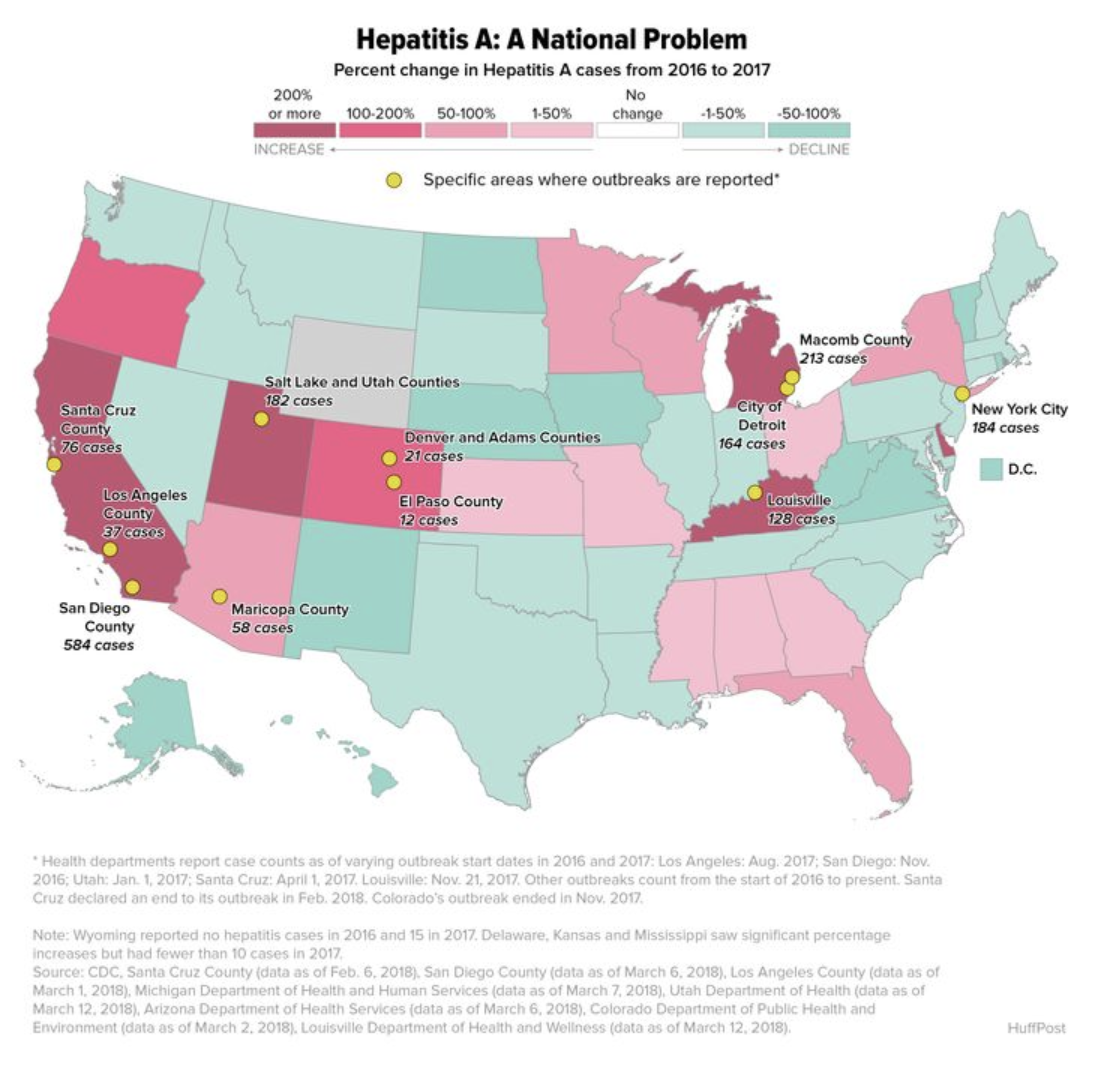 The reported cases of Hepatitis A have continued to rise as the disease spreads into additional states. Unprepared to handle the unexpected spike in Hepatitis A cases, the Nashville, TN, community is currently experiencing a shortage in available Hepatitis A vaccines, making it more difficult to contain and control the outbreak.
Unfortunately, Nashville isn't the only municipality experiencing a vaccine shortage: earlier this year, the CDC issued a statement explaining their existing supply of Hepatitis A vaccines was not enough to keep up with the demand spurred by the 2017-2018 outbreak. The shortage, they explained, was not only affecting the United States – but the world at large.
"We typically provide 1.2 million adult doses each year to the US market, and the demand this year has vastly surpassed the supply on hand," says Robin Gaitens, spokeswoman for GlaxoSmithKline, one of only two drug companies approved to sell the Hepatitis A vaccine (the other company being Merck).
How Is The Hepatitis A Outbreak Being Handled?
The CDC, as well as their state and local level counterparts, has urged individuals who live or work in states with a documented risk of exposure get Hepatitis A vaccines immediately in order to prevent the further spread of the disease.
The CDC recommends the following populations be vaccinated against Hepatitis A:
All children at age 1 year
Travelers to countries that have high rates of hepatitis A
Family members and caregivers of recent adoptees from countries where hepatitis A is common
Men who have sexual contact with other men
People who use recreational drugs, whether injected or not
People with chronic (lifelong) liver diseases, such as hepatitis B or hepatitis C
People who are treated with clotting-factor concentrates
People who work with hepatitis A infected animals or in a hepatitis A research laboratory
Though members of the food service industry aren't called out on the above list, many communities are targeting food-service workers for their high risk status and the high number of recorded Hepatitis A cases involving food service workers and restaurants of all types.
"One Hepatitis A-positive foodservice worker can infect large numbers of customers and cause thousands of others to seek preventive vaccines," says the team at Food Safety News. "Illnesses and vaccines can cost thousands if not millions of dollars, and can cost restaurants its viability either by a downturn in customers or civil lawsuits."
In West Virginia, Kentucky, Indiana, Arkansas, and Ohio, pop-up clinics and state-sponsored events targeting food service workers are being held on an ongoing basis to prevent the spread of Hepatitis A in local restaurants.
Though most major private insurance providers cover Hepatitis A vaccines, for individuals without health-insurance – like part-time food service workers, who traditionally don't have availability to health-insurance via their employer – these state sponsored pop up clinics offer a low-cost or free way to avoid getting sick.
In West Virginia, The West Virginia Bureau for Public Health purchased $550,000 worth of Hepatitis A vaccines to provide at-risk populations – specifically for people experiencing homelessness and food-service workers – vaccines free of charge; in Arkansas, The State Department of Health has conducted a similar campaign targeting food-service workers, offering free vaccines at state-sponsored events and pop-up clinics.
In order to curtail the spread of Hepatitis A in California – 704 reported cases, 461 hospitalizations, 21 deaths between November 2016 and April 2018 – the CDC and California Department of Public Health (CDPH) mobilized an outbreak response plan which included the distribution of an additional 123,000 vaccines to afflicted metros.
Some metros, like Boyd County in Kentucky, now legally require all food-service workers be vaccinated. During regular health inspections, food-service businesses will be required to produce vaccination records for each of their employees; if the business cannot or does not provide satisfactory documentation, the health inspector will then notify the county's code enforcement arm.
What Should I Do If An Employee Tests Positive for Hepatitis A?
Though Hepatitis A is responsible for a host of gut-wrenching symptoms – jaundice, clay colored bowel movements, nausea and vomiting, dark urine, extreme fatigue, and literal gut-wrenching pain, to name a few – the disease itself is completely curable and avoidable by vaccine.
Individuals with Hepatitis A may show no symptoms for up to four weeks after being exposed to the disease, making the spread very difficult to contain; Hepatitis A's symptoms also mimic a common flu or serious gastrointestinal infection, making the disease hard to categorize once symptoms do finally appear.
If a member of your restaurant staff has tested positive for Hepatitis A, it is important to remember that you can limit the spread and impact of the disease, but only if you act quickly.
Upon learning a member of your restaurant staff has contracted Hepatitis A, it is imperative that you contact your local health department to learn the proper protocol for handling a reported case of Hepatitis A within your business. Since every business and reported case of Hepatitis A is unique, only a local health inspector or representative from your local health-department will be able to provide clarification around what to do next.
The Food Marketing Institute (FMI) has created an in-depth information guide and action plan for restaurant owners to use in the event a guest or member of your restaurant staff contracts Hepatitis A. They advise to:
Record any and all tasks performed by the employee – including any tasks that involve the handling of ready-to-eat food or drink – for up to (at least) 14 days before exhibiting symptoms. This step is very important, as Hepatitis A is considered contagious for a 14-day window from when it is contracted; the Hepatitis A vaccine is also only viable for at-risk individuals if administered within 14 days of exposure.
Document the sanitation and hand-washing practices during the performance of these tasks.
Conduct Hepatitis A awareness training with your entire restaurant staff. Ensure your employees are aware of the symptoms of Hepatitis A, and the internal procedure for informing management if they exhibit any of the aforementioned symptoms. Consider working with a local health organization or clinic to educate employees how to control and prevent hepatitis A.
Monitor your restaurant staff for any symptoms of Hepatitis A. Symptoms may not appear for as long as two months after exposure to the virus, so it's imperative you be vigilant for the ensuing 60 days following a Hepatitis A diagnosis on staff.
Educate your staff in proper hand washing and sanitation procedures. Place signage around your restaurant that illustrates proper hand washing and sanitation procedures. Reinforce this protocol always be practiced.
Allow the infected employee to return to work only after receiving a medical release from an attending physician and after consulting with your local health department.
Bouncing back from a reported Hepatitis A case can be difficult, both for the ailing employee and for your brand. There is an unfounded stigma around Hepatitis A that suggests those affected must be maintaining a "risky" lifestyle or a dirty workplace. Since Hepatitis A is so easy to contract and spread, these stereotypes simply aren't true.
If your restaurant has made waves in the community or headlines in the press for a documented Hepatitis A case, it's important to be transparent with your staff, your customers, and the community at large.
Using your restaurant's CRM platform, send a dedicated email to your entire customer base explaining what happened, the steps you've taken to ensure your entire restaurant – both customers and staff – is safe, and what you're doing to prevent another case of Hepatitis A from infecting your restaurant in the future.
Offer a redeemable coupon that entitles customers to one free menu item and one free conversation with the manager on duty, where customers are encouraged to ask questions and get to know your restaurant's management face to face.
If your community is experiencing higher than average reported cases of Hepatitis A, host an education event where members from the greater community can come and listen to experts speak about Hepatitis A, preventative measures, and how to keep their loved ones safe. By taking charge in the face of disaster and working to educate those around you on ways to protect themselves from Hep A, your brand will now be considered a proactive leader in the community who looks out for the health and wellbeing of all.
If you are curious whether your state is experiencing a higher than average rate of reported Hepatitis A, check out this list from Food Safety News. Unfortunately, The CDC does not make their list available to the public.
Again, if a member of your restaurant staff contracts Hepatitis A, contact your local health department immediately to learn about next steps and proper handling procedure.