This article was last updated on March 13, 2020.
We're just beginning to understand the public health impact of COVID-19, and still, it's difficult to gauge how restaurants will be impacted over the coming months. What we do know is that the outbreak of COVID-19 and the effects of the public's response will impact all businesses, including the hard-working owners, operators, farmers, delivery drivers, staff, and just about everyone in the food business.
Some of you have been sharing stories of an uptick in online orders, lost revenue from cancelled events and catering, and even declining profits. Many of you are talking about how it's affecting your staff and what you're doing in response. These are tough challenges, because not only is the industry facing a serious labor shortage and record-high turnover, restaurateurs now need to keep the staff they have safe and healthy in the middle of an escalating health crisis.
Last week, Food and Wine reported that in New York's Chinatown business has dropped 40–80%, and that some of those businesses have even taken to paying their staff from their own wages due to razor-thin margins. The owner of Tutta Bella Neapolitan Pizzeria, a restaurant in Seattle where COVID-19 has hit hard, has decided to forgo his paycheck to provide sick leave to employees. Coronavirus relief funds are popping up all over the country, with 100 percent of proceeds going to help restaurant and bar hourly employees. Mei Mei, a Chinese-American restaurant in Boston, has shifted their efforts to provide a market-style shop for their employees and those in need in their community, as their doors remain shut for an indefinite amount of time. These types of efforts make it clear that the hospitality industry is a tight-nit family and will do whatever they can to take care of each other.
Regardless, restaurant work is a tough gig, and nearly seven million Americans in the restaurant industry are forced to go without pay if they're too sick to work, so a health crisis can be extra frightening for restaurant staff.
Communities depend heavily on the food service workers who keep the country running. And even as social distancing efforts increase, diners still need to eat, so we'll likely see consumer behaviors change to demand food in different ways. That means staffing needs will change, too. As the number of known COVID-19 cases increases, schools and businesses are closing, kids could stay home, and the risk of getting sick at work and incurring hefty healthcare bills grows.
Now, more than ever, restaurant workers need support.
Here's how you can provide help for restaurant workers, and let your staff know you've got their back during a health crisis.
And, just so you know, this content is for informational purposes only and is not intended as legal, accounting, tax, HR, or other professional advice. You're responsible for your own compliance with laws and regulations. Contact your attorney or other relevant advisor for advice specific to your circumstances.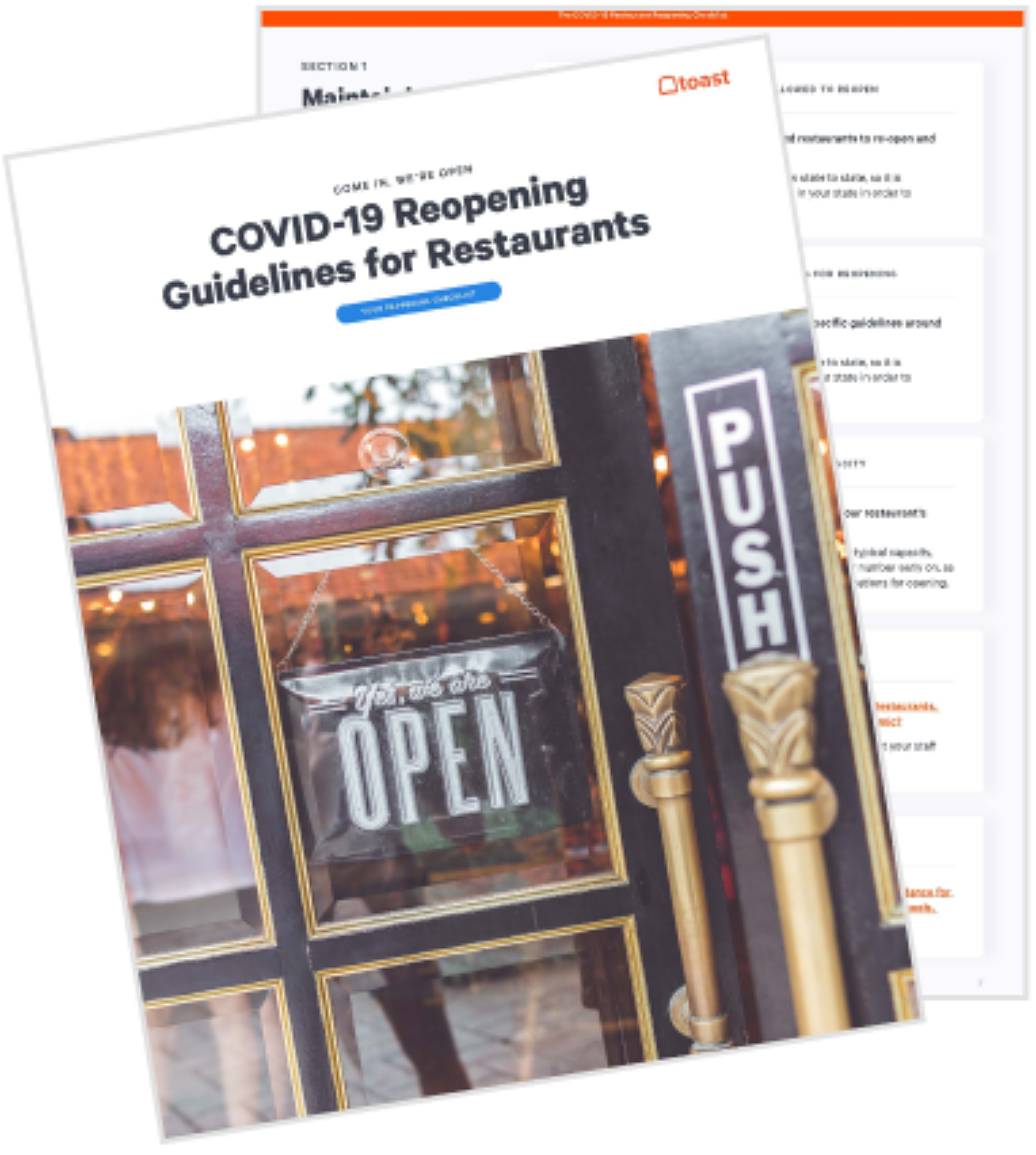 Restaurant Reopening Checklist
Learn how to approach reopening your restaurant during COVID-19 with this 78-item checklist.
Download
Offer Paid Sick Leave and Tell Sick Employees to Stay Home
Paying your employees sick leave when they're out of commission can make all the difference in your staff's wellbeing and tenure at your restaurant. If paid sick leave is not a state requirement or you're not currently offering it, now is a good time to consider making it work.
Many hourly employees have to make the tough decision to either go into work while ill or lose out on pay, and either choice can lead to bad situations. If a sick employee opts to come into work — which one in five food service workers have admitted to doing in the past year, according to the US Centers for Disease Control — they're putting your staff and your guests at risk. However, if they decide to stay home without pay, they're likely going to struggle to make ends meet. By implementing a paid sick leave program, you're making sure your team doesn't have to decide between endangering others and earning a steady paycheck.
Amid the COVID-19 pandemic, Darden Restaurants — the parent company of Olive Garden, Longhorn Steakhouse, and Cheddar's Scratch Kitchen — chose to accelerate their rollout of paid sick leave to 180,000 employees who previously did not receive it. McDonald's corporate stores will pay quarantined workers for two weeks of paid leave. Though these companies have a large cash reserve to implement these decisions quickly, there are accrual options as well as advanced sick leave, which means you can customize your plan to what makes the most sense for your business.
Although reliable work attendance is a standard expectation, during a pandemic you should consider a different protocol to keep patrons and employees healthy. As the team from Tacolicious, in San Francisco, said in a recent customer newsletter, "All employees who cough or look at us sideways are being sent home with paid sick leave, which is our practice anyhow." Your expectations for work attendance should revolve around the health and wellbeing of your employees, so don't allow sick employees to come to work.
Don't Require a Doctor's Note for Staff Who Call in Sick
When there's a health crisis like COVID-19, doctors' offices are flooded with patients. For this reason, those with mild symptoms are often discouraged from visiting the doctor to make sure those with severe symptoms or people belonging to high-risk groups can be seen, tested, and treated.
Give your staff the benefit of the doubt when it comes to calling in. Don't make sick employees prove they're sick, especially because it might be impossible to do so. If staff are feeling ill, make sure they're staying home.
Gary Ward, the owner of Scoot's BBQ and Olivia's Restaurant in Gloucester, Virginia, has been talking with his team about making small changes, like not requiring doctors' notes, to his traditional business protocol.
"We certainly are going to be a little more relaxed than what you normally would be in the business. Since there's an expectation that business is potentially going to slow down some, there may be a natural need for some people not to come in. But beyond that, we're definitely having a higher level of sensitivity and acceptance of that."
Additionally, if your restaurant doesn't provide health insurance, there's a good chance your staff members would feel stuck between a rock and a hard place if they feel sick but are required to get a doctor's note to stay home. Doctor's visits aren't cheap, and if employees are missing a shift, they're already missing out on a portion of their expected income. Cut them a break and take their word for it.
Support Staff, Even When You Have to Let Them Go
The organization of your staff has likely changed over the last few weeks. Whether you had to let your team go, kept a few individuals to get food out the door, or have shifted positions to accompany an off-premise operation, it's important to support them in the best way you can.
Red Letter Hospitality group, which oversees The Cork 1794, Molly Brannigan's, The Skunk & Goat Tavern, and CoreLife Eateries held a Red Letter Employee Day and raised $28,000 for their laid-off employees.
We had to lay off over 200 employees. Our number one mission is to put our employees first. We came together to have a Red Letter Employee Day where we donated 100% of our online gift card sales, 25% of our food and beverage sales, and 50% of our merchandise sales to our employee relief fund.
Promote Mental Health
Heightened stress can come from a pandemic, so offering your staff assistance to maintain their mental health shows that you're putting them first.
The World Health Organization provides resources that detail the do's and don'ts of coping with anxiety around the COVID-19 outbreak. Consider hanging this poster in your kitchen where all staff can access it.
You can also consider subscriptions for your staff to mindfulness apps that help with anxiety. Headspace, AnxietyCoach, and Happify are all ADAA-reviewed mental health apps that can help in a variety of ways. There are also companies designed specifically with employees in mind, like Modern Health, that offer in-person or over-the-phone support through therapy, digital resources, and certified coaches.
Lastly, make sure the positive and supportive culture at your restaurant is maintained, even through the chaos. Make sure your employees know you support them and that your door is always open. A lot of the stress will be minimized if you can keep a steady handle on the environment inside your doors.
Provide Leave for Parents and Caregivers
Many families are having to make decisions around missing work to care for children or parents. As the health crisis worsens, schools have closed, and older adults and those with serious medical conditions are at a higher risk for contracting COVID-19, so it's possible that some members of your staff may have to take time to care for their loved ones. It's a good idea for you, as well as your staff, to get familiar with the Family and Medical Leave Act.
According to the Department of Labor, Family and Medical Leave Act (FMLA) allows for certain employees to take up to twelve weeks of unpaid, job-protected leave over a twelve month period. If an employee qualifies for FMLA — if they've been at your business for at least 12 months, if they've worked at least 1,250 hours over the past 12 months, and if your restaurant employees 50 or more employees within 75 miles — you're required to offer FMLA for any of the following reasons:
For the birth and care of the newborn child of an employee

For placement with the employee of a child for adoption or foster care

To care for an immediate family member (spouse, child, or parent) with a serious health condition or

To take medical leave when the employee is unable to work because of a serious health condition
If you have staff members who need to take care of their family but do not qualify for FMLA, try working with your employees to develop a game plan — consider scheduling them fewer hours, giving them a flexible schedule, or offering extended time off. If an employee has to care for a family member, it's likely that the rest of your staff will be willing to pick up any slack, especially if your restaurant team values treating one another like family.
Communicate Procedures and Updates to Your Employees
Everyone wants to stay informed during a health crisis. Communicating regular updates to your staff keeps everyone calm and creates trust among your employees.
Let your staff know that you're keeping tabs on the situation and following CDC guidance and recommendations. Because different news outlets might have conflicting statistics and advice, rely on authoritative sites — like the CDC and your state's health department — for accurate information. Consider including a two-minute daily update on the situation in your pre-shift meetings.
Gary's restaurants have no managers, so the owners and staff are a tight-nit group. They are as transparent as possible with their employees because they view each other as family. "A lot of what we've done is just try to play almost that parent role and we've tried to give our employees some comfort and make them aware of what we think is potentially coming. You know, we may see business slow down. But we are going to do our best to keep everyone on board and working and find ways for them to make money." This level of transparency has put the employees at both Scoot's BBQ and Olivia's Restaurant at ease that they are constantly being considered.
Additionally, clearly outline your benefits to your employees, and even give a refresher course if necessary. Let them know what options they have at their disposal — whether it be healthcare, paid sick leave, paid time off, or any other benefit — so they don't feel left in the dark.
A lot of what we've done is just try to play almost that parent role and we've tried to give our employees some comfort and make them aware of what we think is potentially coming. You know, we may see business slow down. But we are going to do our best to keep everyone on board and working and find ways for them to make money
Insist on Cleanliness
Cleaning your restaurant is a must, regardless of the situation, but cleaning procedures need to be ramped up during a health crisis. Insist that staff wash their hands often and cover their mouths when they cough or sneeze, ideally into the crook of their elbows and not into their hands. Make sure they're vigilantly cleaning your kitchen and dining room more than usual. Install hand sanitizing stations for customers and employees — both in the front and back of house.
Consider installing sanitary door openers on bathroom doors and in your kitchen to avoid contact with door knobs. Use disposable sanitizing wipes to clean menus, tables, and chairs between customers, and clean door handles regularly.
Thoroughly sanitize your POS system, handhelds, kiosks, and any other technology that employees and customers are frequently touching.
Lastly, make sure your servers, hosts, and kitchen staff are avoiding handshakes, high-fives, or any other hand-to-hand contact. Come up with other ways of congratulating your employees to keep your restaurant's morale up.
Use Your Tech to Keep Staff Safe
Using your technology to make up for a smaller staff or slower shifts helps your employees big time. If you have kiosks in your restaurant, use these to take customer orders and payment without the need of a host or cashier — and again, keep those kiosks clean.
Handheld POS systems can make taking orders and payments more seamless, as well, which means you'll require fewer employees on duty if some are out sick. Contactless payments also reduce the risk of your staff's contact with dangerous germs and bacteria, as customers simply tap their cards or phones to pay.
There's more you can do off-site, too. Here are some Toast partners who can help you take care of your team:
AP Intego - A small business insurance company that allows you to offer your employees insurance at a reasonable price.

Chowly - Integrates your POS with third-party online delivery platforms, which can help lower staff count when needed, so if you have someone call in sick, you'll be a-okay.

7shifts - Simplified scheduling to work around call-ins and give employees an easy-to-use app to manage their schedule from anywhere.
Jordan Boesch, CEO of 7shifts, shared how the 7shifts messaging platform has increased team communication during this time.
Maintaining constant communication with staff during this time is key, even if the news is bad. They will trust and appreciate you more than ever. We're seeing a 35% increase on the messaging platform within 7shifts—an indication of how critical team communication is in any health crisis. These are operators that care deeply about their employees. When the industry gets back to normal, staff will remember how you, as a manager, navigated through a very tough situation. Do not underestimate the opportunity you have to build loyalty through frequent and honest communication.
Whether you're preparing for flu season or the COVID-19 outbreak, keeping your employees at the forefront of your plans is an important way to show them you care about their health and wellbeing. By encouraging staff to stay home when sick, giving them resources to maintain their health, and communicating clearly, you'll keep your staff and customers healthy. And don't forget to frequently check in with the CDC for updates on the outbreak and how it can affect your restaurant.