After months of discussion and debate, Congress finally came to a compromise on a $900B stimulus bill that was signed into law by President Trump on December 27, 2020. The second coronavirus stimulus package comes at a critical time when restaurants around the country are closing their doors, hibernating for the winter, or staying afloat on off-premise revenue, and additional options for restaurant relief are slim.
But the deal doesn't do enough for restaurants — the bill does not include direct funding for restaurants aside from the Paycheck Protection Program ("PPP"), and it's not a targeted long-term solution to help restaurants keep their doors open throughout winter and into 2021.
The Independent Restaurant Coalition described the bill as falling "woefully short of giving 11 million independent restaurant workers the job security they need before the holidays." The hope is that Congress will return in January with a renewed focus on passing the RESTAURANTS Act to provide funding for the millions of restaurant owners, operators, and staff who need it.
There are, though, a few key areas of the new COVID-19 relief bill that could benefit the restaurant industry. We've outlined those below to help you understand what's available and how to access it.
DISCLAIMER: This article is for informational purposes only and is not legal or tax advice. If you have specific legal or tax questions, you should consult your attorney or tax advisor, as appropriate. Toast is not affiliated with the United States Small Business Administration ("SBA"), and does not act as a lender or referral agent for SBA lenders. SBA loan programs are subject to eligibility. Please consult with a counselor for the SBA or a licensed SBA lender for additional information.
And, just so you know, information about the COVID-19 relief bill is rapidly emerging, with new information coming out every day. The information in this article is up to date as of January 12, 2021. We'll do our best to provide you with updated information as it becomes available.
Paycheck Protection Program (PPP)
Please note that additional guidance and regulations related to the second round of the PPP may be issued as this new legislation is implemented. We'll do our best to provide you with updated information as it's released.
The new stimulus package includes $284B in renewed funding for the PPP and significant changes to the program, including the opportunity for certain eligible businesses to apply for a second-draw PPP loan.
To be eligible for a second-draw PPP loan, borrowers must meet specific eligibility requirements. For restaurants (with a NAICS code beginning with 72) there are three key eligibility criteria that we want to highlight. First, the restaurant must have no more than 300 employees "per physical location." Second, the restaurant must have had at least a 25% reduction from gross receipts in a 2020 quarter compared with the same quarter in 2019 (there are alternative calculation methods available for restaurants that opened in late 2019 or early 2020 ). Third, the restaurant must have already received and used (or will use) the full first-draw PPP loan for eligible expenses before receiving a second-draw loan. Restaurants that satisfy the above criteria may still be ineligible if they fall into any of the categories of borrowers that are prohibited from receiving a second-draw.
For second-draw PPP loans, eligible restaurants (with a NAICS code beginning with 72) may receive a loan up to the lesser of either $2 million or 3.5 times their average total monthly payments for payroll costs incurred or paid during a specific prior period (compared to 2.5 x average total monthly payment for payroll costs incurred or paid for other types of small businesses).
All PPP applicants are still subject to generally the same eligibility criteria established by the CARES Act and additional federal provisions. However, the new stimulus package introduces a few new exceptions worth noting. For example, all of the following businesses are no longer eligible for PPP loans: publicly traded companies; businesses that received one of the new grants for shuttered venue operators provided for separately under the 2021 CAA; and businesses that were not in operation on or before February 15, 2020. You can find more information about PPP loan eligibility on the Small Business Administration's website.
In addition to other requirements, eligible recipients must still spend at least 60% of the covered loan amount on payroll costs during a specific timeframe, or "covered period." The covered period within the most recent legislation refers to the period beginning on the date of the origination of a covered loan and ending 8 to 24 weeks after the date of origination. The other 40% must be used for other allowable expenses. Economic Injury Disaster Loan (EIDL) advances will no longer reduce the amount of PPP loan forgiveness.
The new relief package expands the eligible uses of a PPP loan beyond payroll, rent, covered mortgage interest, and utilities. We've got more detail on how these categories are defined in our article here. Some of the highlights that we believe are most relevant to the restaurant industry include:
Covered operational expenses like expenses for software or cloud services that facilitate business operations. Expenditures in this category may include such costs as a software or cloud service that facilitates product or service delivery or that provides for the processing, payment, or tracking of payroll expenses, etc.

If you're considering upgrading your business software, sign up to get a free consultation to learn how the Toast restaurant platform could help your business.

Covered worker protection expenditures like allowable costs incurred to provide PPE and/or adaptive instruments for the business to comply with federal, state, or local safety regulations related to COVID-19.
Covered supplier costs such as costs payable to suppliers for contracts or purchase orders placed prior to the covered period and related to goods which are essential to the operations of the business when made (if the goods are perishable, those may be included if purchased before or during the PPP covered period)
How to apply for a PPP loan
The application for a PPP loan and details on how to apply have been made available by the Small Business Administration (SBA) on their Paycheck Protection Program webpage. The reopened PPP is available through March 31, 2021 (subject to the availability of funds).
Simplified Application for PPP Loan Forgiveness
The recent stimulus package has simplified the forgiveness application process for PPP loans of not more than $150,000. This application will ask borrowers to provide a certification with a description of (i) the number of employees the borrower was able to retain because of the PPP loan, (ii) the estimated amount of the loan proceeds spent by the recipient on payroll costs, and (iii) the total loan value. Borrowers will also be required to provide an attestation, and must retain specific records relevant to the information provided in the application. We expect the simplified forgiveness application form and additional guidance will be posted on the SBA's PPP website.
Tax Treatment for PPP Loans and EIDL Grants
One of the biggest highlights of this stimulus package is that any forgiveness of a PPP loan, whether it be the first or second PPP loan, is not taxable as gross income and allowable expenses paid by PPP loan funding may be deductible. Congress has overruled the IRS's prior position that such expenses could generally not be claimed as deductions. The stimulus package also clarifies that EIDL grants are not taxable as gross income.
Employee Retention Tax Credits
Businesses applying for a PPP loan are not prohibited from seeking Employee Retention Tax Credit (ERTC), provided the credit is not applicable to wages paid with PPP loan funds that are forgiven.
The recent bill also extends the duration of the credit availability through part of 2021. Originally, the Employee Retention Credit could be used only for qualified wages paid after March 12, 2020, and before January 1, 2021. The Credit can now be used for qualified wages paid after March 12, 2020, and before July 1, 2021.
The new bill increases the maximum refundable payroll tax credit from $5,000 for qualified wages paid in 2020 to $14,000 for qualified wages in part of 2021, by increasing the tax credit percentage from 50% of applicable wages not exceeding $10,000 for all calendar quarters, to 70% of applicable wages not exceeding $10,000 for any quarter.
In addition to extending the duration of the credit and increasing the percentage of maximum refundable credit for qualifying wages, this act also expands eligibility requirements for employers seeking to use the credit. Previously, to qualify for the credit, an eligible business would be required to demonstrate that gross receipts for a quarter in 2020 were less than 50% of gross receipts when compared to the corresponding quarter in 2019. Effective January 1, 2021, an eligible business may only need to demonstrate that gross receipts for a quarter in 2021 were less than 80% of gross receipts when compared to the same quarter in 2019.
The provision establishing what constituted qualifying wages for an employer with an average number of full-time employees greater than 100 previously limited the application of the credit to wages paid only when the employee was not providing services due applicable effects of COVID-19. The new bill amends this provision for 2021 by providing that an employer with an average number of no greater than 500 full-time employees may use the credit, even if the employee is working.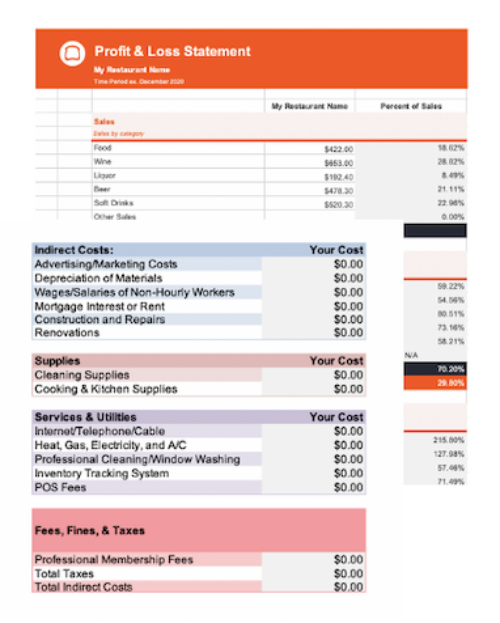 Manage Your Restaurant's Finances During COVID-19
In this Excel spreadsheet, you'll find customizable templates, tools, and calculators to help you analyze and optimize your restaurant financials.
Download
Business Meal Deduction
The recent stimulus package expands the 100% deduction for eligible business meals through 2021 and 2022 when the meals are provided by a restaurant and paid for or incurred after December 31, 2020, but before January 1, 2023.
Economic Injury Disaster Loan Program (EIDLs)
The recent stimulus package also includes $20B in funding for emergency Economic Injury Disaster Loan (EIDL) grant funding, including a targeted EIDL advance for small businesses in low-income communities that meet certain eligibility criteria. Eligible businesses in low-income communities that applied for an EIDL loan might also be eligible to apply for a grant equal to the difference of what they received and $10K; those that did not already get an approved EIDL loan or advance grant because funds ran out may be eligible to apply for a full grant of $10K. This legislation extends the EIDL grant program through December 31, 2021.
How can I apply for an EIDL and EIDL grant?
How can I apply for an EIDL and EIDL grant? Details on EIDLs and the application for an EIDL can be found on the SBA website. However, details on this round of EIDL grants have not yet been made available by the SBA. We will do our best to provide you with updated information as it becomes available. You may also contact the SBA by phone (1-800-659-2955), or email (disastercustomerservice@sba.gov)
FFCRA Payroll Tax Credits
The FFCRA Payroll Tax Credits are extended through March 31, 2021, to offset paid sick and family leave related to the coronavirus created in the Families First Coronavirus Response Act (FFCRA). You can learn more about the FFCRA through the U.S. Department of Labor FAQ and IRS FAQ.
Local and State Relief
In addition to the federal relief outlined above, many local and state governments are also providing relief. Massachusetts rolled out a $668M relief program for small businesses, giving priority to those hit hardest by the pandemic, including restaurants. California announced $500M in new COVID-19 relief grant funding for small businesses. Check with your state and local resources to see what may be available to you outside of federal relief.
What's next?
What's next? We wait to see what happens in Congress in January and after President-elect Biden's inauguration. In the meantime, you can ask Congress to pass restaurant relief now by signing the Independent Restaurant Coalition's petition. More information regarding the PPP loan application process can be found on the SBA website. And you can check out this article for more information on COVID-19 restaurant relief around the country.