How to Prepare a Restaurant SWOT Analysis
Here's how to prepare a restaurant SWOT analysis to set your business up for future success.
A quick click around the Internet offers plenty of speculation about why restaurants fail. Some common culprits include:
Inexperience.
Poor location.
Financial mismanagement.
Bad customer service.
But there's another prime suspect often overlooked in the foodservice industry: failure to engage in strategic planning.
The restaurant and franchise industry is one the most reactive business sectors. Restaurateurs who fail to do their homework before adopting new practices, trends, or systems are at increased risk of poor food quality, negative reviews, staff departures, and even bankruptcy.
A bit of foresight and a clear roadmap of what has, does, and won't work protects your bottom line and keeps employees and customers happy.
RESOURCE
Restaurant Business Plan Template
No matter where you're at in your restaurant ownership journey, a business plan will be your north star. Organize your vision and ensure that nothing is overlooked with this free template.
What is a strategic plan, and why does it matter?
A strategic plan is a proactive toolkit that benefits businesses of all shapes and sizes. Not only are the deliverables themselves important (and we'll get to those in a minute), the act of devoting time to your restaurant's goals, performance, and growth is powerful, too.
Because restaurants are so fast-paced, it's easy to become so swept up in the day-to-day that "big picture" activities take a back seat. Laying out a strategic plan for your restaurant helps you gain clarity about how things are going, what's really important, where you want to go, and the resources you'll need to get there.
For Independent Restaurants
Strategic planning is especially important. Without an established franchise brand to lean on, your management team must make strategic decisions that support the business's success and growth over time. One easy, efficient way to do this? Prepare a restaurant SWOT analysis.
For Franchise Restaurants
Franchisees can expect to receive some strategic planning tools and information from their franchisors.
Since you are a representative of a bigger brand, chances are the brand's mission statement, vision, values, and a largescale SWOT analysis may have already been mapped out for you. However, this doesn't mean you're out of the woods when it comes to planning. Although you're expected to adhere to a set of global protocols and procedures, location, customers, and economic health vary between states, cities, and even suburbs.
That said, franchisees should conduct their own SWOT analysis as well.
RESOURCE
Tackle the Challenges Facing Restaurant People
Toast and Fast Casual teamed up to share tips on tackling restaurant challenges such as increasing competition, food costs, hiring and training staff, and more.
The SWOT Analysis: A Must-Have for Your Restaurant Toolkit
No strategic planning toolkit would be complete without an environmental assessment, also known as a SWOT or SWOC analysis, identifying your restaurant's:
Strengths
Weaknesses
Opportunities
Threats (or challenges)
The SWOT analysis provides valuable insight into how you fare against the competition and can inform what kinds of marketing campaigns, restaruant promotions, policies, or processes will give you an extra bit of competitive edge by laying out the internal and external factors influencing your business.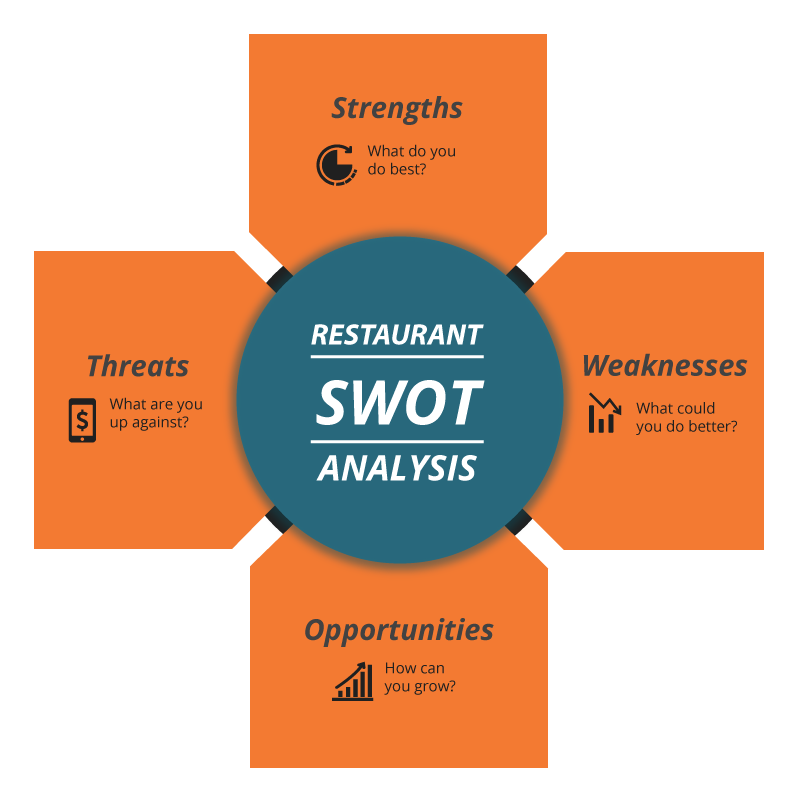 Whether you're an independent restaurant, a QSR, or a franchisee, you don't know what you don't know. So let's dig in.
Strengths: What do you do best?
What gets customers off the couch, into the car, and en route to your restaurant? Is it the consistently exquisite, attentive customer service they receive on arrival? The zany cocktails dreamed up by your bar staff? Your restaurant's kitschy décor?
All these and more qualify as strengths… even if you're not "the best" in the biz. Other strengths might include the type of food you offer, how menu items are priced, and more abstract (but still quantifiable) things like the ability to use quirky marketing campaigns to drum up traffic during slow times. Strengths are what you do in your restaurant to make it spectacular.
If you're unsure about what sets you apart from the pack, have a read through your restaurant guest feedback; you might be surprised by what customers enjoy most about dining with you!
Weaknesses: What could you do better?
Now that you've celebrated your restaurant's strengths, it's time to take an honest look at its weaknesses.
This isn't an easy task — nobody likes acknowledging their faults and flaws — but it is an important one. The good news? Listing out your shortcomings often provides clear-cut pathways for growth.
Again, customer feedback and system analytics are great resources to point you in the direction of improvement. Perhaps your onboarding process is weak, you run out of key ingredients night after night, or you're using a pen-and-paper method to schedule shifts. Ask yourself: is there a better way? Investments like employee scheduling software, inventory management solutions, and restaurant training materials may not eliminate the problem altogether… but they sure do help.
Opportunities: How can you grow?
Don't wait for opportunity to knock on your door — go out and seek it!
Goals and objectives form the core of your restaurant's strategic plan. You might want to increase your profit margin or expand into a new location.
The best restaurateurs are those with an eye for opportunity, an ability to pick up on the following external forces that they can capitalize on:
Market trends
Cultural forces
Customer patterns or behaviors
Great restaurateurs take advantage of the opportunity to convert these into tactics that propel the business closer to its goals, thus creating an internal strength.
Consider, for example, the rising popularity of food tribes. Does your restaurant offer menu items suitable for vegetarians, vegans, or patrons with gluten sensitivities? Maybe it's high time you considered selling your world-famous BBQ sauce by the bottle, or offering a delivery service to bring your food to the hungry masses at home.
Threats: What are you up against?
There are two types of threats (or challenges) restaurateurs should be aware of:
Establishment-specific
Industry-wide
An example of the former might be that swanky new steakhouse scheduled to open down the street next month. Even if your menus are drastically different, this steakhouse threatens your profitability by giving diners another option come dinnertime.
Note: The key difference between a weakness and a threat is that weaknesses are internal while threats are external. Thus, a new restaurant across town could be a threat, but if a rude server is driving people away and to that new restaurant, that server is a weakness to your restaurant.
Other examples of industry-wide challenges might include economic downturns or rising food prices. A recent sea lice infestation in Norway prompted a 50% increase in salmon wholesale prices; this left restaurant owners everywhere deliberating over whether to remove salmon from their menus, boost the price, or absorb the extra cost.
Have You Conducted a Restaurant SWOT Analysis?
And that's it! What might seem complicated and time-consuming at first glance is actually quite quick and simple.
Why?
Because restaurant owners already spend so much time consciously or unconsciously considering their business's strengths, weaknesses, opportunities, and threats. Your restaurant SWOT analysis is an efficient, user-friendly exercise that stores these items in one place to review, revise, and keep you thinking strategically and with success in mind.
Happy planning!
Related Restaurant Resources
The Complete Guide to Online Ordering for Restaurants
Takeout and delivery were the two leading revenue-generating options for restaurants looking to stay afloat during the pandemic. As online ordering and off-premise dining continues to thrive in 2023, here's everything you need to know.
Get Access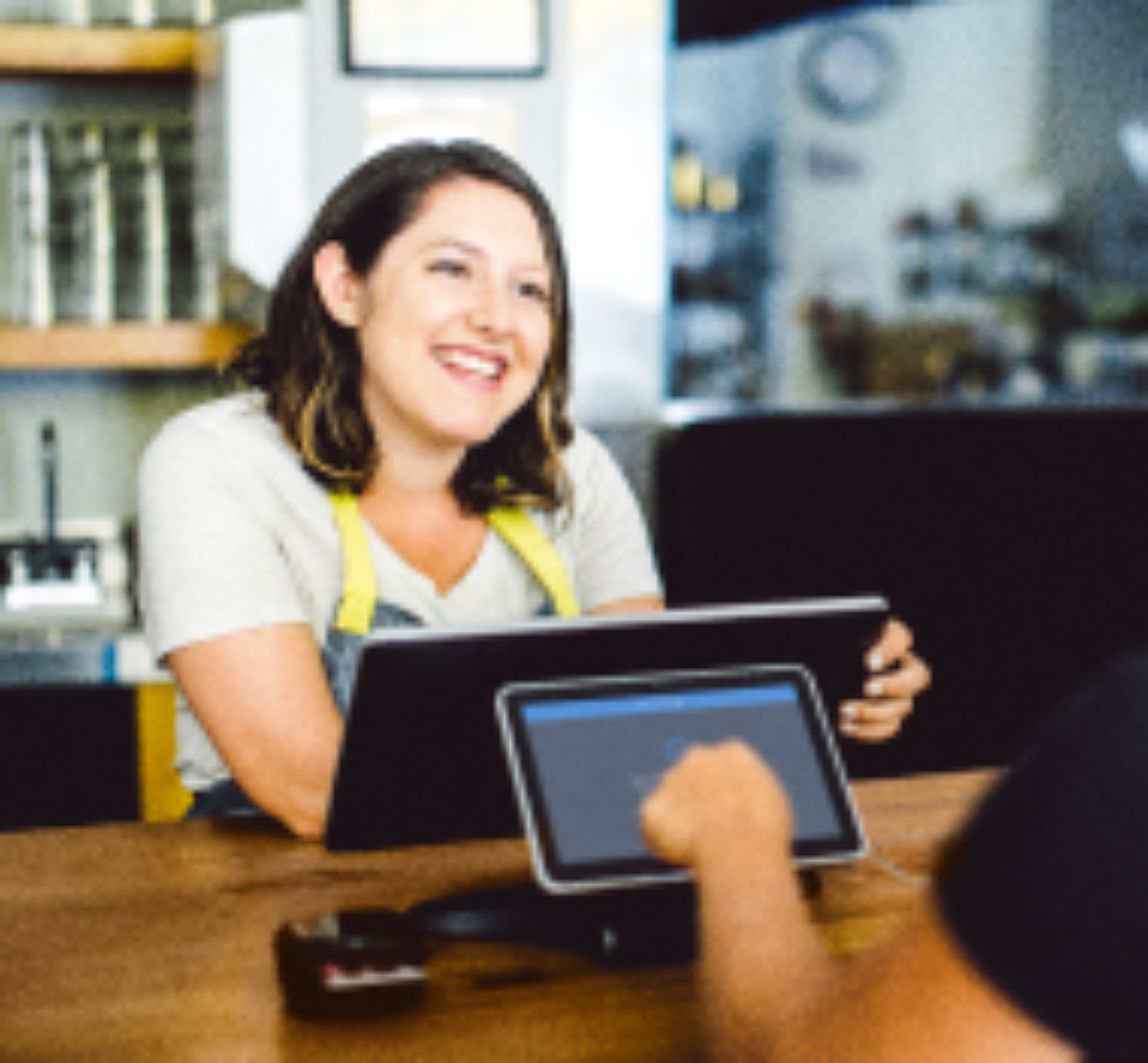 Tech Tip
Get the right tools, technology, and advice — personalized for your restaurant.
Take the quiz
DISCLAIMER: This information is provided for general informational purposes only, and publication does not constitute an endorsement. Toast does not warrant the accuracy or completeness of any information, text, graphics, links, or other items contained within this content. Toast does not guarantee you will achieve any specific results if you follow any advice herein. It may be advisable for you to consult with a professional such as a lawyer, accountant, or business advisor for advice specific to your situation.