DISCLAIMER: This content is provided for informational purposes only and is not intended as legal, accounting, tax, HR, or other professional advice. You are responsible for your own compliance with laws and regulations. You should contact your attorney or other relevant advisor for advice specific to your circumstances.
Your strategies and systems for taking control of restaurant costs are critically important — always true and especially important these days as costs rise and food inflation roars.
Inflation remains elevated, though it did thankfully cool month-over-month from September to October.
Operators can also rest easy that they're fairing better than grocery costs, as October 2022 year-over -year inflation for food at home is at a staggering 12.4 percent compared to 8.6 percent for food away from home.
Still, inflationary times or not, food prices rising requires restaurants to take control. Read on to learn what drives food prices and how to stop getting cooked by costs.
Restaurant Cost Control Guide
Use this guide to learn more about your restaurant costs, how to track them, and steps you can take to help maximize your profitability.
Download
What is contributing to food prices rising?
The past few years have been a perfect storm for rising food prices. The global supply chain and demand disruptions caused by COVID-19 are still reverberating — especially given their seismic impacts on the restaurant industry.
The war in Ukraine threatens massive quantities of grain, seed oil, and other food — and has caused historic volatility in the trading of food futures contracts, which can negatively impact prices.
General inflation across the world, particularly driven by rocketing energy prices, have piled on to the rising food prices. Increased fertilizer costs have also been passed along to food prices.
While July 2022 numbers cooled off, navigating food inflation and rising prices remains a tall order for restaurants.
Real impacts of rising food prices on restaurant costs
New York Times reporters Priya Krishna and Umi Syam excellently lay out the real impacts of food prices rising.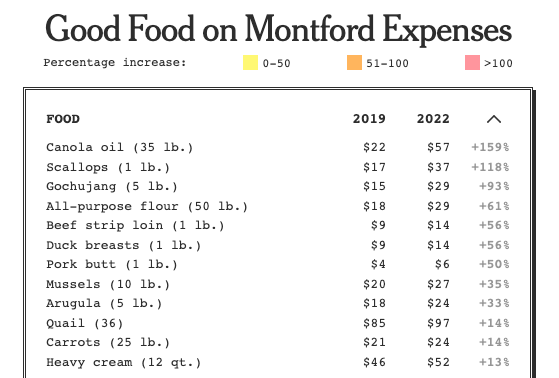 The New York Times put together a great visualization on the impacts of rising food prices.
Their report highlights the increase in ingredient prices specifically for Charlotte, NC-based Good Food on Monfort. The movers that stand out the most from 2019 to 2022 include:
Canola oil jumping 159 percent from $22 to $57

Scallops jumped 118 percent from $17 to $37

Gochujang increased 93 percent from $15 to $29
Underbelly Hospitality, another Toast customer, ran through the difficult decisions that have to be made in these difficult, high-inflationary times. The volatile prices led the Underbelly team at their Hay Market location to remove their famous chicken wings from the menu.
With cost fluctuations between 30 and 40 percent higher than usual, it just made sense to remove them.
"Initially we increased the price, and for a dozen, we were charging upwards of $20," says Nina Quincy, Director of Operations at Underbelly. "But then the prices went up again, and the price we'd have to charge just to run it at a 35 percent cost was utterly unpalatable — so off they went."
Though it wasn't easy — the wings garnered the group tons of media coverage — it was the right thing to do for the business.
Restaurant Invoice Automation Guide
Use this guide to learn more about your restaurant invoices, the value within, and how to consistently and accurately tap into it to make smarter decisions.
Download
Navigating rising food prices and taking control of restaurant costs
Navigating rising food prices starts with systematically tracking your food costs. It's not enough to just see monthly profit and loss statements. Operators can consistently uncover more actionable insights with weekly, even daily, cost of goods sold reports and other cost breakdowns.
Of course, a restaurant cost breakdown is only as valuable as the data feeding it. The single source of truth for food prices are supplier invoices. Whether it's paper stapled to a case of tomatoes, a digital receipt, or even an email breakdown, restaurant invoices are the foundation for capturing and tracking costs.
Restaurant invoice automation is the proven mechanism for unlocking and activating the valuable data within supplier invoices. It's an automated tool that digitizes critical invoice line-item data at the ingredient level. With a simple scan, snap, or send, you can record ingredient prices, quantities, supplier, date, and more critical info.
This pricing data and the automated reporting it fuels can help boost decision making and uncover costing trends to lean into or address.
Related Restaurant Resources