2017 was a good year for restaurant owners.
Now that we're almost two months into the new year, can we expect the same for 2018 with food prices rising?
Well – there's good news and bad news for restaurant owners. Let's look to the United States Department of Agriculture's 2018 update:
"The all-items Consumer Price Index (CPI), a measure of economy-wide inflation, rose 0.5 percent from December 2017 to January 2018 and is 2.1 percent above the January 2017 level. The CPI for all food rose 0.4 percent from December to January, and food prices were 1.7 percent higher than the January 2017 level."
Now, in layman's terms:
The good news is that food prices are rising at a slower rate (+1.7 percent from Jan. 2017) than the economy in general (+2.1 percent from Jan. 2017). The USDA found that because of fluctuating and occasionally decreasing food prices in recent years, 2018 food prices may be less overall than they were in 2015.
The bad news is – despite the lesser comparative increase, food prices are rising, and all foodservice vendors and grocers are feeling the pressure to keep prices manageable while also staying profitable enough to grow – or maintain – business.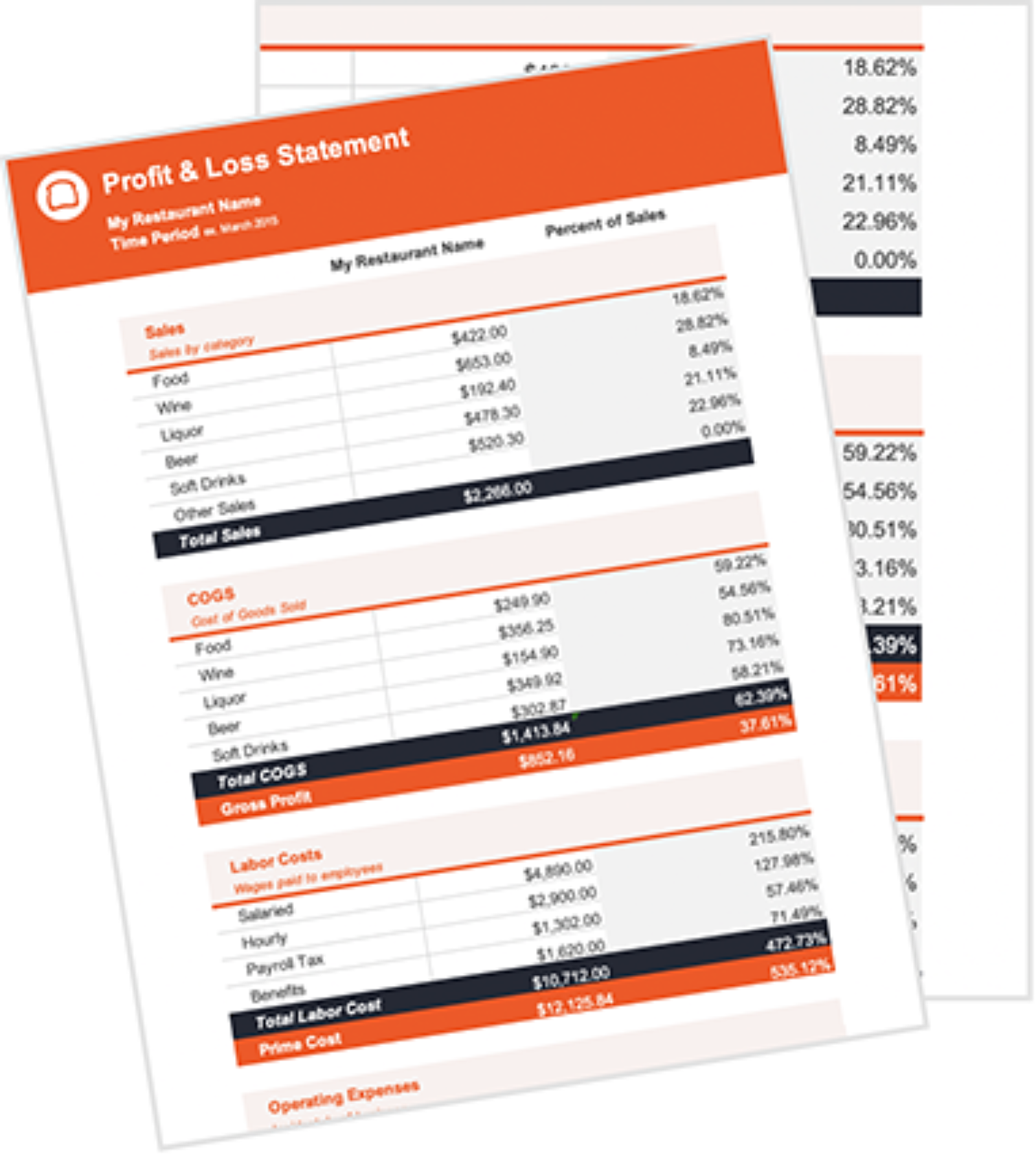 Restaurant P&L Statement Template
Evaluate your restaurant's financial strengths and weaknesses with the free P&L and income statement template.
Download
Looking Ahead for 2018 - Food Prices Rising
Unlike grocers and food stores, restaurants have more costs to manage – mostly around labor. The Toast Restaurant Management Blog has already covered the 2018 restaurant minimum wage increase and the terribly high costs from restaurant turnover, but there are also non-labor related issues affecting the rising prices off restaurant food.
For example: the lower supply of (and steady demand for) coastal foods and oil from states impacted by 2017's hurricanes have resulted in higher price tags from food distributors.
These factors all contribute to the final price that restaurants put on their menu. According to The USDA, grocers have actually decreased their rate of price increase to keep consumers food shopping instead of eating out.
"Food-at-home prices and [restaurant] prices have recently diverged. Restaurant prices have been rising consistently month-over-month. Prices at food-at-home outlets have posted lower year-over-year price increases."
The USDA also found that this year's retail food price growth rate will fall "between 0.5 and 1.5 percent, which is still below the historical average of 2.1 percent."
With all the significant costs that go into restaurant management, food costs and labor continue to be the biggest variables each year. Controlling these rising costs will be much more simple if your restaurant takes control of its inventory management.
Managing a Restaurant With Food Prices Rising
Does your restaurant have a plan in place for monitoring and managing rising food costs? Many articles have been published on different ways to fight rising food costs, but today I wanted to focus on the three ways a robust inventory system and attention-to-detail can help turn your food cost challenges into a growing revenue center for your restaurant.
1) Calculate Food Costs at the Recipe Level
Customers demand a consistent quality and taste from your dishes, and expect a certain price range to go along with that dish.
As a restaurant owner or GM, you might update menu pricing once a year, but that doesn't mean your food prices will only change once a year. In order to actively manage the costs of your dishes, it's critical to monitor food costs at the recipe level, and right now, we see food prices rising.
A good inventory system will enable you to add recipes and match those ingredients back to specific vendors. Using recipe-level food costs allows managers to effectively evaluate food vendors, assess portion control, make informed pricing decisions, and provide insights needed to manage a high-performing menu.
Beginner's Tip: If monitoring food costs for your restaurant is a new practice, start off by tracking your top 20 menu items. Monitoring the food costs of these 20 recipes will ensure that you are taking the necessary steps to boost profits even if food prices are rising.
Free Resource:
Check out Toast's Food Cost Calculator to help you better understand your menu costs and price strategy.
2) Tracking Theoretical vs Actual Usage
A common misconception is that theoretical food costs are equal to actual usage in the restaurant.
Your restaurant's inventory software should be able to track invoices from your vendors. This produces theoretical usage and matches that up to what your restaurant is actually selling.
Resources:
3) Menu Engineering
Creating the perfect menu is a mix of art and science. The beauty of menu engineering is that it helps to break down the numbers behind your menu, identifying the dishes that are profitable and those that are not. When talking about rising food costs, it's not uniform changes that we see across food items, and likewise it is best not to make uniform changes with your menu pricing.
The easiest way to perform menu engineering is to have inventory tracking integrated with your point of sale. Identify an integrated inventory software that helps you to actively evaluate menu winners and losers. A great way to combat food prices rising is to start selling more of your most profitable dishes.
By consistently evaluating your menu, you can ensure you are adjusting menu items appropriately with each season and that your pricing is optimized based on the food prices of menu groups and items.
Resources:
Being Prepared for Food Prices Rising
Food prices will continue to be a major variable each year, and 2018 is no exception. While we can anticipate changes, your restaurant will need to be prepared to effectively manage rising food costs as they happen. Actively managing your restaurant's inventory will ensure that food prices rising do not take you by surprise.
Did your restaurant management system help control food costs this year? Hopefully you were able to recognize a nice lift in your bottom line.
Start using Toast's free Food Cost Calculator to better understand your menu pricing.