DISCLAIMER: This content is provided for informational purposes only and is not intended as legal, accounting, tax, HR, or other professional advice. You are responsible for your own compliance with laws and regulations. You should contact your attorney or other relevant advisor for advice specific to your circumstances.
Restaurant owners should always be looking for feedback, even if what comes back isn't all positive. Good or bad, guest feedback is vital to the success of your restaurant. By listening to your customers and responding to their thoughts, you can improve the dining experience and build customer relationships. In addition, positive guest feedback posted online can help build your brand reputation and establish your restaurant in your local community and beyond.
It has become the norm for customers to check out a restaurant online when making a decision on where to dine. In the hotel and restaurant industry, 78 percent of guests will more often than not read online reviews before making a reservation or visiting a business.
When guests post reviews on websites like Yelp or Facebook, potential guests will likely read at least a handful of them. Establishing and following a customer feedback strategy is crucial to keeping customer communication open. Additionally, developing a plan for responding to negative reviews can prevent you from losing potential customers to a disgruntled Yelper. Also, if your Yelp score increases by one star, you could see a 5-9% increase in revenue.
The bottom line is the more feedback, the better. A good experience may cause someone to come back to your restaurant, but a bad experience will likely mean that not only will the customer not return, but they could write a bad review, deterring others from giving your restaurant a shot. How do you combat this? Make sure that you're getting public feedback about the good experiences, too.
So the question remains: How can you motivate your restaurant guests to provide feedback? And how do you manage that feedback when it's posted online?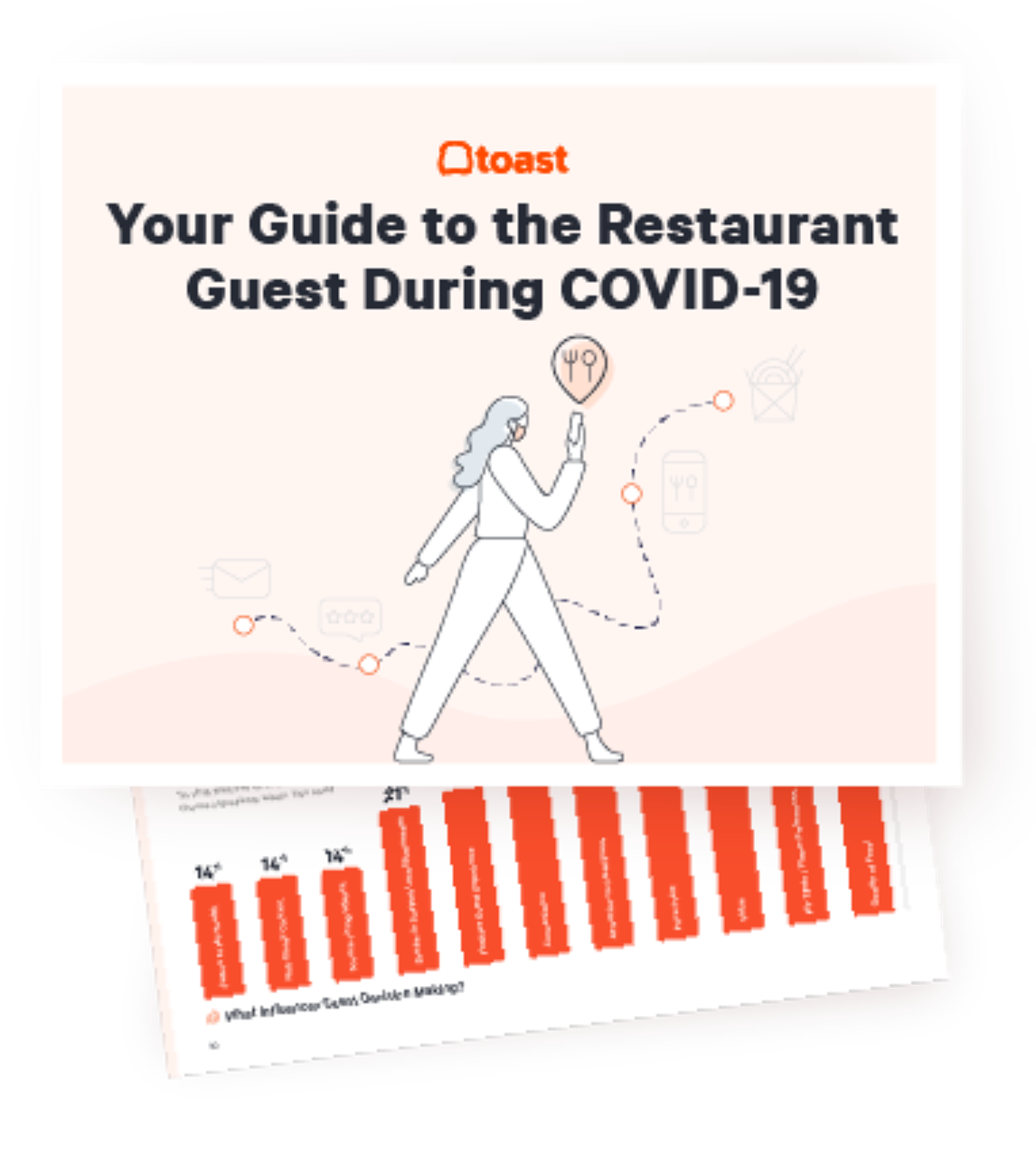 Guide to the Restaurant Guest
Learn how to navigate changing guest expectations during and after the COVID-19 health crisis.
Download
Ask Customers for Comments
Whether you opened last week or have been around for 10 years, you can start your new feedback initiative today by simply asking your guests for their comments. There's no standard method for asking for customer feedback or reviews, but here are some suggestions.
Ask directly on your POS
One of the easiest ways to get feedback from every customer is through the technology you use. Investing in a POS system that asks guests for feedback at checkout can reveal invaluable data about each guest's experience. You'll also be able to track feedback at all times (and look back on trends), making it easier to tell if a server needs some extra training, or if your guests aren't loving a particular menu item.
The Toast Guest Feedback tool makes it super easy. On Toast Go™, for example, guests can be prompted with a thumbs up or thumbs down option as they're checking out, accompanied by a checkbox to indicate whether they'd be open to a manager reaching out to learn more about their experience. This means you have the opportunity to speak with guests who take their food to go and then leave a negative review, even if they don't dine in the restaurant. Additionally, it can be set up to text you (or the manager) whenever the thumbs-down is selected, so you can deal with customer issues before they leave the restaurant.
A well-timed apology coupled with a special offer can turn a negative experience into a positive one, and most importantly, it can prevent a guest from writing a negative Yelp review when they get home.
When you have the chance to collect information like this, you can reach out to guests who've left positive reviews to ask them to share their experience on social review sites or include them in marketing campaigns.
Email (or Text)
Email remains one of the most effective ways for a business to gather feedback. For starters, email requires the recipient to act. They must either delete the email or open it. It will live in their inbox forever until they do something.
The easiest way to gather feedback via email is by including your feedback request in a customer's digital receipt, whether it's via email or text. Ask for a review via email by including the following text at the top of your email receipts.
Thank you for coming to _____ (your restaurant name)! We hope you enjoyed your time with us.
We always aim to provide the best service possible, so please consider posting a review of our restaurant online. This also helps us to reach new customers and grow our community. If you prefer, you can also reply to this email with any feedback you may have. Thanks!
If your guests are checking out using technology like the Toast Kiosk or Toast Online Ordering, they'll automatically have the option to give feedback in their text or email receipts. To add that human touch, servers can even chat with guests about it while they're checking out and ask them to leave feedback on their experience.
Distribute Review Request Cards
This is an updated take on the classic comment card method. After the customer makes a payment or is about to leave your restaurant, hand out a sheet of paper with a request for a review on a specific website. You can hand it to the customer when you return their card.
Ask for reviews with a simple message. "How did we do today? Leave us your feedback on Yelp or Facebook."
This way, you don't put pressure on the customer to write a review at the restaurant, like with old-fashioned comment cards. They'll likely find the card in their wallet or purse when they get home, and remember that you asked for a review.
Turn Compliments Into Reviews
When you receive positive feedback in person, ask if the guest is willing to share their positive feedback online. Be courteous, and be totally transparent about why you want the review - this request can come across as slimy if you don't give a brief explanation.
"Thank you! So happy you enjoyed yourself. If you don't mind, could you write us a review on our Yelp page? We're trying to reach new customers, and reviews help our ranking a lot" sounds a lot better than "Thank you, but can you write that on Yelp?"
Find Guest Feedback That Already Exists
Guests are most likely already leaving feedback about you on websites like Yelp, Facebook, TripAdvisor, OpenTable, and Google. Make sure you claim your profiles on these popular review websites so your customers know to leave it in the correct place. Respond respectfully to the stand-out reviews, good and bad.
There are a few tools you can use to find and keep up with guest feedback online.
Review Monitoring Tools
An easy way to find out where customers are leaving feedback is to use a review management tool that aggregates feedback from dozens of review websites. Tools like this are a great way for businesses with multiple locations to keep track of new reviews for each location, which will have a unique profile on each review website.
Social Listening Tools
Another great way to discover existing customer feedback is to use a social listening tool to aggregate what your customers are saying about you on social media and personal blogs. Use these tools to have conversations with your guests and further develop brand loyalty.
Repurpose Social Media Praise
You can use the social media conversation to capture one of the most powerful forms of marketing: user-generated content. Social media is full of pictures of diners' favorite dishes and restaurants, Instagrammed and ready for any marketer to re-use for their own purposes. Comment on the post or send them a direct message thanking them for sharing and asking if you can repost their picture.
Always add credit the photographer when reposting a customer photo.
Consider Tourists & Time
If you're looking for more positive guest feedback to help build your brand reputation, look to tourists! Guests who come from out of town might give you a more optimistic review. According to a study published in the Journal of Consumer Psychology, guests give more positive feedback when they are on vacation.
It also might be a good idea to ask for reviews weeks after the customer makes a purchase of your service or product, instead of days, according to the study. The lead author of the study, Nina Huang, of Temple University in Philadelphia, said:
"When people are reading a review, they assume it is objective. We found that reviews are not always as objective as we thought. Time and space distance is going to bias someone's evaluation of certain experiences."
Take advantage of the rose-colored glasses that a little bit of waiting time can provide.
One More Rule
Be very careful about providing incentives for reviews. First, it's unethical. Second, reviews are subject to various Federal Trade Commission (FTC) guidelines and regulations.
Incentivized reviews are likely to violate the Federal Trade Commission's Guidelines if they fail to disclose that the reviewer received a benefit of any kind in exchange for the review, or that the reviewer had a material connection with the company being reviewed that could influence the content of the review. For more information about the do's and don'ts of posting reviews online, check out the FTC's Endorsement Guides or consult with an attorney.
The takeaway: You should have a guest feedback strategy in place to receive and manage feedback in order to build brand reputation and improve the service and menu items at your restaurant.
Related Restaurant Operation Resources