How to Open a Mobile Bar: Starting a Mobile Bar Business Steps
The guide for how to open a mobile bar, complete with a checklist that provides insights on design, marketing, legal and more.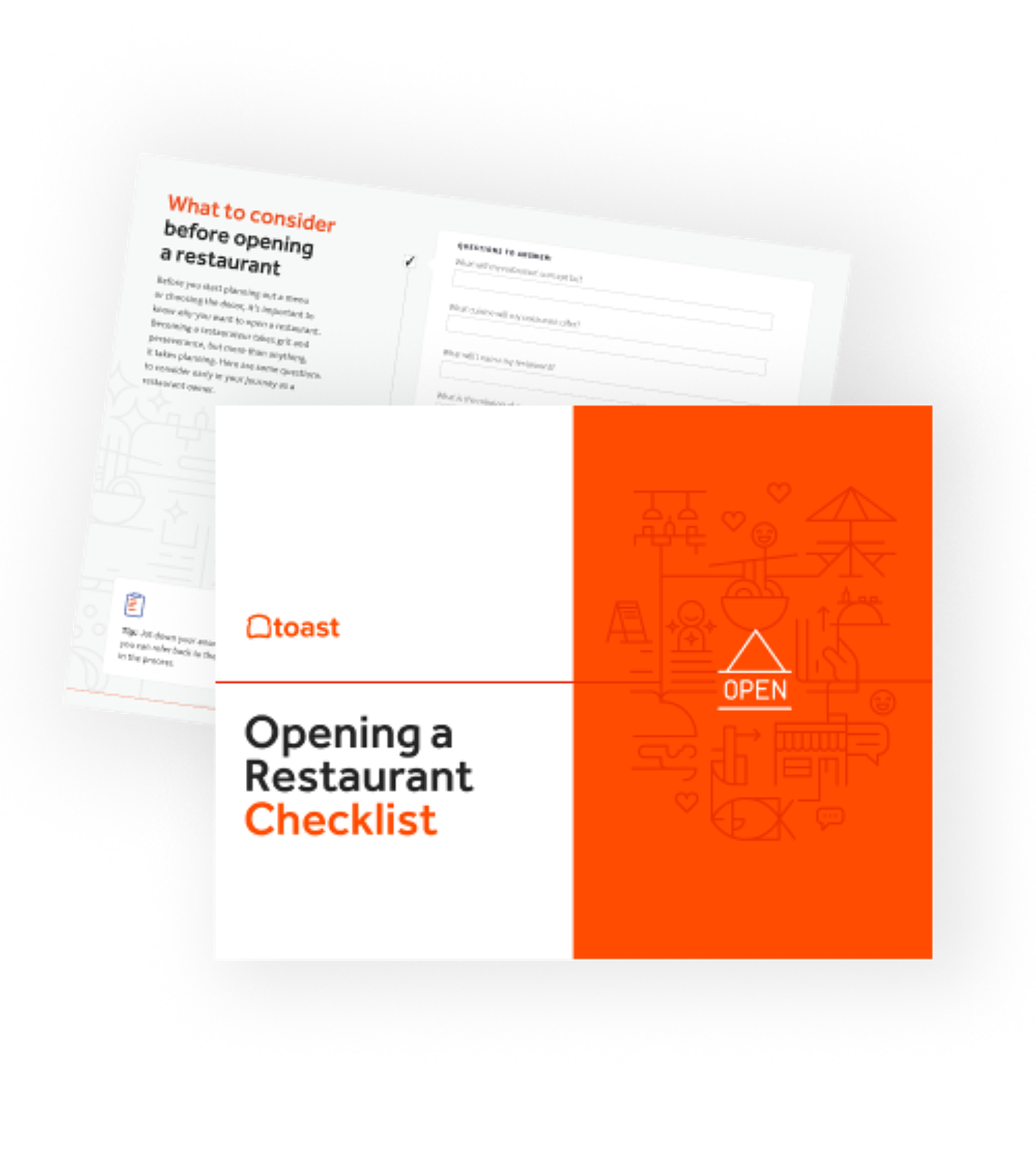 RESOURCE
Opening a Bar Checklist
So many things go into opening a bar. Use this free PDF checklist to set your new bar up for success.
Built for Restaurants
How to Start a Mobile Bar Business
So you want to start a mobile bar. You're the type of person who can chat with customers all day long all over your city while you keep those drinks coming. A mobile bar is exactly what you might think – it's similar to a food truck, but instead of serving food, they serve alcoholic beverages. These types of businesses can be great for festivals, weddings, and other events.
To give yourself the best chance to succeed, we'll walk you through everything you need to know about opening a mobile bar business.
RESOURCE
Bar Business Plan Template
Use this free bar business plan template to easily create a great business plan that organizes your vision and helps you start, grow, or raise funding for your bar.
Write Your Mobile Bar's Business Plan
First things first: you need a business plan. Every aspiring entrepreneur who's planning to start a new business should have one. A restaurant business plan is the blueprint that outlines your entire vision, and it explains in detail how your business will take shape and operate.
What should a bar or restaurant business plan contain? It should describe the essential elements of your business, like your location, target market, business structure, key team members, sample menus, and marketing strategy. Once you open, you don't have to adhere to every detail — maybe you'll break even in 28 months instead of exactly two years — but making a plan helps you identify holes in your business model that you can repair before you even get started to save yourself a lot of money and aggravation further on down the road.
Secure Funding and Loans
Starting up a new business is expensive, and you will likely need to apply to outside sources for funding. The most traditional method is a loan from a brick-and-mortar bank, but plenty of other options exist, including Small Business Administration (SBA) loans from the government, loans from family and friends, equipment financing (that is, paying for equipment on a monthly installment plan), or crowdsourcing.
Obtain the Proper Licenses
With any startup, it's important to set yourself up with the necessary licenses and permits. A mobile bartending business requires a different set of paperwork than a brick-and-mortar bar.
First off, you'll need a business license. This legitimizes you as a legal business entity. Since a mobile bar sells alcohol, both state and federal licenses are required. Check out what is needed for your state, and applications can typically be found online.
In order to serve alcoholic beverages, you will need a liquor license (and maybe even a portable bar license as well). This is issued by your city and, like the business license, the cost of this depends on where you live and the size of your business, so check with your local liquor board. If you plan to serve food, you'll need a food service license, issued by your city or county health department, and food service permits for your employees, issued by your state. And finally, you'll need a mobile food truck license, also issued by your city. This may require you to secure other permits. Information can be found on your city's website.
You'll need liability insurance and vehicle insurance to start, but also consider any additional insurance you might need for alcohol sales on the move.
Taxes, DBA and EIN
As a business owner, you're going to have to pay taxes. The first thing you should do is apply for an Employee Identification Number (EIN) from the IRS. This serves as your tax ID number. If you're planning on doing business under any name besides your personal or your business name, you should also register your DBA (Doing Business As).
Decide on a Location
Location, in business, is everything. Or locations, if you happen to be a mobile bar. Even if you're going to be on the move, it helps to set up some parameters. How far are you willing to travel? Will you limit your service to the inside of your vehicle, like a food truck, or will you specialize in private parties and corporate events?
Decide on the Design and Atmosphere
A portable bar has a much smaller footprint than a permanent one, but it's still important to think about design and the kind of atmosphere you want to cultivate. How does your setup (and the truck itself) fit in with your brand? Also take some time to consider your layout: in a small space especially it's important that your staff members prepare drinks efficiently without bumping into each other.
RESOURCE
Restaurant Floor Plan Templates
Use these restaurant floor plan templates to get inspired as you map, or reimagine, the layout and space setup for your restaurant.
Consider your Branding, Marketing, Promotion, and Advertising
Now that you've cleared the bureaucratic hurdles of permits and licensing, it's time to start thinking about how you'll introduce your mobile bar to the world.
Your brand is the vision of your business that you show the world. A logo is just part of it: it also encompasses what your bar looks like, the type of drinks you'll serve, how your staff will interact with customers, and how you'll present the bar on social media. Once you have a name and logo, register them with the U.S. Patent and Trademark Office so no one else can steal them. So take some time to think about your target market and the type of customer you want to attract and then the sort of mobile bar that will best appeal to that sort of person.
Once you've established your brand, you can decide how much you're willing to budget for promotion and advertising, and then start drawing up your marketing plan. Where are you most likely to find your ideal customer? If you're hoping to appeal to younger people, for example, you might focus your social media marketing efforts on TikTok, while customers in their 30s and 40s might be drawn in by Instagram, and senior citizens by Facebook. Depending on your budget, you may think about buying social media ads on Facebook or Instagram.
There are plenty of other ways to get the word out without using social networks. Search engine optimization for your website will give you a better position on Google searches. You may collect email addresses for direct marketing, or you can go totally old-school by sending out menus and coupons through the mail.
Create the Menu
And now, after all of this, we've finally reached the whole purpose of opening a mobile bar: the drinks!

What are you going to serve? And how are you going to organize and engineer your menu to show off your mixology to the best advantage? Your menu is essential to your business, so put time and care into making sure that it's the best it can be.
Keep menu psychology and design in mind, and update your menu when your mobile bar business is growing and changing.
Find Suppliers and Order Inventory
Now it's time to stock the bar.

Do you have particular suppliers in mind? If not, take some time to research small-batch producers and larger liquor distributors in your area to get the flavors you want at the best price. Also, consider how much inventory you can afford to keep on hand – it might be a good idea to have a home base or storage space to hold excess inventory.
Buy Equipment
How are you going to serve up these lovely drinks? Equipment is just another necessary expense when you're opening a mobile bar. You'll definitely need glassware, mixers, strainers, and cocktail shakers. You'll also need an ice maker, a refrigerator, and cleaning equipment. And of course, you'll need technology – things like a point-of-sale system that can keep track of customers' tabs and allow them to pay up at the end of the night is essential.
Hire your Team
Will you be operating your mobile bar business as a one-person operation, or will you hire staff? You'll need bartenders, obviously, but how many? Will you need barbacks, too? How many shifts per week do you need to fill? How much do you plan to pay them?
Also think about what kind of people you want working for you, where to find them, questions to ask, and, most important, how you plan to retain them so you're not constantly hiring and training new employees. In this case, word of mouth may be an effective way to find people you want to work with, but sites like Harri, Poached Jobs, and AllBartenders.com are also helpful.
Figure out Finances, Sales Forecasts, and Operating Expenses
It can be difficult to project exactly how much revenue your mobile bar will generate. Still, there are specific critical performance metrics you can calculate
to check how your business is doing. It's also helpful to break your fixed costs down by weeks or days to figure out your overhead rate, and that, combined with prime cost, can help you determine how much it costs to stay in business and what it will take for you to reach the break-even point.
Start pouring!
Congratulations! Now you're ready to open your own mobile bar business. For other information on opening and running a bar, check out these other resources:


RESOURCE
Bar and Lounge POS Comparison Tool
A free, customizable Bar and Lounge POS Comparison Tool to research and compare point of sale systems in one Excel spreadsheet or editable PDF.
DISCLAIMER: This information is provided for general informational purposes only, and publication does not constitute an endorsement. Toast does not warrant the accuracy or completeness of any information, text, graphics, links, or other items contained within this content. Toast does not guarantee you will achieve any specific results if you follow any advice herein. It may be advisable for you to consult with a professional such as a lawyer, accountant, or business advisor for advice specific to your situation.