Danny Meyer's Restaurants are Built on Emotional Skills
Danny Meyer was the keynote speaker at Toast's 2019 company kickoff, where he was interviewed on stage by Toast's CEO, Chris Comparato. We had a hell of a time. Here are the highlights from that conversation.
Danny Meyer is pretty well-known in the restaurant industry. You might know him as the man who founded Shake Shack. Maybe you know him from Union Square Cafe, which he opened at 27 years old, or from Gramercy Tavern. Maybe you've been to one of the 18 restaurants that are part of Union Square Hospitality Group.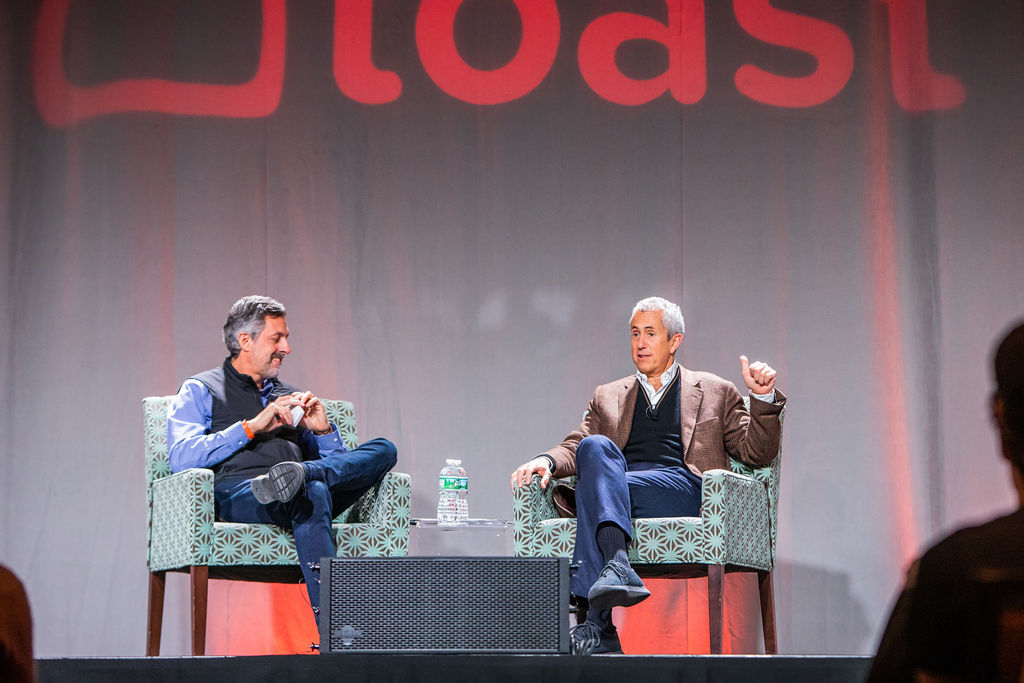 What you might not know about Danny Meyer, though, is that he hires for empathy.
"As good as our food was...what we really knew was that the way we were making people feel was even more powerful than what we were putting on the plate and in the glass," said Danny. "That's hospitality."
It's this core belief that has garnered his restaurants a fiercely loyal following. By hiring people who are highly empathetic, Danny Meyer can enable his restaurants to run on what he calls a virtuous cycle.
First, we take care of our team. Then our customers. Then our community. Then our suppliers. Then our investors. Not in a linear list but as a virtuous cycle, where one good thing would keep leading to something even better.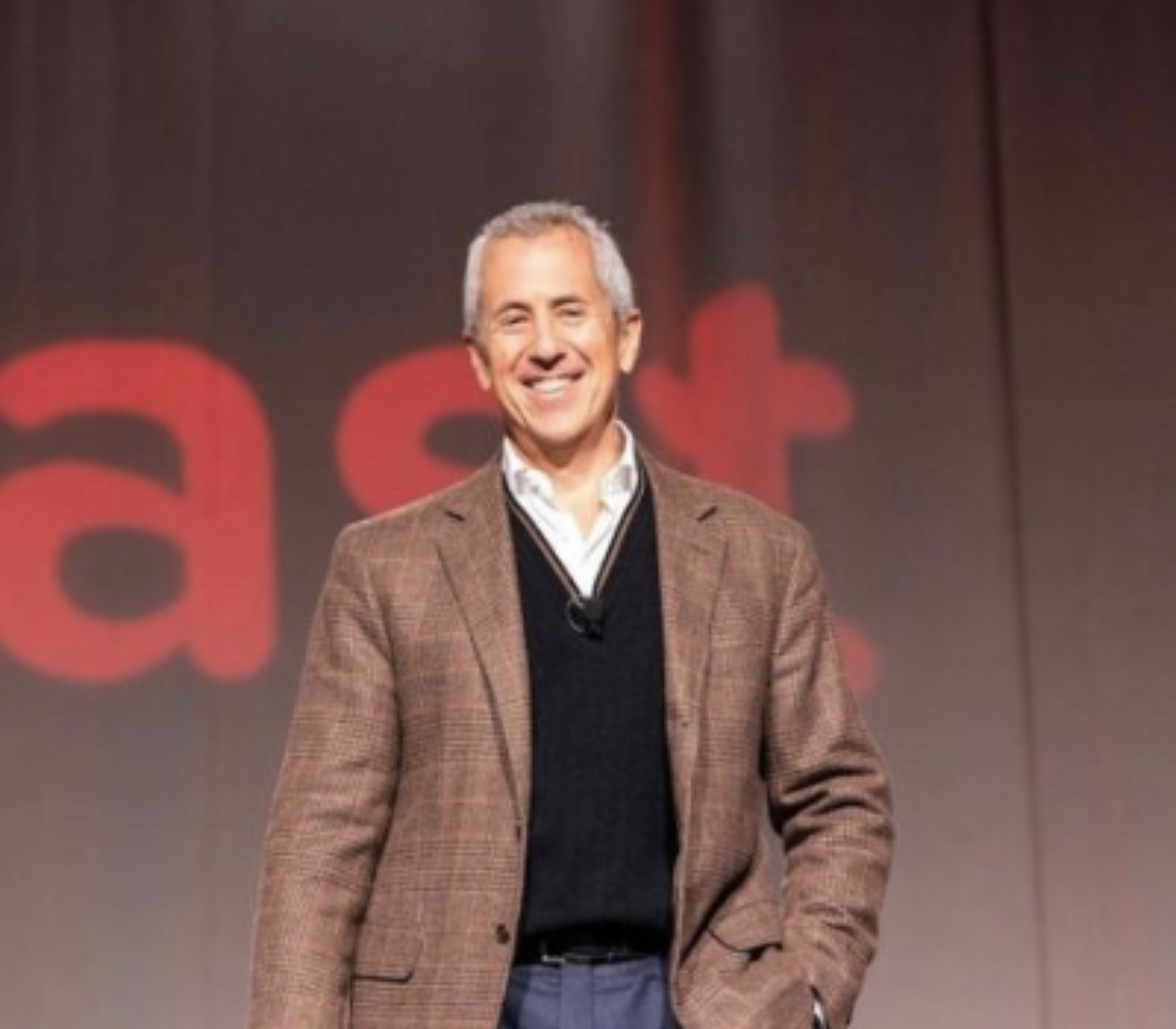 Danny Meyer
CEO, Union Square Hospitality Group
To try and summarize his intuitive, emotional intelligence-driven hiring standards, Danny came up with "Hospitality Quotient," or "HQ." It's a combination of six traits he looks for in anyone he hires, above technical skills or extensive experience.
The first three traits of HQ are optimistic warm, intelligence, and work ethic. "They're kind and optimistic. [They're] curious. They look at each day as an opportunity to learn something new. They have an amazing work ethic," he explains.
Then comes empathy. [They're] highly empathetic, meaning they can put themselves in your shoes. And another aspect of empathy that I think often gets overlooked is not just that I'm concerned how you're feeling, but I'm aware of how I'm making you feel. We call that the wake of the boat. If each one of us was a canoe or a motorboat on a lake, we're leaving a wake in our path. We are actually impacting the rest of the ecosystem. There's a lot of people that just don't know it. They're not aware of what they're doing."
"Self awareness is number five, which is understanding what your personal weather report is on a daily basis. None of us is responsible for waking up every morning bubbly and blue skies and sunny. But there are days when you're sort of humid and stormy, and that's okay, but you can't do that to everyone else on your team. You have to have the self awareness to go do something about it."
"Integrity is six... having the judgment to do the right thing, even when it may not be in your own personal self interest, and even when no one else is looking."
You can probably see why the people who fit that bill make for the best servers, bussers, cooks, and managers. As a result, high up on Danny's list of priorities is fostering an above-and-beyond company culture, which he succinctly explained as "just how we do things around here."
When faced with the common question of how he's going to scale his company culture to 18+ restaurants, Danny admitted to not knowing the answer for many years before receiving a crucial piece of advice.
"A woman who has done consulting for us told me, 'The question itself is flawed.' Implicit in the question is that culture can be sustained, [but] culture cannot and should not be maintained. Culture needs to be advanced. What you should be asking is, 'How can you use your growth to advance your culture?' What if it actually takes growth to advance your culture?" Danny said.
"The way that we've learned to advance our culture as we grow is through the intentionality of who gets the promotions when we grow. Each time your company grows, it takes leaders on this team to grow."
Over the years, Danny has learned to identify his leaders. "The primary reason most of us love our jobs — or not — is because of who we report to. And as much as I would like to believe that everybody at Union Square Hospitality Group salutes the USHG flag, it's just not true for everyone. The real person that they're saluting, or not, is who they report to. And so my first question is, 'Is this person someone who in and of themselves would make me excited to come to work?' And that's generally someone who's a good teacher, who's courageous enough to give me feedback, who's courageous enough to teach me some things that maybe I didn't know, who's courageous enough to shine a light on me when anything goes well, and to shine the light on themselves when anything doesn't go well."
During the past couple of years, the restaurant industry has been reckoning with its most difficult issues, including drug abuse and sexual harassment. It's issues like these that make employees feel unsafe at work, effectively destroying a restaurant's chance at a positive culture.
Above all, a hospitality business should be hospitable to everyone, especially its own employees. When it comes to these kinds of issues, "you have to address them head-on," said Meyer.
How in the world can you possibly be in a business that's about making people feel better when there could be people in your own company that don't feel good about coming to work or feel that there are double standards or feel that there are different sets of rules for different people based on power, gender, race, etc.
Danny Meyer
CEO, Union Square Hospitality Group
These issues coming to light have started to push the industry forward, and Union Square Hospitality Group is using a broad, active approach to try and improve things.
"We have engaged our employees to help us think about it. We have a diversity and inclusion counsel. We have set goals, which we put on our website, to have our employment, throughout our entire company, mirror the diversity of the community in which we do business. We are completely committed to investigating any type of issue that comes up; we have a 24-hour hotline that is not connected to us, for anybody who doesn't feel comfortable going to their boss about anything. And interestingly, when we first started this, some issues came to the fore, and it would be wrong-headed to minimize that, because when those issues were brought to the fore, it actually created some opportunities to feed our culture. Sometimes, feeding your culture means exiting some people who shouldn't be part of it."
Before the internet, says Danny, the quality of your product made up closer to 90% of your success, as specialized knowledge (in food and otherwise) was harder to come by, and customers weren't faced with an infinite sea of choice and information. Now, "We have to acknowledge that most great ideas have either already been done, and if you're the first one to do it, someone's going to take it really, really quickly." Today, he explained, there has to be more emphasis on the 51% because when the service is above and beyond and customers leave feeling amazing, word travels fast. You can find a pasta dish of excellent quality in dozens of places, but there may only be a few places that make you feel truly taken care of.
"That's also why when you are better than anybody else at how you make each other feel, you will then have the number one greatest competitive advantage over everybody," said Danny. "And that is that you will attract the best talent, because the best talent always wants to work with the best talent. The best talent also wants to work at a place where they feel great coming to work everyday."
The way we were making people feel was even more powerful than what we were putting on the plate and in the glass.
Danny Meyer
CEO, Union Square Hospitality Group
Another thing changing the industry is the impact of advancing technology. Online ordering is on the rise, and cloud (or ghost) kitchens could change the fundamentals of the industry as a whole. "The restaurant business was one of the slowest adopters, of any industry, in terms of tech. And I think that the way to look at this is, 'how can we possibly marry the best of our industry, which is high-touch, with high-tech?'" said Danny.
"Tech provides the convenience, but touch is the experience," he continued.
"Whenever tech can actually enhance hospitality, it's a good thing for us, and we just have to be nimble, we have to stop fighting it, because the genie is out of the bottle. People are not going to want life to be less convenient, and we have to look for ways to use tech to be our friends… we can save people time, make the experience much more seamless for them, and spend more of our time in the act of welcome."
Danny Meyer explained how the internet has changed the way the world does business in more ways than just online ordering: The quality of your product is now less than half the battle.
"We always say, in our company, that performance is one of two ingredients in success. It's 49 parts performance (how good is the thing you do)," said Meyer. He explained that other 51 parts are made up of "how you make each other feel… how you make your customers feel... how you make the community in which you do business feel… how you make your suppliers feel... and ultimately, how you make your investors feel," he said.
Related Restaurant Operations Resources
How to Create an Employee Benefits Program
Benefits make your team happy and help your bottom line.
Get Access
DISCLAIMER: This information is provided for general informational purposes only, and publication does not constitute an endorsement. Toast does not warrant the accuracy or completeness of any information, text, graphics, links, or other items contained within this content. Toast does not guarantee you will achieve any specific results if you follow any advice herein. It may be advisable for you to consult with a professional such as a lawyer, accountant, or business advisor for advice specific to your situation.