In response to the rapid spread of COVID-19, and the need for the public to practice social distancing, Ohio, Illinois, Washington State, Connecticut, New York, New Jersey, Louisiana, Maryland, Rhode Island, and Massachusetts have put out statewide mandates stating that restaurants must only offer delivery and takeout. California has closed all bars, wineries, breweries, and clubs altogether, and the city of LA has also put in place off-premise-only restrictions for restaurants.
It's expected that other states will follow suit in the coming days.
In the past three years, digital ordering has skyrocketed in popularity. Many restaurants have already adapted to this trend. However, many sit-down restaurants, from family-friendly to fine dining, will need to set up an off-premise business overnight.
It's important to note that delivery drivers, whether they're employed by your restaurant or they're gig workers on a delivery app, are on the front lines of this crisis. They're at the highest risk, often needing to meet dozens of strangers a day, face-to-face, and exchanging cash. This is why it's so important to keep their well-being in mind. Ask that your delivery drivers wash their hands upon entering and before leaving your restaurant kitchen, and provide a small bottle of hand sanitizer for all drivers that come through your restaurant. This, of course, also goes for your staff that are preparing food and handling takeout orders as well — your restaurant needs to be cleaner than ever these days.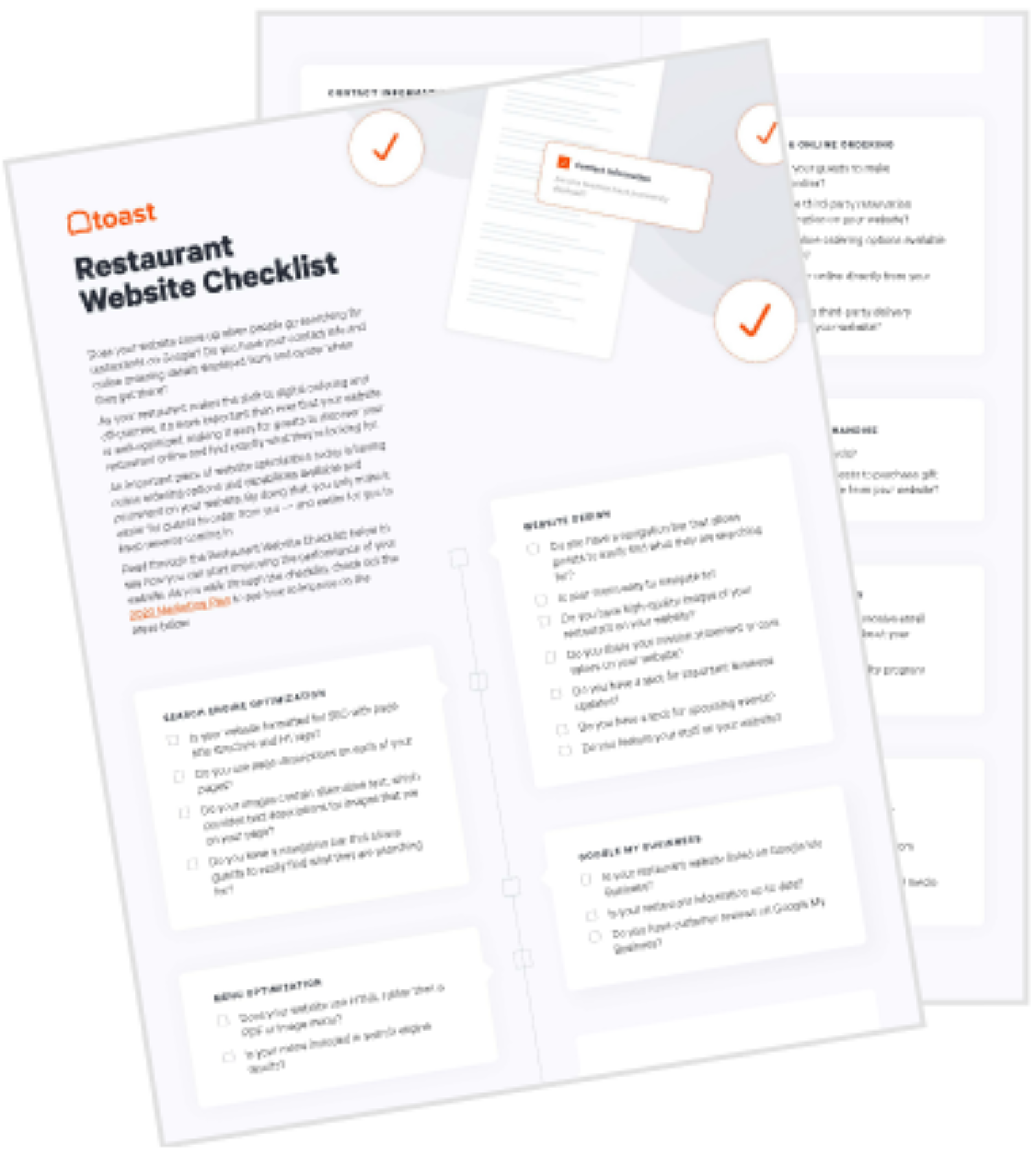 Restaurant Website Checklist
This template will help you update and optimize your website, so guests can easily find and order from you.
Download
To try and help you weather this crisis, we've put together a guide to pivoting your restaurant to off-premise-only.
Announce the Change
Get in touch with your guests through social media, email newsletters, a popup on your website, and a sign on your door. Let them know that for public health reasons, you're only offering takeout and delivery for the next few weeks (or longer).
You can be very candid with your guests: Tell them which ordering methods are best for your business financially, and ask that they use those. If you have your own delivery system built out for your restaurant, encourage your loyal customers to order from there instead of using apps.
Limit Your Menu to Profitable, Travel-Friendly Items
There's a good chance you're operating with reduced staff right now, so it's important to pare down your menu to your most profitable, most delivery-friendly items only. This will help reduce your inventory costs significantly, and will make things easier for your cooks. Consolidation is key here: try and make sure each ingredient you buy is used in more than one menu item.
Your profitable, delivery-friendly items should be reasonably cheap for you to make, and they should stay delicious even if they're steaming in a foam container for 30 minutes. For more on choosing the best foods to deliver, and how to package dishes so they stay fresh, check out this article.
Having a short, consolidated menu will also make it much easier for you if you're putting together an online ordering system for the first time, whether it's on an app or on your website.
Use What You've Got
Dive into your freezers and your dry storage area and take stock of what you've already bought. Use these ingredients to inform how you build your new off-premise-only menu. If you've got a ton of frozen chicken, see how you can stretch that with items like chicken noodle soup, chicken meatballs, and chicken nuggets. If you've got an enormous reserve of flour, create some menu items around dough-based items like fresh pasta, pizza, flatbreads, pitas, sandwiches, spaetzle, dumplings, or noodles.
Doing this will be a small financial cushion, because while you work through your frozen and dry storage items, you won't have to order as much new inventory — and it'll help you establish a new baseline around how much of each item you'll have to order for your new, consolidated off-premise menu.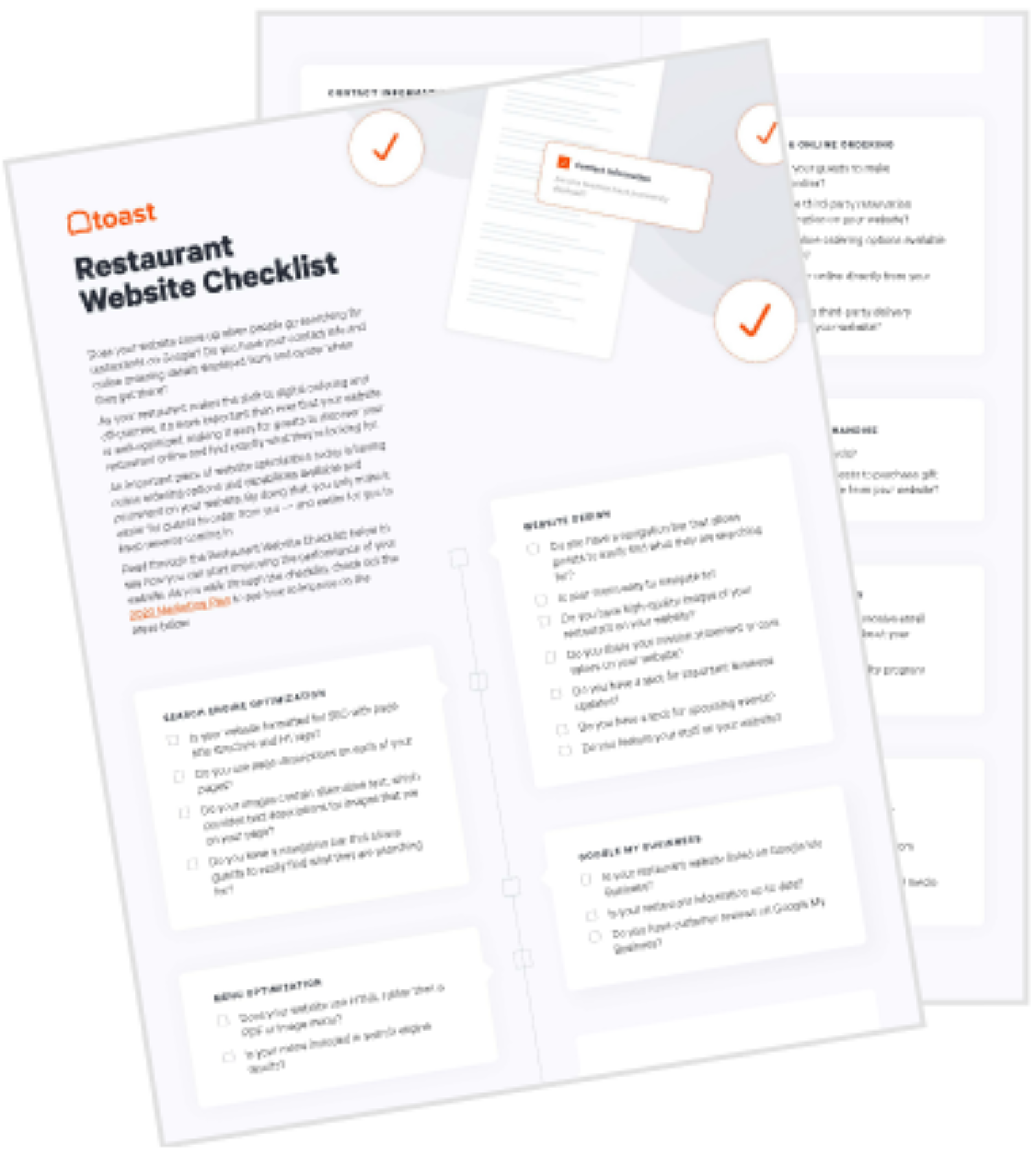 Restaurant Website Checklist
This template will help you update and optimize your website, so guests can easily find and order from you.
Download
Build Your Menu on Online Ordering Services
If you don't offer delivery or takeout in any capacity yet, set up your restaurant's online ordering and delivery service on your platform of choice.
With Toast Now™, restaurants can set up digital channels, like online ordering, a mobile ordering app, contactless delivery, and e-gift cards for three months free. No hardware or POS purchase required. No onsite installation. And best of all, no commission fees.
Also, many website builders like Wordpress also allow you to install free extensions like GloriaFood, which allows you to build your menu, choose your delivery radius, and take payment all through your restaurant. Website builder Wix also has a Restaurant Orders app that you can integrate into your Wix-built website.
Then, get your restaurant onto whichever third-party delivery services are most popular in your area. Ask your fellow restaurant operators if they're using Caviar, DoorDash, Postmates, UberEats, and/or GrubHub, and which have been the most popular in recent weeks.
Waive Minimum Order Size
Many restaurants typically have a minimum order size, whether it's $10 or $20, to make the trek worth it. But if this is the only way your business can operate right now, remove any restrictions you have around minimum order size. Every order helps in this situation.
You might also want to waive the delivery fee.
Keep Everything Clean and Don't Give Out Utensils
Your cleaning protocol will need to be significantly increased right now: A new study from the New England Journal of Medicine showed that coronaviruses can live on plastic and metal surfaces for up to 72 hours, and on cardboard for 24 hours. Every staff member needs to be washing their hands extremely regularly — you can set a recurring timer for the first few days as your staff adjust to this increase, as a reminder.
In the interest of keeping germs to a minimum, don't provide eating utensils. The fewer surfaces that can hold germs, the better.
Offer to Fill Your Guests' Fridges and Freezers
Many of your regular customers have probably come to rely your restaurant's food, whether they usually dine in or do takeout. That's why Mei Mei and Mamaleh's in Boston started offering large-format portions of their best-selling dishes for those customers who want to buy in bulk and freeze food from their favorite restaurants. Note: due to rapidly changing conditions, both of these restaurants later decided to close completely until further notice in the interest of public health.
Encourage Tips
In your customer communications explaining the changes in the business, encourage your customers to tip their delivery drivers generously, as you know they're being exposed to higher risk of contracting COVID-19. Though cash tips are usually preferable, encourage your guests to tip within apps or on your online ordering system to reduce the spread of germs.
Facilitate Contact-Free Delivery
Especially if you deliver through your own system, you can make sure your drivers are delivering food with a "contact-free" experience — meaning a driver calls or texts the recipient to let them know they've left the food on their doorstep and leaves before they have to make contact with the recipient. Then, the recipient can go ahead and grab the food.
Most third-party delivery apps are now offering a "contact-free" option as well, so regardless of how you deliver, encourage your guests to opt for that option to protect themselves and the drivers.
Offer Curbside Takeout
To supplement contactless delivery, many restaurants like Butcher & Bee Charleston are offering curbside takeout, where a guest can come to the restaurant and a staff member will bring them their order outside.
If Possible, Hire FOH Staff as Drivers
If your restaurant has been forced to go off-premise-only, or if you've taken that decision of your own volition, there's a good chance you've had to pare down your front of house staff or lay them off completely. If any of your FOH staff have cars and are willing to help, keep them on the payroll by having them be your delivery drivers — but make sure to work out how you'll pay for insurance and for gas money first. Check your local labor laws, too — your employees might fall under a different classification if they change roles and may need to earn a different wage.
These are trying times, and things are continuing to change every day. Keep yourself, your staff, and your guests as safe as you can, and we will weather this storm together.