These 5 Restaurants Are Community Change-makers
Nominated by their customers, these five restaurants are serving their communities in extraordinary ways
Toast was built for restaurants. For breweries, cafés, sushi joints and taco trucks. For serving guests faster, for improving bottom lines, and for making the places we love a little easier to run. We asked you to nominate your favorite restaurant that could use a little more "easy" in their life, and you did not let us down. Introducing our five finalists, who have each gone above and beyond in their communities:
Humble Mumble
Ritcey East
Erica's Soul Food
HeyDay
Hue Cafe
Read their stories and cast your vote* for the grand prize winner who will take home $10k.
*Voting opens 9 AM EST on May 11, 2022 and closes 12 PM EST on May 18, 2022
HUMBLE MUMBLE
Humble Mumble is an Atlanta, GA based pop-up sandwich shop focused on fresh, local ingredients. Chef and Founder Justin Dixon modeled Humble Mumble's menu after his experience in fine dining restaurants. He wanted to create a sandwich shop that would be a fixture in Atlanta, with the goal to put Atlanta on the map as a foodie destination. As Justin put it, "If you want Humble Mumble, you need to go to Atlanta, and if you're in Atlanta, you need to go to Humble Mumble".
From the beginning of his pop-up, Justin knew he wanted to make a difference in the food industry. The name 'Humble Mumble' comes from the Outkast song by the same name, and reflects a message of overcoming odds, breaking down barriers, becoming a better version of yourself, and giving back to the community. He wanted to figure out a way to change the way restaurants are operated and make them work well for the people who run them. As it says in Humble Mumble's philosophy: People matter most.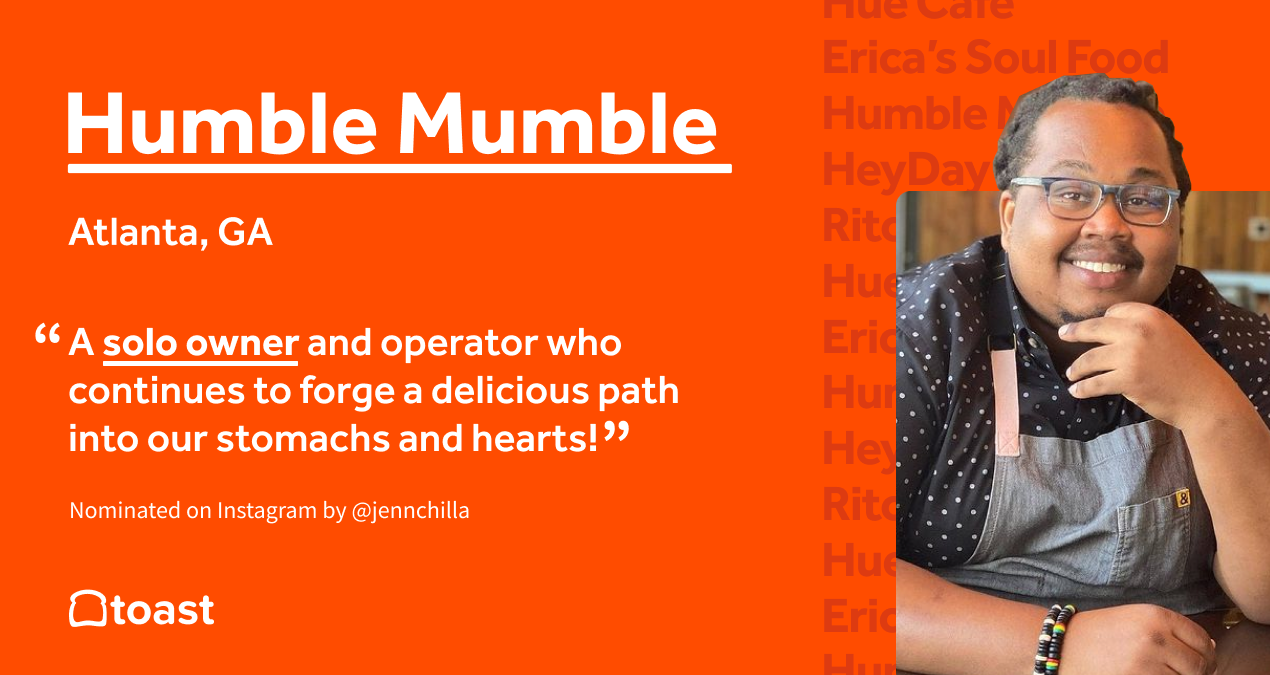 Across his whole business, Justin works to model the ways that a restaurant can be better: taking care of his team, focusing on sustainability, providing fair wages, regular promotions, better training, and work-life balance. He makes a point to ensure that he is operating Humble Mumble in a way that works for all stakeholders, including employees, guests, and the community as a whole.
Justin hopes that Humble Mumble can show other restaurants that it is possible to run a successful, sustainable, and compassionate business. For the Humble Mumble team, it really comes down to this: "We believe in doing the right thing, even when no one is watching, making good on your commitments, and living up to your ideals."
RITCEY EAST
Ritcey East is a homey, fun, and inclusive queer-owned restaurant located just outside of Boston in Watertown, MA. Growing up in a restaurant family, owner Max Ritcey is certainly no stranger to food service and hospitality. And while Boston is well-known as an inclusive city, Max found that there weren't many places to go and celebrate the community. That's what inspired them to open Ritcey East, deciding, "if you don't have it, create it."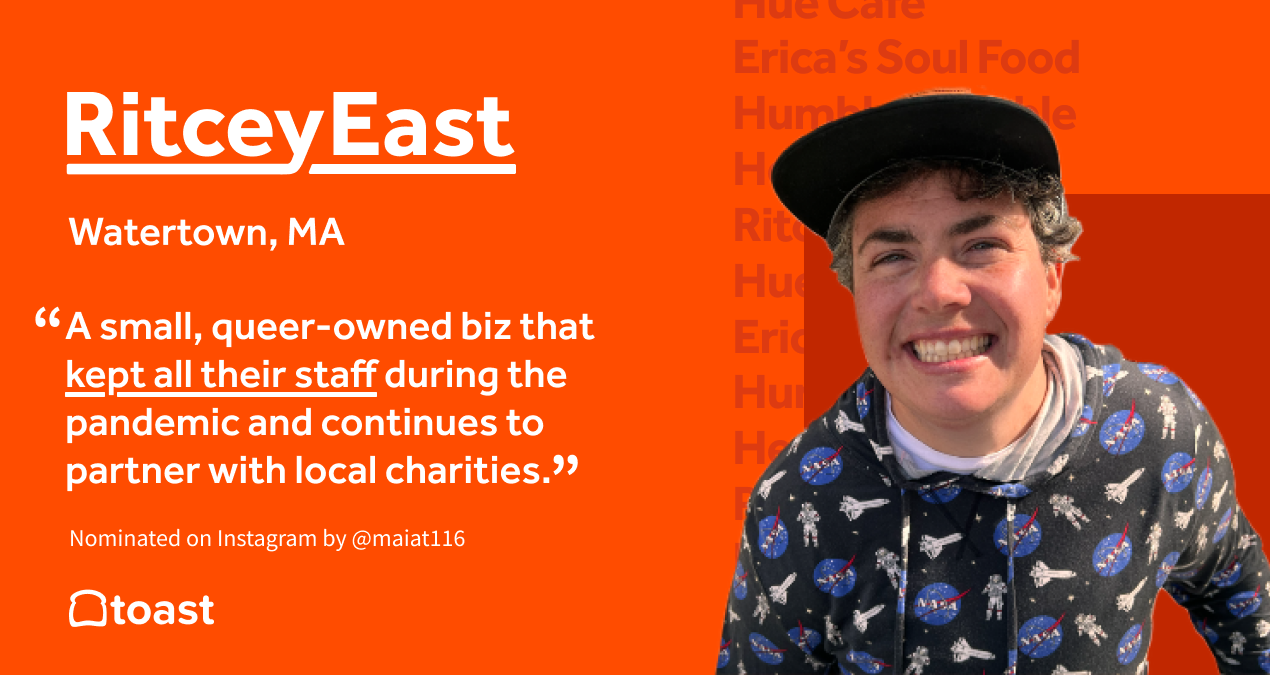 Fast approaching five years of operation this September, Ritcey East is a "come as you are" operation, providing a safe space that just so happens to have delicious food and fun events. Ritcey East offers gender-neutral bathrooms, pronoun pins, and LGBTQ+ nights including the popular "TuesGAY" for guests to feel welcomed and provide a place to truly be themselves.
At the center of every restaurant is the food, of course, and Ritcey East hits the spot with comfort food that is all homemade and sourced locally as much as possible. On their menu, you'll find items such as the "Ain't EZ Being Cheese-Z" mac and cheese and the "Return of the Mac" burger, plus a long list of cocktails, drafts, wine, and mocktails.
But, they don't stop there. In addition to serving up gooey, delicious food in an inclusive atmosphere, Max and Ritcey East put philanthropy at the heart of the operation. In honor of Black History Month, the restaurant donated proceeds to the Marsha P. Johnson Institute. They've also given to The Trevor Project. "I get joy from helping people," Max says.
ERICA'S SOUL FOOD
Erica Montgomery is the founder and chef of Erica's Soul Food. The Portland, OR food truck serves up what many claim are the best wings in the community.
Erica is originally from Atlanta, and her wings find their roots there, too. Her ATL-style wings are made extra special with spice, crunch, and a little bit of extra sauce. This saucy goodness is what makes Erica and her wings stand out from the crowd—but wings aren't the only goodness Erica is serving up.
Erica came to Portland from Atlanta about five years ago, bringing a few hundred dollars, a wealth of culinary knowledge, and little else. Since then, she's dedicated her time and energy to making Portland home for herself and her two children—which means ATL-inspired wings and other southern fare, as well as working to better her community.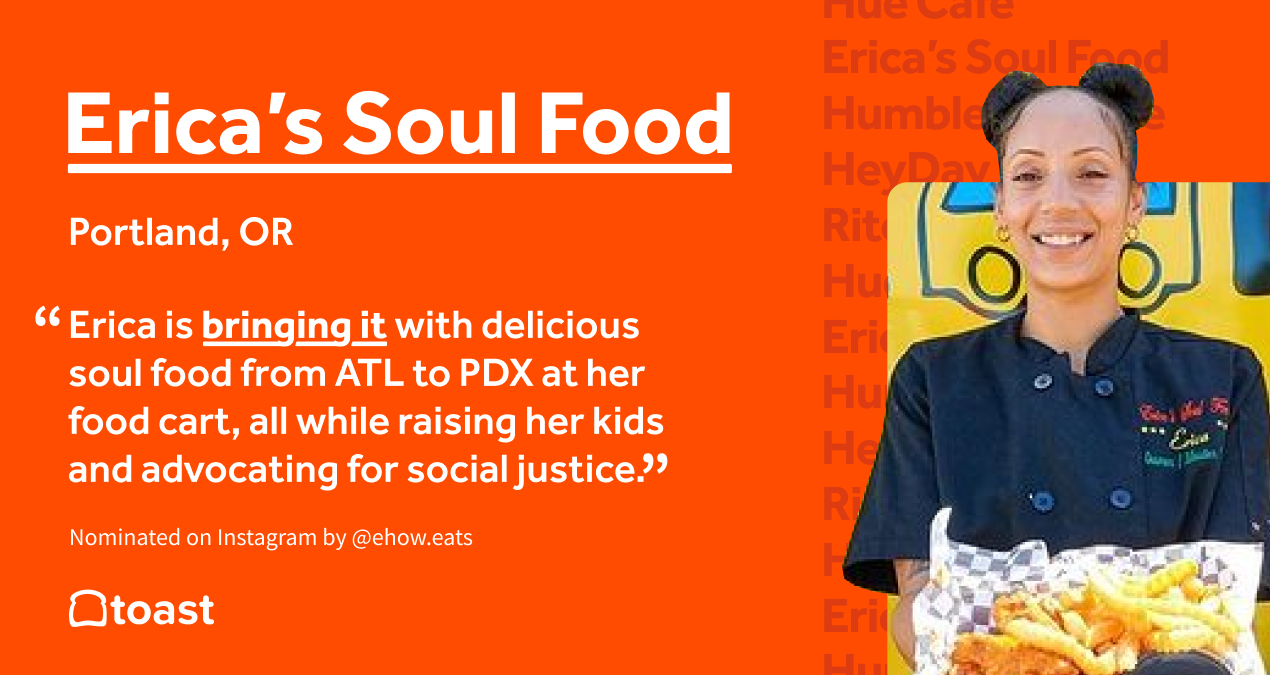 Not long into owning her food truck, Erica realized that she was doing herself a disservice by not speaking up and speaking out about issues that are important to her. Since then, she has worked to help marginalized communities move back and find their identity amidst ongoing gentrification in her neighborhood. She's worked with other people within the food industry to uplift female chefs and offer them a seat at the table. And, she has partnered with a local clinic to provide walk-in vaccines right outside her cart—rewarding vaccine recipients with gift certificates for her food.
In the future, Erica hopes to move into a brick and mortar location at some point. Her dream location would be a 'speakeasy-type establishment' where folks could gather and enjoy her food while she sings.
HEY DAY
HeyDay is a Portland, OR based pop-up doughnut concept owned and operated by Pastry Chef, Lisa Nguyen. Started in 2020, her doughnuts are made with rice flour to give them a nice chewy consistency, reminiscent of mochi.
To Nguyen, HeyDay is an unashamed, unabashed representation of her beliefs, her heritage as a Vietnamese-American, and her love of family. She began the business in her 30's to honor her father's memory and the many Saturday's they shared over doughnuts. He even inspired the name, a nod to the time they spent together "back in the day".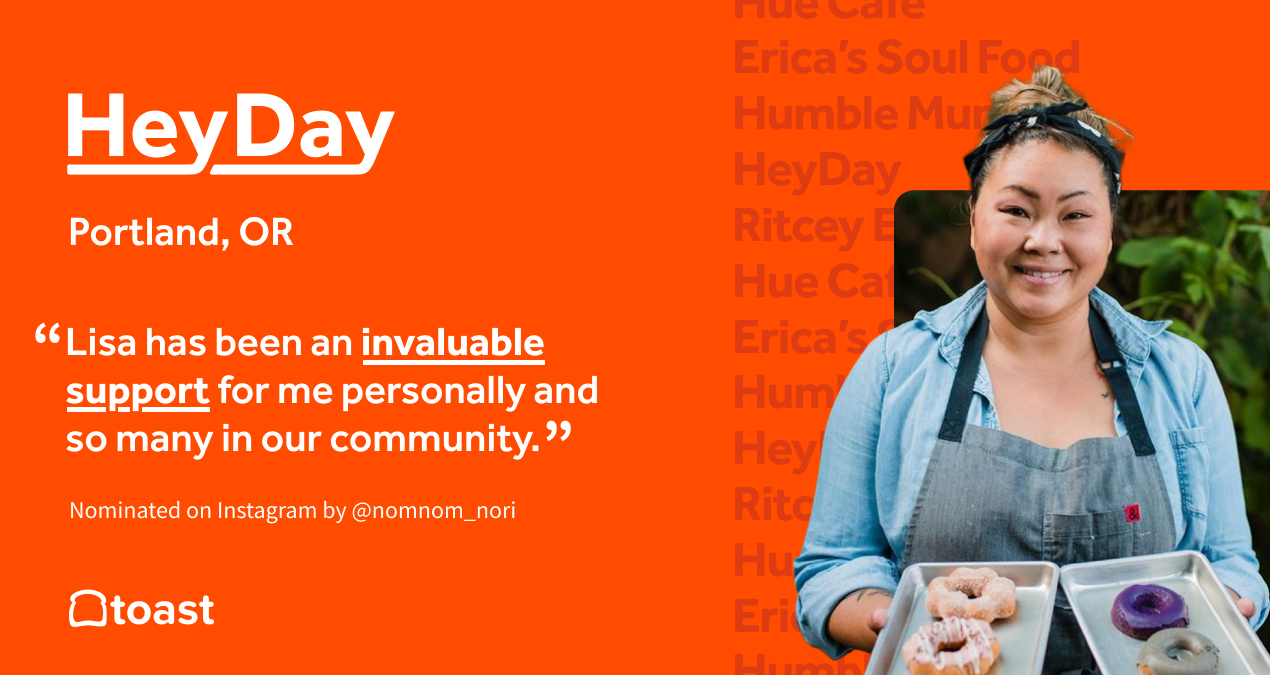 Coming from a culture that traditionally emphasizes keeping your head down, working hard, and not drawing or feeding into any attention, HeyDay gives Nguyen an opportunity to openly celebrate her AAPI heritage in a more vocal way, while giving the Portland community an opportunity to try new flavors, and share in her culture and heritage. Though Portland has a pretty supportive food-community, it has felt a tad boxed in – something Nguyen is glad to share the pandemic had a hand in reshaping for the better. "The pandemic made the food scene very special, very creative, very gritty," she shares, and that guests on the whole are being more mindful of their money, of when and who they support. "It's a sweet and tender time in the narrative of food culture," she says.
Sharing the flavors of her family has opened up conversations about traditional flavors, cultural education, and immersion. "Food invites people in", Nguyen says, and her ultimate goal for HeyDay is to educate, share awareness, and increase inclusivity.
HUE CAFE
Hue Cafe is a plant-based Cafe & Apothecary rooted in Owings Mills, MD owned by husband-and- wife duo Aaron and Ejama McNeil. With fun, hearty dishes like their savory jackfruit-based Power Bowl, or their Brown-Sugar Buffalo Hue Wings (made of "finger-lickin' good crispy cauliflower"), the menu—like the name—is vibrant and inviting.
Several years ago, after the couple swapped to a plant-based diet, they collectively lost around 250 pounds. Experiencing the dramatic effects of their lifestyle change firsthand and hoping to share those same benefits with their community became the inspiration behind Hue Cafe. Ejama's ongoing dedication to wellness and husband Aaron's background as a professional chef helped to bring that inspiration to life.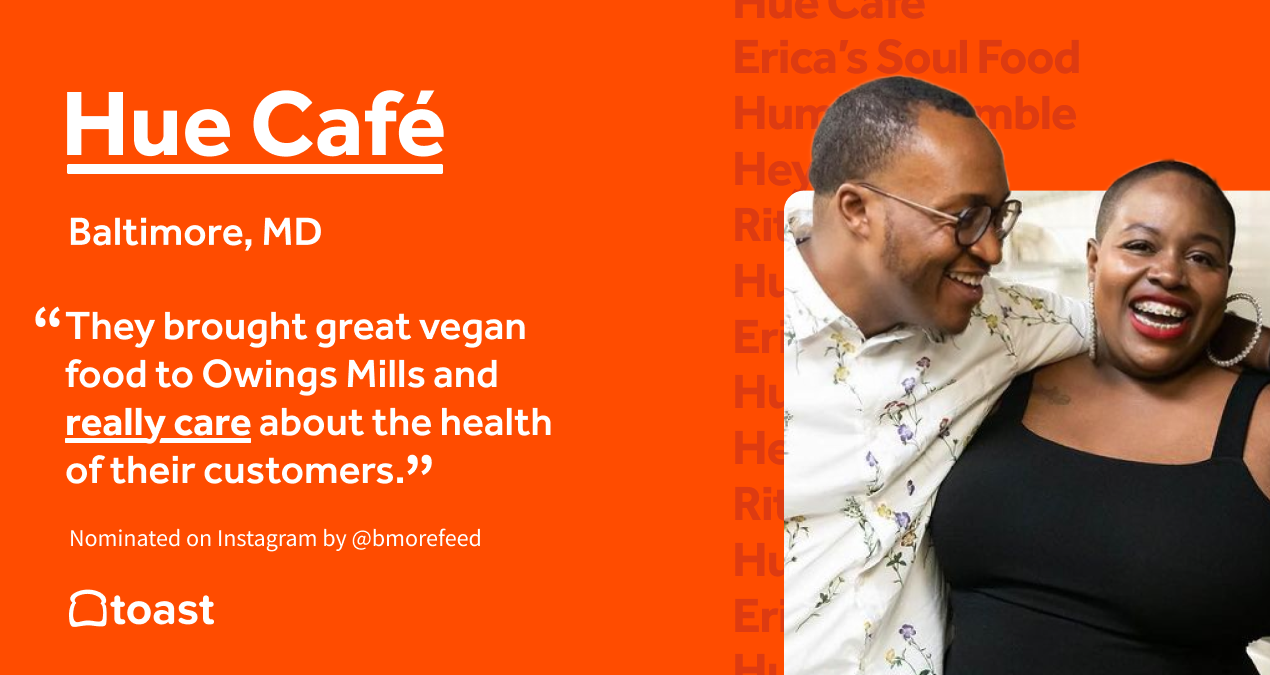 Their long-term goal is to not only to feed and nourish the plant-based community in Baltimore, but to offer vegan dishes that are delicious enough to encourage omnivores to give plant-based eating a shot. As 'Mama Hue' puts it, "I hope that when you leave here, once you taste the food and taste the flavors…that you walk away feeling like, 'I can do this.'" In the words of the brand: "you do not have to sacrifice a bold and colorful life to live a healthy lifestyle."
RESOURCE
Restaurant Business Plan Template
No matter where you're at in your restaurant ownership journey, a business plan will be your north star. Organize your vision and ensure that nothing is overlooked with this free template.
DISCLAIMER: This information is provided for general informational purposes only, and publication does not constitute an endorsement. Toast does not warrant the accuracy or completeness of any information, text, graphics, links, or other items contained within this content. Toast does not guarantee you will achieve any specific results if you follow any advice herein. It may be advisable for you to consult with a professional such as a lawyer, accountant, or business advisor for advice specific to your situation.