DISCLAIMER: This content is provided for informational purposes only and is not intended as legal, accounting, tax, HR, or other professional advice. You are responsible for your own compliance with laws and regulations. You should contact your attorney or other relevant advisor for advice specific to your circumstances.
It seems like you can find a Dunkin' or Starbucks on every corner in America. Sometimes more than one! The best coffee shops offer something unique: they provide more than just a place to get your morning caffeine fix. They're the places that end up with fiercely loyal local followings, and with regulars who come back week after week, year after year. They're made up of great coffee, great food, a special space, and perhaps most importantly, outstanding, warm service.
If you're thinking about opening a cafe, consider what's going to make it stand out among the other coffee shops nearby. Will you create a cafe-slash-community space? Maybe you want to show off the specific coffee culture and drinks from your heritage, or maybe you want to share creative pastries to go along classic Italian espresso drinks. Maybe you want to decorate the space with hundreds of plants, or eclectic lamps, or even old coffee makers.
We're spotlighting 14 of the most unique coffee shops around. Read on and get inspired.
How to run a successful coffee shop
You can either purchase a coffee shop franchise or start your own from scratch. There are pros and cons to both. A franchise comes with a lot of the groundwork done, but can be expensive and impersonal. Starting your own coffee shop probably requires the most work on your end, but can also be the most rewarding, with full control and flexibility over what you serve and how. For more information on opening a franchise, check out this post.
If you're looking to start your own coffee shop from the ground up, you'll need a business plan. This is a written document that describes your cafe's objectives in detail, and how you'll go about achieving your goals. In other words, it's a blueprint that outlines your entire vision, and how your business will take shape and operate.
Coffee Shop Business Plan Template
Use this free coffee shop business plan template to easily create a great business plan that organizes your vision and helps you start, grow, or raise funding for your coffee shop.
Download
Once you have a clear business plan and vision, you'll need to secure funding. Whether you have private investors or go another route, financing is essential. From there, you'll need to find a location, outfit it with equipment, the right cafe technology, and hire killer staff. For a step-by-step guide to opening your own cafe, check out this post.
---
Read this next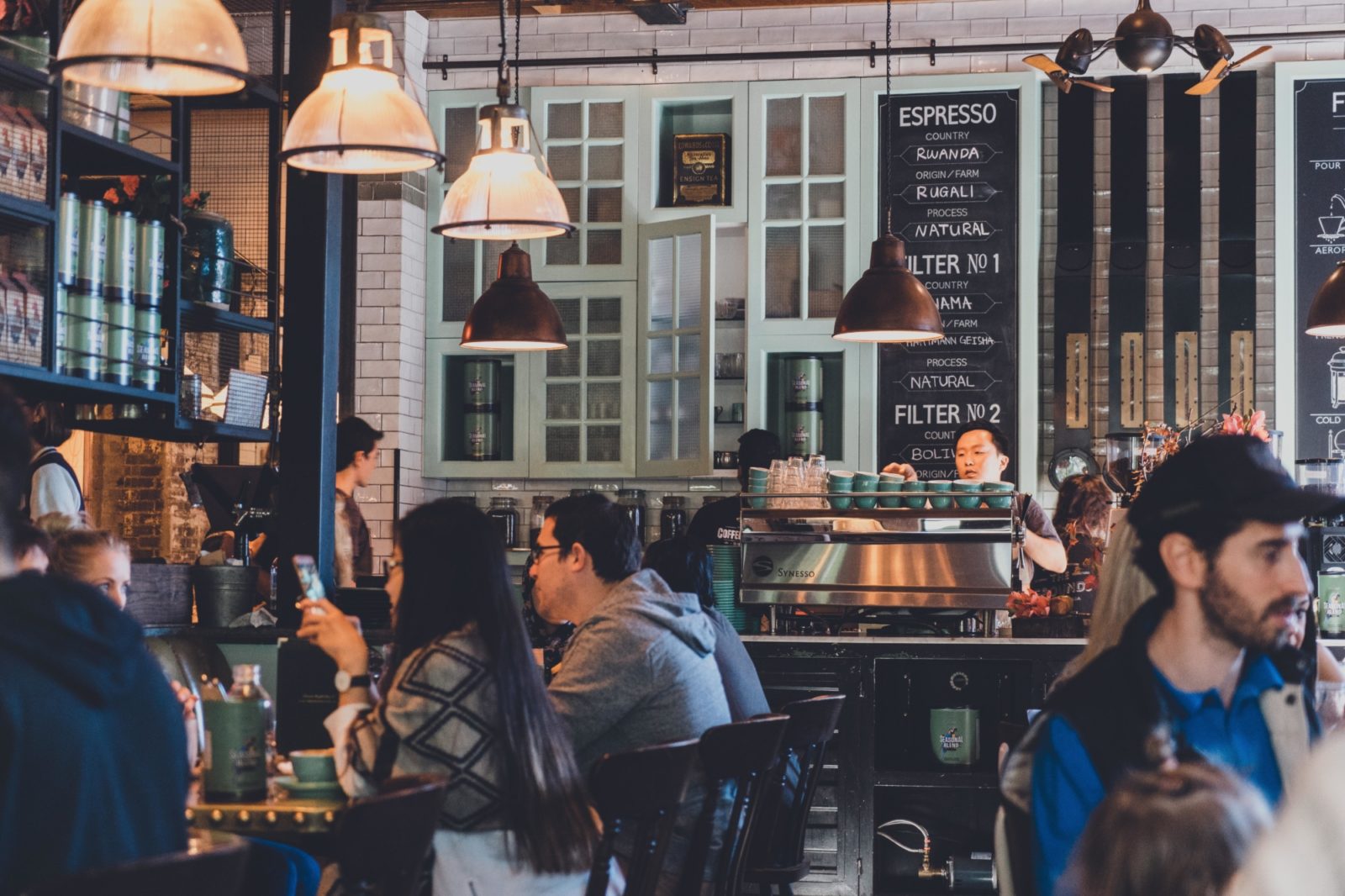 How to Start a Coffee Shop
Thinking of opening a coffee shop? Here's a checklist and the average cost to start a cafe.
Coffee shop concepts
Of course, before you can fully get your business plan into action, you'll need to finalize your coffee shop concept. The coolest coffee shops have some unique aspects to their business – whether that is a signature drink, decor style, or branding.
When coming up with your own concept, think about your "why" behind opening a cafe. What's your inspiration? What are you passionate about? A unique concept will stand out in your target market and set you apart from your competition.
Check out this post for more restaurant concept inspiration, and keep reading to learn about 14 amazing cafes around the country.
1. LaundrYup!
LaundrYup! in Biddeford, Maine is a combination Italian coffee shop and laundromat. Visitors can drop off their laundry for a full wash service or do their own (and grab a coffee while they wait).
2. George Howell
George Howell is famous in Boston, Massachusetts for its artisan roasted beans and delicious pastries. And they offer some fun extras like their take-home latte quarts and tote bags.
3. Dayglow
Dayglow Coffee offers a unique menu at their location in Los Angeles – like this coconut lime drink or this citrus vanilla one. And for coffee aficionados, they also have custom subscription boxes available on their website. Along with the coffee delivery service, subscribers get access to recipes and educational coffee roasting content.
4. Everyman Espresso
Everyman Espresso has three locations across New York City, each going above and beyond with inventive coffee drinks. Think the Tiki Tonic or Espresso Old Fashioned: caffeinated takes on cocktail classics.
5. Curio Coffee
Curio Coffee in Cambridge, MA specializes in two things: coffee and waffles. They also currently have a burger and wine pop-up on Thursday and Friday nights, where they offer a smash burger menu and a variety of natural wines.
6. Tradesman Coffee Shop and Lounge
Tradesman Coffee Shop and Lounge has amazing coffee, but is even more famous for its incredible croissants in all manner of flavors. Smores, cookie dough, fruit loop, and birthday cake are just a few on their regular rotation, and they're always adding new and exciting varieties.
7. Sip of Hope
Sip of Hope in Chicago, IL offers amazing espresso drinks and baked goods with a mission. 100% of their profit goes towards mental health education and suicide prevention, and all of their baristas are trained to provide mental health services.
8. Bluestem Coffee Bike
Bluestem doesn't have a brick-and-mortar location. It's actually a mobile coffee bike that travels across Minneapolis, serving drinks like a cacao cold brew latte or classic americano.
9. Beyu Caffè
Beyu Caffè has two locations in Durham, NC, and two more inside Duke University, and it was the product of owner Dorian Bolden's big career change. He quit his Wall Street job and learned everything he could about coffee. "I learned the process, from the plant to the cup. I learned about coffee the way people learn about wine," he shared with us. He's created a space where his customers can come enjoy an incredible espresso, paired breakfast classics like breakfast burritos — with a hearty helping of community spirit.
10. MiiR
MiiR is known for its stainless steel drinkware, but their Seattle-based flagship store also offers coffee, food, and beer on tap. This location also holds community events, bringing people together in a shared space.
11. Cafe Landwer
This Brookline, MA cafe is homey and cozy, and offers full sit-down service with fresh Mediterranean cuisine and a coffee bar on one side.
12. Jaho Coffee and Wine Bar
Jaho Coffee and Wine Bar offers an expansive list of wine, beer, and cocktails along with their traditional cafe menu. Their cocktails cutely reference traditional coffee orders, in the form of boozy bubble tea, coffee martinis, and Baileys lattes.
13. A Baked Joint
Washington, D.C.'s A Baked Joint (and sister store Baked + Wired) offer artisan sandwiches on housemade bread, unique pastries (pumpkin cruffin anyone?), and pizza nights with live music. And, of course, their coffee is phenomenal.
14. Davelle
Davelle is New York City's first Japanese Kissaten-style cafe. They offer coffee drinks like Kyoto-style cold brew, espresso-based drinks, and gorgeous toasts, but they also offer comfort food like Japanese curries, cocktails, and an implicit invitation to linger for hours.
Related Coffee Shop Resources
Coffee Shop Business Plan Template
Use this free coffee shop business plan template to easily create a great business plan that organizes your vision and helps you start, grow, or raise funding for your coffee shop.
Download