This post was last updated on Jul 08, 2020.
DISCLAIMER: This content is provided for informational purposes only and is not intended as legal, accounting, tax, HR, or other professional advice. You are responsible for your own compliance with laws and regulations. You should contact your attorney or other relevant advisor for advice specific to your circumstances.
Briana Riddock's understanding of food — origin and flavors — is culturally relevant, accomplished, and interrogates diners' expectations of a young Black artist with Caribbean roots.
Riddock works with a quiet reserve that doesn't upstage her plates, which are colorful, beguiling, and almost political. Every dish highlights the varied cuisine from the African diaspora.
This creativity shines through in the intimate dining events Riddock now hosts in her hometown of Atlanta. But she didn't start in traditional restaurant kitchens: Riddock's career in the industry began in food and recipe publishing. As an NYU graduate armed with a master's in Food Studies, she worked at the Food Network and in the test kitchen of Food52, where she was a Julia Child Writing Fellow and wrote for Time Inc. Food Studios, MyRecipes, and Cooking Light.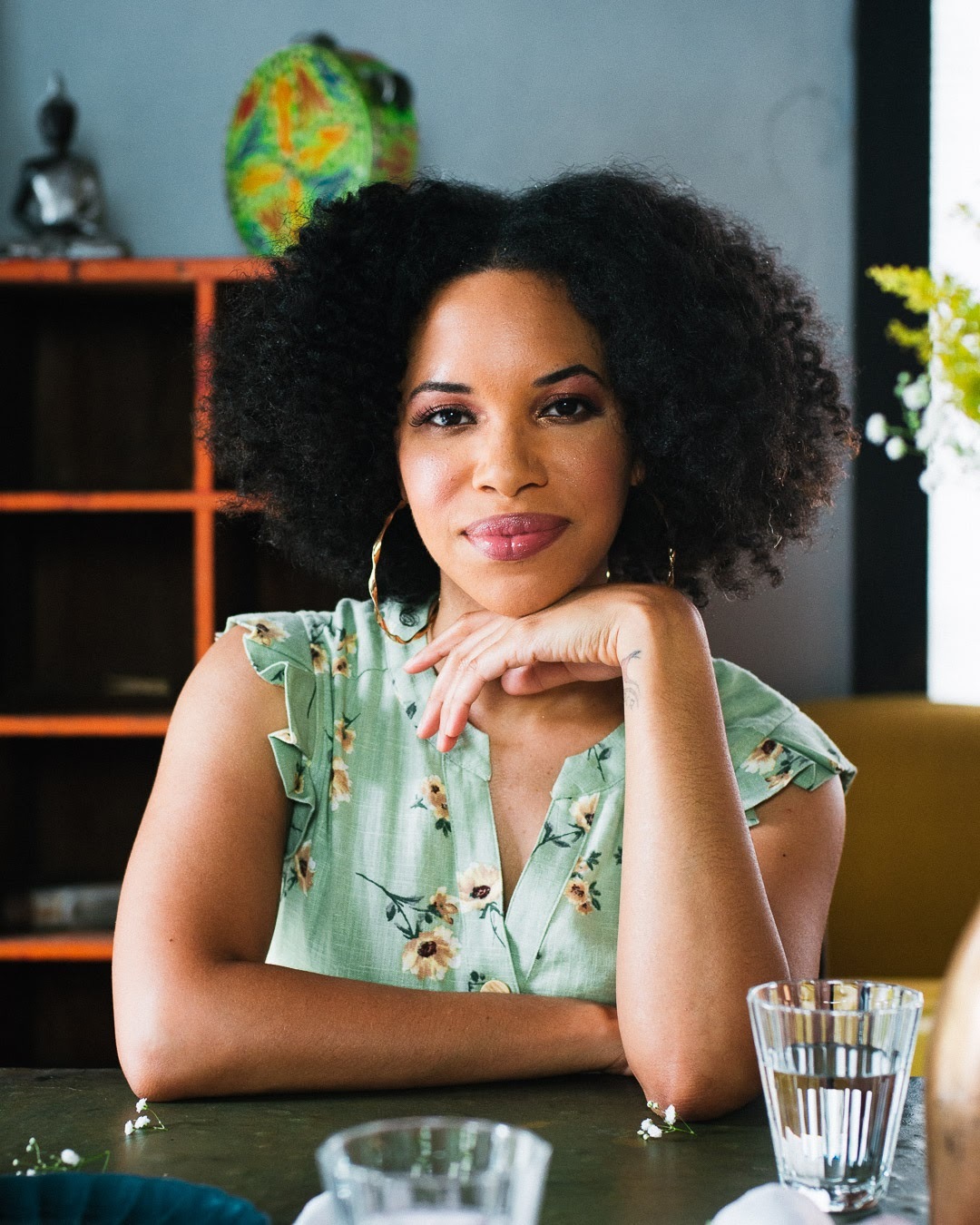 Graduate school broadened Riddock's views on the modern American food system. "When I decided to move to New York, I had no idea exactly what I was doing. For decades, New York represented the melting pot of international and local cuisines, and I knew it was the exact place where I could receive a broader view of food," she said.
Riddock's Caribbean heritage also had a significant impact on her culinary journey. "It gave me a different perspective on food and ingredients that are not present in Southern American food. My food consistently has a Caribbean undertone to it, and I'm grateful to have that connection."
In the context of today's heightened awareness of racial injustices, systemic racism, and police brutality in the U.S., many industries, including food publishing, have been called out for the ill-treatment of their Black employees and non-Black employees of color. Most recently, Bon Appétit.
Riddock, too, has endured racism in the culinary world. As a Black woman of Jamaican heritage, Riddock has had her skills challenged and "not believed to be exceptional" despite being well-trained, talented, and well-traveled. "I question myself if I would encourage other young Black women to be chefs, and I still don't know the answer to it," Riddock pointed out. "I had to believe in myself and trust that the years I have spent being underpaid and undervalued would prepare me to be my best self." Notwithstanding, she held firmly to her convictions, especially with how she went about cooking. "I found power in my own voice," she said.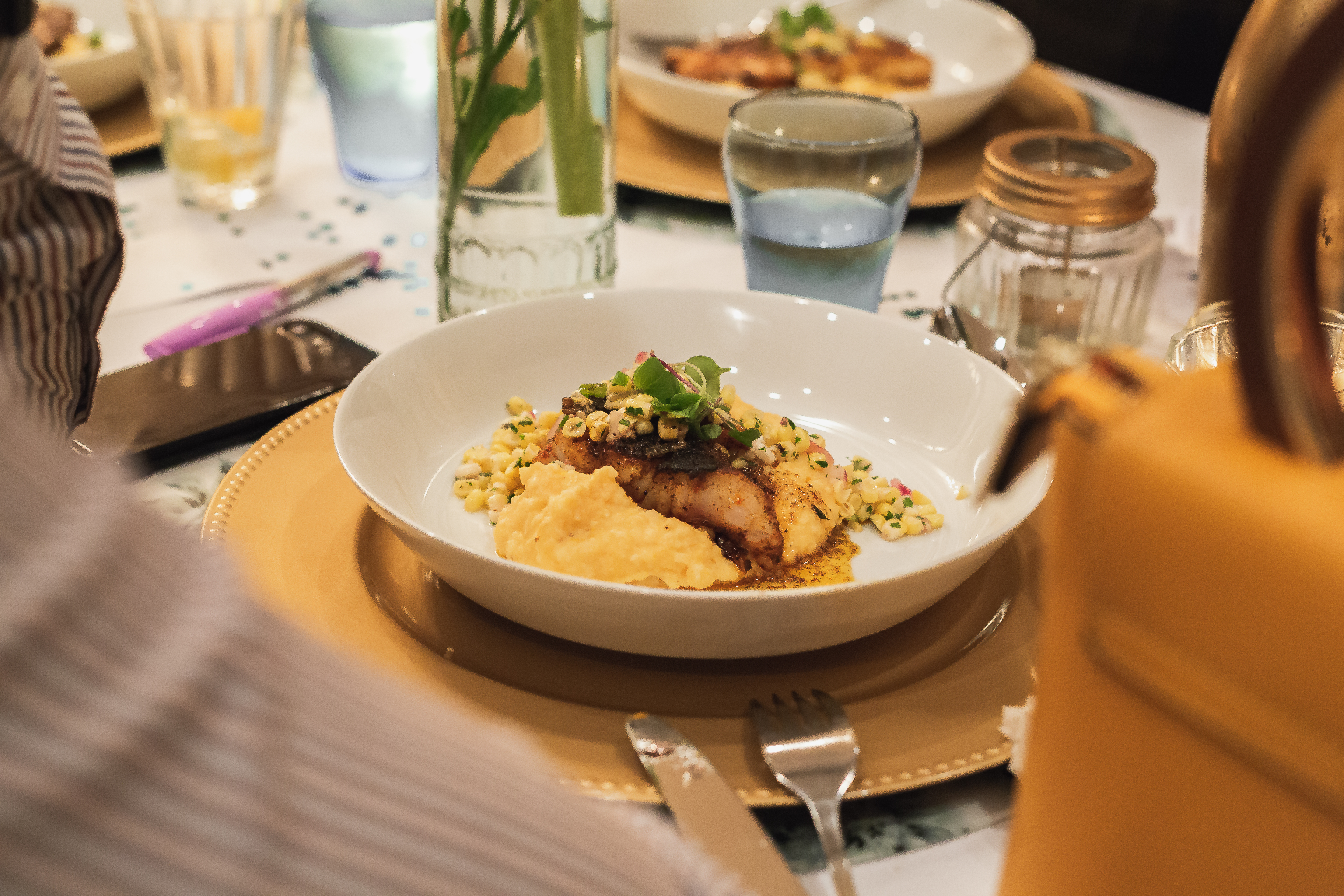 In addition to receiving a grant to study at the NYU Paris campus for her last semester of school, Riddock has immersed herself in different food cultures. "I love learning about ingredients that I've never worked with and figuring out how to incorporate them with ingredients that I know to the core. It opens up my creativity. Traveling has also revealed to me that we are more connected through food than we realize." This connecting factor spurred the idea for her catering business, branded merchandise, and pop-up dinners.
It was over a dinner of rice, black beans, and lemon pepper chicken for close friends in her New York City apartment that the light bulb went on for Riddock. "I looked around the room and realized that my guests were 'influencers' in their own right. Lawyers, accountants, artists, fashion editors, and actors filled my table with their beautiful minds and compelling conversation. I wanted to hold that moment in time and replicate it with other successful professionals. On top of that fact that my guests were successful in their given fields, they were also Black professionals. I knew I needed to start a dinner series that featured my food and my people."
Cue: Table of Influence.
Riddock moved home to Atlanta and started her catering outfit, Seasoning Bottle, and her marquee pop-up dinners, Table of Influence. She has foodies in Atlanta enthralled. "When I came back to Atlanta, I used my network to help me find kitchen jobs, and my network included those who showed up to my dinner parties. It was an easy transition to come back home and start a business. The cost of living in Atlanta made more sense, as well," said Riddock. The start-up costs for a catering business can be between $10,000 and $50,000 — location significantly affects costs.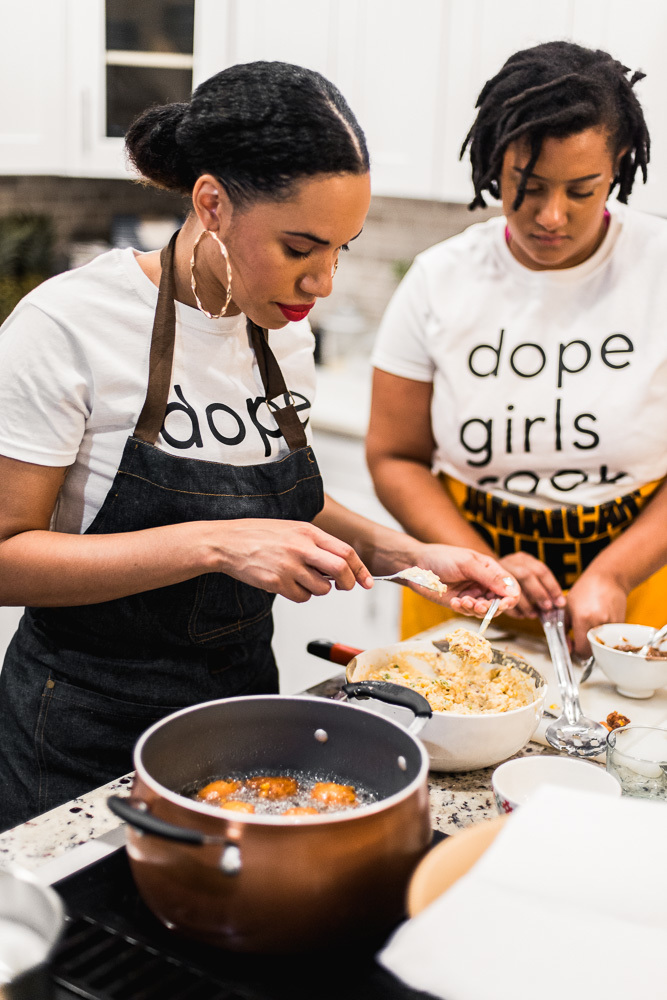 Funding was Riddock's primary obstacle. A 2017 Federal Reserve study revealed that minority-owned businesses experience funding gaps and rely on personal finances. "Black-owned firm application rates for new funding are 10 percentage points higher than white-owned firms, but their approval rates are 19 percentage points lower." Not only did she have to buy equipment as she gained new clients and bookings, she also struggled with charging her worth. "I shied away from large parties for years with the fear that I did not charge enough to cover the costs of food and staff that needed to be hired to set up and distribute the food properly." This insecurity could be attributed to imposter syndrome — a phenomenon that adversely affects people of color, especially Black women. Nevertheless, she persisted.
Riddock broke through the business barriers with grit and focus. In addition to accessing cash through her own credit cards, she continued to work a full-time job to fund the business. "At times, I worked two jobs to be able to buy new plates and items for table settings," said Riddock. The cost of ticket sales for the pop-up dinners, which are usually sold-out, cover food and service costs. "Atlanta is a city of Black entrepreneurs. If you know the right people and continuously work on your craft, you will find that the whole city is behind you with support."
Riddock's ability to gain community support has continued during COVID-19, though her income has taken a significant hit. The pandemic has taught her the importance of pivoting and being an early adopter of servicing her customers' needs — whatever they might be. She's started a cake business that has been a smooth transition for her clients who know her savory work. "I'm enjoying this moment in baking," she said.
Like many chefs and small business owners, Riddock has found a way to give back to others, which has created more buzz about her new pursuits. "I began baking more cakes to give away as a small gift to women that needed a small piece of joy in their lives, and from that, people began asking me to make cakes for them."
Riddock is also using this time to reinvest in herself. She's recently completed a business accelerator program to improve her confidence in her understanding of entrepreneurship. "I am actively looking for more streams of income when it comes to my food business."
Clearly, pivoting is second nature to the talented chef who is always seeking ways to broaden her influence and create more room at her table.