DISCLAIMER: This content is provided for informational purposes only and is not intended as legal, accounting, tax, HR, or other professional advice. You are responsible for your own compliance with laws and regulations. You should contact your attorney or other relevant advisor for advice specific to your circumstances.
Invest in your industry.
Restaurants make up 4% of the U.S. GDP and see $799 billion in annual sales, according to the National Restaurant Association. With restaurant groups merging and franchises like Buffalo Wild Wings getting acquired, it's an exciting time to watch and invest in restaurant stocks as they boom, bust, or IPO.
From the restaurants finding continued success to the businesses that just can't seem to recover, here are ten restaurant stocks you should keep an eye on in 2018.
Note: All stock tickers are screenshots from January 2018. Click the company's linked ticker name for the most accurate stock market data.
Restaurant Success Report
This industry report collects data from restaurant professionals and guests to help you understand what it takes to create a successful restaurant experience from start to finish.
Download
1) Brinker
Holding companies are fickle – sometimes the economy works in favor of the parent, and other times not. For Brinker, the steady decline since 2015 is only just now showing promise of turning around.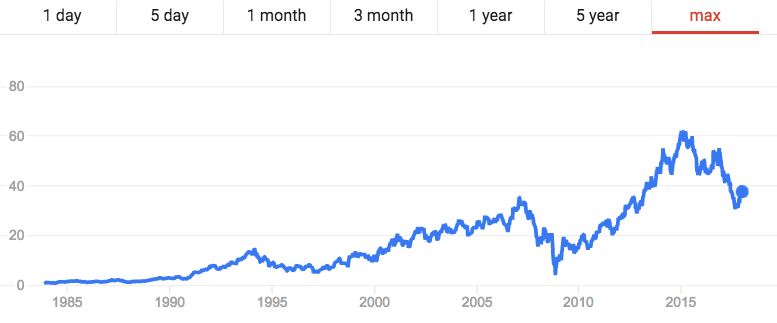 Why Watch?
The company that holds Chili's and Maggiano's hit a five-year low in 2017, but with the recent major changes Chili's made to increase efficiency and improve the guest experience, the stock is on the rise again. Go menu engineering!
2) Chipotle
The once beloved burrito-and-bowl restaurant has yet to recover from its second round of major health-scares. Stock in Chipotle has been on a steady decline since 2015's e-coli outbreak.

Why Watch?
Chipotle is continuing to test new ideas and go through massive changes. They recently re-engineered their menu by adding queso and nixing chorizo (which this author is not particularly happy about), rolled out nationwide price hikes, and saw their CEO step down. Let's watch and see if 2018 is the year Chipotle will be saved.

3) Darden
Darden, the largest full-service restaurant company, owns Olive Garden, LongHorn Steakhouse, The Capital Grille, Yard House, and even more big name restaurants. It saw an up-and-down year in 2017, but watched a steady rise in share price since the start of Q4.
Why Watch?
Holding companies don't always work, but it seems something is going right for Darden. Its post-recession rise has been impressive, but after recovering from a dip during the summer of 2017, we'll see if Darden can permanently move on from this stumble.
4) DineEquity
As the decline of casual dining continues, DineEquity continues to show a steady drop in price. While it is seeing a slight comeback, the stock is still lower than it was five years ago.
Why Watch?
The downfall of casual dining chains has been one of the most fascinating and impactful trends in the restaurant industry this decade. DineEquity, which is parent to IHOP and Applebee's, closed over 100 locations of these popular restaurant chains in 2017. Stock price increased following this widespread decision to close underperforming restaurants and drive guests to fewer, better-performing locations. Will this pay off for DineEquity in 2018?
5) Domino's
Following its peak trading price of $218.05 last June, Domino's has been dancing around that number – though never exceeding it – ever since.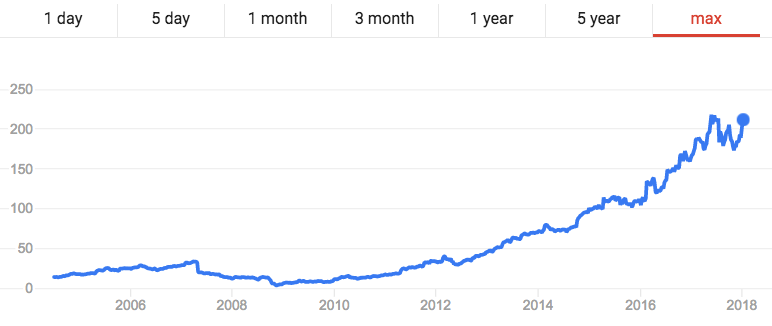 Why Watch?
The past 12 months – particularly the last six – have been tumultuous for the international pizza chain. Plus, their CEO recently stepped down. Let's see if their investments in technological innovation continue to please shareholders in 2018.
6) Dunkin' Donuts
Dunkin' has had a shaky path but has ultimately proven to be a wise decision for early investors.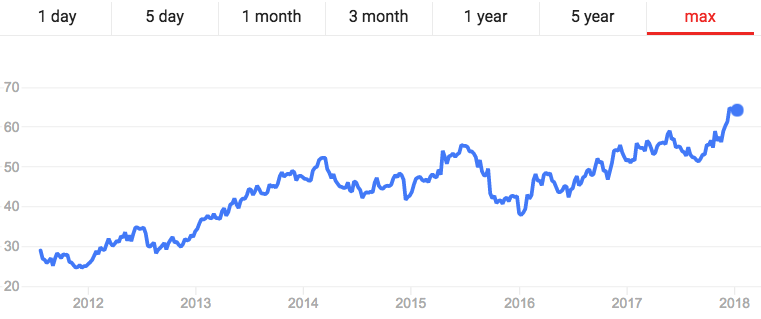 Why Watch?
Following an inconsistent 2017, Dunkin' is going through a major brand refresh; it will be exciting to see how shareholders respond to all of these changes in 2018. They shortened their name, created a new logo, streamlined their menu, and have begun testing new store designs.
7) Eataly
OK, so this is a bit of a cheat, since Eataly is not a publicly traded company... yet. But as of last month, there have been talks of an impending Eataly IPO.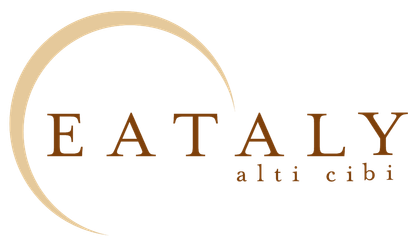 Why Watch?
Eataly is an international giant centered around celebrating one of the world's tastiest cuisines, and eaters love it! Sales last year hovered around $554 million as people flocked to this experiential market-restaurant, but the shadow of Mario Batali, who helped bring Eataly to the U.S., could result in a subpar or delayed offering.
8) McDonald's
Since its IPO in the 1970s, McDonald's stock price has consistently grown, with its most exponential growth period beginning in late 2016.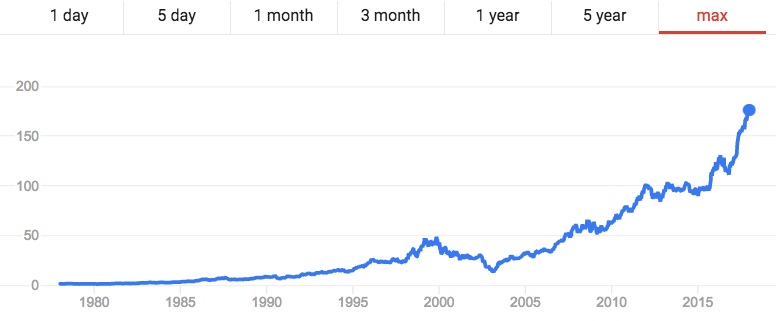 Why Watch?
McDonald's stock is continuing is grow and shows no signs of slowing down. What are they doing to get there? Offering delivery, expanding on kiosks, refreshing their former dollar menu, and exploring new menu offerings like vegan burgers. Is too much change too much? We'll let the shareholders decide.
9) Papa John's
Rivaling Domino's with its mass pizza production and delivery, Papa John's stock was consistently growing until 2014, when it began a volatile period of sporadic growth followed by substantial dips in stock price.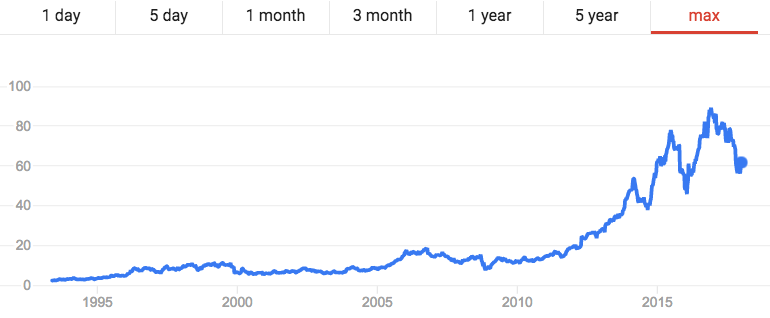 Why Watch?
It certainly didn't help stock price when Papa John's CEO made a controversial comment about football players protesting, but since the new year began, stocks have slowly begun rising again. Is this comeback a sign of a grand return for Papa John's?
10) Yum! Brands
Holding Taco Bell, KFC, Pizza Hut, and WingStreet, Yum! Brands has seen relatively steady growth since its IPO in 1997, recently recovering from their last major dip in the past two years. As I write, their stock is at an all-time high.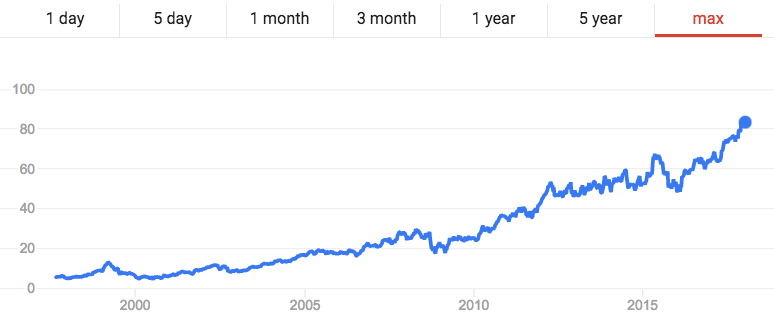 Why Watch?
The companies held by Yum! have shifted to match new consumer demand. Taco Bell, for instance, has rolled out delivery and self-order kiosks to become more accessible to their guests. Pizza Hut is also making improvements to delivery and online ordering. Let's see if these changes reflect positively in sales and continue to make shareholders happy.
Best Restaurant Stocks
The performance of these restaurant stocks allows for smaller, single-location businesses to see market response for new industry trends and tactics, then assess whether they should adopt these new practices.
For example, Domino's rise and Papa John's fall doesn't mean necessarily mean the pizza industry is all over the place – it may mean that consumers respond well to strong leadership and technological convenience, leading one to grow faster than the other.
The growth of Dunkin' and Chili's parent Brinker show that streamlined menus crafted in response to customer demand to improve efficiency can be an effective strategy.
Take a look at these (and other) restaurant industry stocks, see what moves these businesses are making, and research what investors think. The numbers don't lie – they can be the biggest indicator for what to try and what not to try in your restaurant this year.
DISCLAIMER: None of the content in this article is intended to be official investment advice. Consult a financial expert or analyst for professional guidance.