In a climate where gatherings of 50 or more are forbidden and restaurants' operations have been the target of mandates and restrictions, take out and delivery are the two leading revenue-generating options for restaurants looking to stay afloat during the pandemic.
According to Toast data, on-premise dining has declined to 32% of daily revenue since March 18, and eight states are seeing more than 75% of revenue come from either take out or delivery.
Whether your restaurant only experimented with off-premise ordering before it became a lifeline, or you're a veteran of these parts looking for a growth strategy that increases your off-premise restaurant sales, you've come to the right place. In this guide to online food ordering, we're breaking down everything you need to know about off-premise dining in the restaurant industry, today and tomorrow.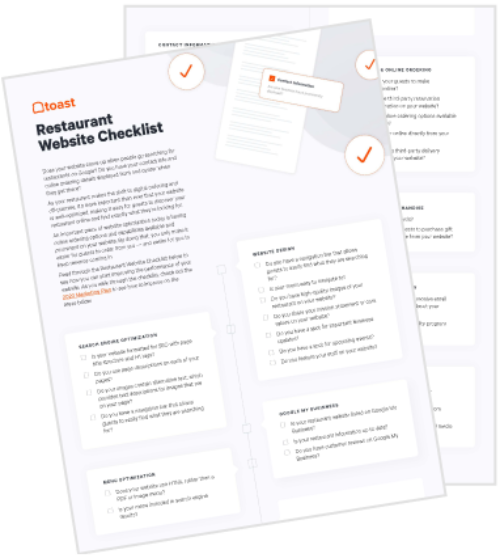 Restaurant Website Checklist
This template will help you update and optimize your website, so guests can easily find and order from you.
Download
What is Off-Premise Dining?
For restaurants, a dining experience can be enjoyed one of two ways: On-premise or off-premise. An on-premise dining experience occurs within the four walls of your restaurant, while an off-premise dining experience happens wherever the guest is. Until very recently, off-premise dining often was largely regarded as an add-on, a strategy to supplement on-premise sales, to expand a restaurant's reach, and build rapport with a new digital customer base.
With the spread of COVID-19 resulting in widespread restrictions on restaurant operations, off-premise dining has now shifted from a bonus dining experience to the only dining experience.
For restaurants just beginning their journey into the wild world of off-premise dining, the terminology can be confusing. So, for your convenience, we've defined some of the common words and phrases you're bound to hear in conversations around off-premise dining.
Off-premise dining, sometimes referred to as off-premise ordering, refers to any dining experience had outside the four walls (or patio) of your restaurant.

Restaurant online ordering is a way for customers to purchase meals online from a restaurant's website. These items can then be picked up as takeout or can be delivered to the customer wherever they are if the restaurant offers delivery or works with a third party delivery service.

Mobile ordering is often done via mobile app and allows guests to order ahead, skip the line, and pick up food in-store.
Off-Premise dining also includes take out, curbside delivery, and contactless delivery.
Take out is food that is picked up and taken outside the restaurant to be enjoyed.

Third-party delivery refers to food delivery handled by a business on behalf of the restaurant.

Curbside delivery/pickup is often done from the safety of your car. Customers order or call ahead, pull up to a restaurant, and a server delivers food to you as you wait in your car.

Contactless delivery, a COVID-19 buzzword, refers to food that is delivered to a customer and no physical contact is made between delivery driver and guest. Oftentimes, contactless delivery also involves mobile payments, so there's no handing back of cards or need for cash exchange.
Now that we've broken down the basics of what off-premise and online ordering entail, it's important to understand why we've seen a rise in off-premise restaurant sales and how it's impacted restaurant operations from coast to coast.
Off-Premise Dining Statistics
Consumer preference for convenience has had a direct impact on the growth of off-premise dining. Prior to the COVID-19 crisis, Cowen & Co. predicted that the U.S. delivery market would skyrocket from $43 billion to $76 billion by 2022.
Additionally, the demographic that is most likely to value that convenience has an incredible amount of spending power. There are currently 84.8 million 19-37-year-olds in the U.S. with the collective spending power of $2.5 Trillion, according to YPulse.
The market is shifting to accommodate this preference. According to a Technomic study conducted at last year's National Restaurant Association Show, 78% of restaurant operators said off-premise business was becoming a strategic priority. Of the restaurateurs who had implemented off-premise ordering, 92% said it generated additional sales, 87% said they added new customers, 81% said off-premise has increased profitability, and 68% said it has increased average check size.
Whether or not your pivot to offering off-premise dining is motivated by social distancing mandates, there is no denying the potential it has to grow your business and customer base.
How to Set Up An Off-Premise Dining Channel
Developing a successful off-premise dining strategy will be different for each and every restaurant.
Laying down a concept, marketing plan, and menu are the first steps of opening a restaurant. Start thinking of the shift to off-premise ordering as your second chance at opening – but this time with a developed customer base in place to help propel you forward.
That said, some concepts will face unique challenges setting up off-premise ordering for their customers. For full service and fine dining restaurants – two types of restaurants whose ability to generate repeat visits relies heavily on ambiance and a memorable in-person dining experience – the move to an off-premise dining only model in light of COVID-19 has been especially difficult. At present, the average daily revenue for full-service restaurants is down 81% compared to 2019, even with off-premise ordering as an available revenue channel.
Restaurants must also understand that many guests aren't looking for the same meals they might come into a restaurant for. Check sizes may be smaller due to a decline in alcohol sales and fewer opportunities to suggestively sell.
We have pivoted our business, which was predominantly dine-in, to take out. We've had to adjust our menu a little bit to be a little more focused on what we feel like the general public would be interested in while working at home, or while living their lives from home. Those adjustments came out of necessity but also for us, it gave us the opportunity to find different avenues to generate income and reach out to the guests that we love so much.
In this new age of off-premise-only dining, restaurants who adapt and pivot have a greater likelihood of surviving. Let's get into the specific steps you need to take to get off-premise ordering set up and generating revenue for your business.
Invest in a Restaurant Online Ordering System
Online ordering systems for restaurants provide a digital way for guests to order food directly from your restaurant's website. Through an online ordering solution, your restaurant is involved in every step of the process; from setting up your menu, to facilitating the order, to completing the transaction. You are in the driver's seat, communicating with guests throughout their entire online ordering dining experience.
If you offer off-premise dining options to guests but aren't currently using a restaurant online ordering system, you most likely use a third-party service or delivery platform. We will dive into the pros and cons of using third-party later in this guide. What you should know ahead of time is that these platforms charge service and convenience fees for restaurants on their platform, totaling between 15-30% of the check.
In the time of COVID-19, where social distancing and government restrictions have put a stop to in-restaurant dining, digital channels like online ordering keep revenue coming in. To help the restaurant community, Toast built a new free product called Toast Now designed to help every restaurant quickly stand up a complete digital ordering platform to move their businesses online. Plus, it can be implemented quickly no matter what POS system you use.
If you're a current Toast customer, you can quickly and easily add Toast Online Ordering and Toast TakeOut to get started with digital ordering.
Your chosen online ordering solution should allow you to customize your website to fit your specific brand, providing clear CTAs, a mobile-optimized version for guests ordering through their phones, and the ability to optimize your menu so it is included in search engines. Providing a seamless online experience for your guests through a well-optimized restaurant website will help them find exactly what they're looking for and guide them to purchase without friction.
Speaking of your menu, you'll want to put your current menu under a microscope and create an off-premise version that offers guests what they want while maximizing profitability and maintaining food quality.
Build Your MVM (Minimum Viable Menu)
Even when guests are eating off-premise, your menu is still the core of your dining experience.
You'll want to create an off-premise specific menu, but no need to go about reinventing the wheel. Your online ordering menu can be a simplified version of your restaurant's menu. We'll call this your minimum viable menu.
A minimum viable menu (MVM) is a smaller, condensed version of your menu whose items still offset overhead throughout the business and gives customers attractive options. It is the smallest menu you can build that simultaneously creates customer value and showcases what works and what doesn't.
"We've cut both menus down a bit. We try to cross utilize some products, obviously give people the major hits that they're looking for but we did have to scale back."
When switching to online- or digital ordering, you should prioritize popular, profitable menu items that will be easy to transition to off-premise meals. In menu engineering terms, this means keeping your stars and your puzzles. You could also focus on reimagining your top 10 to 15 menu items in order to limit inventory spend and make your kitchen process more efficient.
With a detailed view of your menu items' profitability and popularity, you can easily identify your top 10 dishes. Learn how to do that (and what stars and puzzles are) in this Menu Engineering Guide.
Here's a breakdown of what to consider when deciding what goes and what stays on your MVM:
Measuring menu item profitability involves calculating menu item food cost and menu item food cost percentage. You can learn how to calculate the profitability of your menu items here. Profitability can also be achieved by creating new dishes that stretch the ingredients you already have or what you can purchase in bulk. This will help keep your inventory costs low, eliminating the need to purchase new supplies for your off-premise menu.
Take historic sales data into account and feedback from customers about their favorite things to order. Which menu items do your guests ordering over and over again? At what time of day? Keep in mind that with large lifestyle changes like shelter-in-place orders, consumer preferences are bound to shift. Your most popular menu item before you closed on-premise dining might not be a customer's first choice to eat at home. When in doubt, reach out to your community on social, send a message to members of your restaurant loyalty program, or ask fellow restaurateurs what they've seen since going off premise.
Prioritizing delivery-friendly menu items is a key aspect in developing a solid online ordering menu. You don't want your fries to show up at your customer's house soggy after sitting in oil, or for their soup to be spilled outside its container and sloshing around in the bag. If a menu item doesn't travel well and can't withstand the voyage outside your restaurant to a waiting customer's home, it may be worth excluding from your online ordering menu.
Besides understanding what your guests order the most frequently at your restaurant, you should also be exploring what guests are ordering from other restaurants. Food trends are constantly evolving, and as the world shifts to a new normal in light of COVID-19, customers palates are changing as well. Your guests are still looking to experience great food, but they might want a bit of added comfort or entertainment as they eat, work, and live from home. Maybe a make-your-own pizza kit or a build-your-own Bloody Mary will scratch that itch for an activity and a meal or drink.
COVID-19 has impacted the availability of certain ingredients. It's important to maintain regular communication with your distributors to assess what ingredients are scarce, which still in ready supply, and then pivot your off-premise menu accordingly.
The hardest part about creating an MVM is eliminating the dishes you spent time developing and testing. You can always adjust and add dishes back into your menu after developing and testing a successful baseline. Getting a smaller, more efficient menu out quickly to receive feedback and see what works will make you more competitive down the line because you'll know what your customers want from you.
Creating a menu specifically for off-premise sales will also help you separate and optimize the revenue stream from your on-premise operations down the line. Until that day arrives, we'll need to discuss how to turn digital guests into repeat customers by prioritizing the guest experience.
Create A New Guest Experience for Off-Premise Orders
Foodservice and hospitality are social, service-oriented businesses. Off-premise diners don't physically interact with your restaurant or your staff, so figuring out ways to show them genuine hospitality, build a relationship, and win their repeat business will involve some outside the box thinking.
Following coronavirus precautions, that social aspect is even further minimized and oftentimes discouraged – but not eliminated.
According to last year's Restaurant Success Report, when receiving an online order, guests ranked speed as the most important, followed by value, and then the quality of the food. But meeting expectations isn't what creates a memorable guest experience.
What you need to do is incorporate elements of your restaurant's ambiance and personality in every order taken off-premise. Something as simple as writing a personal note adds a human touch to an otherwise digital relationship. Joanne Chang's Flour Bakery and Cafe often includes a handwritten "have a great day" on each order.
Other options include branded takeout containers, including a postcard picturing of your restaurant, a physical loyalty program card and sign up form, decals and stickers, or a guest feedback form that includes a link to your website and social channels.
Adding these personalized elements to your off-premise orders will make guests feel more connected to your restaurant. It's also worth putting a plan in place for how to handle a situation when things go wrong. Mistakes that used to be rectified by comping an appetizer or providing a free dessert require a different approach when your guests are miles away. Consider leaving a note in every order that encourages guests to reach out with feedback. You can also add this to the bottom of their receipts, or send a survey digitally.
Think Like a Marketer
All these personalized elements add up to one thing. Marketing.
In addition to personalization, you should be thinking about the consistency of your messaging to concretely define your restaurant brand to off-premise diners. Because off-premise sales largely occur in the digital space, it's important to ensure that all your information online is accurate and up to date.
Where do customers go for information about your business? Some guests might visit your website first, others may check out your Instagram page. No matter where they're looking, provide clear instructions on where to place online orders. To ensure that as many guests as possible order directly from your restaurant, rather than through third-party services, you have to communicate your preferences and promote accordingly.
The first step is to add your menu link to online channels. Create a clear pathway on your website that puts your menu front and center with simple CTAs such as "Order Online". If your online ordering solution offers a Google My Business integration, make sure to use it to publicize your menu.
We'll dive deeper into social media promotions and website optimization later in this guide, but for now – make sure your social media profiles link back to your website in order to drive that traffic. Add links to your bios, make sure it's in your pinned tweet on Twitter, and visible on your review sites.
As with your on-premise dining experience, you'll want to track the success of your off-premise guest experience over time and make necessary tweaks along the way. Consistently comb through your profiles on online restaurant review sites like Yelp and TripAdvisor, solicit guest feedback directly via your restaurant CRM solution, track loyalty sign-ups, and analyze sales data from your restaurant POS or reporting solution.
Gather Insights from Restaurant Reporting
Restaurant reporting gives you visibility into how your off-premise business strategy is working. Gathering insights will help you improve your tactics and inform strategic growth decisions in the coming months.
Questions regarding most profitable menu items, staff scheduling, and inventory waste can all be answered by metrics collected through your POS system.
Metrics like your break-even point, the calculation that pinpoints how much you must make in sales to earn back an investment, will definitely change if you are adding off premise to an existing revenue stream. If you're operating via off-premise only, your cost of goods sold – the cost required to create each of the food and beverage items you sell – should drop, especially if you're operating with your minimum viable menu. You'll also want to keep an eye on your prime cost because it represents the bulk of your restaurant's controllable expenses such as rent and staff salary, which are likely to shift during a pandemic.
More: How to Calculate Restaurant Performance Metrics.
By regularly calculating these performance metrics, you can identify areas that require improvement and what to change to bring in more cash flow.
Train Your Staff to Handle Off-Premise Orders
Whether you're adding off-premise dining to your restaurant operations or pivoting your entire business model to survive on off-premise only, your staff is going to have questions about the role they each play in this new dining experience. Be prepared to answer these questions and set aside time to provide guidance throughout your pivot.
Putting together an off-premise training manual will help standardize your operating procedures and create a place for employees to answer their own questions about their role in the off-premise sales cycle. Your staff should be prepared to handle any incoming off-premise restaurants ales from the second a guest begins their order with your restaurant, all the way through their food being picked up for takeout or delivered to their door.
Be as clear and specific as possible in your training manual, don't overlook the new processes and systems that accompany off premise. Use this Training Manual Template to get you started.
It is extremely beneficial to host a training session with all staff members who will play a role in your off-premise dining experience, from taking orders over the phone to the line. This training session will give you and your team an opportunity to talk through any questions or areas of concern.
In light of COVID-19, two key elements of your off-premise training manual are cleaning procedures and guest safety.
Cleaning Procedures
Maintaining a clean restaurant is required under state and federal health codes, but cleaning procedures need to be ramped up during a worldwide health crisis such as COVID-19.
Staff need to take special considerations to keep their person and their workspace clean and sanitary.
Staff must be required to wash their hands often and cover their mouths when they cough or sneeze, ideally into the crook of their elbows and not into their hands. Install hand sanitizing stations for customers and employees — both in the front and back of house. If you're interacting with guests, wear a mask or a face covering to protect asymptomatic spread.
Guest Safety
You've always kept your guests safe, but now, it's important to explicitly share with guests that their safety is your priority. Communicating your sanitation policies to your guests will give them peace of mind, but you can also make a few modifications to ensure that they are taken care of.
Modifying typical restaurant interactions that usually exist in an on-premise setting will help eliminate unwanted contact. For example, going cashless and using tools like mobile payment limits the amount of contact and opportunity to share germs that accompany traditional transactions.
The safety of your guests also directly correlates to the safety of your staff, who are your lifeline.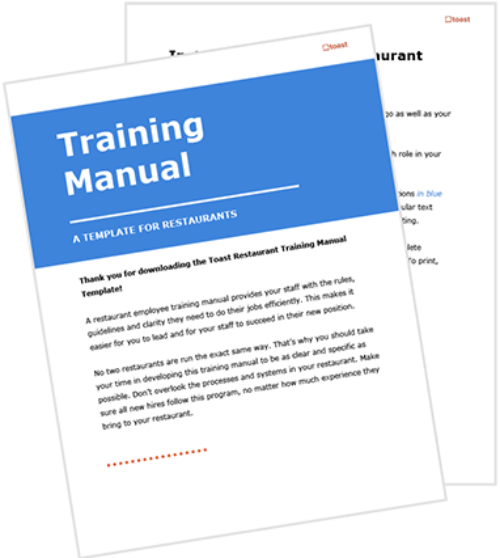 Training Manual Template
Use this restaurant training manual template, a customizable Word Doc, to provide your staff with the rules, guidelines, and clarity they need to do their jobs efficiently.
Download
Staff Safety
Nearly seven million Americans in the restaurant industry are forced to go without pay if they're too sick to work. COVID-19 has caused an overwhelming amount of stress for restaurant staff who are already worried about their job status and the possibility of a paycheck in light of restaurant closures.
Yes, staff safety includes providing hand-washing stations, face coverings for those on the front lines, gloves, and increased sanitation procedures. But it also includes steps like offering paid sick leave and telling sick employees to stay home, promoting mental health and wellbeing, and providing leave for parents and caregivers. Protecting and supporting your staff during a health crisis can make a substantial, positive impact in your staff's personal wellbeing and their tenure at your restaurant.
Many people working in the restaurant industry don't have health insurance or wellness benefits of any kind. We have a guide on mental health resources for restaurant workers here.
Protect Your Staff, Even When Your Business Model Changes
Restaurant workers are extremely vulnerable right now. A pandemic, a labor shortage, and record-high turnover -- plus lack of benefits across the industry -- are what a majority of servers, chefs, bussers, hosts, managers, delivery drivers, and others are facing. Now combine that with the highest unemployment rate in U.S. history.
None of the aforementioned circumstances above are things you can control. What you can control as a manager and a leader is how you react to them, and how you protect your employees and prepare them for what's next.
Moving to off premise will inevitably change the organization of your staff and cut server positions, so if you aren't rehiring these individuals for back-of-house or delivery roles, provide them with the steps they need to file for unemployment.
For the staff you are keeping on, constantly advocating for their safety and well-being is crucial during this time. Essential workers are at-risk, which is why many are looking for compensation through hazard pay. Make sure your staff knows your policies around PTO and sick days, as well as any benefits you're offering during this time.
Effective Ways to Increase Off-Premise Restaurant Sales
To increase off-premise sales for your restaurant and stand out from the competition, you need to think like a digital marketer.
Restaurateurs are masters in the art of delivering delight through genuine hospitality, which historically has relied heavily on the opportunity to connect face-to-face with guests. Finding ways to develop that rapport digitally takes a little bit of creativity and a deep understanding of your customer's likes, dislikes, and behavior.
To market your restaurant effectively, you need to connect with your digital guests wherever they are on the web.
This customer communication strategy will largely be determined on what you know about your target customer's behavior when they're not at your restaurant. Say, for example, you have a large Gen Z and young Millennial customer base: Consider creating a Tiktok account or running sponsored posts on Instagram. If your customer base is older Millennial (35+) and Gen Y, SMS updates, emailing, and Instagram make sense to get the word out about your off-premise dining experience.
Developing relationships with your online customers creates loyal guests. Loyal guests lead to more repeat business and increased cash flow. According to McKinsey & Company, repeat online customers spend more than double the amount on online orders, on average $55.50, compared to new customers, who spend an average of $24.50.
It may seem simple, but constantly communicating your offerings to your customers is a great way to put your online ordering front and center. Atwater's in Baltimore, MD makes a point to post their hours of operation every day on social media.
"We're highlighting that we are open on all our social media daily, and our hours and phone numbers. We've expanded our online menu to include many more of our retail items; our coffee, our jams, our bread, things that normally people would come in and buy we are highlighting on our online menu now.
Since potential and existing digital customers aren't going to come into your restaurant to check things out, you need to bring the updates and the information to them.
Announce the launch of your off-premise dining experience, or, if applicable, your shift to off-premise only, through the following three major channels: Social media, your website, and email.
Once you've gotten the word out about shifting to off-premise and have implemented your online ordering solution, you can focus on promotions to attract new customers or engage existing ones.
Build A Digital Presence for Your Restaurant
Restaurants are all about community. That should extend to guests who support your business but don't physically pop in for a visit. Developing a digital presence, sometimes referred to as a digital footprint, gives you a way to build relationships with customers and market your brand online.
As restaurant customers become more digitally oriented, it's critical to establish an online presence and create an identity that stands out. The three places you should devote your time, energy, and resources when developing a digital presence for your restaurant are your website, social media, and restaurant review sites.
Maximize the Discoverability of Your Restaurant's Website
Did you know that 50% of restaurant guests ordered directly from a restaurant's website in the past month?
Website optimization is critical when standing up online ordering or shifting to an off-premise only business model. A well-optimized website makes it easy for guests to discover your restaurant online and find exactly what they're looking for. Clearly calling out the availability of online ordering options makes it easier for guests to order from you — and easier for you to keep revenue coming in.
Learn how you can start improving the performance of your website with this Restaurant Website Checklist.
You'll want to make sure that your restaurant's online ordering channel is optimized for both desktop and mobile. We've all been on a website before that isn't configured for mobile: It's slow, jumpy, and frustrating. These days, the majority of guests place orders directly from their mobile devices. Don't inadvertently discourage guests from ordering by having an online ordering site that isn't optimized for mobile-users.
Build a Social Presence
Social media has always been an incredible tool for getting your restaurant brand in front of new eyes. Social is also becoming increasingly popular for restaurant communications, especially during the COVID-19 crisis, as it allows restaurants to easily relay updates about service and policy changes to their guests in an instant.
Step one is making sure that your online ordering information is in your profiles.
Add links to your Instagram and Twitter bios

Write a Facebook post about your online ordering preferences or what platform or service you would prefer guests to order from

Include your online ordering link in automatic replies on Facebook Messenger by going to your Facebook Business page, clicking "Inbox" and clicking "Automated Responses." Then you can craft an instant reply and contact information for your business.

Make sure your links are updated on Yelp and Google My Business
By ensuring that all your social media channels are updated with the correct information, you make it easier for guests to make it all the way to purchase.
Step two is regularly getting your brand in front of potential and existing customers by posting engaging content that generates business. Here are some essential tips to consider when sending posts out into the world.
Speak from the heart and address that this isn't business as usual. Ask for support and empathy in this difficult time

Reassure customers of health and safety precautions your restaurant is taking and provide examples, like outlining the ways your business has ramped up sanitization and cleaning protocols

Include calls to action for customers to support your business without coming to the restaurant. Provide links to online ordering or online gift cards. Include your phone number and website link in every post.

Highlight promotions like waiving minimum order sizes for online orders, offering curbside takeout, or contactless delivery

Show appreciation for the community and the support you've received so far
Here are some examples of restaurants promoting online ordering and takeout on Instagram:
If you don't have time to create your own content to populate social channels, adapt your existing print materials to inform your customers of your online ordering capabilities. If you've designed flyers or promotional materials in the past, post pictures of them. Or, challenge your customers to a user-generated content contest and incentivize entries with a discounted meal or a gift card. The great thing about social media is that it helps generate word of mouth, which is one of the most powerful tools in marketing. If your audience is creating content for and about your restaurant, their followers will see it as well and increase your reach.
Now that you've improved your digital footprint, it's time to focus on the aspect of off-premise that meets your customers face to face: Delivery.
Weigh Out the Pros and Cons of Third Party Delivery
If you would never allow a server who is unfamiliar with your brand, menu, and values to interact with your best customers on a busy night, you should consider the implications that follow from of giving third-party delivery vendors the keys to your off-premise dining experience.
Before the takeover of UberEats, Postmates, DoorDash, and other third-party delivery services, the only way to order food online was through a form on a restaurant's own website. As delivery continues to rise in popularity and convenience, it's especially important to keep these services in mind and consider how they're impacting your business.
Since getting orders to customers is the centerpiece of an off-premise strategy, now is a great time to analyze your delivery options. If you choose to work with a third-party delivery vendor, it's standard for them to take a percentage of every order they send your way.
It's no secret that third-party delivery apps have become a catch-22 for restaurateurs: They may have the power to improve sales and delivery capabilities, but they also take away a significant portion of revenue. It can either be a price of convenience or a surefire way to lose needed profit.
Here are some of the biggest players in the third-party food delivery space:
DoorDash
UberEats
Grubhub
Postmates
Seamless
Caviar
Deliveroo
FoodPanda
BiteSquad
When using third-party solutions, orders are received on those respective delivery marketplace apps or websites. It is common practice for these marketplaces to keep guest data, and for restaurants to pay 15-30% in commissions per order. With Toast Delivery Services, orders are received via Toast OO, TTO, or through the phone, restaurants have access to customer data, and pay a flat delivery fee that can be shared with the customer.
As delivery has become a more crowded space, there is some room to be leveraged through negotiation. Improved tech options can help you shift out of relying on these expensive services, but you may not be in the position to abandon them completely. Large restaurant chains have been pushing back against these fees. And while these franchises have a big brand name as leveraging power in their back pocket, you may be able to steal from their playbook.
Nation's Restaurant News reported that Mark Toh, owner of Toast customer Urban Wok, began negotiating with third-party vendors last year to ensure his off-premise dining would remain profitable. The key was to move to premium pricing or increasing the price of menu items featured on the delivery app. It is a tactic that many national chains have taken to offset these delivery fees in the past.
Many restaurant owners are already frustrated with profitability issues that involve working with third-party services. Some, like Mark Toh, opt to list different menu prices on websites like Uber Eats and DoorDash to help offset the revenue taken by those services. As off-premise dining growth continues to climb, we may see a renaissance in restaurants offering their own independent delivery – free from these service and convenience charges.
"Right now, restaurants think they're generating a lot of business through using third-party delivery services, but in three years, they're going to realize that they gave away 30% of their business paying commission for these services."
There are plenty of pros to using third-party food delivery services. These apps can serve as a great marketing tool because they expand your reach to customers within their apps who may have never heard of your restaurant's brand. And if you aren't able to shoulder the cost of starting your own delivery service, the cost of doing business with a third-party vendor might be worth it.
Before deciding on a third-party delivery service, ask your fellow restaurant operators what service they're and which have been the most popular in recent weeks. It may be time to consider setting up your own delivery and take out through your website. Doing this allows you to take ownership of the entire process.
Whether or not you're creating your own delivery service or going with a third-party, there should be an option within the platform for your customers to choose contactless delivery.
What is contactless Delivery?
As we mentioned previously, contactless delivery is a food delivery option that forego's any physical interaction between an off-premise guest and the delivery person. This typically looks like the delivery person leaving the guest's meal in a predetermined place, then alerting the guest it's on-site via text or phone call and leaving once the guest has physically picked up their order. In the age of COVID-19, contactless delivery helps protect your customers and employees by reducing potential virus transmission that could happen during a normal restaurant interaction, whether that be through payment or delivery.
The first way to implement contactless delivery is to give your guests a way to communicate that they don't want contact with you or a staff member during their delivery or takeout experience. Then, you eliminate any interactions that would typically happen between a staff member and a guest, whether that be through drive-thru, pickup, or delivery.
Introducing mobile payments is key because it minimizes hand-to-hand contact. Selecting prepayment and pre-tipping options (or using a service that allows you to have those options) eliminates the need to pass a credit card back and forth.
Domino's released their contactless delivery policies on March 16, specifying that in addition to mobile payments and custom drop-off points, a delivery person will place the pizza on a "safe and clean surface" and stand back at a "safe distance" until they can confirm that the order has been picked up.
Let's hit pause for a second. You may be wondering if it is safe for guests to order take out during the coronavirus pandemic, even with contactless delivery?
Guidance from the Food and Drug Administration states that "there is no evidence to suggest that food produced in the United States can transmit COVID-19."
"I know people are worried, but from what we know currently about the virus, it's safe to eat food prepared at restaurants so long as you take the proper precautions — in particular hand-washing," Don Schaffner told NPR.
Consider Running Restaurant Delivery on Your Own
78% percent of delivery orders are placed directly through the restaurant instead of through third-party delivery companies.
Why? Trust. 74% of customers say they prefer to order delivery directly from a restaurant as opposed to a third party.
Creating and operating your own delivery system also gives you greater control over the guest experience, has the potential to bring more traffic directly to your website, eliminates the fees that come with using third-party, and improves customer loyalty. Additionally, your POS system should be able to take care of direct-to-you online ordering for you.
Things you'll have to consider when developing your own delivery service:
Availability of delivery vehicles

Staff dedicated to delivery

Delivery driver insurance

Food packaging

Delivery tracking system
For a detailed list of considerations to keep in mind when deciding if handling delivery on your own is right for your restaurant, check out this guide from Toast. All of these and more are covered in this feature.
If setting up an independent delivery service is out of reach, Toast Delivery Services is a great option that offers delivery without having to hire drivers and provides a guest experience that's integrated seamlessly with Toast Online Ordering and Toast TakeOut. TDS was built to help restaurants take control of delivery, providing a flat rate without unpredictable commissions.
What Consumers Want from Off-Premise
22% of consumers now say that ordering food for carryout or delivery is more a part of their routine than it was two years ago, according to Technomic. As delivery and takeout have become more popular, customer preferences and service standards have shifted. Satisfying those needs and predicting what they'll want next will make your restaurant competitive and drive future business.
Restaurants have never just been about the food. This is why we talk at length about the dining experience because that's exactly what it is: An experience while eating. Restaurants offer a reprieve, an escape from the humdrum day-to-day. They give us a place to celebrate the wins and nurse the losses. They provide a sense of comfort and are an essential part of our lives.
What do your customers want to get out of an off-premise dining experience? Comfort, speed, and ease. Beyond that, you'll want to gain a better understanding of consumer preferences, specifically what your target customer is looking for in a dining experience.
Hopefully, your regulars are also looking for an off-premise dining experience that delights and excites them. If your restaurant typically offers seasonal menus or nightly specials, incorporating those moments of delight into your off-premise experience is crucial.
Here are some additional ways to grow off-premise restaurant sales.
Off-Premise Catering
Catering presents an opportunity for incremental revenue. It's in catering's very nature to be off premise, so building a catering strategy may help drive long-term business.
Your catering offerings can consist of items that are on your current menu, or your MVM. Now, in addition to considering the deliverability of these items, (which you've already done) you will have to think of how it would be prepared and served to a large group. It is also important for the catering side of your restaurant to mirror the similar quality and pricing of the original full-service menu. Make sure you have the inventory and interest before you begin your catering strategy.
Wine and Spirits
Many states and cities are introducing bills that allow bars and restaurants to sell alcoholic beverages with delivery or takeout orders during the ongoing shutdown of dine-in service caused by the coronavirus pandemic.
If you are in one of the cities that has made these changes and have a liquor license that allows you to profit from these sales during the coronavirus crisis, promoting the availability of wine and spirits can help increase average order sales.
New York, New Hampshire, Maryland, Illinois, California, and Texas have all made temporary changes to allow alcohol delivery, as have jurisdictions like Washington D.C. and Atlanta. Check the mandates in your area to see whether offering alcoholic drinks to your takeout and delivery customers is legal.
Make Your Own Meals
DIY meals have surged in popularity and are a trending topic in the world of off-premise dining. You may have seen pictures of make-your-own pizza or cannoli kits on Instagram. These options deliver an experience to your customers while still providing a meal.
Conclusion
When you're figuring out an off-premise program, what should you consider? "In a nutshell, everything." Melissa Wilson, managing principal with Technomic told Restaurant Business. "First and foremost, determine your strategy and how it fits into your brand vision."
Like any business shift, you may need to attempt a few iterations of your menu, delivery system, and marketing tactics to find what works best for your restaurant. The key here is to keep experimenting.
Once you've gotten a hold of your online ordering strategy, you can take steps to expand your menu, move into retail, offer catering or family meals — anything you can think of. The great thing about online and off-premise ordering is that it will only continue to grow from here, and there are plenty of tech options to meet your vision for your restaurant.
Your expertise and sense of the industry got you this far — and it will carry you through the success of pivoting your business model to off premise and sustaining it.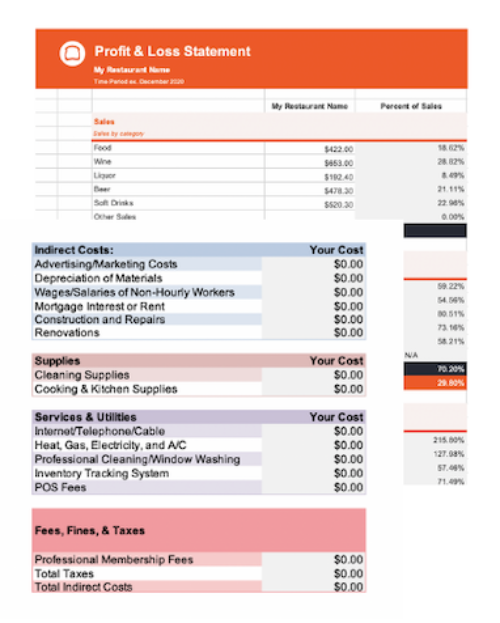 Manage Your Restaurant's Finances During COVID-19
In this Excel spreadsheet, you'll find customizable templates, tools, and calculators to help you analyze and optimize your restaurant financials.
Download