DISCLAIMER: This content is provided for informational purposes only and is not intended as legal, accounting, tax, HR, or other professional advice. You are responsible for your own compliance with laws and regulations. You should contact your attorney or other relevant advisor for advice specific to your circumstances.
Executive Summary
Concept
The concept of the nightclub has changed over time. Bessie's goes back to the very beginning to recreate a nightclub in Roaring Twenties St. Louis — without Prohibition. Owners William and Christopher Handler are avid jazz and blues fans and they're excited to share their love of this music, as well as their passion for classic cocktails, with modern St. Louisans.
Mission Statement
Bessie's mission is to recreate the excitement early audiences of jazz and blues must have felt when they heard this music for the first time. In an elegant and sophisticated setting, today's finest jazz and blues musicians will pay homage to some of yesterday's finest performers, including our namesake Bessie Smith, and inspire visitors to get out on the dance floor.
Menu
Bessie's will feature a menu of classic cocktails from the 1920s, as well as original drinks created by our mixology team. There will also be a selection of beer, liquor, and wine, with a special focus on products from local brewers, distillers, and winemakers.
Market
St. Louis was one of the birthplaces of blues and jazz, the quintessential American music, and it still has a vibrant musical scene. Cherokee Street in South City is one of the city's hubs for creative and experimental arts and entertainment with easy access to all the major highways, making it a destination for visitors from all over the St. Louis area, which has a population of 300,000.
Financing
The restaurant's founders will invest in the club's success, but they will also have to seek SBA loans, outside investments, and business lines of credit to bring this vision to life.
Company Overview
Restaurant Concept
Bessie's is a new concept that focuses on recreating the spirit of a 1920s nightclub — without Prohibition. We'll feature the best jazz and blues performers, both local and national, playing live sets every night Thursday through Sunday, and classic recordings on Tuesday and Wednesday. We aim to inspire our customers to get out on the dance floor.
Bessie's will appeal to customers who want to listen to live music in an elegant atmosphere, with quieter areas suitable for conversation.
There are plenty of jazz clubs in St. Louis, but Bessie's will stand out from the competition with its vintage style and will appeal to customers who, weary of pandemic restrictions, want a place that feels like a special occasion at a reasonable price.
Restaurant Service Model
Bessie's will rely on a continued service model to keep customers supplied with drinks, although there will be bar service as well. Handheld point-of-sale technology will allow guests and services to work together to create a memorable experience. Servers and bartenders will work as a team to provide customers with friendly and attentive service without interrupting their enjoyment of the music. The bar will offer a place for solo drinkers or pairs to connect and enjoy conversation with each other and the staff.
Sample Menu Ideas
Classic cocktails from the 1920s

New special and seasonal cocktails invented by our bartenders

Hard liquor, with a special focus on whiskey, bourbon, gin, and other spirits from local distillers

Beer, with a special focus on products from local breweries

Champagne

Wine, with a special focus on Missouri winemakers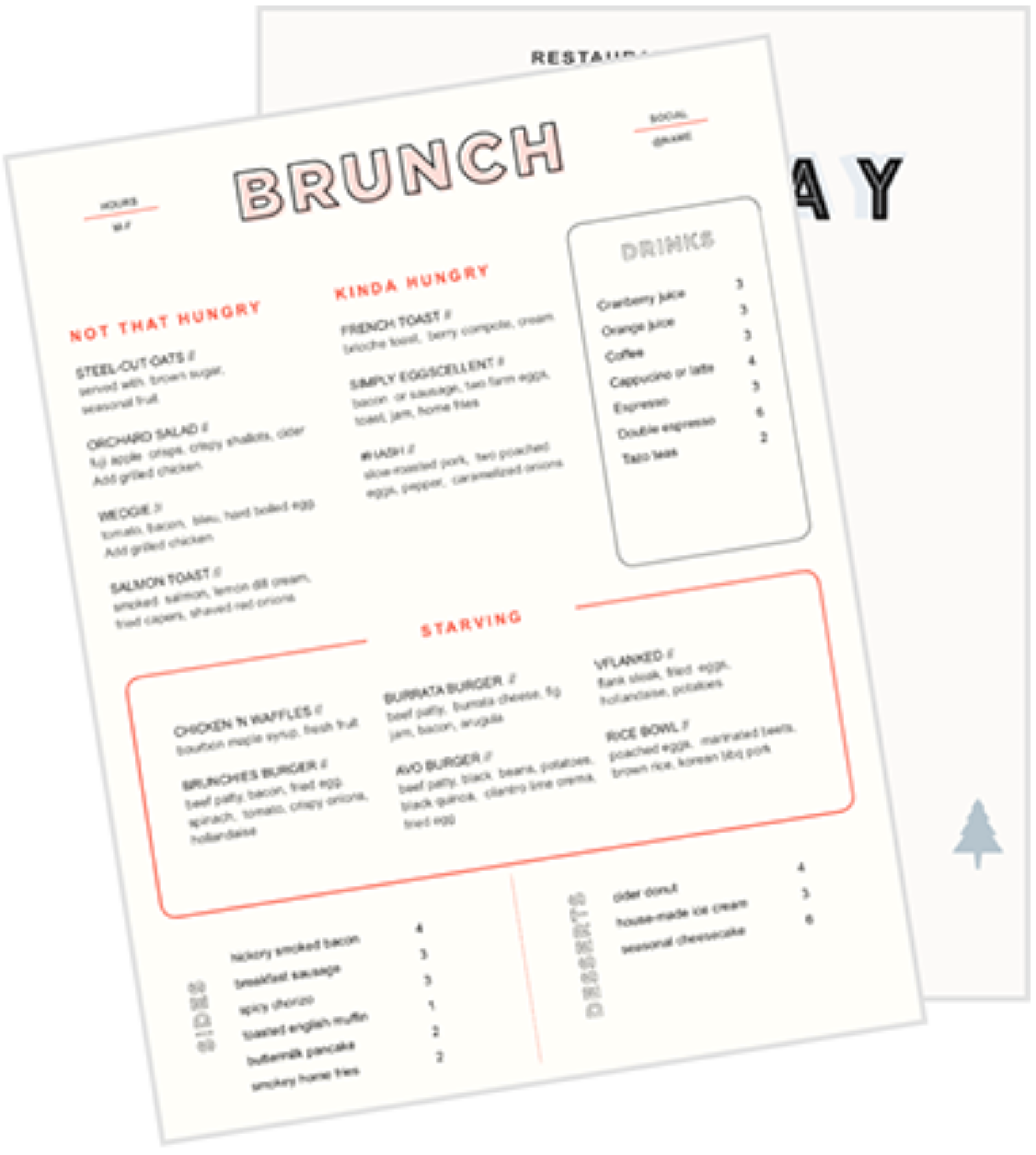 Restaurant Menu Templates
Use these menu templates as a starting point for your menu design or to give your menus a refresh.
Download
Design and Layout
Bessie's will be anchored at one end by a stage and the other by the bar, with a dance floor and small tables in the middle. Banquette booths will be arranged along either side of the space. This will all be hidden behind a fake storefront that will give Bessie's the feeling of a speakeasy.
The servers and bartenders will wear black pants, white tuxedo shirts, and bow ties. Hosts and hostesses will be invited to dress up in 1920s-style outfits.
Management Team
Owner - William Handler – 20 years of bar and nightclub industry experience. Responsibilities include financing, administration, hiring, social media management, and marketing. He will work with an accountant on financial planning.
Owner - Christopher Handler – 15 years of experience booking rock and jazz clubs. Responsibilities include booking performers, hiring, social media management, and marketing.
Bar Manager – Responsibilities include recipe development, scheduling servers and bartenders, ordering, inventory, and assisting with marketing and social media as needed.
House Managers – Responsibilities include hiring and scheduling security staff, handling customer issues and complaints, and assisting with social media as needed.
Industry Analysis
Located on St. Louis's Cherokee Street, Bessie's will attract a combination of local foot traffic and visitors from across the greater St. Louis region.
Target Market
St. Louis's Gravois Park and Benton Park neighborhoods are large and diverse, a mixture of families and younger people in their 20s and 30s. The population has varied tastes, but the neighborhoods, especially around Cherokee Street, attract many independent shops, galleries, art studios, and bars and restaurants that appeal to customers who enjoy something more quirky and unique than national chains can provide. We aim to attract locals of all ages in the arts, business, technology, and the nonprofit sector.
Cherokee Street isn't far from downtown St. Louis and major year-round attractions such as the Arch and the City Museum, so there's good potential to attract tourists.
Bessie's aims to attract customers who like good live music and yearn for the atmosphere of a vintage nightclub with top-notch cocktails.
Market Positioning
St. Louis has a wealth of nightclubs and music venues, but few focus exclusively on blues and jazz. Bessie's aims to provide an elegant setting for customers who want to be able to sit down and have a conversation if they'd like to before they take a turn on the dance floor.
Bessie's will offer nightly dance classes, ranging from the tango and the fox trot to basic swing, before the band takes the stage so customers can practice actual dance steps. This will help them feel more comfortable when the show finally starts.
In addition, we will host listening parties on Sunday afternoons hosted by local scholars and aficionados for customers who want to delve deeper into a particular musical style or artist. Teaching customers more about the music they're listening to will increase their knowledge and enthusiasm and perhaps inspire them to come back to see specific performers.
Location Analysis
St. Louis is considered a high-growth region, especially in the tech sector. With both traditional infrastructure and a robust public transit system, St. Louis sees a steady influx of new businesses, bringing new workers (and, thus, new customers) into the city.
St. Louis is home to 300,000 residents, many of whom work in the city. Cherokee Street, the area where Bessie's will be located, is home to 16,000 residents. There is a healthy mix of apartments and single-family homes in the area.
Cherokee Street and the surrounding neighborhoods are beautiful and walkable, and the location of Bessie's is accessible to foot traffic. There is ample street parking in the area. Additionally, Cherokee Street is near St. Louis's three major expressways, so the club will be accessible to visitors from across the bi-state region.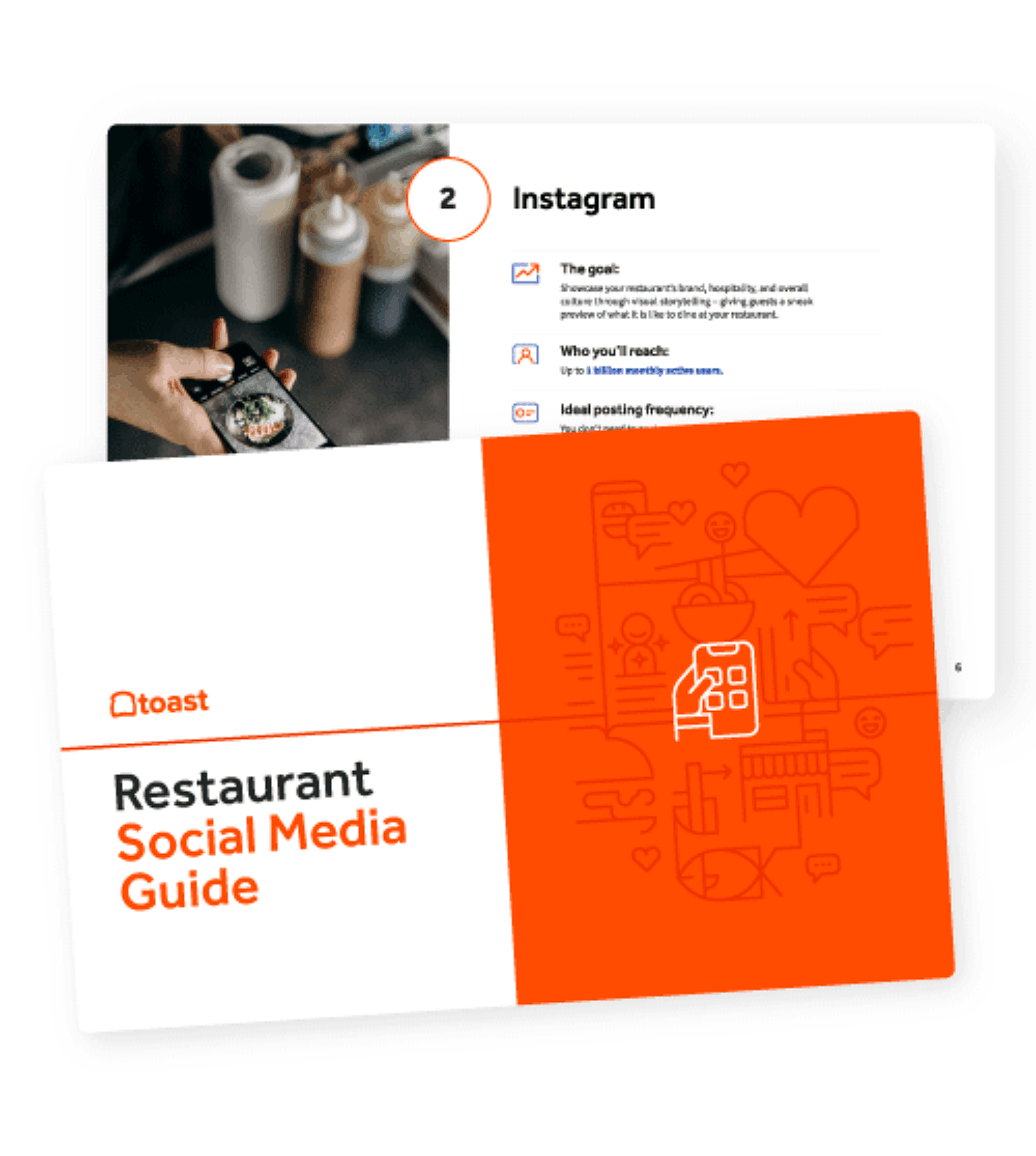 Guide to Restaurant Social Media Marketing
Learn how to optimize your social media presence to showcase your brand, tell your story, attract new customers, and engage with your audience.
Download
Marketing Plan
Jazz and blues continue to bring together devoted fans, and at Bessie's, we hope to contribute to that, creating a home for both newbies and old-timers alike.
Customer Database
When guests make reservations at Bessie's, we will collect their email addresses and phone numbers and ask if they would like to sign up for marketing texts and emails. When they pay their tab, they'll also have an opportunity to share their numbers and email addresses. Customers will also be able to sign up for promotional texts and emails on our website and social media pages. Emails will be used to advertise upcoming performers and drink specials.
Loyalty Program
Each dollar spent at Bessie's will be converted into a point for our loyalty system. Customers will be able to exchange every 100 points they accrue rewards, including free drinks and VIP service. The loyalty system will be attached to a customer's email address. That will allow us to collect emails for our marketing databases.
Community and Charity Involvement
At Bessie's, we are committed to the community and music education. That's why we will partner with Play It Forward STL, an organization whose mission is to ensure that every child in St. Louis has the opportunity to discover his or her own musical talents. They provide musical instruments to schools and individuals in need in order to educate the next generation of musicians.
The owner and executive chef will work in partnership with Play It Forward STL to collect used musical instruments. We will also coordinate with the St. Louis Public Schools to organize educational programs and kids' concerts that increase music literacy.
Public Relations
The Cherokee Street Community Improvement District is dedicated to advancing the cultural, social, and economic interests of the Cherokee Street Community. The owners have begun participating in Cherokee CID and attending meetings. The opening will be featured on the website and the club will be listed in the business directory. The Cherokee CID will also send press releases to local media.
Bessie's will also participate in the Cherokee Street Jazz Crawl when jazz musicians perform up and down Cherokee Street. Bessie's will host a happy-hour set and an afterparty following the grand finale, which will give local musicians, fans, and press a firsthand introduction to Bessie's.
Advertising and Social Media
Though it's rooted in the 1920s, Bessie's is firmly in the 21st century. While our priority is building a local community of jazz lovers, we will also use social media to advertise and generate interest in the club. Our space is full of surprising art deco touches that will create a striking backdrop for shots of the musicians and dancers on our Instagram, Facebook, and TikTok pages, which will amass a local and worldwide following and generate new customers. Our social media will also share secret passwords customers can use to get special discounts.
Additionally, we will rely on local word-of-mouth marketing and consistent foot traffic on Cherokee Street. Our service will be uniquely personable and the staff will be trained to create community rather than just making sales in order to attract and retain a regular customer base. Our customers will be encouraged to grow the community by sharing their experiences on Yelp, Google, and Instagram.
Operations Plan
Staffing and Training
There are three critical roles to fill at Bessie's: the bar manager and two house managers. We will also hire about 25 servers, 6 bartenders, 4 hosts, 4 dishwashers, and 6 security people.
Training for staff will take place in the months leading up to the club's opening. The owners and bar manager will conduct interviews and hire the house managers and remaining staff.
Recruitment
To recruit skilled BOH and FOH staff members, we will use Indeed.com, Ziprecruiter.com, and the City of St. Louis's online job board. Our hiring process will be selective; we want every member of the team to be committed to building community in the restaurant.
Interview Questions
What are your career goals?

How would your previous employer describe you?

Describe how you work as part of a team. What role are you comfortable in on the team?

What is one of your biggest accomplishments?

When are you available to work?

What challenged you the most in your last job?

What is your favorite cocktail? How would you describe it to a guest?

How do you handle conflict with coworkers?

What skills do you see as necessary for success in this role?

How will you help engage customers in the spirit of a 1920s nightclub?
Job Descriptions
Bar Manager:
The bar manager is responsible for overseeing all the bar operations in the nightclub. The day-to-day duties of the bar manager include hiring and training, cocktail development and testing, ordering inventory, and leading the bar staff. They are also involved in marketing campaigns.
Dishwasher:
Dishwashers will be responsible for cleaning and sanitizing all cookware and service ware. Additionally, they will help the rest of the staff to keep the restaurant clean and organized.
Bartender:
Our bartenders will work together to craft specialty cocktails based on 1920s classics. They will also be responsible for prepping ingredients and fulfilling orders during service. Bartenders at Bessie's will be encouraged to make genuine connections over music and drinks to create community with our guests. They should be able to answer questions about the cocktail menu and be knowledgeable about dietary restrictions.
Server:
The first priority of servers at Bessie's is to create a sense of belonging while guests are in the restaurant. They will use handheld point-of-sale systems and work as a team to ensure all guests' needs are met in a timely manner. Responsibilities include taking orders, running drinks, collecting payments, and communicating between guests and the bartenders. They should be able to answer any questions about the menu and ingredients, and understand how to handle dietary restrictions.
Host:
Hosts are responsible for guests' first impression of Bessie's. Hosts will seat customers, manage the waitlist, answer phone calls, book reservations, and field questions about the menu and performers.
Work Health and Safety Standards
In order to make Taste Test Kitchen as safe a working environment as possible for everyone, we will implement the following health and safety procedures.
Everyone will wear proper protective equipment and clothing when working behind the bar. All staff are required to wear slip-resistant footwear.

To avoid injury on the job, all staff will be trained on how to move heavy objects and boxes and how to handle the extremely hot or cold temperatures of the club.

Management staff will work to create safe practices and procedures and remove potential hazards to employees and guests.

All staff will work together to communicate about guests' dietary restrictions and avoid cross-contamination of products.

Staff will not be expected to work when ill and management will help to get shifts covered and keep the restaurant running smoothly so that the pressure doesn't fall on ill employees.

Bessie's will follow all local health guidelines and restrictions regarding the COVID-19 pandemic.
Staffing Model
Bessie's will operate an open-book management model where the restaurant's finances are shared with management staff and disseminated to all employees in the restaurant. We will hold quarterly staff meetings to share information about the business's goals. The transparent model will foster goodwill with employees. All non-management employees will be hourly employees.
House managers will all make a base hourly rate of $30/per hour.

Service staff, including bartenders and servers, will be paid $10/hour plus shared tips.

Hosts will be paid $20/hour.

All employees will be eligible for raises with each satisfactory employee evaluation, conducted once per quarter.
Customer Service Policies and Procedures
These principles will guide guest service at Bessie's:
Community. The first goal of customer service is to make each guest feel like part of the community while they are in the restaurant. Staff will be friendly, welcoming, and attentive to guest needs. They will offer detailed answers to questions and invite them to participate in the drinking and listening experience.

Consistency. The kitchen and service staff will work to provide a consistent guest experience even as our performers change nightly. The servers will be warm, patient, and informative during every visit.

Compassion. All guests have different needs, and our service staff will be trained to handle different kinds of customers and various dietary needs with compassion and care. When conflicts with guests arise, servers will lead with patience and understanding to de-escalate and make the experience memorable. We will also keep a close watch on customers to prevent harassment
Suppliers
Bessie's will work with several local breweries, wineries, and distillers to source new beers, wines, and spirits.
Our bar will be unique for the area: one of our owners has an encyclopedic knowledge of classic cocktails and plans to serve more both the well-known, like martinis, and the more obscure, like the Hanky Panky.
For restaurant supplies, we will develop a relationship with the local restaurant supply company so that we have convenient access to the equipment and supplies that we need.
Financial Analysis and Growth Plan
Owners William and Christopher Handler will each invest personal savings of $100,000, for a total of $200,000 in initial investment. They will also seek a 7(a) Small Business Association for $300,000 and outside investments of $500,000 from business owners and entrepreneurs in the St. Louis area. Total startup funds equal $1,000,000. $300,000 will be retained for contingency funds and the remaining $700,000 will be used as startup funds.
Outside investors will be pitched a 15% return-on-investment, for a total of $75,000/annually, once the business becomes profitable. The owners won't take a salary until the restaurant becomes profitable, at which point they will cap their personal salaries at $90,000/year.
Business lines of credit will be sought for some expenses, such as initial orders for equipment, supplies, and ingredients. They will refuse any lines of credit above 5% interest.