DISCLAIMER: This content is provided for informational purposes only and is not intended as legal, accounting, tax, HR, or other professional advice. You are responsible for your own compliance with laws and regulations. You should contact your attorney or other relevant advisor for advice specific to your circumstances.
The 2022 National Restaurant Association Show on Saturday, May 21 - Tuesday, May 24 is basically the Coachella for restaurateurs. After 2 years of uncertainty, the NRA is gearing up to put on its greatest show yet. If you are a restauranteur, want to be one, or are just a big restaurant fan, this event is for you.
Taking place at McCormick Place in Chicago, experts will be leading sessions on new opportunities and products to help the restaurant industry in the new business landscape of 2022. You can register here to attend the show.
Here are some tips on how to make the most of your trip to the National Restaurant Association Show, and don't forget to come see us at booths #6867 & #5839!
1. Familiarize yourself with the exhibit
To help save yourself time during the show, do some research beforehand. You can find the exhibit floor plan here, a complete exhibitor list here, and the schedule here. Some must-see vendors are:
To stay up to date on everything National Restaurant Association Show, you can sign up for texts or emails at the bottom of this page.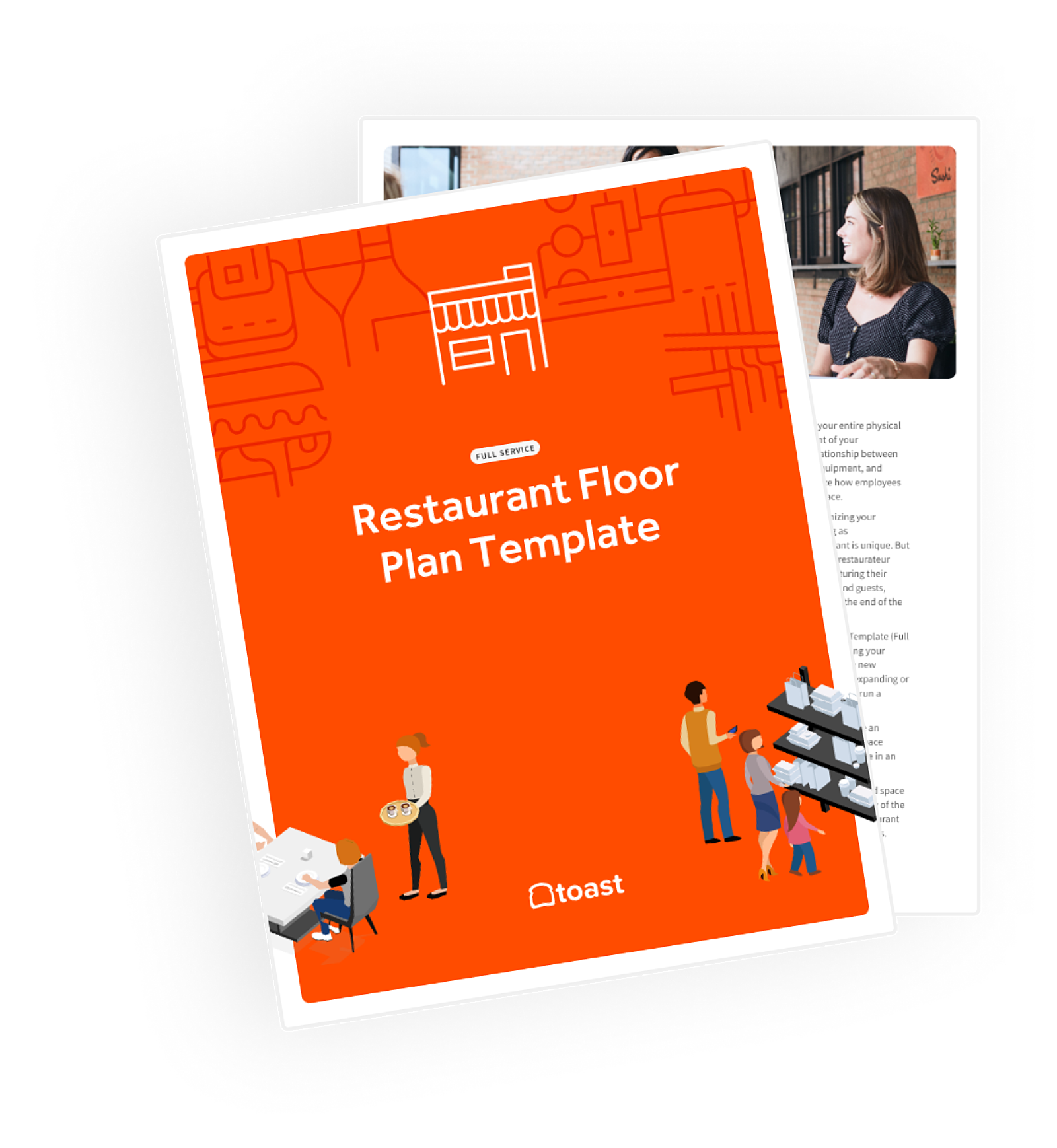 Restaurant Floor Plan Templates
Use these restaurant floor plan templates to get inspired as you map, or reimagine, the layout and space setup for your restaurant.
Download
2. Go to different booths and network
The National Restaurant Association Show is a great place to make connections. It's a giant event of people who have one thing in common: a love for restaurants. Learn about other businesses' restaurant concepts, how they've navigated Covid, and what makes their restaurant tick.
You can also attend workshops that provide up-to-date education on problems relevant to your business. These hands-on workshops will allow you to learn directly from experts and peers to solve problems, get answers to questions, and spark new ideation through collaboration.
Workshop #1: Ghost Kitchens & Virtual Brands: Risks, Opportunities and Execution
Day 1: Assessment of Opportunity and Viability
Day 2: Attracting Customers & Building Brand Loyalty
Day 3: Execution Strategies
Workshop #2: Navigating the Foodservice Technology Landscape
Day 1: Prioritizing Your Technology Needs
Day 2: Technology Integration: Best Practices and Pitfalls
Day 3: Training with Purpose
3. Tips on networking with other restaurants
The NRA is hosting some social events to help you out, starting with a young professionals party on Sunday, May 22nd from 5pm-7pm at TAP at McCormick Place. Network with fellow young professionals immediately following the Show. You won't want to miss these invaluable face-to-face opportunities with other young professionals in the industry. Tickets are only $20 and include an open bar and appetizers. You can sign up here.
NRA is hosting an industry night out on Monday, May 23rd from 7pm-10pm. Celebrate at the largest rooftop deck in the nation, Offshore. With 36,000 sq. ft. of indoor and an outdoor terrace, you'll enjoy the best views of Chicago. Tickets are $75 and include specialty cocktails and passed appetizers with some special surprises from sponsors. You can purchase your ticket here.
The best way to network at the NRA Show is to talk to the attendees interested in the same exhibits as you. For example, say you're a beer fanatic and your restaurant specializes in craft beers. You attend the 10am Saturday session on maximizing beer profits and spark up a conversation with an IPA lover. This would be a great person to bounce ideas around with and get inspiration from. Another pro tip is to follow attendees on social media and connect with them on LinkedIn. This is a great opportunity to find new website and marketing inspo. Take advantage of this and hit that follow button!
4. Join the conversation on social media
Share your experience on social media! Make sure to tag the NRA (@nationalrestaurantshow) and Toast (@toasttab) in your Instagram story posts and to use the hashtag #2022RestaurantShow. Toast's social media team will be keeping you up to date across our different social platforms.
5. Drink up
Who doesn't love a good cocktail? On Tuesday, May 24 from 11:00am-11:45am, head to The Beverage Room Stage (Lakeside Center - 11430) for the event Project Beverage 2022: The Art of Pairings. Explore how to create thoughtful on-trend pairings that will impress your guests, differentiate yourself from competitors, and help increase sales. Check out the Show's social media as they dive into today's hottest beverage trends during a month-long cocktail tournament, where your vote decides what comes out on top.
You can find out more and add this event to your show planner here.
6. Enjoy Chicago
First time in Chicago? You're there for restaurants anyways- might as well try some of the amazing dining experiences the town has to offer. Here's a list of Chicago restaurants that can satisfy any craving. Want to spend some time exploring the city? We got you covered with this site. Chicago is also the birthplace of modern architecture, so there is no shortage of sightseeing. I mean- did you really even go to Chicago if you didn't visit the Bean at Cloud Gate? Enjoy your time in the Windy City and take in all it has to offer- you can find inspiration for your own restaurant business in a city like this:
Come to the Toast booth!
Lastly, come network with us! Schedule your exclusive pre-event demo with a Toast expert. Find us at booths #6867 & #5839.
Your pre-event demo includes:
Info about connecting with Toast at National Restaurant Association Show.

A sneak peek of our spring product launches.

A walkthrough of Toast catered to your restaurant.

Info about our Toast Community.

Brief mention of products being showcased.
Come visit us at the National Restaurant Association Show 2022 to meet a dedicated team of passionate and experienced restaurant technology professionals. For more information about Toast at the NRA Show 2022 head to this site. Remember, Toast is built for restaurants and built for you.