DISCLAIMER: This content is provided for informational purposes only and is not intended as legal, accounting, tax, HR, or other professional advice. You are responsible for your own compliance with laws and regulations. You should contact your attorney or other relevant advisor for advice specific to your circumstances.
Are diners obsessed with your restaurant brand? They should be.
There are complicated ways to define "brand," but here's a simple way to think about it: Your restaurant brand is how you want your customers and your community to remember you, whether they're searching for your restaurant online or walking through your doors.
A lot of different factors influence your restaurant brand, from menu design and social media presence to restaurant design and the employees you hire. Everything you do can impact customer perception, so brand building is something to consider.
Sound like a lot? Don't worry, we've got you covered.
Restaurant Marketing Plan
Create a marketing plan that'll drive repeat business with this customizable marketing playbook template and interactive calendar.
Get free download
In a new webinar, Allie Tetreault, Content Marketing Manager at Toast, and Emma Vaughn, Local Outreach Manager at GoDaddy Social, present tips on how restaurants like yours can build an obsession-worthy brand that will keep people coming back for more.
For the full presentation, give the webinar recording a listen and check out the slides. Below, you'll find a recap of what we covered.
First Thing's First: Define Your Restaurant Brand
Before diving into the nitty gritty of building a successful restaurant brand, begin defining your brand by asking yourself a few questions:
WHY are you here?
WHO do you want to be – to your customers, employees, and community?
WHERE are you going to focus your efforts?
HOW are you going to accomplish your goals?
WHAT can you expect as a result?
Now that you've asked yourself these questions, it's time to create a mission statement that can help you answer them. A mission statement is important because it's the foundation for the positioning of your brand and lets people know what you're all about in just a few sentences. Take a look at the mission statement for Butcher & Bee: "Butcher & Bee opened on King Street in 2011 with the simple mission of serving honest-to-goodness sandwiches made with flavor combinations and food quality usually reserved for fine dining."
It's short, specific, and clearly conveys what the people behind Butcher & Bee are trying to accomplish with their restaurant.
After you've created a strong mission statement, your positioning will come naturally. The positioning of your restaurant brand can essentially be boiled down to what you want your business to be known for.
Do you want to be known for providing an exceptional experience? Do you want to be known for your community involvement? Do you want to be known for having a really cool vibe? Whatever you decide, the positioning needs to stem from your identity and be conveyed in your restaurant.
Now that you've begun defining your restaurant brand, here are five tips on how to make it obsession-worthy.
1. Make the Most of Your Website
Your website is the virtual front door of your restaurant, so you need to make your first impression count.
The website for Etch Restaurant in Nashville, Tennessee does a great job of enticing customers. It's well-designed, prominently features beautiful food photography, and clearly points visitors to any information they may need.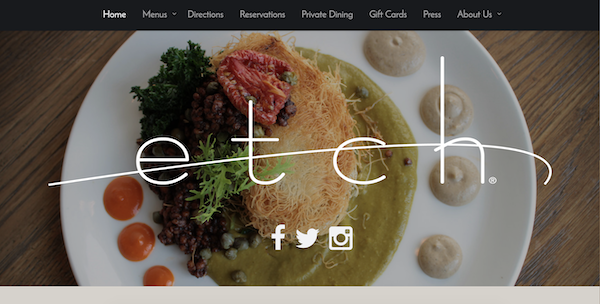 To build an excellent website without breaking the bank, check out low-cost website builders from GoDaddy, Squarespace, Wix, Let's Eat, and BentoBox.
2. Use Instagram to Show Off Your Menu Items
Given how visual Instagram is, it's practically made for the restaurant industry. Now with 1 billion active Instagram users worldwide, it's important that you take advantage of its massive opportunities. Here are a few best practices to help you take great food photos on Instagram.
Focus on framing and cropping
Using framing and cropping, you can guide viewers' eyes to the very best elements of your photos. Use a nice backdrop, stick with light-colored surfaces, and avoid overpowering the food itself with any extraneous elements. Have fun with it, too: Explore taking photos from different angles and incorporating details that will really bring the food to life.
Use the best lighting
Stick with lighting that is consistent with your restaurant brand. You wouldn't use neon lighting if you're taking photos in your cozy cafe.
When in doubt, stick with one light source and use natural light when possible. Camera flash makes food look unnatural, and you want your food to look delicious, not artificial. Take a flash photo of a dish and then compare it with a photo of the same dish in natural light. Your photography skills will never be the same.
Use filters thoughtfully
While everyone loves a good Instagram filter, trust your food to stand on its own. You don't want to skew people's perceptions of what your food and drinks actually look like.
Instead, try playing around with the photo's contrast and saturation when editing. It might be all you need to amplify the image.
3. Make Your Facebook Page Appetizing
According to Social Media Link, 55% of consumers consider Facebook the most common place to learn about new brands and products. That's why it's so important that you utilize your Facebook page to represent your restaurant brand. Here are some tips.
Share customer testimonials
Is there positive word of mouth buzzing about your restaurant? Share it for everyone to see.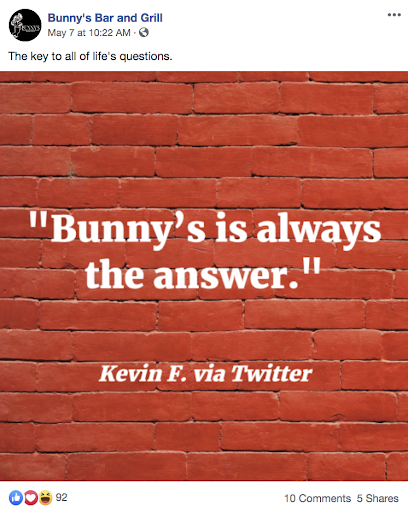 By sharing this positive customer testimonial, Bunny's Bar and Grill inspired other customers to share their experiences. One of the best ways people can learn about your restaurant is through existing customers.

Encourage feedback
Use your Facebook page to encourage customers to leave any thoughts and feedback on a review site such as Yelp.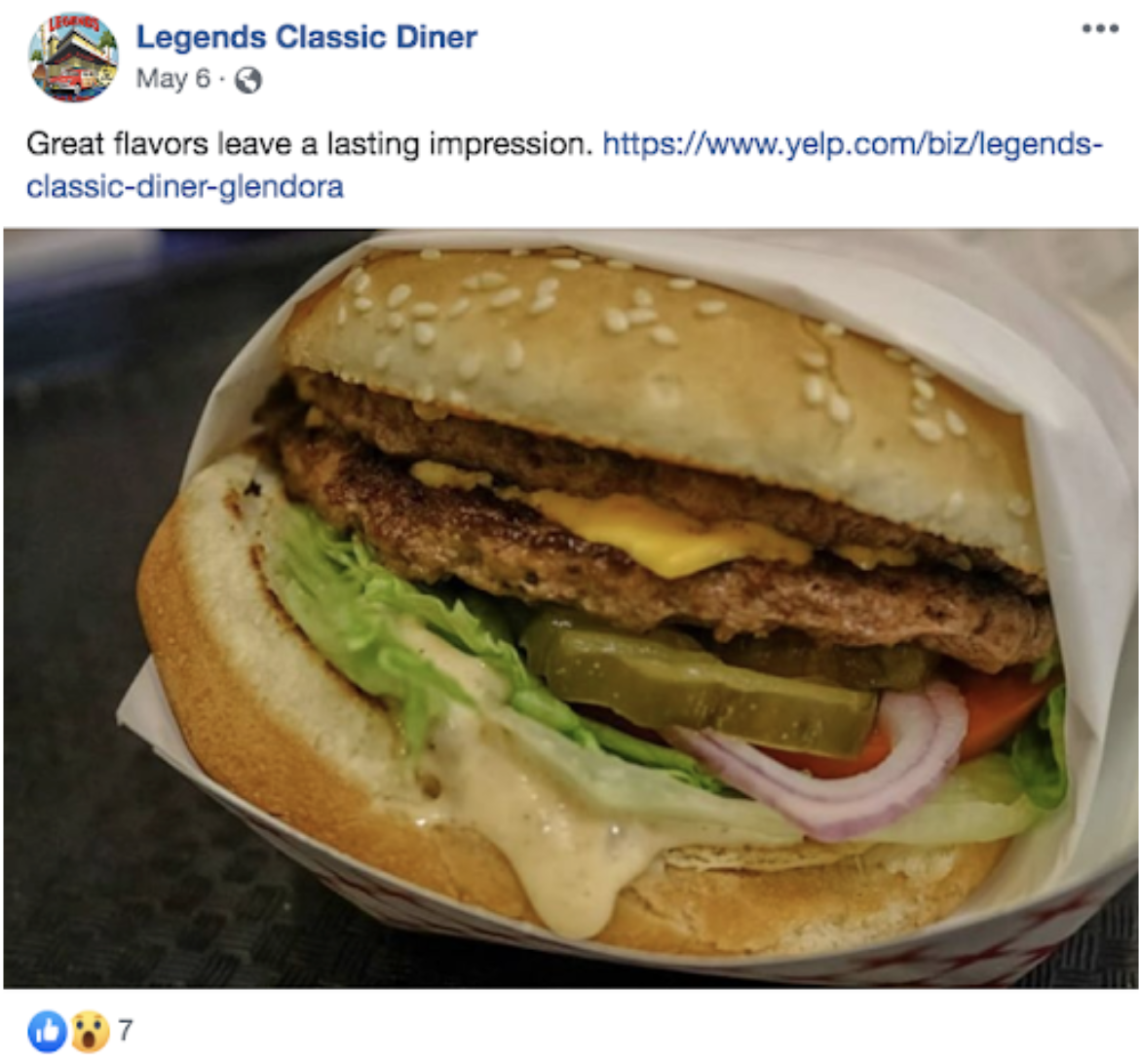 Cross-promoting your review site listing will motivate customers to read existing reviews and leave reviews of their own.
Ask questions
You can easily engage your audience by posing questions via your Facebook page.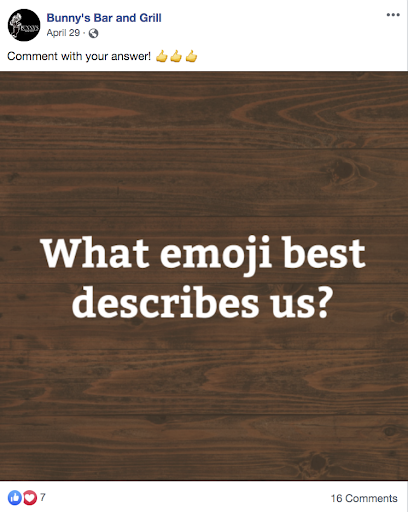 Posing a question like this will garner immediate customer reactions. Your loyal customers will likely feel compelled to respond.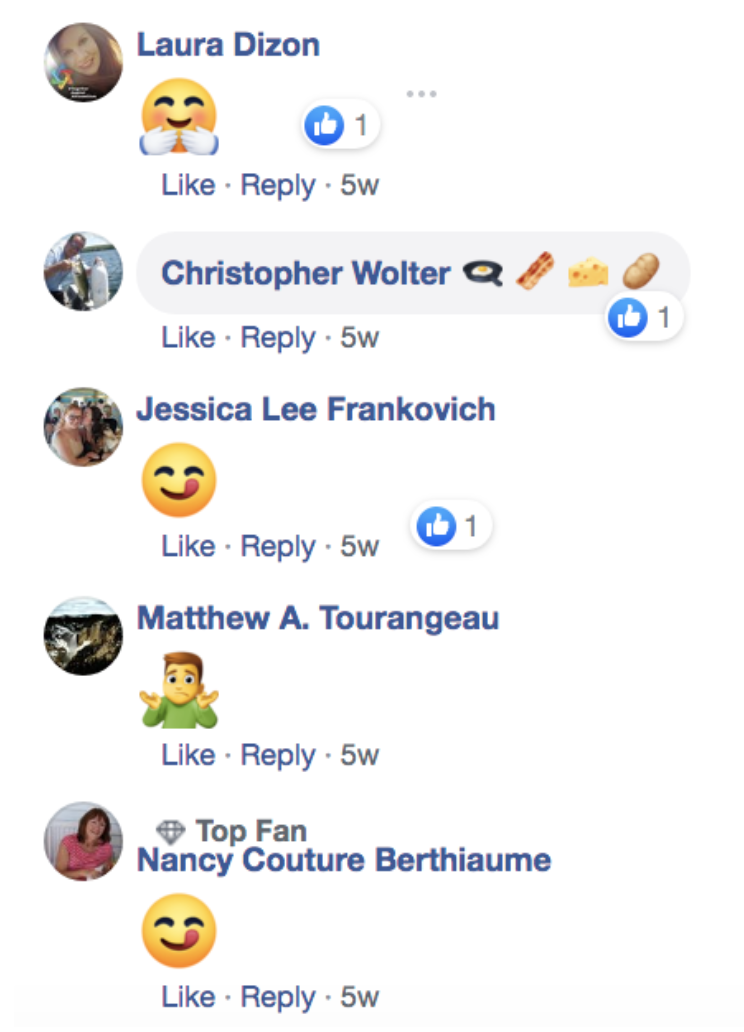 Asking your customers questions will lead them to do the talking and bragging for you.
Show appreciation for your team
Sharing photos of the friendly faces of your restaurant team creates an instant connection between them and your community.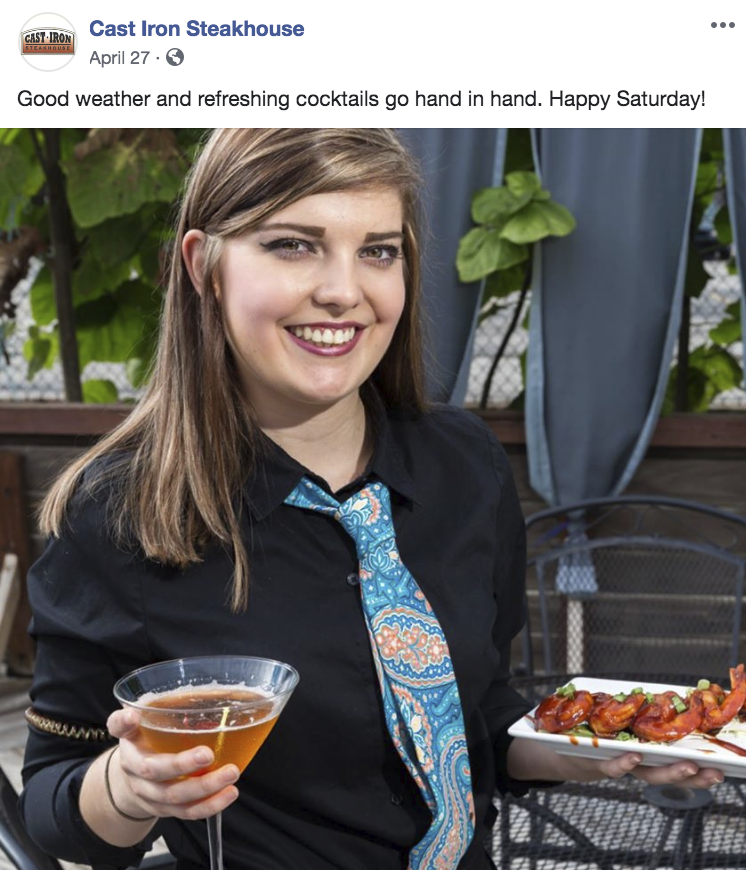 Shout out team members for their skills or wish them a happy birthday. Any way you can further build an emotional connection between your staff and your customers is great for community building.
4. Take Control of Your Restaurant Brand on Review Sites
Review sites have become an invaluable piece of the puzzle when it comes to your restaurant brand. According to a Harvard Business School study, a restaurant that boosts its Yelp score by one full star can see revenues increase 5-9%.
Don't let your reviews sit on the back burner. Here are a few ways you can take control of your restaurant brand on review sites.
Claim your listing
First things first: claim your restaurant listing on the big players like Yelp, TripAdvisor, and Google.
Update your business information
Fill in your business information to cover everything a guest would need to know like your restaurant's address, business hours, and menu. Add any photos and videos of your restaurant, food, and staff. Update the crucial info if it changes, and be sure to update for holiday hours.
Include as much detail as possible to make people feel certain when making the decision to visit your restaurant. When people plan to drop money on a night out, they don't want to gamble. They want a sure thing.
Respond to positive and negative reviews
It's not just how your customers engage with your brand on review sites but how you engage back.
Respond to every review, positive or negative. It can help existing customers reconsider and reassure new ones who may be skeptical because of a bad review.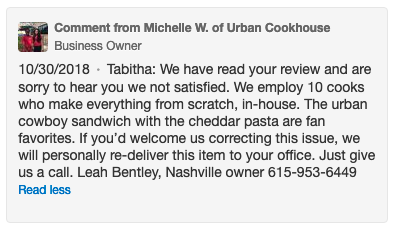 This owner's response to a negative Yelp review positively reflected her restaurant's brand and values. She responded with her name, phone number, and an explanation as to how the restaurant's kitchen operates. She also offered to have the item personally re-delivered to the customer's office. By responding in this way, she was able to get ahead of the negative review.
5. Hire Employees That Will Let Your Brand Thrive
Your employees are living, breathing embodiments of your restaurant brand, but how do you find the right people to help it thrive? Here are a few pointers.
Build a restaurant culture
Successfully recruiting, hiring, and retaining employees that positively represent your brand all starts with building a great restaurant culture, which goes beyond your mission statement. The goal is to create an "organizational constitution" and align it with your plans, decisions, and actions.
Write a mission and vision statement, create core values, and then define those values with observable, tangible, and measurable behaviors. Let's take a look at how The Cheesecake Factory does it.
The Cheesecake Factory's mission statement is: "We're an upscale casual restaurant chain, known and loved for our extensive menu, generous portions and legendary desserts. We delight our guests with delicious, memorable food with warm and gracious service and hospitality."
In line with that mission statement are their core values:
Ooze warmth with hospitality
Radiate positive energy
Never compromise standards of excellence
Love to have fun and celebrate
These values are defined with observable, tangible, and measurable behaviors that their staff can emulate.
Market your restaurant culture
Once you've established an awesome restaurant culture, you can begin actively marketing it to attract people who will thrive in a position at your restaurant.
There are a few ways you can go about finding people that are a great culture fit. Start with your personal connections. Ask other restaurant managers and non-industry friends, neighbors, and colleagues if they know of anyone who might be a good fit.
Another way is to use your current staff's personal network. If they're awesome, chances are they know someone just as awesome. To incentivize your team, create a referral program that awards bonuses for referring potential candidates.
You can also find candidates by advertising on social media sites like Facebook, Twitter, Instagram, and LinkedIn.
Employee Feedback Template
Use this customizable Word doc to guide self, peer, and manager reviews with your employees.
Get free download
Interview time
Now that you've recruited great talent, it's time to interview them. You'll want to ask questions that go beyond the basics. The average restaurant labor cost is between 30-35% of a restaurant's monthly revenue, so it's important that you hire the right people. You'll find that your money and time will be well spent when you can find candidates who will reflect the culture and values of your restaurant.
Use behavioral interviewing – interviewing that focuses on questions about how the candidate has behaved in past work situations – to identify strong customer service skills. This will help you determine if your candidate's past performance aligns with your restaurant's culture.
An important part of behavioral interviewing to remember is that previous restaurant experience shouldn't be a determining factor in extending an offer of employment. It's more about their people skills and consistency, longevity, and progression in previous roles.
Wondering which questions you should ask in the interview? Check out our post on 10 restaurant interview questions that industry professionals ask to hire the right people. Remember to treat the interview like a conversation so your candidate can learn more about your team and their values, too.
Keep your culture alive and thriving
Now that you've built an awesome team, continue to focus on ways you can work with them to strengthen your restaurant's brand and culture. Keep people talking about it and what it means to them. It should be reflected at all levels of your restaurant, no matter the employee's position.
After working so hard to build up your brand, you have to work on ensuring that your team properly represents that brand in everything they do. This will let you take the brand you've built and foster it to benefit your restaurant, customers, and community.
Want to hear what other restaurateurs had to say about building an unforgettable restaurant brand? Download and watch the recorded webinar to get the full experience.
Related Branding Resources
The Ultimate Guide to Restaurant Branding
Use this guide to get tips on how to create a restaurant brand that stands out, attracts customers, and drives repeat visits.
Get free download