DISCLAIMER: This content is provided for informational purposes only and is not intended as legal, accounting, tax, HR, or other professional advice. You are responsible for your own compliance with laws and regulations. You should contact your attorney or other relevant advisor for advice specific to your circumstances.
To start delivering or to not start delivering? That is the huge question for restaurant owners and it shouldn't be overlooked.
There are many considerations when making the choice to implement delivery service or not, but the heaps of trends favoring delivery now and in the future scream one thing: "Start delivering!"
Here is our list of 7 food delivery trends and industry statistics that may be enough to convince you to start delivering.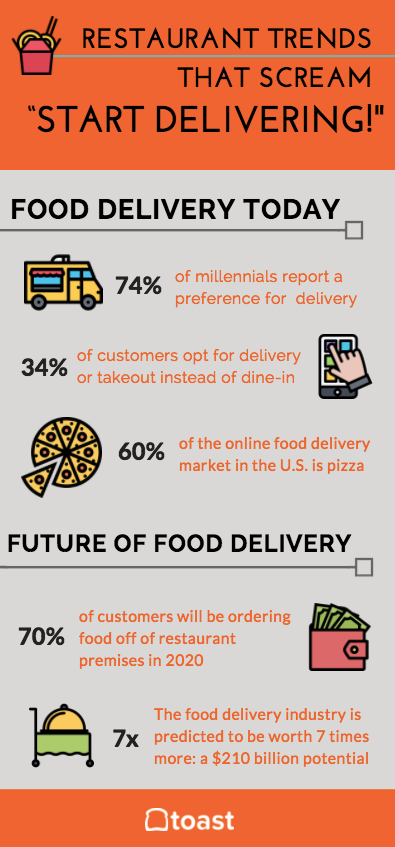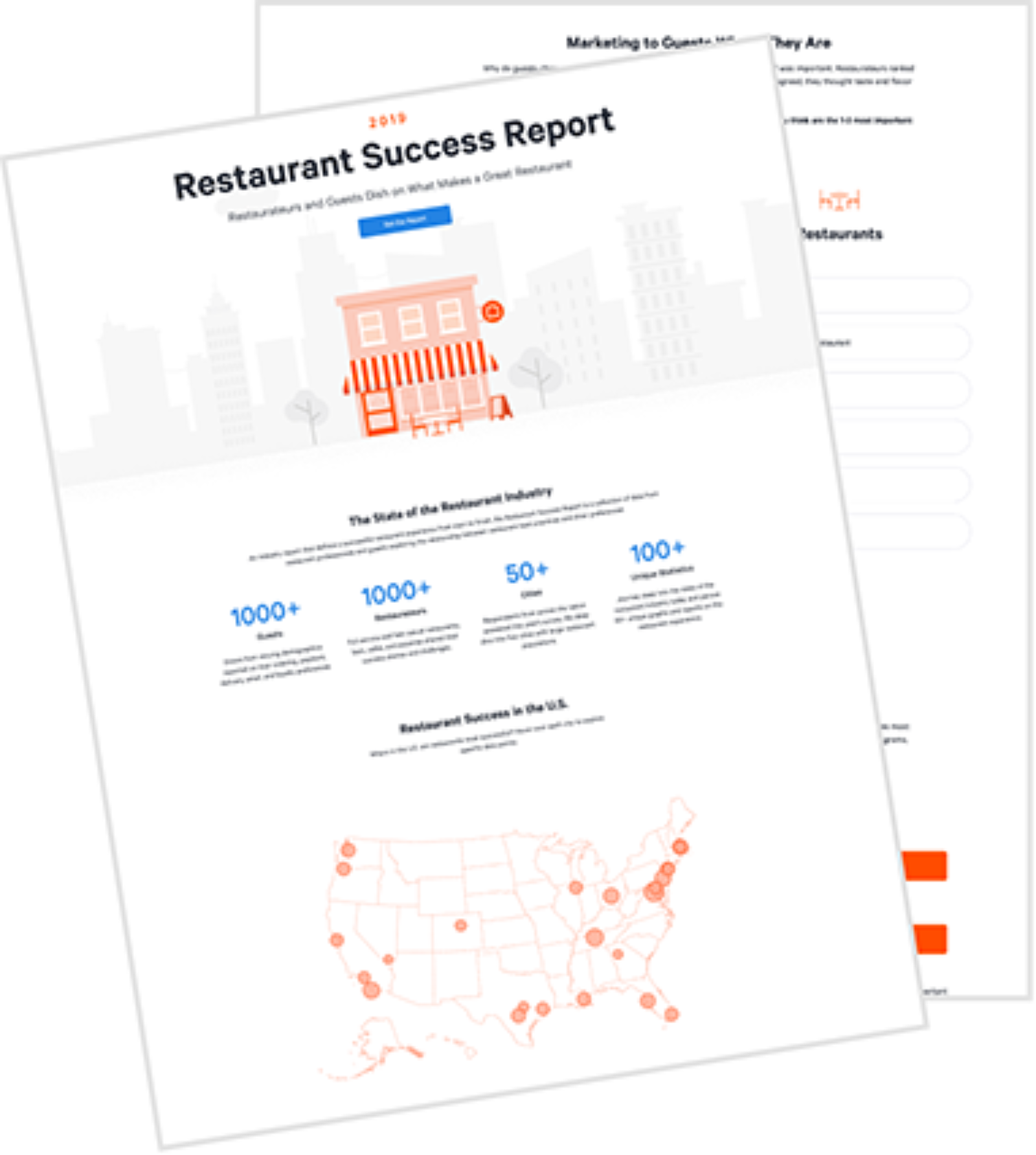 Restaurant Success Report
This industry report collects data from restaurant professionals and guests to help you understand what it takes to create a successful restaurant experience from start to finish.
Download
1) Convenience is Currency
Ever heard the phrase "time is money?"
More and more, customers want to buy back their time with more convenience through delivery services. The tradeoff for a delivery fee is that the time it would have taken to go out, cook, or wait at a restaurant is returned.
Millennials in particular are quite keen on convenience and time as currency. According to the NRA, 74% of millennials report a preference for delivery service. Getting their time back translates into cash for your restaurant, which is currency in its purest form!
2) Technology Sways Customers to Order Delivery
Increasingly, as restaurants make the switch to innovative POS systems, the demand for takeout and delivery rises.
The National Restaurant Association found that 34% of customers opt for delivery or takeout more frequently when technology makes it accessible to do so. Online ordering systems, mobile platforms, and self-service kiosks are swaying customers to order takeout and delivery more often. Instituting a POS system with top-notch technology is key to success.
3) A Trend Towards Foot Traffic Outside the Restaurant
Have I mentioned millennials love convenience?
There are two findings from an NRA 2020 Forecast at play here. The first is off-premise dining, including takeout, delivery, and curbside pickup makes up 60% of all restaurant traffic. This rising number is attributed to delivery options like online ordering, apps, and new food delivery startups popping up all over the place.
The second is that millennials, or 21-36 year olds, are much more likely to use "off-premise meal solutions" or to order delivery.
4) Pizzerias Are Hopeful Foreshadowing Examples
It's no coincidence that Domino's is the biggest pizza delivery chain in the world. It's dominating the restaurant industry right now and both technology and delivery play a huge role in the chain's smashing success.
This recipe for success is one that restaurateurs should pay close attention to. Domino's isn't the only booming pizza business. In fact, according to Morgan Stanley: "Pizza accounts for some 60% of the online food delivery market in the U.S." The continued success of the pizza delivery industry is one to watch closely. Your burgers may not hold out on a delivery like a cheese pizza, but don't give up just yet.
5) Drones Are in Our Near Future
I must admit, when our President here at Toast started talking about drone delivery service at one of our company meetings, I thought it was wacky.
No way, right?
Wrong; the future is now!
I mean, a former Google executive posed his aim to deliver beer in 2017 a year ago. Domino's in New Zealand delivered pizza to a customer via drone in November of 2016. This trend may be a few years away from becoming the norm, but do you really want to be a restaurant that's just beginning to implement normal delivery service while your competitors have drones?
Good luck!
6) Self-Driving Delivery Vehicles Are the Wave of the Future
However controversial for jobs in the U.S., you've inevitably heard about self-driving vehicles. As the industry is always looking for new and improved ways to deliver food, these developments could be relevant for restaurant owners in the future.
Did you know that Uber launched a self-driving truck carrying 50,000 beers through Colorado in 2016? The truck was endearingly named Otto and made the 120 mile trip to deliver Budweiser beers. Similarly to drones, what if self-driving delivery vehicles are introduced to the industry and you still haven't introduced a human delivery driver?!
7) The Industry Projects a Big Boom
According to a study of the food delivery industry prepared by Morgan Stanley analysts, this industry has the potential to be worth seven times more than its current value of $30 billion.
That's a $210 billion potential.
Not to beat a dead horse, but online ordering, mobile-friendly ordering, kiosk/self-service, point of sale equipped with delivery, and increased takeout options all play a huge role in the predicted boom. Not only do they predict that delivery sales will go up, but they indicate there's an opportunity for increased delivery sales to bring in more cash to the food industry on the whole.
The Most Convincing Restaurant Delivery Trends
Still not convinced? Here's another statistic:
The NPD Group also noted, "Food service delivery options are especially important to Gen Z (ages 2-20) and Millennials. Currently, these two groups represent 51% of the U.S. population, a large target group who will drive the growth in delivery far into the future."
Do a pulse check of your restaurant. What's your plan for addressing these technology trends? How are you catering to millennials? How has delivery service benefited your restaurant?
Related Restaurant Resources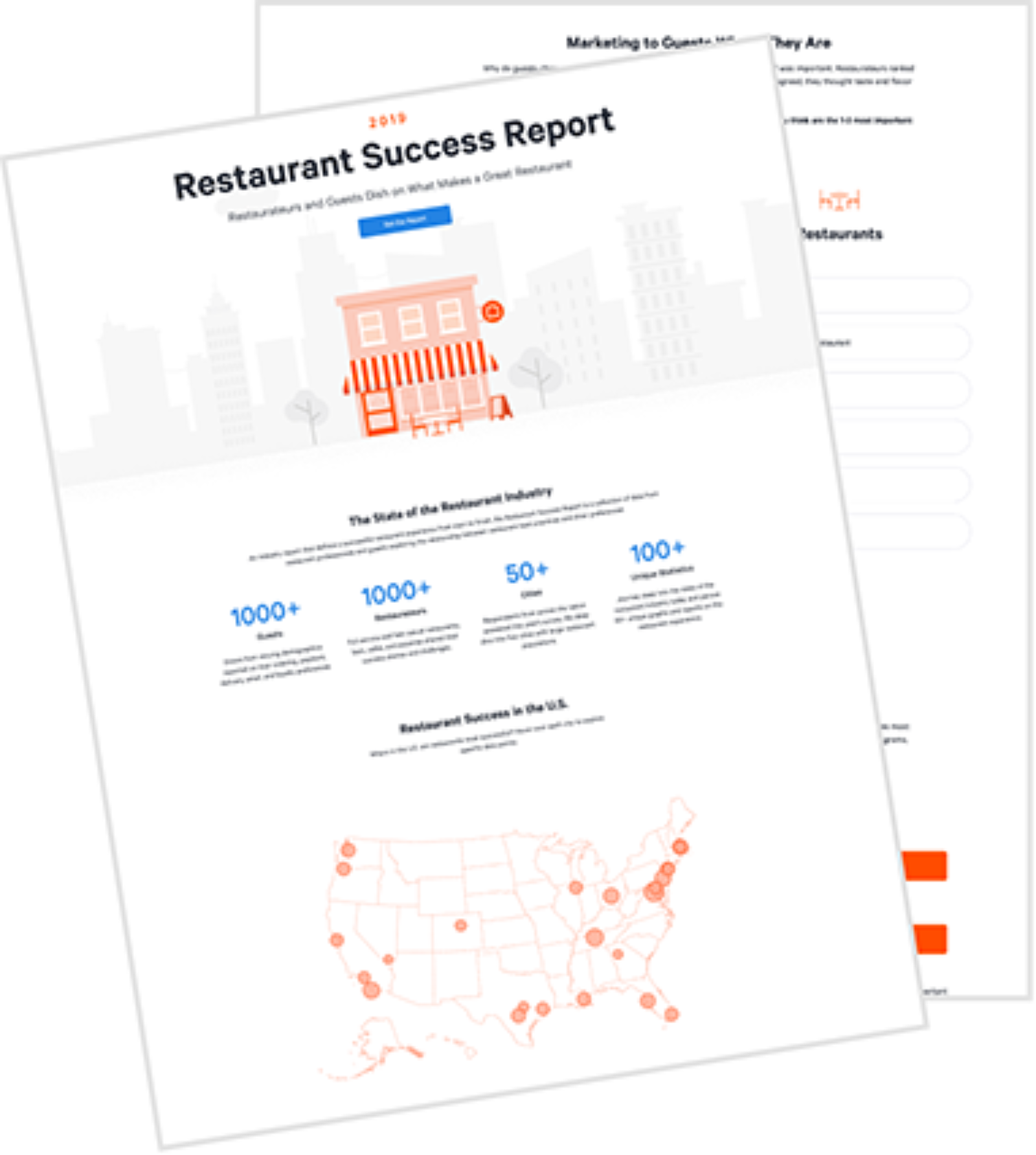 Restaurant Success Report
This industry report collects data from restaurant professionals and guests to help you understand what it takes to create a successful restaurant experience from start to finish.
Download