Chicken wing prices have made headlines over the last year or two with record high spikes.
The overall variability in food prices and chicken wing inventories has contributed to restaurant menu price increases.
Many restaurants rely on chicken wing sales for decent percentages of their food revenue, including dine-in, takeout, and delivery from fast-food and quick service operations, bars, pizzerias, and more. So any inflation or deflation in supplier wholesale prices can have significant knock-on effects for chicken wing margins — during football season and especially around the NFL's big games.
We pinpointed fluctuations in restaurant chicken wing price trends using our proprietary ingredient price data from xtraCHEF by Toast's invoice processing. Here's what we found: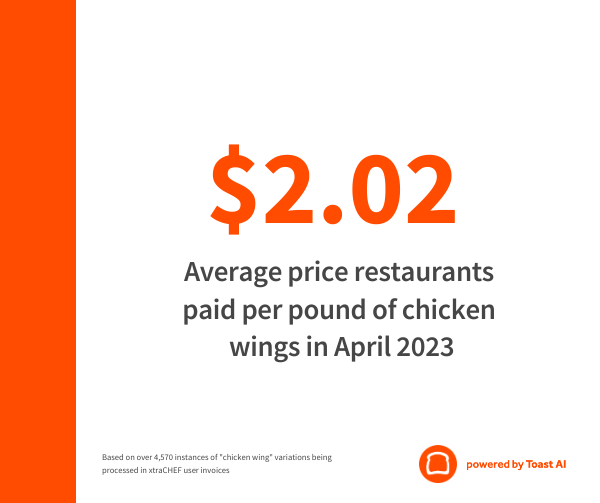 The average national price for a pound of chicken wings (inclusive of boneless and bone-in) is $2.02 in April. On average, a pound of chicken wings contains four to five whole wings or about 10 drums and/or flaps.
Restaurant chicken wings prices are flat month over month from March to April — though they've fallen by more than 50% since their high in October 2021. Here's a breakdown of recent month-over-month fluctuation in wing prices: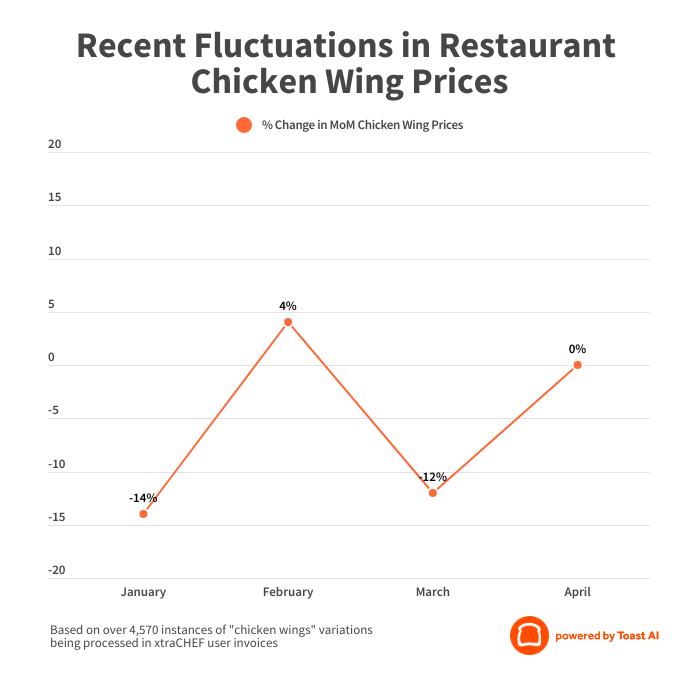 Volatility from chicken producers and restaurant chicken wing prices may give pause to chefs and operators looking to prominently feature wings on their menus. It can be tough to maximize margins and sustain profits as wing costs fluctuate. Hopefully, bars and restaurants featuring wings have in-depth cost tracking tools that enable them to see the impact of rising costs for wings as well as across their entire menu items.
Next steps informed by this data may include:
Restaurant Cost Control Guide
Use this guide to learn more about your restaurant costs, how to track them, and steps you can take to help maximize your profitability.
Get free download
Commodities experts weigh in on chicken wings prices
We were able to speak with some experts in the food commodities space to understand their analysis on chicken wing prices trends and the impacts on restaurants.
Question
Given the plummet in wing prices, are we seeing an oversupply/overreaction from producers as they sought to meet demand during the October 2021 price spike?
A combination of improvement in labor conditions at processing plants, bird genetics, and record high prices incentivizing chicken production led to oversupply conditions in the second half of 2022. The chicken industry is continuing to deal with oversupply conditions. Production in Q1 '23 was 3.4% higher YoY. USDA is forecasting chicken production to slow in the second half of 2023.
---
Read this next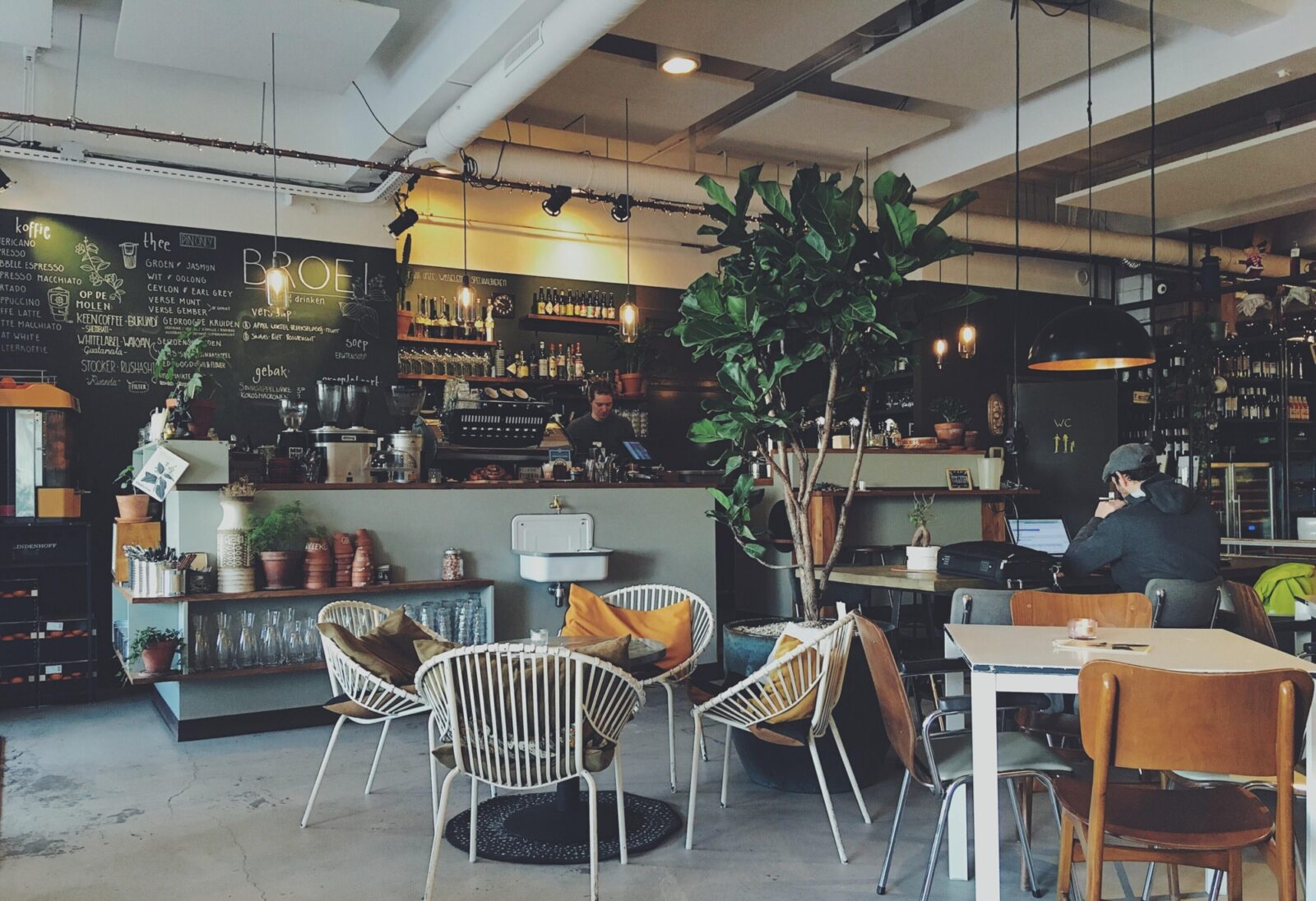 How Restaurants Can Navigate Food Inflation and Protect Profitability
Put rising food inflation into historical context and uncover action items to help protect profits and remain agile in the face of sustained economic pressure.
Historic chicken wing prices trends
Here's a breakdown of year-over-year chicken wing price movements over the past five years for restaurants: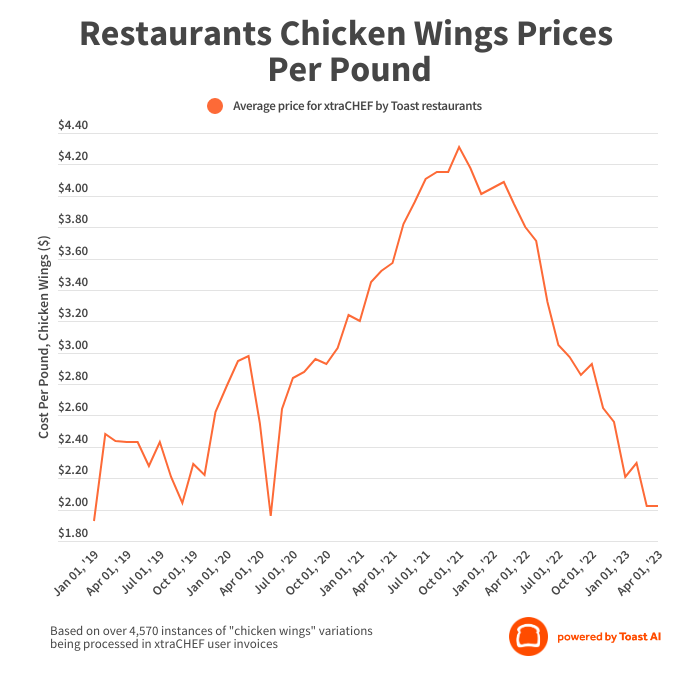 Chicken wings spiked at an average cost of $4.31 for restaurants in October 2021. That's 53% higher than the April 2023 average.
The average price restaurants have paid for a pound of chicken wings over the past four years is $3.01. So the current April 2023 price of $2.02 per pound is well below the four-year average.
Chicken wing supply chain considerations
The supply chain for chicken wings depends on a complex web of breeders, farmers, processors, distributors, and retailers. Each step in the supply chain is critical to ensuring a steady supply of chicken wings and other poultry products.
The chicken wing industry has faced several challenges that have led to shortages and price spikes. Increased demand has impacted chicken wings, as they're a highly popular food item, particularly during major sporting events such as the Super Bowl.
The pandemic has been another contributing factor, as chicken wings like so many other items, have faced disruptions from temporary closures of processing plants and transportation issues.
Additionally, labor shortages in the poultry industry have had an impact on the supply of chicken wings. Similarly to the restaurant industry labor shortages, it can be difficult for companies to find and retain workers, which can result in reduced production capacity.
Bone-in wings vs boneless wings
It's a question as old as the chicken itself — bone-in wings or boneless?
There's just something about the experience of eating a bone-in wing. It's the classic; the OG. Bone-in wings come straight from the whole bird and can be served whole, though they're typically divided into drums, or drumettes, and flats, or wingettes. The former actually look like tiny chicken legs, while the later are quite literally flat. Both can be great at crisping up and taking a sauce.
On the other hand, boneless wings offer perhaps a more efficient experience. These are more like tiny chicken tenders and are often cut from chicken breasts or chicken thighs.
Luckily, there's a place in the world for both — though there's still tons for restaurants to consider when deciding between serving bone-in wings and/or boneless wings.
Customer preferences: Operators need to understand what their guests prefer between bone-in wings and boneless. The majority of a customer base may enjoy the traditional experience of eating wings off the bone. Though there could be a customer stronghold that's dug in on the boneless wing experience.

Cost: Bone-in wings can be less expensive than boneless wings, as they are less labor-intensive for producers to prepare. Of course there's always a balance with higher food costs and higher menu prices that can match if not exceed profit margins for bone-in wings.

Availability: Supply chain factors should be included in the decision between bone-in and boneless. Theoretically, boneless wings should be easier to source as they can be made from any part of the chicken.
The final decision between bone-in and boneless wings depends on your restaurant's specific needs, food cost breakdown, and customer preferences.
Start tracking chicken wing prices today
Chicken wings show up on menus across restaurants, sports bars, pizzerias, and more. Incorporating chicken wing prices — and all ingredient costs — into financial reports requires restaurant operators to have a strong back-of-house foundation built on invoice automation.
Invoices are the single source of truth for restaurant costs — pinpointing prices and fluctuations for individual ingredients as well as paper goods, non-alcoholic beverages, and more.
With accurate and up-to-date ingredient prices from invoices, operators can start calculating plate costs. Plate costing is a detailed exercise that zooms into the recipes and/or individual ingredients that make up a dish — requiring detailed recipe costs and portion costs for ingredients.
Costing exercises can help show how each component is contributing to the overall profitability of a dish or drink. And recipe costing software can help make it easier to calculate and achieve an ideal balance between portions and profits.
---
Methodology
Toast analyzed monthly invoice items for chicken wings from restaurants using xtraCHEF by Toast. Items are weighted by the frequency of orders, not quantity. A standard unit of measure is determined so that an average price can be calculated across all invoice inclusions of the ingredient.
Restaurant Invoice Automation Guide
Use this guide to learn more about your restaurant invoices, the value within, and how to consistently and accurately tap into it to make smarter decisions.
Get free download
DISCLAIMER: This content is provided for informational purposes only and is not intended as legal, accounting, tax, HR, or other professional advice. You are responsible for your own compliance with laws and regulations. You should contact your attorney or other relevant advisor for advice specific to your circumstances.