DISCLAIMER: This content is provided for informational purposes only and is not intended as legal, accounting, tax, HR, or other professional advice. You are responsible for your own compliance with laws and regulations. You should contact your attorney or other relevant advisor for advice specific to your circumstances.
You've heard it a million times: owning and operating a restaurant is tough.
There are challenges and obstacles you must constantly consider, such as turnover and food cost, but there are also yearly, sometimes even monthly, trends that you have to understand in order to make sure that your restaurant is keeping pace with the other million U.S. restaurant locations.
How can you combat these challenges while keeping your restaurant afloat? We can help.
In our latest webinar, Allie Tetreault, Content Marketing Manager at Toast, Amanda Markell, Customer Marketing Manager at Toast, and Shelly Whitehead, QSR Web and Pizza Marketplace Editor, detail the biggest challenges that restaurants are facing this year, along with how to strategize for your restaurant's future. Additionally, our hosts talk with Keith Fitzgerald, VP of Technology at Honeygrow, to get some real-world insight into how industry demands can actually progress your business.
We've got the highlights on the webinar below, but you're welcome to listen to the full webinar and see the presentation here.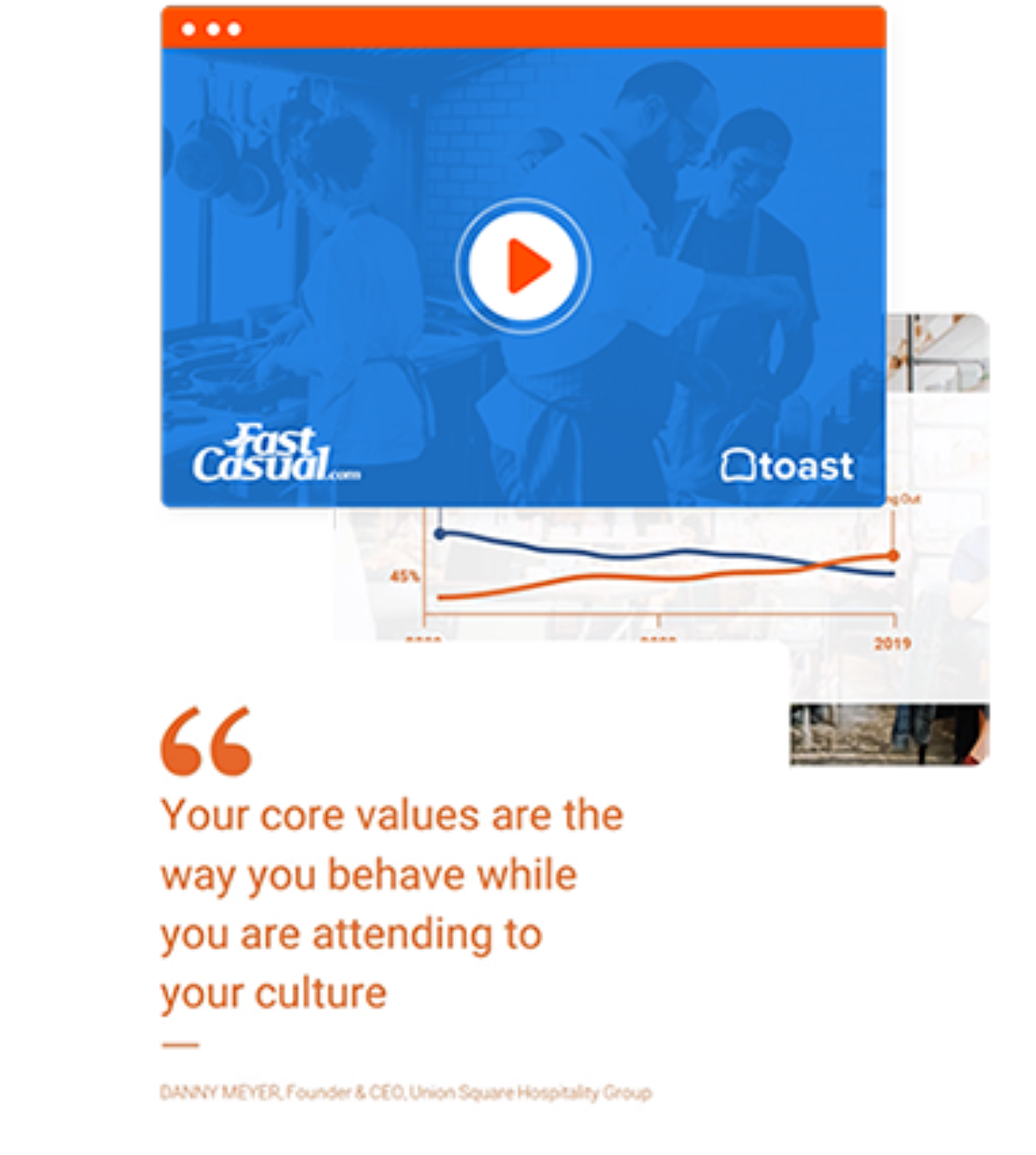 Tackle the Challenges Facing Restaurant People
Toast and Fast Casual teamed up to share tips on tackling restaurant challenges such as increasing competition, food costs, hiring and training staff, and more.
Download
Setting the Table: The State of the Industry Today
There are some unsettling statistics about maintaining a restaurant, such as an average profit margin of 5%, an average employee turnover of 75%, and a 17% failure rate in the first year of operation. Along with these challenges, enterprise restaurants create a more competitive environment. Panera Bread, for example, invested $120 million in various technologies, like order-ahead capabilities and kiosk ordering, over the past three years. But if you don't have millions to spend on technological innovation, it's important to realize that you have other tools at your disposal to help your restaurant succeed.
So what differentiates a good restaurant from a great one? Taste, of course, is essential to any great restaurant because mouth-watering food makes for a very happy guest. And, lucky for restaurant owners and chefs, taste can't be digitized. We will always need people to curate tastes and create exquisite meals.
Another contributing factor is experiences. Restaurants deliver experiences through all of the little details about their restaurant like lighting, seating, music, and more. Does your restaurant have dimmed lighting to encourage a romantic atmosphere? Is the music soft to promote private conversation, or is it loud to encourage fun, easy going meals? Are the dishes small portions so your guests share? Whatever the answer to these questions, your goal is the same -- you want your guests to feel welcome and want to return.
The team you assemble is also essential to making your restaurant great. Your team impacts your guests both directly and indirectly, through creating and serving food, interacting with guests, taking orders, and delivering a positive experience to customers. At Toast, we believe that great teams assemble under a great mission.
Therefore, a strong mission statement is also crucial to an outstanding restaurant. Danny Meyer, the Founder and CEO of Union Square Hospitality Group, says that "Your core values are the way you behave while you are attending to your culture." So your consistent behavior should align with how you react to your dynamic culture. Meyers also interviews with this in mind. He aims to hire those who match "hospitality quotient" or HQ rather than hiring based on IQ. He values how interviewees make others feel (i.e. their team, their management, their guests) over how well they perform.
The Biggest Challenges for the Restaurant Industry
We asked restaurants what the biggest challenges to restaurant success are in the 2019 Restaurant Success Report, and the results are not surprising. High operation and food costs was the greatest obstacle, followed by hiring and training staff. Restaurants also answered how they adapt to these challenges. Restaurant owners said they raise their menu prices, change their menu, or schedule their staff fewer hours to combat rising operational costs.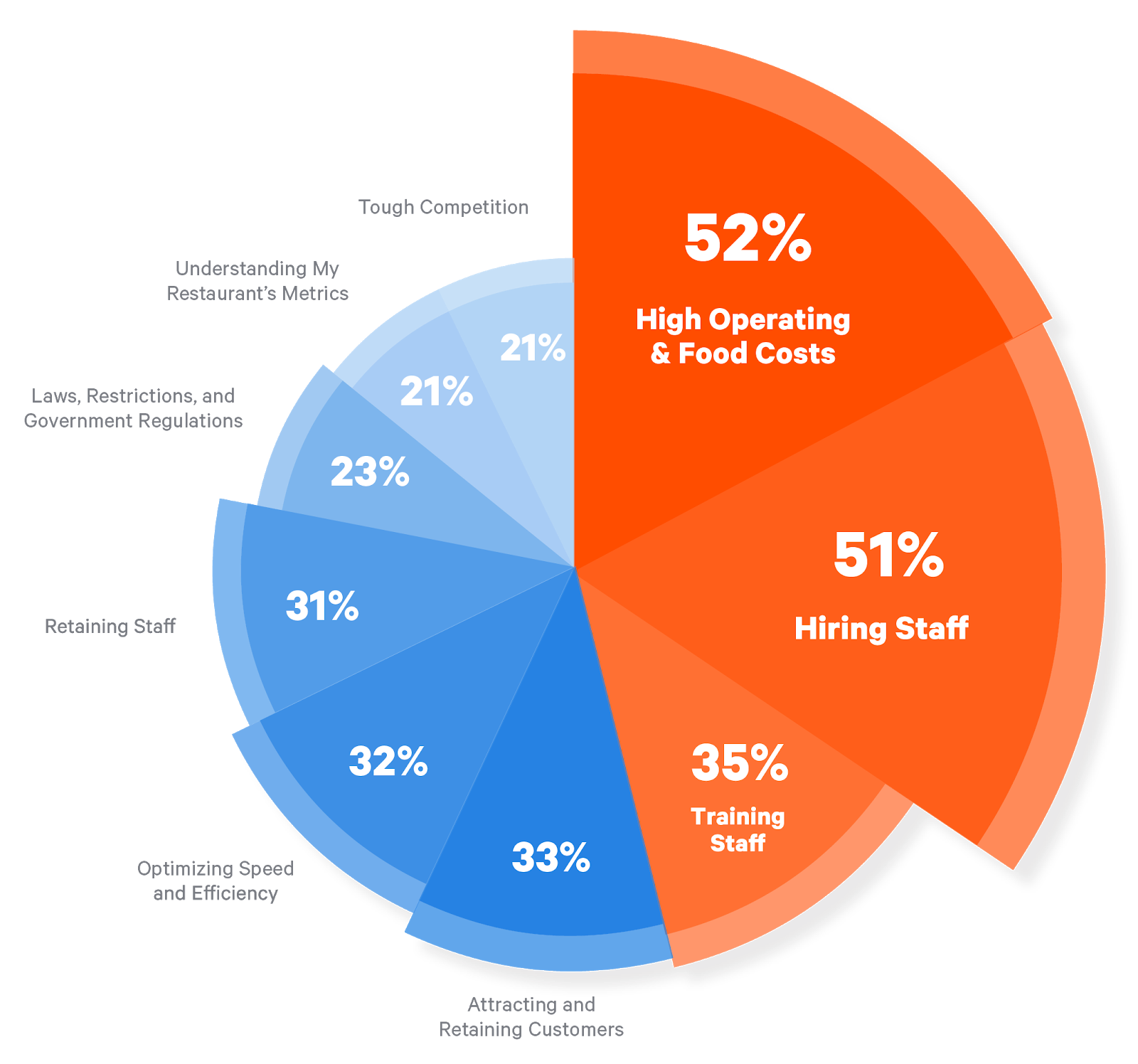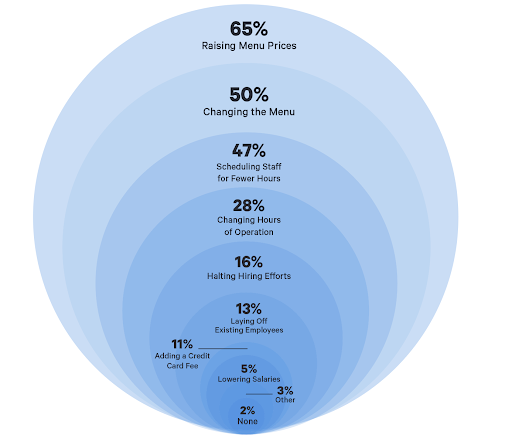 If these challenges weren't so prevalent and restaurateurs had additional capital, 47% said they would use their additional revenue to repair or update equipment, 44% said they would renovate or remodel their establishment, and 32% said they would franchise or open a new location. Keith Fitzgerald, Honeygrow's VP of Technology, said that he would be interested in investing in forecasting and future trends to be able to predict how his restaurant will perform based on certain events or occurrences.
The good news is these restaurateurs aren't just dreamers. For the last hundred years, restaurants have been steadily increasing their share of consumer dollars spent in the U.S., and within this decade, restaurants have surpassed dollars spent in grocery stores. With more people eating out than ever before, you have the opportunity to grow your revenue and repair or remodel, as long as you can stay ahead of the rising competition.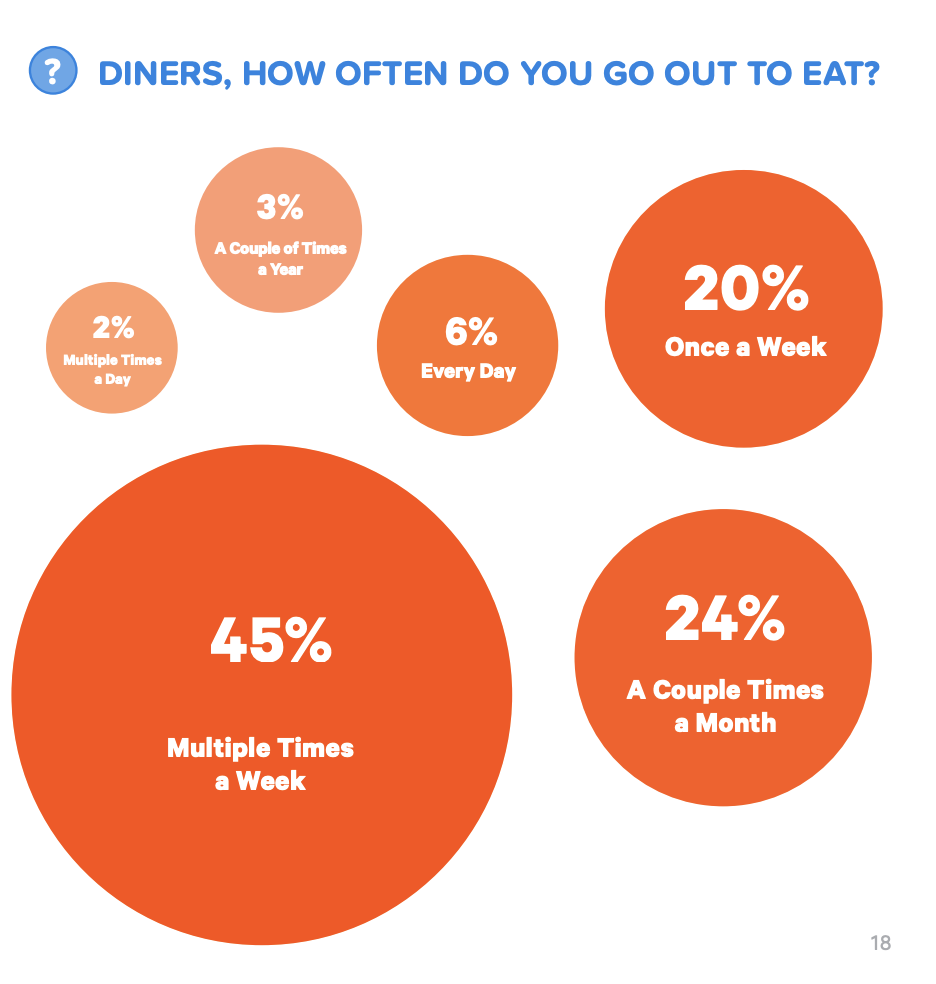 Read this next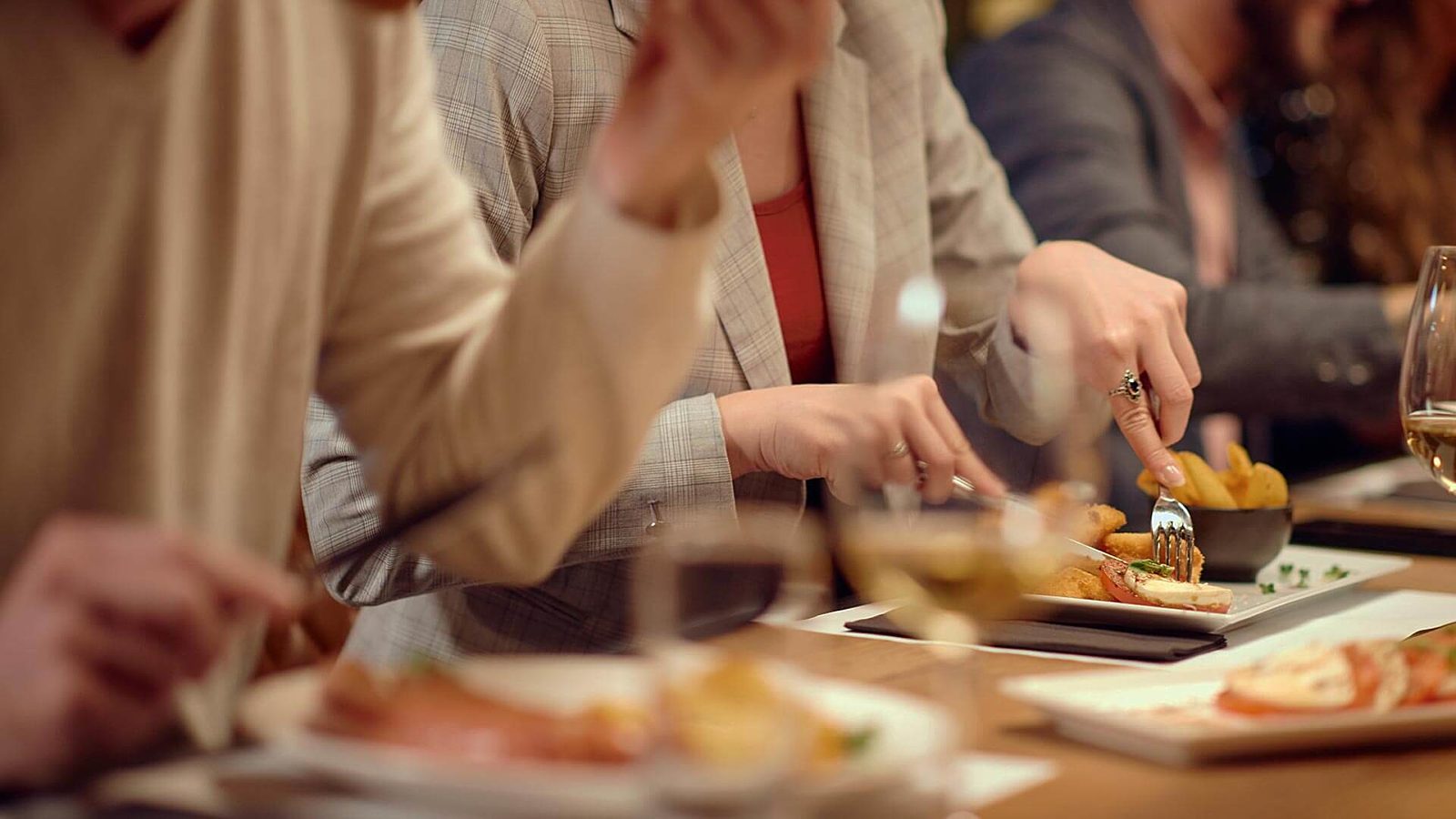 How to Accommodate Guests With Food Allergies
Serve up a more enjoyable, accommodating dining experience.
Challenge #1: The Way We Dine Out is Changing
Millennials are the largest generation in the U.S., and they are reshaping the economy. Unlike prior generations, millennials prioritize experiences over things, which means you should be rethinking the way your guests are interacting with your restaurant. The most popular way for consumers to decide where to dine is based on suggestions from family or friends, so word of mouth marketing is paramount to your restaurant's growth. Whether you're creating "instagrammable" food presentations, or making sure you're delivering the best experience possible so that your Yelp rating increases, you want to ensure that your restaurant's name is in your customers' mouths long after your food has been.
Challenge #2: The Way We Eat/What We Eat is Changing
Culturally, we are migrating to a more health-conscious lifestyle. This includes diet, of course, which is causing fast food chains like McDonald's and Burger King to suffer at the hands of fast-casual restaurants like Sweetgreen or Honeygrow, who offer quick and healthy options. As a restaurant owner, you should consider the dietary preferences and restrictions of your diners, because even though the percentages of diners with a restrictive diet is relatively low, hospitality is all about accommodating every guest.
With so much variety in dining trends, menu updates are a necessity, and it's important to keep these statistics in mind when choosing your seasonal or yearly menu items. You can update more frequently at first to gauge the popularity and profitability of items, or try out different trends, like the Impossible Burger or Beyond Meat, to give you a better sense of what works for your restaurant.
Restaurants like Honeygrow use a test kitchen to try out potential dishes before they are added to the menu at all locations. They monitor the different variables that come with each dish, such as supply chains, preparation time, and demand, for a full three months before approving a new menu item.
Challenge #3: The Way We Staff Our Business is Changing
As previously stated, the restaurant turnover rate is at an all-time high of 75%, and the cost to replace an employee in the industry is about $6,800. This is a hard pill to swallow, but there are ways to retain employees to alleviate this burden. Restaurants have found that offering health benefits, flexible schedules, and even commuter benefits to keep employees happy and assist with the heavy load that an hourly employee traditionally has to carry.
Another essential element of employee retention is providing adequate training. Ideas on training span from an updated employee handbook to Open Book Management, in which employees are trained to understand the restaurant's finances. Utilizing the latter training approach gives employees a greater understanding of their personal role in the company's success, and creates a more knowledgeable, well-rounded staff.
Challenge #4: The Way We Promote Our Business is Changing
To keep up with the demand for social media engagement, restaurants are posting and sharing like never before. Facebook and Instagram are the main social platforms that restaurants use to market their brand, and some take advantage of paid ads to garner even more interaction and attention. The results of our 2019 Restaurant Success Report showed that more restaurants are employing a dedicated marketing associate due to the increasing importance of brand awareness and social presence.
Paid promotions, including social media ads, community or sponsorship events, and search engine ads, give your restaurant the upper hand in a variety of ways. Social channels allow for location-specific advertising, where you can use a guest's location from their phone to advertise to them when they are within five miles of your restaurant. Brand-specific advertising allows your restaurant to be seen by people that haven't subscribed to your channel or interacted with you in the past.
Honeygrow uses paid promotions to tell their brand's story. They are intent on using the best ingredients, and recently switched to sourcing many of their proteins from ethical and sustainable farmers. This was a thoughtful change that Honeygrow wanted their customers to know about, so the use of social promotions was an easy and effective way to get their message out to the masses.
Community and sponsorship events, on the other hand, usually target your neighbors. Though this may be a smaller pool of consumers, it's important to focus both locally and beyond to have the greatest impact on your restaurant's brand awareness.
Challenge #5: The Way We Run Our Business is Changing
We are living in the era of data, and understanding your data is fundamental to the growth and prosperity of your business. It's important to be aware of your profit over time and your best-selling menu items, but you also should keep in mind what guests are looking for when it comes to technology, as this can change the entire experience of dining at your restaurant.
Online reservations and free wifi are extremely important to your guests. Though cell phone use at the table can be a contentious issue, your guests virtually documenting their dining experience can drive more social engagement, allowing for instant word of mouth marketing.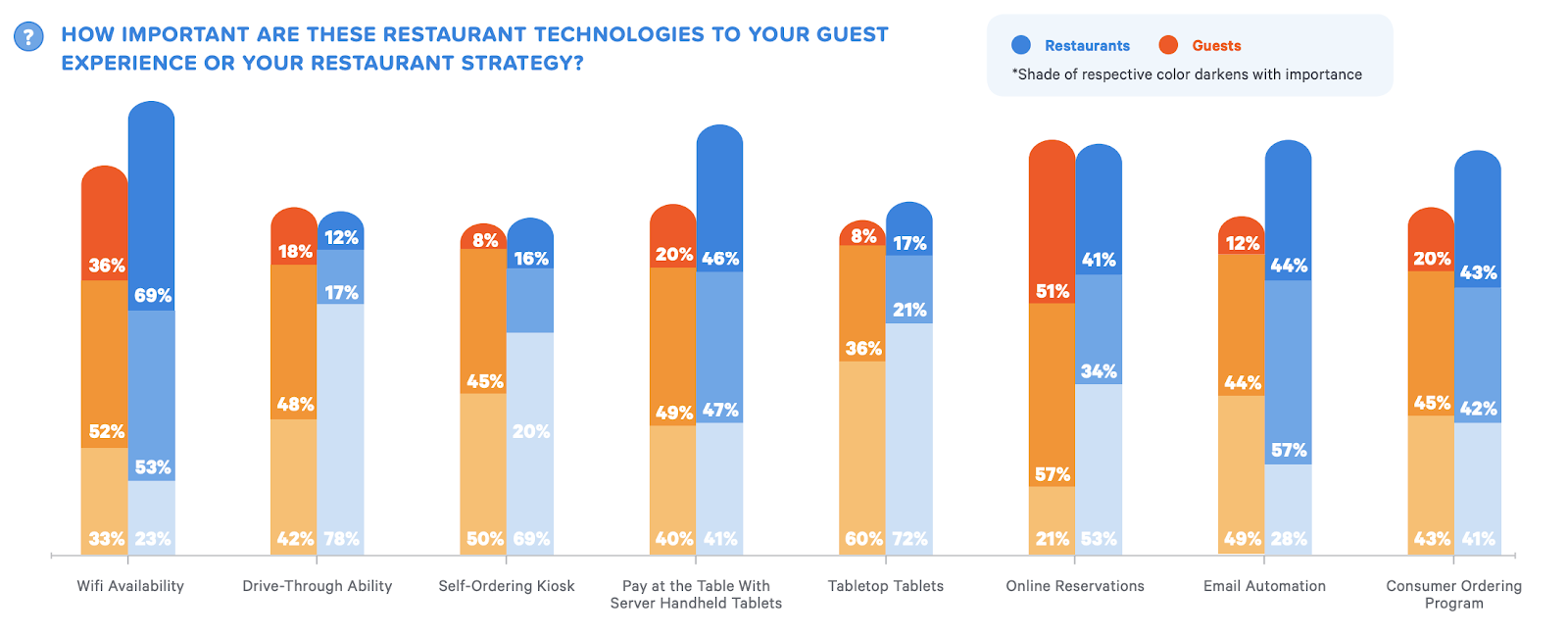 Honeygrow utilizes data and technology in nearly every aspect of their restaurant. They use kiosks for ordering, track social engagement metrics, and monitor Toast Analytics to optimize ticket times, observe customer trends and dining habits, and filter out the outliers to get an honest representation of their customers. Keith stressed the importance of understanding your data before trying to solve perceived problems. "Sometimes data tells you things you might not want to hear," said Keith. It's important to trust your data and use it to be more honest and critical of your restaurant's business strategy.
Related Restaurant Resources