In the restaurant industry, change is constant — especially when it comes to technology.
While restaurant technology can certainly make your restaurant more efficient, some restaurant owners worry it could distract them from what's really important: delighting their guests.
Though it's understandable to hesitate to adopt the latest in restaurant technology for fear of it affecting your guests' experiences, it could make your guests happier in the long run.
According to Toast's 2019 Restaurant Success Report, 73% of diners agree that restaurant technology improves their guest experience, and 95% of restaurateurs agree that restaurant technology improves their business efficiency.
So why not give the people what they want? Here are 22 proven ways – both staff-driven and tech-driven – to delight your guests in 2020.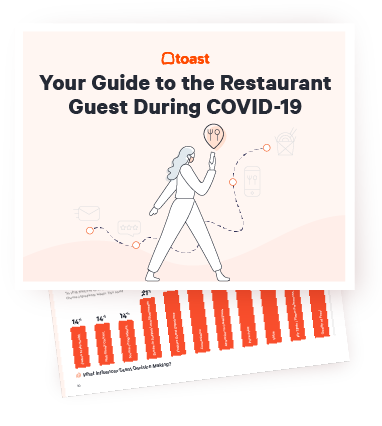 Guide to the Restaurant Guest
Learn how to navigate changing guest expectations during and after the COVID-19 health crisis.
Download
1. Genuinely welcome your guests.
Can we finally drop the scripted, "Welcome to [boring restaurant], my name is [bored]"? Consider training your staff to offer a real, genuine welcome, just like they'd offer to guests in their own homes.
2. Train your servers to sell each dish.
If a sandwich is described as "a steak sandwich with aioli and arugula," it sounds good, but if your staff says, "it's a steak sandwich where we marinate the meat for 24 hours and serve it on ciabatta bread with arugula and a house-made aioli," it sounds better.
This goes for wine, too, where the difference between bottles can be significant to the check size, so make sure your staff have tasted everything on the menu: The staff will see these tastings as an investment in their food and drink knowledge, and they'll be able to sell to your customers better. Win-win.
Download our free Menu Engineering Bootcamp to learn how simple changes can increase sales by 27%.
3. Gather and implement guest feedback.
At the end of your ride, popular ride hailing services Uber and Lyft send users a "rate your ride" prompt and ask for instantaneous feedback about your experience.
The same strategy can and should be applied to restaurants. Toast's Guest Feedback feature helps you do this seamlessly. The best time to get honest feedback from your customers is right after they've visited your restaurant, while their dining experience is still fresh in their minds.
With Guest Feedback, you can ask every customer to rate their experience — thumbs up or thumbs down — while they're paying their bill on a handheld device, kiosk, or online. You also have the ability to ask if you can reach out to the guest for more thorough feedback.
At the end of each week, tally up all the responses submitted and do what you can to learn from it. If there's something egregious that you were able to fix, contact the guest and thank them for their honesty, and invite them back to see the improvement for themselves.
There are many ways to gather guest feedback, and even old-fashioned comment cards are miles better than nothing. Wouldn't you be more likely to become a repeat customer if a business owner demonstrated they genuinely care about your feedback?
4. Give servers handheld technology.
That little computer you have in your pocket is far more than just a phone. It allows you to perform tasks of all shapes and sizes and instantly access a wide world of information, all in the palm of your hand. Imagine if this technology existed for restaurants. Well, now it does.
Toast Go™ offers restaurants the full, robust functionality of a traditional POS terminal in a comfortable handheld. Servers can take and check on orders, send memos to the kitchen, split checks, take payment, and more — all without having to leave the table.
Restaurants that have adopted Toast Go into their operations have been able to decrease table turn time, increase revenue, and consistently provide guests with a personalized, hands-on experience.
Gone are the days where servers would run back and forth from table to terminal, hoping to remember every guest's order and accompanying modifications or who paid for what on which card. Toast Go™ offers restaurants a streamlined solution to cumbersome chaos.
5. Take care of the kids.
If the kids are happy, so are the parents. Offer a bagel on a string for young ones to chew on, and always have some Cheerios available, or even plain crackers. Make sure you also have plastic cups with lids. By offering these little things to calm down a baby or toddler, the parents will relax into a great experience that much faster.
6. Take payment at the table.
Guests love the ability to pay, sign, and tip at the table. When a guest asks for the check, they're ready to leave – hopefully they're full and happy, so why let their final impression of the restaurant be how long they waited to be able to leave? One of the most frustrating parts of the restaurant experience is waiting for a server to notice you, come over, leave, bring the bill, leave, get your card, leave, and bring the receipt for a tip and a signature. Taking payment at the table eliminates this multi-step (in both senses of the word) process altogether.
Another perk to this new payments process is the ability to offer text or email receipts.
7. Transfer tabs and split checks.
It can be frustrating for guests when they order drinks at the bar and are then told to close out their tabs before sitting down for dinner. It's not the end of the world, but it can be annoying. If your point of sale doesn't offer a preauthorization functionality, you need to switch to one that does.
Preauthorization allows restaurants and bars to start a tab for a customer, swipe their card once, and return the card to the customer, rather than holding it behind the bar. This allows restaurants and bars to charge the customer's card for their order in the event they leave the establishment or switch to table service.
Learn How Drink Uses Toast's Preauthorization Function
In the same vein, it's equally annoying when a restaurant can't split a check. Your system should make it easy to split checks by table, person, or even menu items.
8. Give a pre-service gift.
If appropriate, offer your guests something delicious right when they sit down, such as a sip of house champagne, or a small bowl of soup. Get them excited about the meal ahead by teasing it before the server even arrives.
9. Give a post-service gift.
If Olive Garden can put a chocolate in the check presenter, so can you. Get more creative than mints. In a restaurant I worked in, we sent our dinner guests home with a small portion of scratch-made granola so they could revisit their lovely dinner over breakfast the next day. It's an awesome way to leave a lasting impression on guests and have them clamoring to come back for more.
10. Try self-serve kiosks.
After seeing self-service kiosk technology improve and seeing guests quickly adapt to understanding kiosk functionality, I'm now a believer. I would not consider operating a counter service, quick service, or fast food restaurant today without offering guests the ability to enter their own orders.
Honeygrow, a healthy-living, quick-service concept that offers guests a customizable stir-fry and salad menu, is a great example of how restaurants can successfully sustain a business and create a memorable dining experience on self-service alone.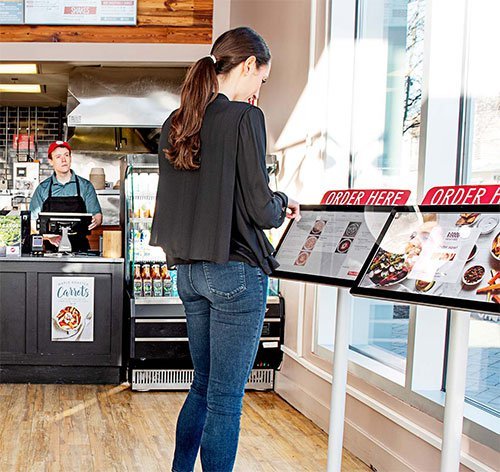 Upon entering Honeygrow, guests are met with self-service screens where they build and customize their meals to their heart's content. Their tickets are then immediately sent to the line, where the Honeygrow team assembles the order and calls out the guests number when ready.
At no point in the entire ordering and delivery process will a guest interact with a server; this enables Honeygrow staff to devote all of their time, energy, and attention into delighting guests by creating the best dishes possible.
With 28 locations and counting, Honeygrow has proven that self-service is a viable, sustainable option for quick service concepts.
11. Genuinely thank your guests, because they're the reason you can do what you love.
Train servers to thank your guests for spending their meal with you, and in the same interaction, exceed their expectations and let them know you'd be honored to serve them again on their next visit. Remember: Make it real, no scripts here.
12. Use the guest's name.
It's been proven on brain scans over and over again: There is no word we love to hear more than own names. Pass the guest's name from the host stand to the server, and be sure it's used when appropriate. Don't go overboard or it'll feel unnatural – dropping their name once or twice throughout the meal is perfect.
13. Set up a loyalty program.
I have always loved loyalty programs. In the past, the technology for hosting a loyalty program held many restaurants back from starting a program in the first place.
Now, technology is no longer an excuse. Rewarding your loyal customers for their patronage is a surefire way to transform them into lifelong, repeat customers. The more you invest in growing your repeat customer base, the less you'll have to invest in getting new customers in the door, which is undeniably trickier.
An effective loyalty program is one that has a CRM — Customer Relationship Management — component, which typically includes the ability to stay in touch with your customers and personalize their future experiences by recording customer preference data.
Toast has an integrated CRM component that allows restaurants to collect and store data about customers' behavior and preferences, thereby creating a detailed profile for each and every guest.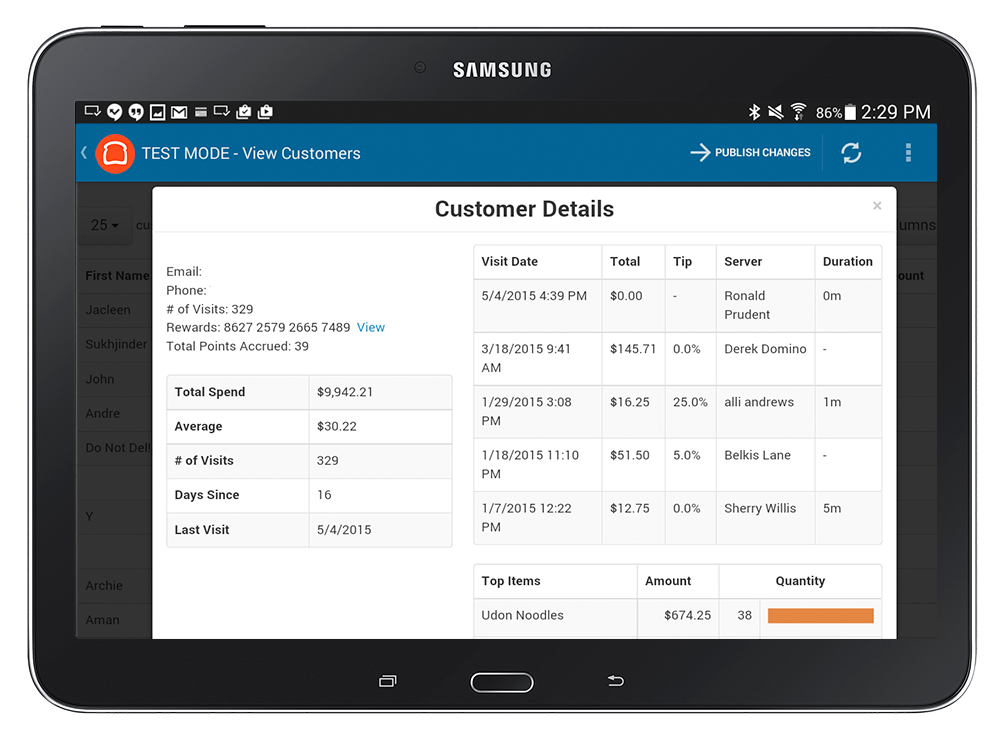 When a customer signs up for your restaurant loyalty program, the data from Toast's CRM software allows you to track rewards and tailor your correspondences to include offers and promotions tailored to their preferences.
14. Involve customers in new product offerings.
If you're planning on changing out a few beers, ask your guests what they want, post it on social media, and get them involved. It's easy to increase restaurant sales when you find out what your guests want and then give it to them. It's as simple as that.
15. Offer online ordering.
It's here, and it's here to stay: Online ordering is estimated to surpass a $76 billion valuation by 2022.
Guests expect to be able to order food online for pickup in the restaurant or for delivery to their homes. As opposed to traditional call-in ordering, online ordering software is easier, faster, and more accurate. Plus, if it integrates with your POS system, you can fill orders faster and view online ordering analytics in your system.
16. Third-Party Delivery
I know it can be expensive, but investing in a third-party delivery service for your restaurant is worth it.
For one, third-party delivery services cost about the same as if you had your own delivery person; more importantly, good third party delivery services like Grubhub or UberEats also double as marketing channels, which will bring you more business.
At the moment, there are only a handful of sites that aggregate restaurants with online ordering and delivery available in your area. Sites like Grubhub, UberEats, Eat24, Doordash, and Postmates have a ton of people searching on their sites at any given moment, which increases your likelihood of being found.
17. Allow for online reservations.
Online reservations are not only much easier to facilitate and organize than reservations made by phone and recorded by hand in a reservation book. 83% of restaurant-goers say the ability to make online reservations is very important to dining experience.
By moving your restaurant's reservation capabilities online, you can also record and save data about each customer, and integrate it into your restaurant's CRM platform.
18. Take advantage of chatbot technology.
If you don't know what a chatbot is, don't worry; I didn't either until about six months ago.
Certain customer messaging platforms — like Facebook Messenger or Drift — allow companies to respond to common customer questions with automated responses. Say2eat, a messenger bot built specifically for the hospitality sector, offers customers a way to order, redeem promotions, or set up a reservation with their favorite restaurants. Since Say2eat directly integrates with cloud-based restaurant point of sale technology like Toast, restaurant owners and operators can easily fulfill these orders as if they were placed on a handheld or traditional terminal.
Domino's has successfully leveraged the power of chatbot functionality with their new Domino's Anyware campaign. Domino's encourages users to place orders using the messaging platform of your choice.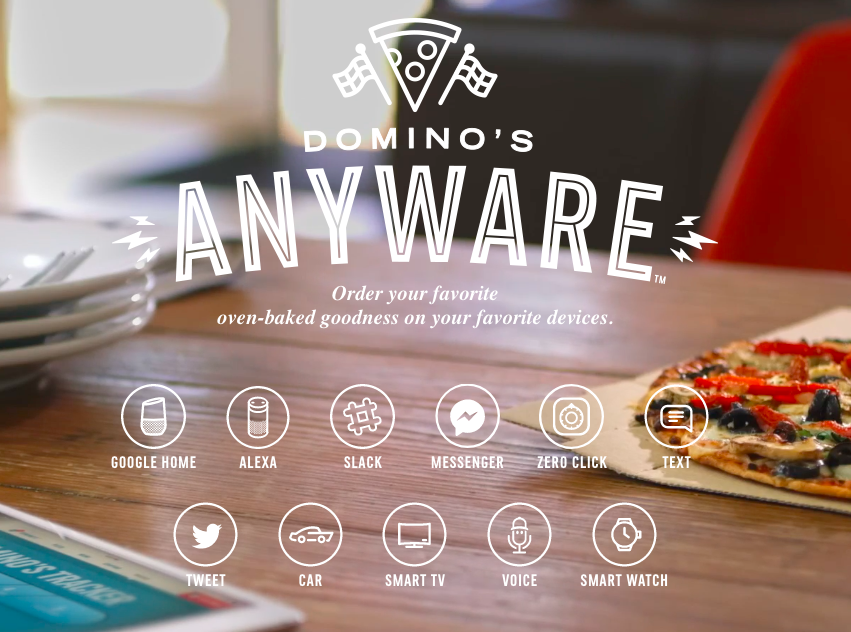 Customers place their order by interacting with a chatbot, which converses with customers by responding with automated messages created by the Domino's team. As you can tell by Domino's campaign , the possibilities (and platforms) are ENDLESS.
19. Train your staff about dietary restrictions and allergies.
Your staff must know the menu inside and out, and they must know what's vegan- and gluten-free without having to "check with the kitchen." Some systems include all ingredients in each menu item detail, so guests can simply check on their mobile POS right at the table for this information.
Being certain that a dish doesn't contain nuts is paramount for a guest with a nut allergy – having to go ask the kitchen automatically instils doubt in the guest, leading to a less-enjoyable experience.
20. Offer fun non-alcoholic beverages.
Do you need to improve your drink sales? Nothing will raise your check average faster than a ginger, lime, and mint spritzer on a hot summer day. It'll be the cheapest item to make on your menu, by far, and it provides exciting drink options for your sober clientele that are probably sick of regular sodas by now.
21. Allow guests to sample wine & beer.
This is a little thing that can go a long way: If a guest asks for a sample of wine or beer, always be willing to bring them one, showing superb customer service.
22. Give away the recipe for your signature dish.
This is taboo, but having a transparent restaurant culture could really make your establishment stand out. So give away the recipe of your signature dish, without leaving anything out. Have your chef share how they make it on social media. Trust me, your guests will still order at your restaurant. They may even order it more often.
How Delightful
Find ways to incorporate these little touches into your restaurant that are sure to delight your guests.
After all, delight is not about just giving guests what they want; it's about giving them more than what they want. It's about anticipating what they want, exceeding their expectations, and creating raving fans who will happily return.