DISCLAIMER: This content is provided for informational purposes only and is not intended as legal, accounting, tax, HR, or other professional advice. You are responsible for your own compliance with laws and regulations. You should contact your attorney or other relevant advisor for advice specific to your circumstances.
We bought a failing pizzeria in March 2014 with zero prior restaurant experience – just in time for the so-called "busy season."
The thing is, we didn't really get to experience that rush. At the start, we were just trying to make the rent payments for what was deemed an "okay location."
Our backgrounds are in engineering – not food – so it's pretty crazy how we ended up with (now) two pizzerias. We wanted to be in business for ourselves, and we wanted to get out of dusty central New Mexico. To do it, we moved our entire family to a town near San Antonio where we had no connections, with no fallback plan.
Four and a half years later, here we are, having survived that initial startup period and now happily at what's known as the "median restaurant life" of 4.5 years, according to a research article by Philip Stark.
That's key for a business of any kind to survive – that do or die mentality – because when it gets tough (and believe me, it will), you have to face the reality that your restaurant will close if you can't figure something out. And sure enough, you may very well find a way out and keep charging ahead.
Below, we'll share some of the myths, facts, pros, and cons of owning a restaurant today.
Opening a Restaurant Checklist
So many things go into opening a restaurant. Use this free PDF checklist to set your new restaurant up for success.
Download
The Myths and Facts of Owning a Restaurant

Myth #1: 80% (or 90%) of Restaurants Fail in the First Year
Actually, only 17% fail within the first year according to that same study by Philip Stark.
But keep in mind – the word "fail" is rather vague.
A restaurant may not fail, but may not be profitable either. It's critical to know your numbers as a restaurant owner, like break even point and inventory costs. That's why you need to calculate some of these numbers before you open your restaurant.
Here's how: You know your fixed cost such as rent and insurance, and you can have a general idea of how much your bills will be.
Then, calculate your big variable costs: food cost and labor cost.
Do the math for labor: How many team members will you need all day, on slow nights, and on busy nights? How much will you pay them per hour? Will you work in the restaurant? What will your hourly rate be?
These are all simple math equations that we must do before opening a restaurant. One of the reasons many restaurants "fail," or aren't profitable, is because they haven't done the math.
If you're collecting $50,000 per year in profits and working 70 hours a week – seven days a week – then maybe it's better to get a job than having no life being your own boss.
Make a timeline and do the math to avoid failing.
Myth #2: Great Family Recipes Make a Great Restaurant
There was a great cookie business that started up near us. The owner had delicious cookies – and we were able to sell some of her cookies at our restaurant.
She rented a little location and even offered free cookie deliveries. The issue is that she didn't create a business – she just took her hobby out of her home and into a brick and mortar.
She thought just because customers loved her family recipes, she would be successful.
She had to close the doors within three months.
Moral of the story: If you're in the kitchen too much, you're neglecting the key aspect of your business. The fact is you will never have a profitable restaurant without a great team and service standards, even if your food continues to delight.
The process of hiring, training, documenting, and retaining the team will take most of your time. We're talking 30+ hours per week if you have a large team, from my experience.
Restaurants name staffing as their biggest challenge to success, and the more proactive an approach and more realistic your expectations are when opening a restaurant, the better.
Myth #3: If You've Worked in One, You Know What it Takes to Own a Restaurant
Just because you've worked as a server or a chef for many years does not mean you know how to be a successful restaurant owner.
A restaurant business consists of way more than just food and service. It involves:
Legal
Payroll
HR
Marketing
Managing a team
Maintenance
System creation
All these areas require different sets of skills, and in order to be successful, you either need to master them or pay someone to help you with them.
Remember, if these aspects of your restaurant are neglected, then chances are you'll fail at some point – or simply continue to be stuck in operations and have no creative or financial freedom.
Your goal should be to own a successful restaurant that doesn't own you.
My husband and I each continue to work on the non-food related skills I mentioned above daily. If you're thinking of opening a restaurant and have years of experience working at one, I suggest you start acquiring some of the skills listed above and set yourself up for success for ultimately owning a restaurant of your own one day.
Myth #4: There's Always Someone to Blame
The fact is that, as the restaurant owner, there's no one else to complain to. The buck stops with you.
When you're an independent restaurant owner, there's no corporate to call for help. As an independent owner, you have a much higher risk of failure, according to Entrepreneur.com, but you also reap much higher reward.
In short, you're the one who needs to fix your restaurant's problems.
Let's revisit the idea of solid teamwork again. The team owns the wins, but ultimately, you own the embarrassments, the losses, the poor reviews, the bad hires, and the equipment damage due to staff negligence. This is the cost of being in business.
The truth is, if you keep at it, continue to master the skills we listed above, invest in your team, create training and operational systems, and develop marketing strategies day in and day out. Then, in just a couple of years, you can start to reap what you've sown.
So, be patient, but stay at it.
The Cons of Owning a Restaurant
Con #1: Competition
As of 2017, there are 647,288 restaurants in the U.S.
That's a lot of competition, but it isn't just them.
Walmart, Target, Whole Foods, meal kit delivery services, and Amazon all are competing for space.
Think about it – we sell pizza, but Walmart and HEB (in Texas) are selling a similar size pizza for less (with cheaper ingredients) right by the checkout line. How much business have we lost to convenience when we are competing against the Goliaths?
As for direct competition, right here in Texas, there are more than 45,000 restaurants.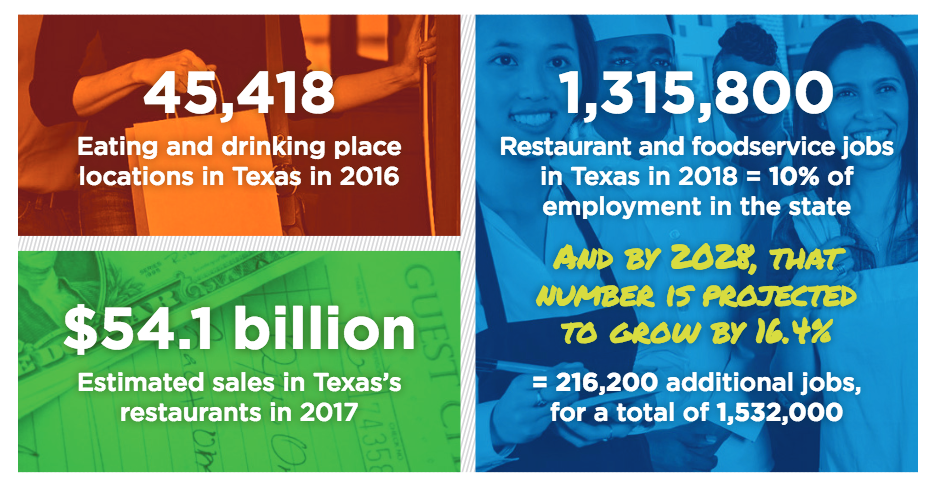 That means business is good and competition is high, too. If you've seen that Blue Ocean book, restaurants really aren't in it.
It's more of a blood red ocean with some real whales trying to make a splash (looking at you, Amazon…). And while you're trying to survive, you also need to compete with the same whales for employees.
Con #2: Long Hours
One valid con of owning a restaurant is the long hours.
You know about the long hours going into the restaurant business, but you don't know how it will feel.
When we're excited and we've carried this dream of owning a restaurant, we tell ourselves and our family, "Oh, we'll handle it, it'll be fun."
But the truth is: We don't know what we don't know.
You don't actually know what it'll feel like until you own a restaurant. Your family has no idea how it will feel. You body doesn't know how it'll feel working 60+ hours a week.
So, simply go into it with an open mind. It'll be tough but will be worthwhile once you get to the other side.
Con #3: The Family Commitment
When we bought our restaurant, our son Mark was seven months old. We worked 100 hour weeks for a year and a half. Fortunately, my parents lived with us and worked at the restaurant so the children were with a family member at all times.
Most of that stressful time is a blur to us. We don't have that many photos and videos of him from that time, and that's sad.
But after two years of blood, sweat, and tears, we were able to double our restaurant sales and become profitable. We were able to create many training videos and systems to manage the restaurant remotely.
Now, we're able to spend so much quality time with our kids and involve them in the different aspects of the restaurant business.
So, we may have lost that time with our kids in the first two years, but that's what it took to build freedom that we get to enjoy and spend a whole lot of time with them now. Also, it's great to tell stories to them and have them live what it takes to build anything that lasts.
Hard work combined with smart work pays off.
The Pros of Owning a Restaurant
Pro #1: Buying a Restaurant Can Be Affordable
Restaurants are a wonderful entry-level gateway to the business world, and they have a fairly easy barrier to entry. The cost to open a restaurant will vary depending on gross sales and other factors, and can sometimes run into a seven-figure range.
But in some cases, owning a restaurant can be much cheaper than purchasing a home or getting a college degree.
Check out the website BizBuySell.com, where they list restaurants and brick and mortar businesses for sale by state. You can find the contact information of the broker there, see the profit and loss statements, and go visit the restaurant with the broker to meet the owners and ask questions to see if it's a good investment.
Pro #2: It Gives You Ownership Over Your Life
A restaurant can be that business that exists for one and one reason only: to be a vehicle to help you achieve your life goals.
Our restaurant has allowed us the freedom and ability to travel, and that's one of the best pros we've found.
We have the freedom to be in charge of our schedule, spend a lot of time with family, visit other restaurants, and much more. Just this summer, we were able to spend time at the beautiful beach by Destin, Florida with our family.
It may take some time, but it's very possible.
Pro #3: Tech Makes Your Job a Lot Easier
Another reason we love being restaurant owners is that – more than ever – you can use technology to your advantage and manage much your restaurant's operations remotely.
It's critical to have a reliable POS system that makes it easy for you to monitor key restaurant variables in real-time from your phone: sales data, labor costs, order history, customer data, inventory, etc.
For example, if an unhappy customer leaves us a private message on Facebook regarding their order, I can look up their order history in our POS system and give them a refund and text them the receipt from my phone in a matter of minutes.
On top of the POS system, we use simple solutions like Google Drive to document our materials and meeting notes, Google Calendar to organize our company events with staff, and scheduling software to save us thousands of dollars (especially when it integrates with your POS system).
Finally, we use the logbook feature of our scheduling software religiously. Everything gets documented daily by multiple managers throughout the day. My husband and I read the logbook daily and are able to know what's going on in our restaurant – without needing to be there all the time.
Pro #4: If You Do it Right, It's a Blast
At the end of the day, we love being restaurant owners because it's fun.
We've been able to have a great impact in our community, connect, and meet people we never thought possible.
Owning a restaurant is an experience that is rewarding beyond words.
What We Learned from Owning a Restaurant
Owning a restaurant will be one of toughest things you'll ever do. It will press you and take you to your limit. In the beginning, money will be tight, you will work long hours, and you will probably not be profitable.
Staff turnover hurts, and customers are not understanding or gracious at times. You already know this is a tough industry.
But keep at it. Sharpen your non-food skills and invest in your team daily. Know that when you win, you will win big – and so will the restaurant you own.
Related Restaurant Opening Resources
Restaurant Opening Calculator
This calculator lays out some of the fundamental financial costs of opening a restaurant, so you can start planning and bring your dream restaurant to life.
Download