For reasons of public health and safety, and because running a restaurant on takeout and delivery alone is not easy, many restaurant operators have chosen to close their doors indefinitely, with plans to come back eventually. Many have laid off most or all of their staff, as they push through this crisis and try to rebuild.
Several major restaurant groups have gone this route. Seattle chef Tom Douglas was one of the first to announce he is closing his restaurants for the next two months due to COVID-19, and had to lay off his 800-person staff for the time being. Douglas reported that by the time he decided to close, traffic in his restaurants had already gone down by 90%. Danny Meyer laid off 2000 of his employees across Union Square Hospitality Group, so that his staff don't have to deal with reduced hours and uncertainty and can just pursue unemployment for the time being. He's also set up an employee relief fund, including all of his own compensation.
Independent restaurant owners, like Irene Li of Mei Mei in Boston, have also chosen to close and not try to resume operations as "normal."
"I don't think anyone anticipated how rapidly things would evolve," Li said to us in an interview. She decided to close because asymptomatic contagion is very hard to control, and is contributing to the rapid spread of the virus. She wanted to be one step ahead of the government mandates.
This is an unprecedented situation, and it's ok if you don't know what to do with your restaurant space that's suddenly empty. Here's a few next steps you can take as you prepare to weather the storm and eventually come back from a COVID-19 restaurant closure.

And, just so you know, this content is for informational purposes only and is not intended as legal, accounting, tax, HR, or other professional advice. You're responsible for your own compliance with laws and regulations. Contact your attorney or other relevant advisor for advice specific to your circumstances.
What to Do If You Had to Close Your Restaurant Because of COVID-19
Manage Your Staff Like Your Restaurant Didn't Close
Provide Staff Support
When deciding what to do during this crisis, Irene Li's first priority was keeping the Mei Mei team up to date. "They've been hearing from me every day, sometimes twice a day," she said. She even sent out surveys to get a sense of their financial situations, to gauge how many shifts they could give up without very negative financial consequences.
"We are doing everything we can think of to make sure that we get through this together," said Li. That includes providing as much support and guidance as possible in terms of helping laid off staff sign up for unemployment.
If you're in the process of deciding to close or if you've closed, the best thing you can do for your staff right now is be completely honest and transparent, and prepare to help your team through the paperwork — especially if you have team members for whom English isn't their first language.
Ask your staff for what they need, and see if there's any way you can help them. If they have questions you aren't sure about during this process, do what you can to find the answer. Your staff is likely looking to you for guidance, so do everything you can to lead them.
Pay Staff to Operate as a Soup Kitchen or Hospital Cafeteria
Boston chefs Ken Oringer (Toro, Coppa, Little Donkey, Uni) and Tracy Chang (PAGU) have both closed their restaurants in the past two weeks, but they put their heads together and decided to do something to help their staff and the healthcare workers on the front lines.
They've started Off Their Plate, a group of chefs and cooks across Boston, New York, San Francisco, Baltimore, and Pittsburgh, that are using their skills and kitchen facilities to prepare food for healthcare workers who are treating coronavirus. It's a way to give back to the healthcare community while still getting their cooks paid. Irene Li of Mei Mei is also participating.
On another high note, cities are stepping up to support their restaurant workers: for example, The City of Cambridge is paying restaurant workers to make meals for people without homes.
Connecting your staff to initiatives like these will not only support them by getting them hours of paid work, but they'll also show your community that you're invested in them, and give guests all the more reason to support your restaurant once your doors reopen.
Get Your Restaurant Finances in Order
Talk to Your Landlord, Your Bank, and Your Partners
During times of hardship, it's crucial to communicate constantly. If it's looking like you won't be able to pay your rent, check out this article from Eater with advice from a lawyer on what to say to your landlord.
Keep your bank and your financial partners in the loop as well — if either are able to provide additional support in helping you get through this crisis, now is the time to ask.
Apply for a Disaster Loan or Relief Program
All 50 states are officially in Disaster mode because of coronavirus, so everyone is eligible to apply for a disaster loan designed to help business owners who have been hit hard. For more info on applying for disaster loans, click here.
And for a list of relief programs and sources of aid for restaurants, check out this resource list.
Rally for Government Support
You are not alone in this crisis, and restaurants all over the country are joining together to ask the government to bail out independent restaurants. Yesterday, the Senate passed a stimulus bill that includes $350 billion in forgivable loans for small- and mid-sized businesses. Subscribe to our newsletter to stay up to date on what this could mean for your business's ability to bounce back.
You can also band together with chefs in your local community to create petitions, and get on the phone to talk to your local representatives to share why you need help. Don't forget to announce your initiatives to your patrons as well. Include the link to the petition on your social channels and give people every ability to help the restaurant community.
Open New Revenue Streams
Even if your doors are closed and you're not offering takeout or online ordering, you can still set up and promote new revenue streams to keep some money coming in while you're closed.
The easiest place to start is to sell (and widely promote) e-gift cards that your guests can buy online. This is the safest way to interact with your customers.
Blossom Bar, in Brookline, MA (which is still offering takeout and delivery), is selling cocktail kits that you can buy to make any of their award-winning cocktails at home.
You can also help your guests stock their freezers: keep a small pool of cooks on staff, and prepare and sell bulk items for people to pick up curbside and freeze. Since you've closed, you can sell these bulk items intermittently; it doesn't have to be every day. Mei Mei is selling trays of dumplings and other reheating-friendly items and advertising it on social media whenever they're available.
Another way that Mei Mei has kept a little extra revenue coming in is by selling dumpling class gift certificates to be used in the future once this all blows over. If you've never sold cooking classes before, consider it — it's a great way to get customers in the door, and since they're ticketed events, they're paid for up-front and you'll know exactly how much product you'll need per person.
You can also plan future events and sell tickets, like a grand reopening (but make sure you include a disclaimer that since the future is uncertain, you can't guarantee when/if the event will happen). Market these events as a mini-investment that your guests can make in your future.
Finally, you can get a boost of cash by selling your inventory and operating like a convenience store.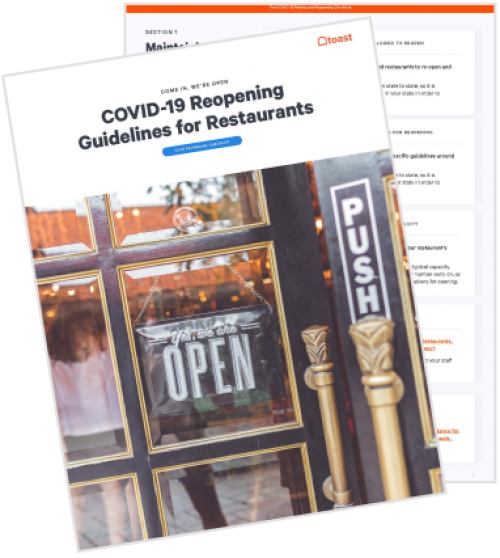 Restaurant Reopening Checklist
Learn how to approach reopening your restaurant during COVID-19 with this 78-item checklist.
Download


Prepare For When You Can Re-Open Your Doors
Pay Staff to Deep-Clean Your Restaurant
If you've decided to close your doors, you can give your staff the option to stay on the payroll for an extra week to do some serious deep-cleaning. Get your restaurant cleaner than it's ever been, so it'll be ready for your return.
Plan a High-Profit Menu to Come Back With
When this crisis passes, and you do come back and open your doors, money might be tight. For this reason, you'll want to plan a high-profit, smaller menu to come back with.
Your guests will be so excited that they're able to dine in with you again that they won't mind if the food is a little different.
Since you have some time to plan now, do a full menu engineering analysis of your menu. Find out which items are high-profit and high-popularity (called Stars), which ones are high-profit and low popularity (Puzzles), which ones are low-profit and high popularity (Plowhorses), and which ones are low-profit and low popularity (Dogs).
Create a new menu for re-opening that's composed only of your Stars and your Puzzles — basically, the items that are relatively cheap to make and easy to love. Make sure to update your website to share menu changes with prospective and existing customers.
Then, you can start communicating with vendors about what you'll need when you come back.
Build your prep list and plan of action for four to eight weeks from now.
If you feel like you never have time to plan or update anything in your restaurant, now's your opportunity. Keep your eyes focused on the future, and plan ahead to make your comeback as impactful and profitable as it can be. For more resources around how to help your restaurant, your community, and your staff right now, check out this resource.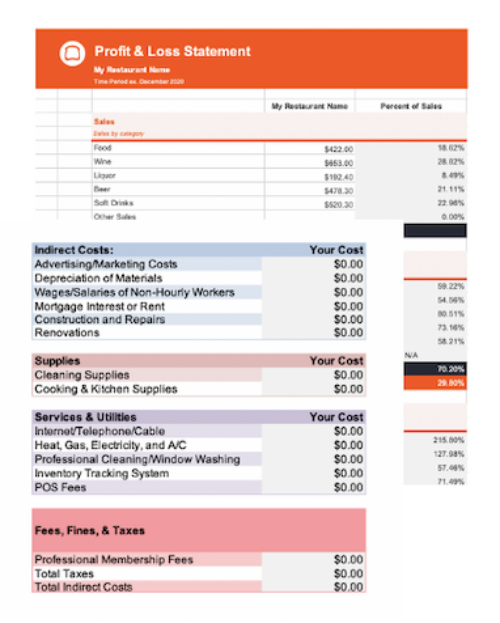 Manage Your Restaurant's Finances During COVID-19
In this Excel spreadsheet, you'll find customizable templates, tools, and calculators to help you analyze and optimize your restaurant financials.
Download