With COVID-19 restrictions in effect in more than 30 states, a huge percentage of the restaurant industry is relying solely on takeout and delivery.
This has been a massive shift, and it's taken a lot of adjustments to all the different elements that go into running a restaurant.
One of the things you'll need to change is your marketing plan. How do you make sure your guests know about your online ordering offerings, and how do you entice them to order again and again? With an online ordering marketing plan that's optimized for customer experience as well as for your own long-term, sustainable success.
Here are some ways you can promote your online ordering program to both increase orders and build strong customer relationships, even at a distance — and tee you up for success when your business returns to normal.
1. Update your Google My Business info
Your potential customers are probably already sick of cooking. They will search on Google for take-out and delivery options. The question is whether they'll be able to find your restaurant, and be able to find out how to order from you — so let them know you are very much in business and accepting online orders.
If you haven't already, claim your listing on Google My Business. Then, edit your listing to add your online ordering system — you can also share your online ordering site through the Posts feature of Google My Business. And while you're there, don't forget to update your COVID-19 hours of operation.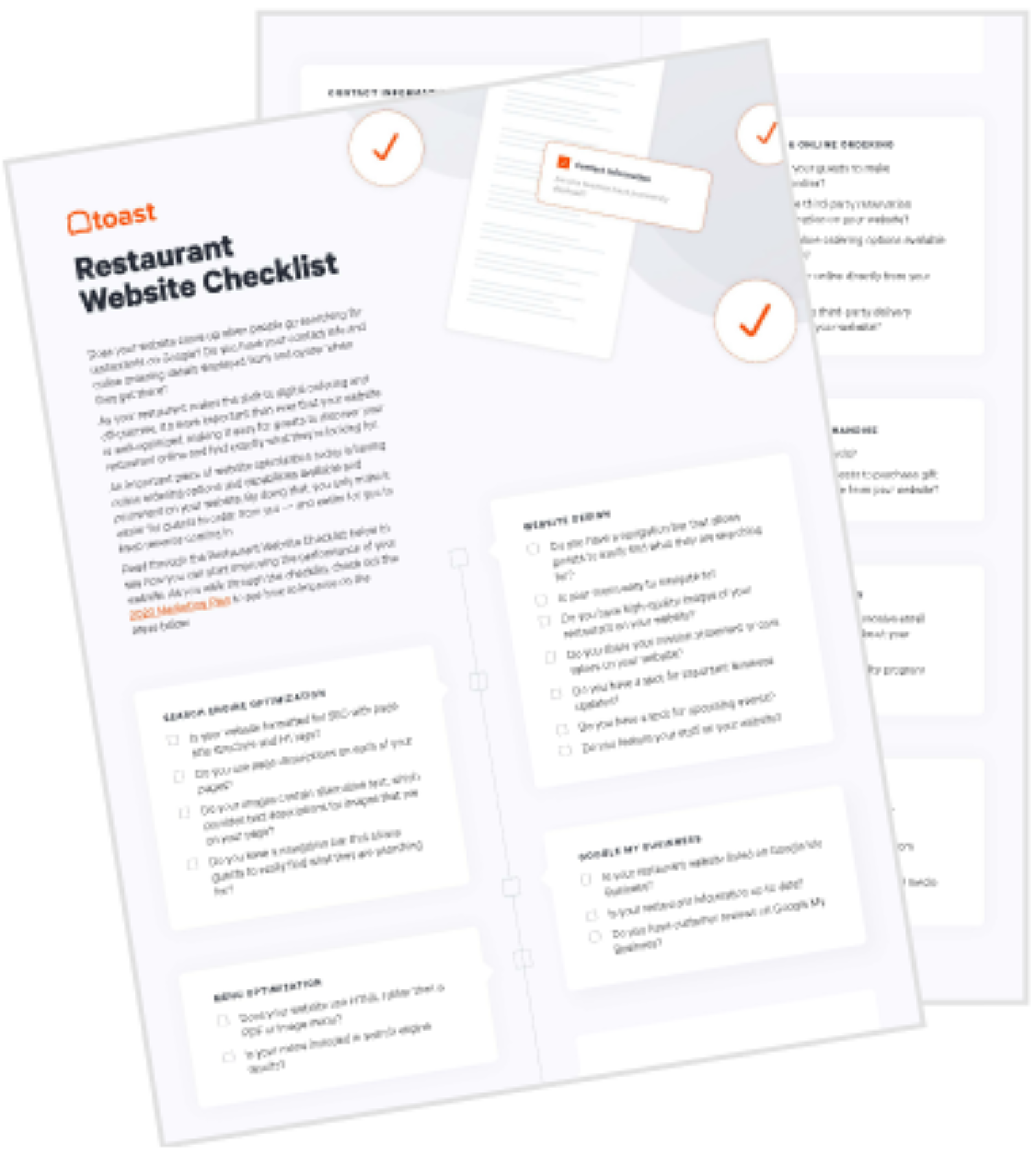 Restaurant Website Checklist
This template will help you update and optimize your website, so guests can easily find and order from you.
Download
2. On your website, place online ordering front and center
Your restaurant's website should include an abundance of photos and descriptions of your food, and it should include your menu. But especially right now, the most important element to feature is how and when your guests can order for take-out and delivery.
Add a link to your online ordering menu to your restaurant website. You can use these buttons for ToastNow, which allows restaurants to access online ordering and e-gift card services, even without having a Toast point of sale. If you use any other services, you can find their online ordering button images on their websites.
Consider how Area Four in Boston has updated its website with an immediate pop-up. Right away, Area Four lets customers know that they are open for to-go and delivery, and shares its hours and availability.
Then, you can use photos to help you upsell profitable items and provide context to your menu. Writing great descriptions is also crucial — Not every customer will know what a gyro or bento box is, so it's helpful to explain what your menu items are made of.
3. Offer special items through online ordering, and incorporate discounts
Many restaurants are changing up their products or offering special incentives during the COVID-19 crisis. For example, Monument Restaurant and Tavern is adding daily specials to its usual menu, ranging from make-your-own pizza kits, EBTV (Everything But the Vodka) take-home Bloody Mary kits, and takeout "Taco Tuesday," all available for takeout and delivery.
Others are offering 10% off for specific days of the week, or incorporating other discounts and promotions.
Use your online ordering app or the online ordering program integrated in your POS system to set up these special promotions.
If you choose to offer discounts or promotions, consider how you word them. Studies show that messaging is crucial when it comes to discounts or promotions. Rather than saying "Save $5 when you order online," try "Get $5 off when you order online." "Saving" is indicative of an inevitable loss, whereas "Get" implies obtaining value.
Now that you've added incentives to your tactics plan, leverage social media to promote your offerings. Don't just show off the food: Turn the camera around and talk to your audience directly. What are you offering? Why is it important for your community to support one another now? Speak from your own point of view. Share your experience.
4. Promote via Facebook and Twitter
Across the country, people everywhere are distancing socially — but not emotionally and virtually. Social media usage has been skyrocketing during the COVID-19 pandemic.
Take advantage of the immediacy of social media. Block 16 in Omaha does this well, and have been updating their Facebook page daily with specials, updates, and notes of appreciation to their customers:

You can also use your Facebook and Twitter profiles to make it easy for customers to order online. Facebook even offers a "Shop Now" button that sits right at the top of your profile.
5. Promote on Instagram and Instagram Stories
Instagram has become the platform of choice for many restaurants, as it's inherently visual and also has the option to post stories that last 24 hours, as well as evergreen feed posts that stay on your page. When things at your restaurant are business as usual, you're probably often too busy to share much behind-the-scenes footage: Now is your chance to pull back the curtain and build relationships with your customers.
For example, share what food your cooks are preparing, chat with one or two of your staff members or have them record a video of themselves thanking your customers, or on Instagram Stories, consider doing a tour of the pantry or a daily check-in of what you're cooking that day. For example, Chef Massimo Bottura is hosting regular cooking shows at home on Instagram Live.
Again, show your personality and your passion for food: Your customers will love to see your team and hear from you. Doing so creates an emotional connection with your audience and builds loyalty that'll help you come back post-pandemic.
6. Create your own unique hashtag
It's good practice to add popular hashtags to your own social media posts so that diners searching for food options can find you — hashtags like #food, #restaurants, #[city]restaurant, and #[city]restaurants. But it's also a great marketing idea to create a unique hashtag for your business that encapsulates your restaurant's vibe and food.
For example, Trina's Starlite Lounge often uses the hashtag #TSLFamily when sharing images of their staff.
Make it an uncommon hashtag you can use more or less exclusively, and share/post it liberally on your own accounts, and encourage your customers to adopt it.
7. Encourage your customers to share on social media
Each customer interaction is an opportunity to tap into every guest's followers and amplify your audience reach. That's why encouraging your fans and customers to post their meals on Instagram, Facebook, TikTok, Snapchat, or any other forms of social media can be a great way for restaurants to generate even more online orders.
But it doesn't happen on its own: You need to ask them to share, both overtly and subtly. Some ideas:
Include a "share your meal" message on your takeout or delivery receipts.
Offer customized receipts, thank-you notes, and messages that feel personal to the individual (more on that below).
Ask them to tell their friends about their experience with your restaurant and include your restaurant's hashtag.
Think about take-out food presentation — even though it's harder to do than in your dining room, make sure your food still looks great on arrival at your guest's dinner table.
Add a collectible postcard or small memento to each order to delight customers and encourage them to post a photo on their social channels. In the words of Mamaleh's Delicatessen owner Rachel Miller Munzer, "Online ordering presents an opportunity and responsibility to uphold a standard of interaction to keep customers engaged."
8. Implement printed promotion
Your storefront might be temporarily closed, but in-store messaging is still vital. Promote your hours and ordering protocol in all signage, including window displays, posters, and neighborhood flyers help remind customers that you are ready to deliver delicious food.
Put yourself in the mindset of someone walking by during a fresh-air outing: what will make them want to order takeout from you later that day? Post daily specials, and connect with your passers-by. Let them know you are here ready to feed them, and that you need their support too.
9. Add custom messaging on receipts
Whether you're printing receipts or offering them to customers digitally, receipts are always a relationship-building opportunity. Customize the words on your receipts to include a callout for your online ordering program. It's a free and easy way to distribute the message to your customers. You can also personalize your receipts to include the name of the customer.
You can also share who made the meal: Which chef is on duty tonight? Look for an opportunity to add a line like: "Prepared with love by Chef Rick."
Even adding something like a simple emoji to the receipt can subtly remind customers that there's a human involved in the interaction, bring your restaurant brand to life and add a friendly tone to any online order. Seattle's Kigo Kitchen experimented with emojis and shared, "Emojis are a hit, the personal connection really resonated with our customers."
A handwritten "Thank You" on a takeout or delivery bag can go a long way toward building loyalty, especially now. Add a personal note from someone in the kitchen, a manager's quote, or fun fact of the day. Boston's Banyan Bar has been keeping it simple and sincere: adding in handwritten "Thank You" notes to every online order bag.
10. Record custom on-hold phone message
Replace the default on-hold music or answering service messaging for a recording that communicates something more personal. Again: Communicate hours, special offers, how to order.
Here's a sample script you might consider for hold messages:
Thank you for calling! We appreciate your order today more than we can express in a hold message. Thank you so much for your patience. And by the way, you can also get immediate service by visiting [Your Restaurant].com to order online.
Here's a sample script you can use for a voicemail message:
Hi, you've reached [your business]. We can't take your call right now, but we're so grateful you've called. Our hours today are ___. You can order by calling back or order online at our website, [Your Restaurant].com. Thank you and stay healthy!
Offering takeout and delivery through online ordering can help pull your business through these difficult times. Think about your online ordering not only as an opportunity to fill orders, but also as an opportunity to deliver stellar food and customer experiences to build long-term loyalty.