DISCLAIMER: This content is provided for informational purposes only and is not intended as legal, accounting, tax, HR, or other professional advice. You are responsible for your own compliance with laws and regulations. You should contact your attorney or other relevant advisor for advice specific to your circumstances.
During the current health crisis, delivery has become the main revenue stream for many restaurants. As more social distancing efforts are put in place around the country, you may find that your restaurant's sales skew toward off-premise dining. Maybe you've even dedicated an extra cook to prepare and pack off-premise orders.
Though it's not without its challenges — including fees for various third-party delivery services — restaurants need to adapt by offering high quality off-premise dining options instead of trying to swim upstream and potentially losing out on customers who just want to enjoy their food on their couch.
One of the other challenges of the surge in delivery and takeout is the impact they can have on online reviews. Search any restaurant's Yelp page and you'll likely find at least a few reviews that have little to do with the food, ambiance, or service in the restaurant. There's been a frustrating surge of off-premise-related Yelp reviews dragging down restaurants' star count due to factors outside of their control, like if a delivery driver got lost or stuck in traffic.
How do you avoid this?
Create an online ordering menu that's slightly different than what you offer in-house, full of profitable dishes that travel well, to both offset the cost of delivery and prevent negative reviews that say a dish got to a guest's dinner table in an undesirable state.
Here are a few tips on how to keep delivery food looking and tasting as fresh as possible.
How to Keep Delivery or Takeout Fresh
Separate the Sauces
Rule #1 of delivery or takeout is package sauce on the side. It prevents any sogginess and allows the customer to add as much or as little sauce as they want. Ever had a pre-made sandwich in an airport where the tomatoes and mayo made the bread soggy, leaving the sandwich structurally unsound and unpleasantly mushy? Don't let this happen to your cherished guests. Pack anything that's high in moisture on the side.
Pierce Containers With A Small Hole
Speaking of sogginess, if you're sending hot food to a customer, pierce a small hole in the takeout container. It'll let some steam escape and prevent dishes from losing their crisp or crunchy texture.
A word of warning: Avoid doing this for items that will immediately spill, like soup or saucy pasta dishes. Instead, do it for dishes like fries, rice dishes, paninis, or crispy chicken tenders.
Hot and Cold Items in Separate Bags
Keep hot and cold items separate – like sushi and miso soup – especially when you're dealing with items that can quickly go bad. If your driver gets lost and the hot and cold food are in contact for longer than expected, it can make for a pretty unpleasant experience for the guest.
Include Reheating Instructions
Certain items get less tasty almost immediately after leaving a restaurant kitchen, but their deliciousness can be easily recovered by a quick toast in a toaster oven or even a minute or two in the microwave.
Deep-fried items lose their crunch very quickly if they're packed warm. If you're known for your crisp mozzarella sticks and you don't want to exclude them from your online ordering menu (more on that below), simply include reheating instructions. Tell your guests that a quick zap in a pan, oven or toaster oven will restore them to their former glory.
You can include reheating instructions on receipts, a notecard added to the order, or even as part of your packaging. It's a way to show your customers that you care about the quality of your food for your delivery and takeout customers as much as your in-house guests. Plus, some diners may honestly not know the proper way to heat up cold food and which appliances to use. In this vein, you'll be helping them out in both the short and long run.
Show Guests What to Expect
Help your guests understand what to expect when they order from you. Buttercup restaurant in Natick, MA, showed guests what one of their meals would look like plated at their restaurant and then what it would look like in their homes.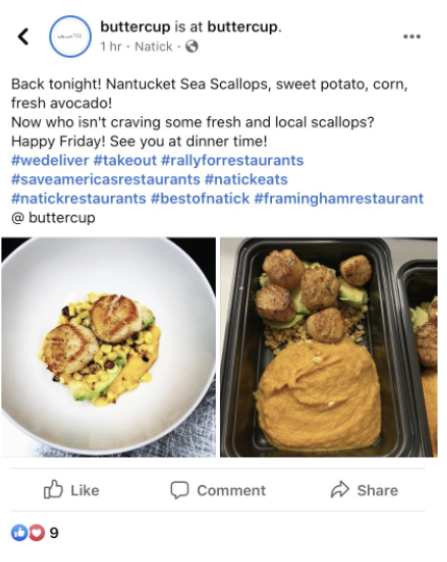 Use Containers with Compartments
If you've had any issue with complaints or reviews saying that food arrived soggy, smushed, or otherwise sub-par, look into containers with compartments. Since they're more expensive, make sure to only use them when putting together specific delivery items that are better when its elements are kept separate.
Don't Deliver Everything on Your Menu
Creating a delivery- and takeout-specific menu is important. You don't have to overhaul the menu completely — you want your food and your brand to come across the same way in-house and off-premise — but it's in your best interest to remove the items that'll be irreversibly damaged by time in transit and add a couple of travel-friendly items in their place.
Don't bother trying to deliver Eggs Benedict, for example. Replace them with a Benedict breakfast sandwich that comes with hollandaise on the side.
You can even market those special travel items as delivery-only on your social channels to attract new diners and entice your regulars to try out your delivery service.
Extend Your Hospitality Off-Premise
If you're a fine dining establishment looking to test the waters of off-premise dining by offering online ordering, try offering a small off-premise menu featuring only the items you know will travel well and invest in upscale details like branded containers and good-quality napkins.
Why? Your guests are paying the same price for a menu item, but with takeout or delivery, they aren't having any contact with your front of house, so investing in higher quality takeaway items helps to show hospitality toward guests in a creative way.
Keep Your Delivery Radius Reasonable For Food Safety and Quality
You may be tempted to offer delivery to your whole city, but the quality of your food on arrival will suffer.
Keep your delivery radius small enough that you can make sure your food isn't in a car (or on the back of a bike) for longer than an hour. This will keep it from sitting in the danger zone — between 40° F and 140° F — for an extended period of time.
20 Travel-Friendly Food Ideas
Now that you know the rules of keeping food delicious even through transportation, it's time to plan out your special delivery items.
We've compiled a yummy list of 20 travel-friendly food items to inspire you as you brainstorm new off-premise menu ideas in line with your existing menu and concept.
Where applicable, we've added cooking tips to help you optimize the travel-friendliness of each item.
Choripan sandwich (baguette, grilled chorizo, and chimichurri). Pack the chimichurri in a small container on the side.

Penne arrabbiata. Cook the pasta for slightly less time to yield a more al dente pasta than you'd serve in the restaurant, as it will continue to cook in transit, softening and absorbing the warm sauce.

Cheese quesadilla or sincronizada (quesadilla with a slice or two of ham inside). They're great room-temperature, but they're even better after being quickly reheated in a pan. Quesadillas that come filled with pico de gallo, chicken, or beans inside don't travel as well — the less filling, the better, in this case. Provide salsa verde, sour cream, and beans in separate containers on the side.

Thai larb (salad made of ground pork, a lime and fish sauce vinaigrette, herbs, and ground toasted rice). This salad is often served with sticky rice, which you should send on the side in a different container.

Greek salad. Greek salad is one of those amazing dishes that get better the longer they marinate — within reason. If you sell a lot of greek salad, you can opt to make a large batch of the feta, tomato, onion, olive, and cucumber mix every couple of hours, and keep it in the fridge, ready to be thrown in a container. If you make greek salad with lettuce, mix it in at the last minute so it doesn't wilt. Send pita or garlic bread in a paper bag on the side.

Gyros (to be assembled by the guest). Provide the meat, sauce, and other fillings separately so the customer can wrap them up in a pita themselves, letting all the different textures in the gyro shine.

Yaki udon (stir-fried udon noodles with meat or veggies). Thick noodles stay chewy longer than their thinner counterparts (looking at you, vermicelli), making them perfect for takeout or delivery.

Tacos. Send the filling in one container, the salsa on the side, and the warm tortillas wrapped in tin foil. Include reheating instructions for the filling and the tortillas.

Lamb (or beef) gozleme (Turkish griddled flatbread pockets filled with seasoned ground meat). This dish is a perfectly portable food, but should definitely come in a pierced container. It's also one that's easily re-crisped in a pan.

Chicken korma. Most Indian curries travel well and can be easily reheated to perfection in a microwave. Send rice, naan, roti, or parathas separately.

Pad see ew. Wide, flat noodles sautéed in a soy-based sauce with greens and beef or chicken stay delicious at room temperature or thoroughly reheated.

Chicken noodle soup. Send the cooked noodles separately so they don't get mushy in the hot soup in transit.

Empanadas or pupusas. These dough pockets filled with meat and potatoes, cheese, or veggies, can be enjoyed room-temperature or reheated. Same goes for pupusas.

Tomato soup. Any pureed vegetable soup will be just as good on arrival as it would be right out of the kitchen. You can send reheating instructions prescribing a quick spin in the microwave.

Boeuf bourguignon. Stews generally travel very well and can be easily reheated. Send bread or potatoes on the side.

Roast chicken with veggies. Delicious at room temperature but better reheated, this is definitely a delivery dish that benefits from the inclusion of reheating instructions.

Fried rice, pulao, paella, or biryani. Rice dishes generally keep well in transit, and can be easily reheated in a microwave. The one big exception is risotto — it can get gummy very quickly, so it should never be delivered.

Pizza, flatbreads, breakfast pizza, or flammkuchen. Any dish made of a crust baked with toppings on it makes for a perfect delivery food.

Steak tips and mash. Charred and juicy steak tips stand up to reheating better than many other cuts of beef, and mashed potatoes travel extremely well.

Halal cart-style chicken or lamb over rice. It's a pretty solid rule that if it works as street food, it works as takeout.
Restaurant Website Checklist
This template will help you update and optimize your website, so guests can easily find and order from you.
Download
How Your Restaurant Tech Can Help With Online Ordering
1. Easy Menu Modification
Your restaurant point of sale should allow you to easily modify your menu, both for in-restaurant and online orders. Whether you're changing up your menu every few months, yearly, or just when you're 86ing an item, it should be an easy process in your POS's interface.
2. Online Ordering Through Your Website
Before the takeover of UberEats, Postmates, and other third party delivery services, the only way to do online ordering was through a form on a restaurant's own website. And now, in the era of all these third-party sites, it's especially important to keep offering delivery and takeout through your website. It lets you process orders without fees (however, you'll need your own driver for delivery).
Even easier, your POS system should be able to take care of direct-to-you online ordering for you. Just be sure to tell your potential guests on social media that you have delivery and takeout through your website so they order that way, instead of through an app.
3. Track All Comps and Watch out for Trends
In the best POS systems, all comps and discounts are easily tracked, and can include explanations about why they happened.
If you've gotten any calls that a particular dish arrived in less-than-stellar shape more than once, and you've had to comp or discount that dish more than once, that trend will stand out in your POS data. You can then update how you send that menu item, modify the ingredients or presentation, and prevent guests from being disappointed about the state of their food. This data can help you create delivery marketing campaigns to suggest the most popular dishes, as well.
And if your POS keeps customer data like emails and phone numbers through online receipts or loyalty programs, you can send coupons to any guest who's been dissatisfied by an online order to try and get them back in the (virtual) door.
Adapting to online ordering can make a huge difference for your bottom line, and all it takes is a little creativity — and maybe one extra staff member to keep all those online orders running smoothly.
To learn more about optimizing off premise dining, check out the Toast video course on online ordering & delivery.
Related Restaurant Operations Resources