Creating a seamless transition between the many touch points in a dining experience is crucial to winning a repeat visit. However, an otherwise fabulous dining experience may be all for naught if guests are left waiting for their restaurant bill.
It's a shame to see the efforts of your front- and back of house team undone by a lengthy, drawn out, guest checkout experience.
In this post about making paying the restaurant bill a painless process, we'll cover specific ways you can speed up the payment process in your restaurant, including training tips and technology that help guests pay their tab quickly and easily.
Why is Paying a Restaurant Bill Such a Headache for Guests?
Meet Gary the Guest, sitting at table 5 wrapping up a delicious meal of home-made meatloaf followed by an oversized slice of carrot cake. He finishes up his last bite of cream cheese frosting, lets out a satisfied sigh, and then sets his sights on getting the check. He pushes his empty plate and cutlery to the edge of the table to signal to the staff that he's finished and scans the room for his server.
Several minutes go by before Gary's able to flag down his server, who seems quite flustered. After asking for his bill, Gary waits a few more minutes before his server drops the check and runs off to tend to another guest.
Gary notices he's been overcharged for his carrot cake, which suddenly doesn't seem so sweet. He then finds himself in a downward spiral of waiting: He waits to get his servers attention, waits to get an accurate check, waits for his server to run his card, and then waits to get the completed check back to sign. Gary pays his adjusted bill and leaves, vowing to never return to an establishment that doesn't value his time.
This story details a daily occurrence in restaurants across the country. Heck, you may have had a few Gary's in your own restaurant. Will every guest react like Gary? Probably not. But the ones that do can have a substantial effect on your restaurant's bottom line.
According to Statista, the average restaurant guest spends $16 on their meal. If an unsatisfactory checkout process is scaring away just 10 customers a week (and with more than half of consumers skipping a return visit due to unsatisfactory service, it may be more), you could be leaving $8,000 of potential revenue on the table.
10 Guests a Week X 52 Weeks a Year = 520 guests
520 Guests a Year X $16 Average per Visit = $8,320
These same guests may also choose to detail their experience on one or more restaurant review sites, like Yelp or TripAdvisor. When it comes to choosing where to dine, 35% of diners say online reviews play an important role in their decision making, and a one-star bump on your Yelp review page can boost profits 5 to 9 percent. As a result, your poor guest checkout process could not just be costing you money, but hurting your reputation.
Devoting time and energy toward improving the process for guests to pay their bill in your restaurant is more than worth it when you consider the potential for financial gain.
3 Ways to Make Paying a Restaurant Bill A Painless Process
When it comes to the dining experience, arguably the two most important interactions you have with a guest are when they're greeted and when you hand them their closed out check – aka your first and last touch points.
First impressions matter, and so do last impressions: When the warm handoff is done well, it can create a loyal, repeat guest who will support your restaurant for years to come.
The process to pay a restaurant bill or tab has been frustrating for quite some time. These are a few of the leading reasons why:
Servers are busy delighting guests and delivering checks can be an afterthought

Restaurants are typically equipped with a handful of terminals, so finding an available screen to first print a check, and then return to to process payment can be difficult during a busy shift

Getting exact change back can be difficult for guests who pay in cash, as credit card and cashless payments have become the majority; oftentimes a server or bartender has to ask coworkers or a manager if they have cash on them.

Splitting a check can be difficult or impossible for certain point of sale systems.
If you've heard through the grapevine that the process for guests to pay their tab is loathsome and long-winded, you need to take a proactive approach.
Here are three steps you can take to making paying a restaurant bill quick, easy, and pain-free for guests.
1. Ask for feedback from guests and staff
Feedback – from your guests and your staff – is an invaluable tool that has the power to revolutionize your guest experience.
If you've noticed that one or more online reviews about your restaurant mentions a sub-par payment process, it's time to dig into the issue. Respond directly to the reviews asking for more detailed feedback about their experience paying the bill at your restaurant.
Ask questions like:
Were the issues with getting your restaurant bill related to speed, error, or difficulty?

Was a server slow in dropping off a check or coming back to process it?

Did you feel as though you were overcharged, or a menu item's price was misrepresented?

Were you unable to split the check, as needed?

Were we able to accommodate your preferred payment type (Apple pay, Samsung Pay, Google Pay)
Stress that their thoughts are valuable to you and that your aim is to grow and improve as a restaurant. Having genuine conversations like these with your guests helps to build strong, lasting relationships and remedy unsavory experiences; it also shows your guests that they matter to your restaurant and that you want to make sure they have a great dining experience every time. Always invite them back in for a do-over!
While your guests are a great place to start when trying to get at the root cause of operational hiccups in your restaurant, don't overlook input from your front of house staff. They're probably very much aware of areas of weakness in your dining experience, including a slow guest checkout process. Ask questions like:
Are you slow to bring a check because there aren't enough terminals?

Are customers wary of point-of-sale table kiosks?

Have you been asked about contactless or mobile payment options, like ApplePay, SamsungPay, etc.?
Understanding the kinks in your restaurant's guest checkout process is the first step to improving it.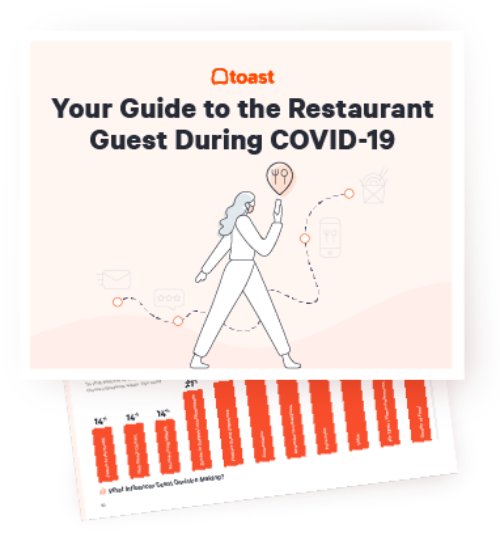 Guide to the Restaurant Guest
Learn how to navigate changing guest expectations during and after the COVID-19 health crisis.
Download
2. Train your staff in proper checkout protocol
Next, it's time to use the feedback you collected from your guests and staff about their experiences settling their tab to train your front of house team.
Depending on your concept, guests will pay their restaurant bill in one of three ways:
Via a server or bartender

Via a cashier at a counter

Via a kiosk, handheld tablet, table-side ordering technology, or guest facing point of sale display
The above guest checkout option that applies to your restaurant will influence how you train your front of house team. Don't worry, we've got tips for all three.
If guests at your restaurant pay their bill via a server or bartender
If you're one of the 267,000+ full service restaurants in the U.S. where guests place orders and extend payment through a server or bartender, the following tips are just for you.
Once entrees have been put into the system, have servers print the bill and put it in a checkbook that they carry in their apron; have bar staff put the printed tab in a cup on the bar in front of the guest. Should the guest decide to order another drink or dessert, have your staff print out an updated bill and swap out the old one. This will ensure servers and bartenders always have an accurate restaurant check to present a party with should they be prompted.

Train servers to fix check inaccuracies right away, rather than wait until the check has been requested. Presenting an inaccurate bill to a guest can be perceived as dishonest or careless, and may burn your chances at a repeat visit.

Encourage servers to always run a payment when they see a table is ready to pay, even if it's not in their section.

If paying with a card, train staff to view the back for a signature and to check a diner's I.D. if the card says "check I.D". When they drop the completed bill off at the table, train staff to address the customer by name and thank them for their patronage.
If guests at your restaurant pay their bill via a cashier
The following tips and tricks are best suited for restaurants where guests order and pay via a cashier or pay for takeout orders via a host/hostess.
In a quick service or counter service establishment, the payment process typically happens in tandem with an order being taken. Train your cashiers to double check that they accurately inputted the guest's order and to alert the guest if any add-on's are an additional cost. A host or cashier is typically the first and last person a diner comes into contact with. Make sure each employee understands the importance of service with a smile and to treat guests coming and going with equal enthusiasm.

In full service establishments, takeout orders are typically facilitated and completed by the host or hostess. Train your host staff to prioritize takeout orders (you don't want a guest leaving with cold or soggy food) and, if they're busy attending to another waiting party, train them to acknowledge any takeout guests and assure them they will be with them shortly.

The checkout process is an opportunity to have a conversation with guests regarding their experience. Train hosts or cashiers to be specific by skimming through the order and asking why a specific menu item stood out to the guest or to share something they love about a particular item ordered. Finding small ways to connect with guests can act as a warm-handoff to a future visit or a glowing online review.
If guests in your restaurant pay their bill via guest facing technology at the table
More establishments are embracing pay-at-the-table technology, like kiosks, handhelds, mobile order and pay apps, and scan to pay options.
In light of COVID-19, restaurants have been forced to adapt and provide guests with a socially-distant, touch-free, yet enjoyable way to order and pay for their meal. Order and pay at the table, a new solution from the team at Toast, is an easy, reliable example of contactless restaurant order and payment technology that relies on QR codes. Guests scan a table-specific QR code to access either the restaurant's food menu, drink menu, or both, and then can order and pay right from their phone. Another option is scan to pay, which Toast and other technology providers offer, where the server or bartender drops off a bill that has a QR code at the bottom; guests then can scan and pay their tab directly from their phone.
Here are a few ways to train your staff to help guests pay their restaurant bill using guest facing technology and contactless payment solutions.
Train servers to encourage and educate customers who are wary of tabletop technology. Have servers ask every party whether they've used guest-facing technology before and offer to walk them through the process if they're wary. If a customer insists on using a different method to pay, train servers to be accommodating. Forcing a customer to pay with a method they're uncomfortable with almost guarantees a negative experience.

If a table pays on their own without the assistance of a server, train servers to stop by the table before they leave to thank the guest and welcome them to visit again. It's important to remind your staff that the dining experience isn't over until the guest has left your restaurant.

If your restaurant has adopted contactless order and pay technology, train staff to walk parties through scanning QR codes using the camera on their phone. If guests insist on using a traditional menu or paying with cash or card, make those options available to them.
3. Continuously Monitor the Process
Reclaiming your checkout process isn't a one-and-done endeavor. If there's one thing all restaurants have in common, it's that nothing keeps customers satisfied forever. Tastes evolve. Trends come and go. And what counts as innovative customer service today will be mainstream and common practice tomorrow.
It's imperative to the health and long term well-being of your restaurant to not rest on your laurels and always find ways to improve your guest experience. Here are a few ways you can consistently refresh the process to pay a bill in your restaurant.
Stay on top of industry trends and customer expectations. Did you know that over 50 percent of millennials feel self-ordering kiosks improve the guest experience? And that 50 percent of today's diners still want paper receipts while only 36 percent are happy with digital records of their purchases? If your guest demographics include a high percentage of millennials, such data might help you decide to order self-service kiosks capable of printing digital receipts. When you know what customers expect from their experience with your restaurant, it's much easier to deliver and meet their demands, especially during the payment process.

Have a recovery plan. Mistakes happen. But do you treat a guest check error with the same care and urgency as a plated error? Let servers know they can come to you whenever something's amiss during the closeout process.The way management and staff handle the situation really matters. Approach the guest, apologize, and read the situation. If you're concerned you've lost a customer, consider offering a discounted or free item on their next visit to increase the likelihood of a second chance to impress.

Get involved. If you're walking the floor and notice a check that needs to be processed, go ahead and step in. Same goes for the rest of your staff: As with bussing empty plates and cups, encourage them to help their teammates process payment by bringing checkbooks with the card facing out to a manager or to the server who's section it may be. See and feel the checkout process for yourself.

Learn from other restaurants. When you pay your tab as a guest at a different restaurant, make note of what you do and don't like of other checkout processes. When you experience firsthand as an operator and guest, it's easier to see what's working and where you can improve. Check out this feature by Bon Appetit about restaurants who make paying the bill fun.
Check, Please
All customers walking out of your restaurant should be satisfied with the time and money spent in your establishment. The only way to ensure this happens with every customer, every time, is to make sure that you start and end on a high note.
The change starts with training staff to respect every restaurant bill transaction. Whether your servers have processed 10 or 10,000 checks, take time to examine their process, look for ways to improve, and develop a new process that leaves diners asking for their check with a smile.