DISCLAIMER: This content is provided for informational purposes only and is not intended as legal, accounting, tax, HR, or other professional advice. You are responsible for your own compliance with laws and regulations. You should contact your attorney or other relevant advisor for advice specific to your circumstances.
Valentine's Day 2023 is on Tuesday, February 14. The hugely popular dining night is a prime time for restaurants to capitalize on increased traffic for in-store and off-premise orders.
To help better understand Valentine's Day restaurant plans and provide insights on what to expect so operators can maximize sales on the day, Toast conducted a blind survey of 970 consumers in the US from January 13, 2023- January 14, 2023.
Read on to see key highlights from the data and learn what Cupid has in store and how you can make yours the best restaurant for Valentine's Day.
Top Valentine's Day restaurant takeaways
65% of guests that dine at restaurants at least three to five times a month are planning on patronizing restaurants as part of their Valentine's Day plans

For consumers that plan to patronize a restaurant for Valentine's Day, the most popular plan is dining in at a restaurant (39%)

Buy-one, get-one offers (40%) are most popular for encouraging consumers to dine on Valentine's Day — with tasting and prix fixe menu options not far behind (35%, 34%)
Restaurant Marketing Plan
Create a marketing plan that'll drive repeat business with this customizable marketing playbook template and interactive calendar.
Get free download
Dining in tops the charts for consumer Valentine's Day plans
Toast surveyed 970 guests that dine at restaurants at least three to five times a month — including dine-in, takeout, delivery, and drive-thru.
A majority of our survey respondents are incorporating restaurants into their 2023 Valentine's Day plans.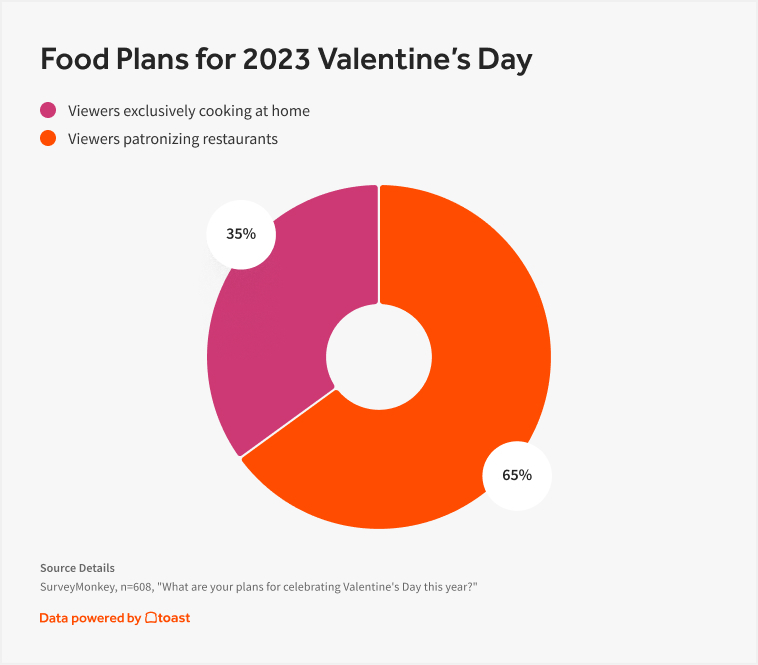 Our survey shows that 65% of consumers planning to celebrate Valentine's day are doing so with restaurants, across takeout, delivery, and dine-in. The other 35% of consumers are celebrating the day by cooking at home.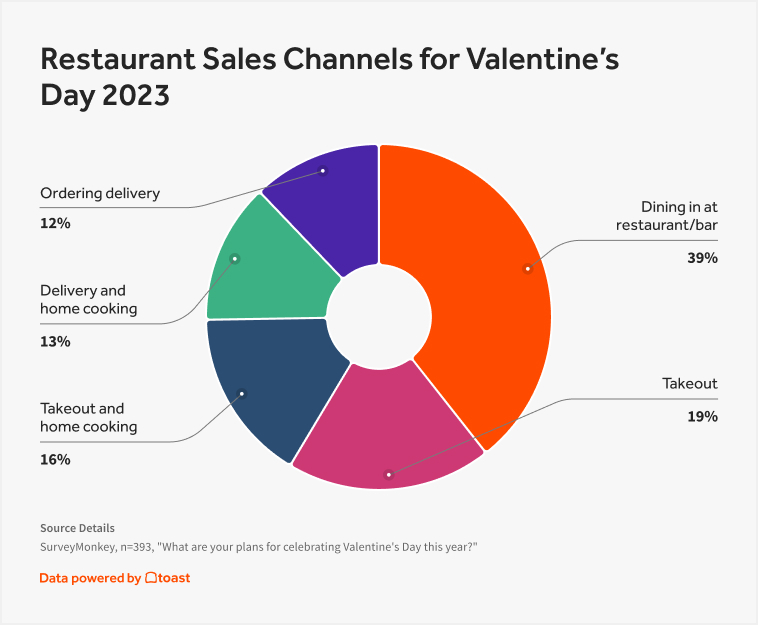 Of the 65% of consumers planning to patronize restaurants for Valentine's Day, in-store dining is the most popular plan (39%). Takeout is next (19%), followed by a combination of takeout and home cooking (16%), then a combination of delivery and home cooking (13%), and finally delivery alone (12%).
Valentine's Day restaurant specials to help encourage more sales
Our research digs into what Valentine's Day restaurant specials and offers would encourage those celebrating to order from a restaurant for Cupid's Day.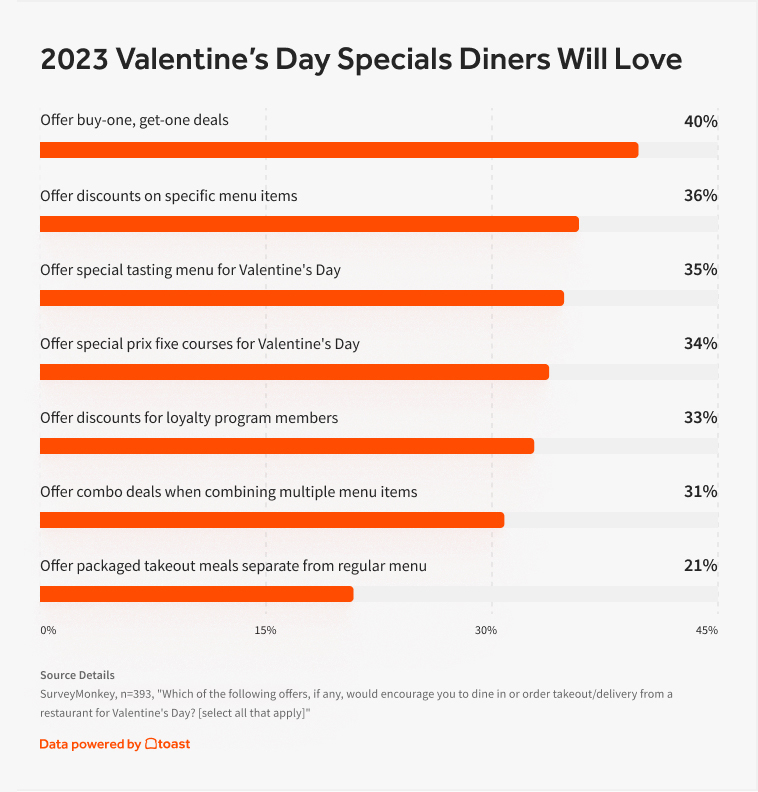 For consumers with restaurant plans for Valentine's Day, 40% say buy-one, get-one (BOGO) deals are the most likely to encourage them to order from a particular restaurant. That's followed very closely by restaurant discounts on menu specific items (36%), special Valentine's Day tasting and prix fixe menus (35%, 34%), and special discounts on the day for loyalty program members (33%).
BOGO deals appear to be popular with diners — as these offers provide tons of value. The same is true with discounts on a few specific menu items. And who doesn't like exclusive rewards from loyalty programs?
The idea of unique, separate menus can appeal to consumers that are looking for a special, differentiated experience. The proper amount of engineering can also make your specialized menus quite profitable. Of course, they can also be a serious headache for your back of house — especially if you run your regular menu alongside these new pickups.
Valentine's Day brunch breakfast restaurants
Another interesting trend we've spotted is the significant search for Valentine's Day brunch and Valentine's Day breakfast restaurants.
While Valentine's Day falls on a Tuesday this year, Google search volume suggests guests may celebrate throughout the day. The terms "Valentine's Day brunch" and "Valentine's Day breakfast restaurants" are searched 600 and 350 times per month on average, according to Google search term volumes.*
All restaurants can take advantage of the special day.
Cafes and bakeries could do well to offer their own Valentine's Day specials on coffee, pastries, and the likes. Breakfast spots can engage existing customers to encourage them to make reservations for breakfast or brunch.
Optimize your restaurant for Valentine's Day and beyond
Forecasting and planning for Valentine's Day and other such holidays is essential if you are aiming for optimized profits on the day. Margins are thin out there, especially with turbulent food inflation. This makes it all more important to capitalize on these higher traffic days.
Sales data from the prior year can be a great starting point (reminder: Valentine's day is always on February 14.) Reviewing past sales can help give you an idea of what to expect, though it's important to put that in context of any relevant marketing efforts employed for the day.
If your restaurant keeps notes from each shift, these would be great to analyze and provide context to previous years Valentine's Day sales.
If you stop and think about it, why wouldn't you do this restaurant forecasting and planning every day or at least every week. While the big days can be hugely impactful, detailed, consistent planning can help impact every day — like a rising tide lifts all ships.
Many operators are already employing this level of consistent analysis. If that's you, great work! It may be time to think about going deeper. For example, perhaps you can turn your eye to maximizing margins by recipe costing and calculating plate costs.
And if you've never reviewed past sales data or completed any type of forecasting, no sweat! There's plenty of restaurant tech built precisely for you that can simplify this work.
First, you'll want a strong foundation in Point of Sale with basic reporting tied to it. From there, restaurant tech stacks can include:
*According to Google Search Volume tool, Ahrefs.
Methodology
Toast conducted a blind survey of 970 U.S. adults ages 18 and older from January 13, 2023 - January 14, 2023. Respondents were not made aware that Toast was fielding the study. All respondents indicated they order from restaurants at least 3 - 5 times per month. Using a standard margin of error calculation, at a confidence interval of 95%, the margin of error on average is +/- 4 - 5%.
Forward-Looking Statements
This report contains forward-looking statements within the meaning of the Private Securities Litigation Reform Act of 1995, which are not guaranteed, and are subject to risks, uncertainties, and changes in circumstances that are difficult to predict. Forward-looking statements are based on our current expectations and assumptions, which may not prove to be accurate. These statements are not guarantees and are subject to risks, uncertainties, and changes and we assume no obligation to update or revise any forward-looking statement, except as required by law. Specific factors that could cause actual results to differ materially from forward-looking statements include, but are not limited to, the effect of economic conditions in the United States and globally, general industry conditions and the other important factors disclosed previously and from time to time in Toast's filings with the Securities and Exchange Commission. Toast does not guarantee you will achieve any specific results if you follow any advice herein.