2019 Christmas and Christmas Eve Restaurant Trends [Exclusive Data]
How did your restaurant stack up over the holidays? We've compiled restaurant data about Christmas Eve and Christmas Day 2019.
Take a deep breath: You've nearly made it through 2019.
A new decade starts tomorrow, which means it's a great time to reflect on the successes of your restaurant in the past year and beyond. Have you done major renovations, opened a new location, grown your team, or even just managed to make a profit this year? All of these things are no easy feat — and they're definitely cause for celebration.
However, we know the holidays can be tough for restaurants — with regular operations complicated by time off requests, holiday parties, and higher volume than usual, plus the decision of which days, if any, to close.
To help you plan for next year, we've wrapped up consumer trends from Toast customers for Christmas Eve and Christmas Day in 2019. If you're interested in looking back to 2019 Thanksgiving consumer trends, you can find those here, and keep an eye out for our New Year's Eve and New Year's Day 2019 trend analysis and 2019 Year in Review, coming soon.
Restaurant Sales on Christmas Eve & Christmas Day
Because Christmas is traditionally spent opening presents, cooking, and relaxing, it's not a surprise that many restaurants see a significant dip in customers on the 24th and 25th. This year, Christmas Eve saw a 31% decline in restaurant patrons compared to average sales in December. Back in 2018, there was a 39% decrease in sales on Christmas Eve.
Christmas Day had even fewer guests opting to dine out: for Toast customers, sales on Christmas Day were 84% lower compared to average sales in December, similar to last year's 85% decrease. Despite this huge dip compared to average December sales, Christmas Day sales actually increased year over year by 6.27% in 2019. It's likely due to more families choosing to go the non-traditional route and leave the Christmas cooking to the professionals.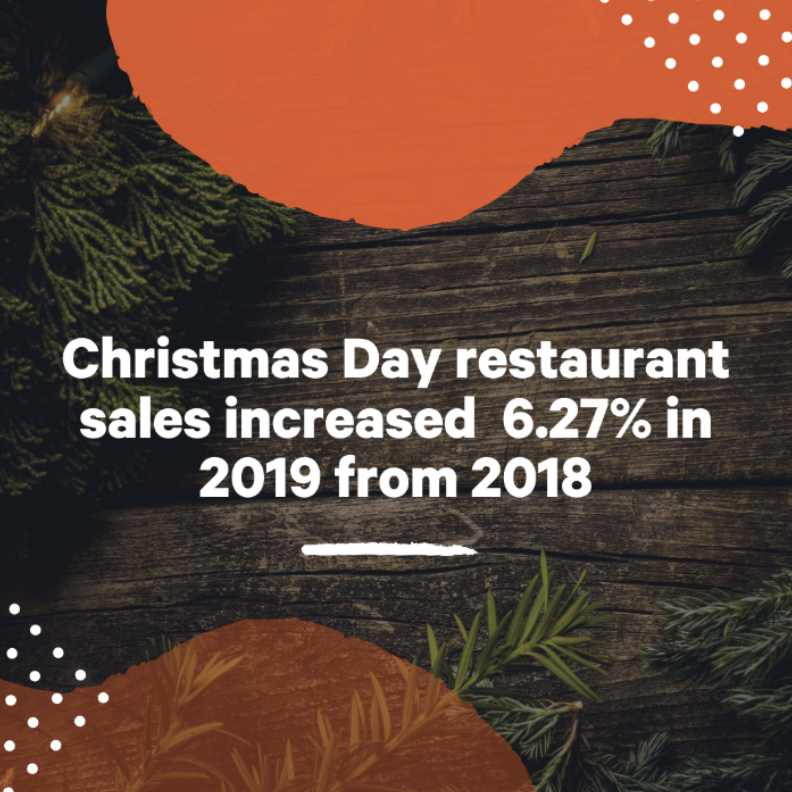 In terms of demographics, it's people ages 18-24 and 65+ who are most likely to dine out on Christmas Day, according to an email sent to the Free Press from the Michigan Restaurant and Lodging Association.
Christmas Eve and Christmas Day Sales by the Hour
We analyzed Toast customers' hourly sales to determine when most guests were choosing to eat out over the 2019 holiday.
For diners that did decide to venture out to grab a bite, Christmas Eve had clear peaks in sales between 12 p.m. to 2 p.m. and 6 p.m. to 8 p.m., in line with a fairly typical lunch and dinner rush. Lunch in restaurants was a more popular option than dinner on Christmas Eve.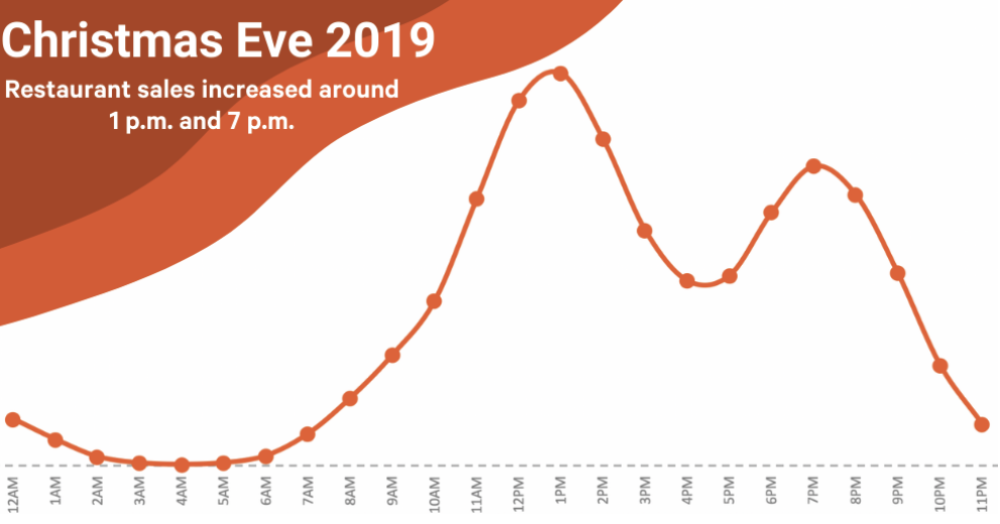 On Christmas Day, most restaurant guests visited restaurants between 6 p.m and 9 p.m., with a fairly slow lunch service due to guests enjoying a long Christmas morning at home. By dinnertime, though, it seems that some of the people celebrating Christmas at home started to feel that holiday cabin fever, and chose to venture out to a restaurant for dinner.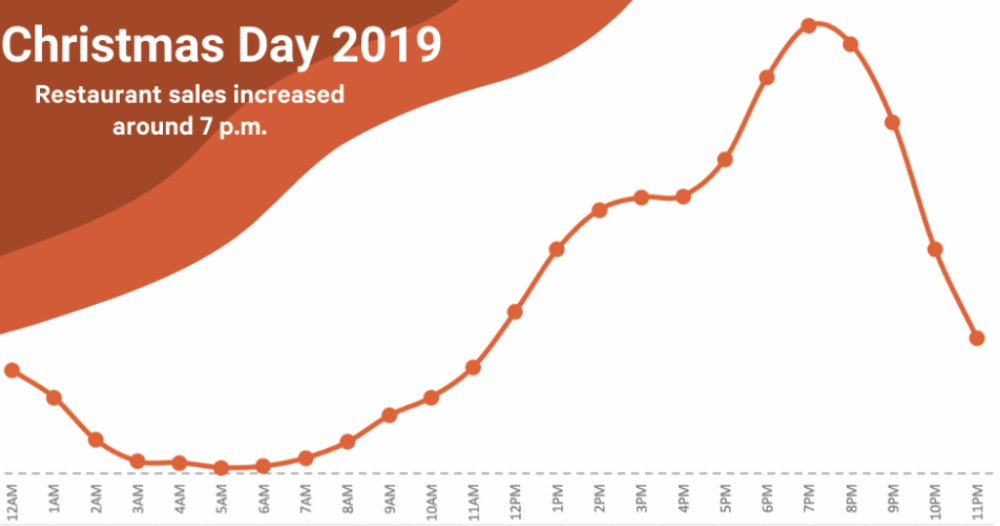 Restaurants Open vs. Closed on Christmas Eve & Christmas Day
Choosing whether or not to stay open on a holiday is a tough call in this industry. If you do choose to stay open, you'll be competing with way fewer restaurants than usual, and you'll have a great shot at scooping up lots of holiday diners — and their sizable celebratory meal checks.
However, this means that you'll have to staff your restaurant, and missing family holidays is one of the hardest parts of restaurant work. If morale has been low, and you sense that your team needs the break to relax and spend time with family, consider closing. An employee with good work-life balance is more likely to stick around, meaning you won't need to spend time and money hiring again in 2020.
According to our data, in 2019, significantly more restaurants remained open this year over the holidays than last year. Many restaurants that remained open opted for prix fixe menus and special hours, making it easier for staff to still spend time with family before or after a shift.
76% of restaurants were open on Christmas Eve, compared to last year's 64%.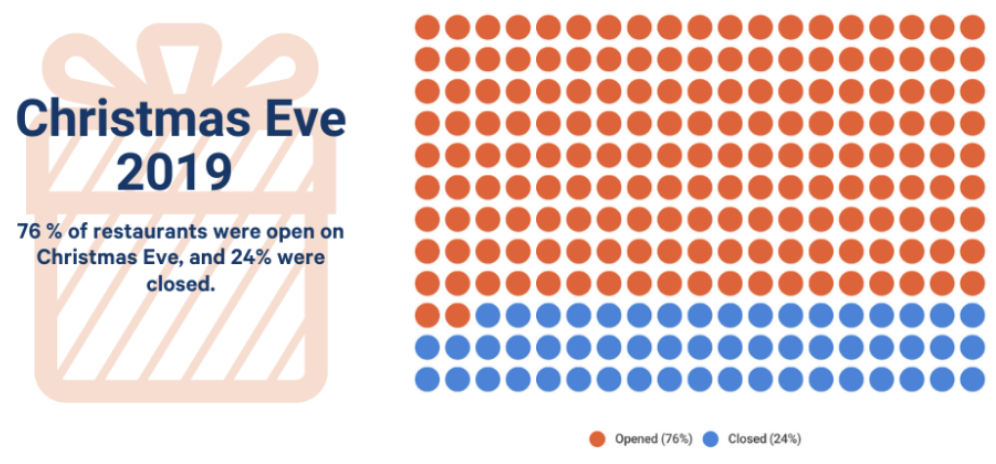 19% of restaurants were open on Christmas day, a 3% increase from last year.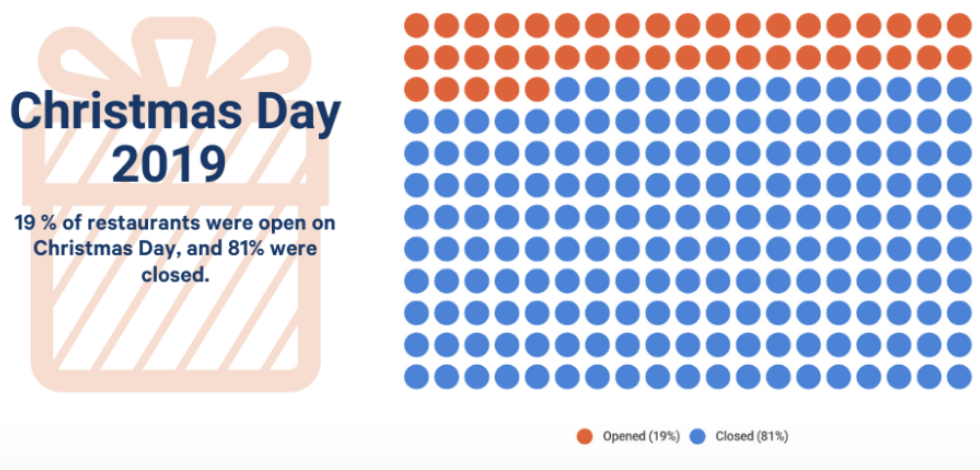 If you stayed open this Christmas, your point of sale system can tell you when you were most profitable, so you can consider modifying your hours for next year. Opting for a prix fixe menu can also mean a more concentrated, simpler prep list, meaning you might be able to get by with one or two fewer kitchen staff than usual.
Average Order Value on Christmas Eve and Christmas Day
Higher average check totals are common over the Christmas holiday because big groups are dining out together — and feeling celebratory because of the holiday. Christmas is a great opportunity for upselling, and also a great opportunity for servers to earn larger tips, so prep your servers on the specific needs and wants of your holiday diners.
Special holiday menus can also lead to bigger check totals. This increase makes remaining open all the more beneficial.
Christmas Eve had a 19% increase in average check total as compared to a 17% increase last year, while Christmas Day had a 40% increase of average check total, though last year there was a 79% increase.
2019 Gift Card Sales
Gift card sales across the board increased by 3% since last year, and increased 8% in December 2019 as compared to the rest of the year, due to patrons purchasing gift cards as presents for loved ones.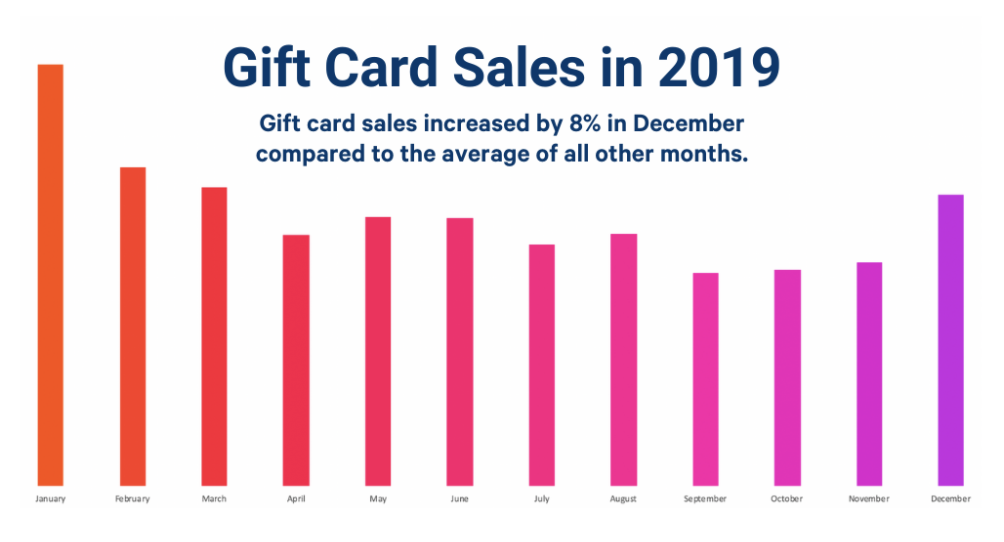 A great way to increase gift card sales in your restaurant is offering gift card promotions, such as "buy $100 worth of gift cards and receive a $20 gift card free". This will incentivize guests to purchase more gift cards so that they will get a gift themselves, too.
Make sure you're highlighting your gift card program on your website and throughout your ads and social media all year long - but especially in December.
Find What Works for You
The holidays can bring chaos, but if you set up a Christmas game plan according to what suits your patrons and your staff — like staying open on Christmas Eve until 3pm, and closing on Christmas Day, for example — you'll set your restaurant up for a great holiday season.
DISCLAIMER: This information is provided for general informational purposes only, and publication does not constitute an endorsement. Toast does not warrant the accuracy or completeness of any information, text, graphics, links, or other items contained within this content. Toast does not guarantee you will achieve any specific results if you follow any advice herein. It may be advisable for you to consult with a professional such as a lawyer, accountant, or business advisor for advice specific to your situation.