DISCLAIMER: This content is provided for informational purposes only and is not intended as legal, accounting, tax, HR, or other professional advice. You are responsible for your own compliance with laws and regulations. You should contact your attorney or other relevant advisor for advice specific to your circumstances.
Mother's Day is the most popular holiday of the year to dine out in the U.S., with about 87 million people going out to a restaurant for the occasion, according to the National Restaurant Association.
With demand at an annual high on Mother's Day, restaurants have a big opportunity to drive mothers and their families into the seats and really clean up. Here are a few Mother's Day promotion ideas that'll help.
Restaurant Marketing Plan
Create a marketing plan that'll drive repeat business with this customizable marketing playbook template and interactive calendar.
Download
Mother's Day Dining Statistics
According to the National Restaurant Association, 47% of moms say having a meal with their families is the gift they want most for Mother's Day. And an additional 10% want a restaurant gift card. These numbers represent a huge opportunity for your business to capture new guests, re-engage existing customers, and establish your reputation.
While Mother's Day brunch is commonly seen as the most popular dining option, that's actually not the case. For all the diners who plan on ordering at a restaurant during Mother's Day, only 24% order brunch, while about 50% opt for dinner.
Mother's Day Dining Promotion and Menu Ideas
To stand out and capture a slice of the Mother's Day dining traffic, you'll have to do something unique that goes beyond "Mom eats free" – though that's not necessarily a bad place to start.
Read below for 15 unique Mother's Day promotions and menu ideas that restaurants across the U.S. have used over the past few years.
1. Take Mom Dancing
Don't forget about the moms who are always down for a night out. Slade's Bar and Grill in Boston threw an afternoon-to-evening Mother's Day dance party, with a $5 "Mama's sangria special" and lots of soul food options. This is a great way for bars and nightclubs to capture business on this more traditionally family-oriented holiday.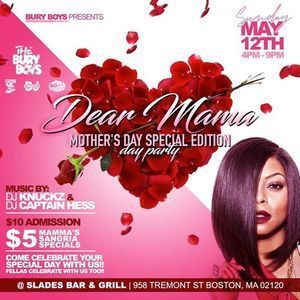 2. Share Your Space with an Artist's Market
Native Hostel in Austin, TX (and their accompanying bar and kitchen) hosted a pre-Mother's Day popup called Mamas and Mimosas, where a dozen local artists sold their products. All that shopping worked up appetites, with the hostel's bar and kitchen ready to feed people after some shopping and walking around.
3. Sell Them on a Second Visit
Why should the Mother's Day love only last one day? Given the high volume of traffic your restaurant may see, use the opportunity to invite guests in for their next visit.
Fogo de Chão in Boston, MA gave a complimentary dining card to moms who ate there on Mother's Day. The card was only good for a few weeks, so it drove immediate demand for guests to return and enjoy a bottomless steak dinner. Your restaurant could offer a similar deal – a limited-time coupon or discount to drive repeat business.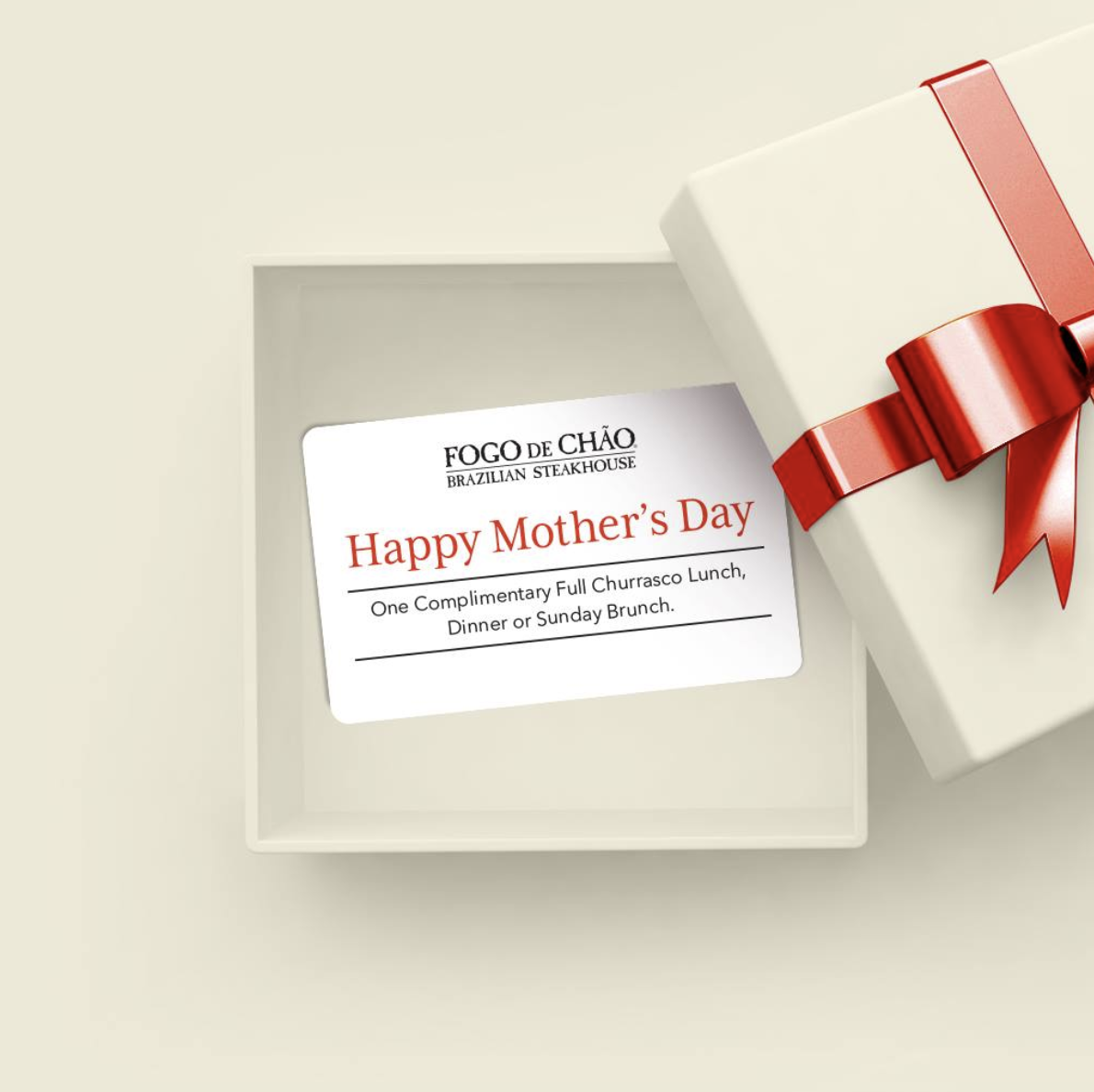 4. Free Dessert
It's a classic move for a reason: No one's ever been mad about free dessert. Rally Pizza in Vancouver, WA has given moms a free dessert with their meal, and Shoney's Restaurants has given moms free slices of strawberry pie. Rally's promoted their special with a Facebook event well ahead of the holiday so families could plan ahead.
5. Give a Flower to Every Mom
Offer a free flower to every mom who comes in for Mother's Day. It's a simple but crowd-pleasing gesture, and it won't cost you too much, since you'll be buying flowers in bulk to prepare. You don't even have to spring for roses, which can be pricey around holidays like this. Any flower will make for a memorable welcome into the restaurant.
6. Keep It Casual
If your restaurant is a low-key, informal establishment, no need to try and change your vibe for Mother's Day – 62% of Mother's Day diners want to grab a bite in a more relaxed, casual restaurant environment.
7. Stock Up on Surf & Turf
Think Mom wants a salad or a brunch buffet for her day? The numbers say otherwise.
Research shows that mothers want to go all out on their special day, with only 1% planning on ordering a salad on Mother's Day and only 2% intending to order a sandwich. Instead, moms want steak, seafood, and international cuisine, according to the National Restaurant Association.
If you already offer these menu items, you're one step ahead. Promote them along with your Mother's Day menu on social media and on your website to draw in visitors, and make sure you order enough inventory what's sure to be a busy day.
If you don't offer more costly items like these, talk to your chefs and food distributors to see if cooking up Mother's Day specials could work.
Le Bijoux in New Orleans, LA got the right idea: They offered a Mother's Day brunch that included an ice bar with a wide assortment of fresh seafood, a prime rib steak option, and more.
8. Discounted or Bottomless Alcohol
Mother's Day is also a popular day for drink specials. City Tap Boston offered a Mother's Day brunch special selling $5 MOMosas – they also provided a $25 gift card for a future visit, which is a true win-win for customers.
Upstairs at The Gwen in Chicago, IL has offered a bottomless Mother's Day brunch on their rooftop.
9. Partner with a Charity or Non-Profit, or Represent Your Restaurant at a Charity Dinner
In the spirit of Mother's Day, partnering with a charity is a fitting way to both bring in business and support a great cause.
Every year, The Hyatt Regency in San Diego partners with Mama's Kitchen – an organization that provides food delivery services to people living with HIV, AIDS, cancer, and other illnesses – for Mama's Day, a benefit dinner featuring food from fifty of San Diego's chefs and restaurants.
Whether it's an international advocacy program or a local food shelter, partnering with a charity or non-profit is a great way to give more with the day. It's likely a high-profit day for the restaurant anyway – might as well share the love with a worthy cause.
10. Host a Cooking Class or Special Event
Boston's Mei Mei Street Kitchen has hosted regular dumpling-making classes on Sunday mornings, and Mother's Day is no exception. In the classes, visitors learn all about the dumpling-making process, and walk out at the end of the class with a bunch of dumplings to bring home.
If you want to make Mother's Day extra special in your restaurant, you can take things a step further and offer an activity like a cooking class on top of the meal. It's a great way to engage with guests.
11. Liven Up the Mood with Live Music
Bars might find it difficult to attract larger crowds on Mother's Day, but live music certainly helps.
Instead of marketing to families with small children, market your business as a Mother's Day alternative, with brunch, drinks, and live music.
Tucker Brewing Company in Tucker, GA brought in a gospel choir for their Mother's Day brunch a few years ago. But you can go in any musical direction you want and think your guests will enjoy.
12. Let Mom Embarrass the Kids
Some locations of burger chain Burger 21 have given a free shake to every mom who shares an embarrassing photo or story about their kids.
13. Get Creative with Prix Fixe Menus
The right prix fixe menu can have a big impact on your bottom line. By using menu costing techniques, you can price your prix fixe menu with historical data in mind, and set a goal for the amount of prix fixe orders and sales you expect on Mother's Day.
St. Genevieve in Minneapolis, MN has offered an affordable, two-course prix fixe menu for Mother's Day.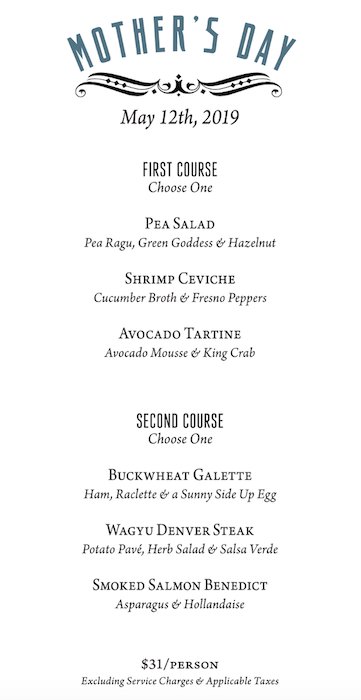 14. Raffle Off Some Mother's Day Prizes
Alvin and Friends, in New Rochelle, NY, partnered with a local artist to host a pre-Mother's Day sip & paint brunch event, which also included a raffle. They also hosted a ticketed Mother's Day buffet on the big day.
15. Whatever You Decide, Share the Love on Social Media
Whether or not you choose to run a Mother's Day special, remember to still share the love on social media. Share a graphic or image thanking mothers for all they do, and invite them to the restaurant to celebrate.
Get Ready for Mother's Day in Your Restaurant
After you've done the work to grab guest attention and bring them into the restaurant, plan ahead to make sure you and your team are ready for the rush.
Related Restaurant Marketing Resources