Article
The Benefits of Restaurant Kitchen Order Systems
Learn the top ways restaurant kitchen order systems improve back and front of house operations.
DISCLAIMER: This content is provided for informational purposes only and is not intended as legal, accounting, tax, HR, or other professional advice. You are responsible for your own compliance with laws and regulations. You should contact your attorney or other relevant advisor for advice specific to your circumstances.
You don't have to be a quick-service restaurant or run a massive kitchen to benefit from kitchen display systems, or a KDS.
In truth, kitchens of all shapes and sizes can realize critical value from the operational advantages that touchscreen kitchen display systems offer.
First, a definition:
What is a kitchen display system?
A KDS is a centralized digital ordering system. In most restaurants, it replaces paper tickets in the kitchen, and helps streamline communication and efficiency in both your front of house (FOH) and back of house (BOH).

But that's not the only reason restaurants are using them. Here are six key benefits of using kitchen order systems according to the restaurants using them, as well as important ways your KDS can save your restaurant time and money.
1. Accurately track fulfillment times (and no more missing orders!)
Data is everything. The more you know, the better you can optimize your restaurant kitchen.

KDS screens can track the time it takes your kitchen staff to fulfill each ticket. And with Kitchen Reports, you'll gain valuable insight into which areas you should focus on to streamline processes and further improve kitchen operations.
These metrics — like average fulfillment time (by day of the week and time of day) — can help you readily identify your most efficient kitchen staff members, and those who may benefit from additional training. It also gives you the insight you need to effectively anticipate and staff rush hours.
Morgan & York, an artisan wine and cheese shop and sandwich deli, struggled with missing and unfulfilled tickets during busy shifts. Now, with a KDS in place, owner Jody Klein has seen significant improvements to service and fulfillment times, allowing more customers to be served and satisfied.
"The KDS helps a lot," Jody said. No orders go missing, because "tickets are going straight to the system. It's easier for the food staff to stay organized while making sure all orders are fulfilled as soon as possible," she added.
2. Streamline prep and cooking.
For chefs in a busy kitchen, planning ahead makes all the difference for a smooth shift. Knowing they have to prepare 42 wings total, rather than seven individual orders of six wings, alleviates the mental math — and gives your chefs more time to prep and cook the food.
Toast's kitchen display system has an "all-day" display, so rather than having to guess, chefs know exactly how many patties need to be on the grill, how many orders of fries need to be in the fryers, and how many cheese pizzas should be in the oven.
If you've ever seen a Restaurant Wars episode of Top Chef, you know that paper tickets cause disorganization and are often the downfall of the entire operation. Paper tickets can lead to confusion for cooks, unlike kitchen display systems where allocations and responsibilities are laid out. With paper tickets, it's easy for two cooks to see an order of grilled chicken being prepped, and for each to think it's for the Caesar salad they were working on.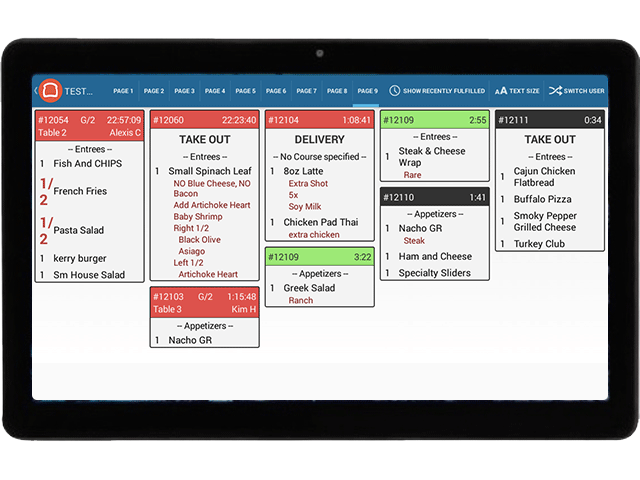 3. Improve kitchen efficiency.
A good KDS allows tickets to be routed directly to specific kitchen screens and prep stations, meaning appetizers and salads sent from the same ticket can automatically be sent to the correct line.
Color-coding tickets makes this even easier, with tickets changing colors when they are not fulfilled within a designated amount of time, keeping your turn time fast and your team accountable. 1894 Lodge shared that a kitchen display system doubled its sales, all thanks to kitchen efficiency.
The routing feature helps your kitchen staff easily keep track of the different tickets they need to address, and prioritize accordingly. You also have the opportunity to increase the number of tickets each chef can fulfill in a given period, and in turn, cut down on your restaurant's labor costs.
4. Streamline FOH and BOH workflows.
If the kitchen display system is used in a full-service environment and your POS vendor also offers handheld tablets, your servers can get instant notifications on their tablet's interface when tickets are marked as fulfilled on the KDS.
No handhelds? No problem.
Some KDS options will send text messages to servers when food is in the window in a full-service restaurant, or to customers in a quick-service restaurant.
Instant alerts to servers or customers streamline operations and ensure your guests receive their food as soon as it is ready. In other words, dishes are never delivered cold.
5. Go paperless; reduce waste.
The benefit to paperless is two-fold. First, restaurant kitchen order systems help to reduce food waste by helping your kitchen operations be more focused and efficient, and because they eliminate miscommunication between the front and back of house.
And second, you cut back drastically on your printing costs when you eliminate paper tickets.
That's not a small thing. Brandon Hunt, the Co-Owner of Via 313, decided to switch to KDS because "the cost of paper is insane. At almost $50-60 a case, we were going through about a case a week, so it was a no-brainer for us to use kitchen display screens in the kitchen and go paperless in the front of the house as well."
Of course, the benefit to the environment is obvious, too. Toast estimates 6,300 trees were saved in 2018 alone by restaurants implementing KDS.
6. An integrated online ordering process.
With online ordering now more important than ever, you need a way to handle all off-premise orders seamlessly. Orders from your online ordering system can be routed directly to kitchen display screens without requiring a staff member to manually re-enter the order into the restaurant POS system.
If you prefer to have online orders approved before they are sent to the kitchen, some POS systems will allow you to set permissions so a manager must approve all online orders or cash-only orders before they are sent.
In either case, online orders are now fully integrated into your operations and don't require extra manual effort from your staff to be completed.
KDS for Any Restaurant
A KDS is the unsung hero of a well-run kitchen. Your own KDS will increase efficiency, revenue, and productivity — it could be the most important thing you can do for your operations.
Related Restaurant Technology Resources