At fast-casual pizza joints like Oath Craft Pizza, diners order at the start of the line instead of the end, which is called a "post-pay" workflow since food is made after payment. Here, the prep line might follow an assembly line broken down into the stations such as: sauce, cheese, protein, and veggie.
Like most types of kitchens, each line member usually focuses on one aspect (starting the order, order phase one, order phase two, completing the order, checkout). The food is usually prepped in the background so it's ready for assembling when customers come in.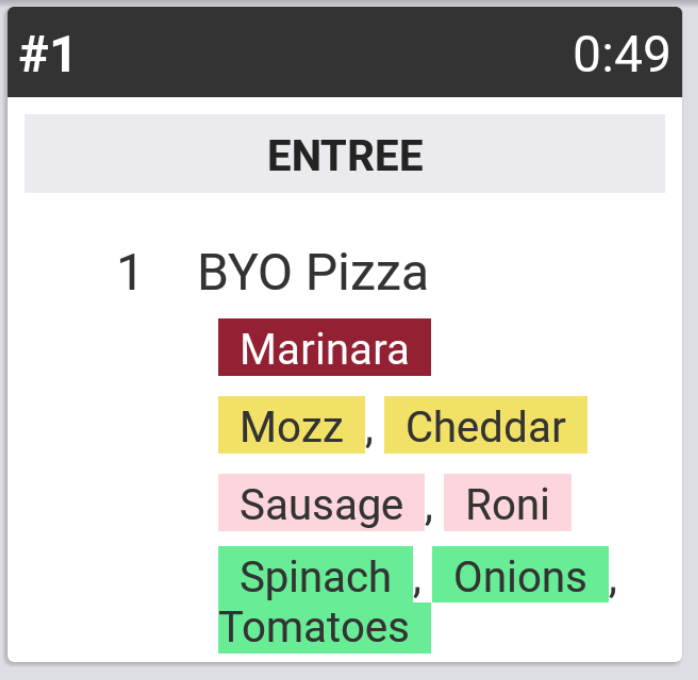 How does technology help optimize this type of kitchen?
With a KDS, modifiers can be configured to display with highlight colors.
In the above example, sauces are red, cheeses are yellow, proteins are pink, and veggies are green. As the pie gets passed down the line – particularly for online orders where a patron isn't ordering in person – each line cook only looks at their color of modifier, quickly parsing out the information without reading the entire ticket, saving time and preventing mistakes.
Kitchen Type #3 – Tapas or Small Plates
Examples: Cava Mezze (Washington, D.C.), Zohara Mediterranean Kitchen (West Hartford, Connecticut)
Workflow: Tapas-style or small plates. Food is sent out as ready
Equipment: 1 Expo + 1 KDS at each prep station
In tapas or small plate restaurants like Cava Mezze in Washington, D.C., plates are sent out as fresh as possible – as they become ready – rather than waiting for all the food for a table to complete cooking.
In the kitchen, line cooks are typically working on one item at a time. Waitstaff might pace the meal by sending two or three plates together in "rounds."
Complications can arise when all items in one party's order are printed on the same ticket. If the chit is taken out in the first round, orders can get forgotten or mistakenly brought to the wrong table.
How does technology help optimize this type of kitchen?
A KDS can be configured to display each item on its own ticket, rather than having all items for a single table on the same ticket. See below for the difference.