Breaking Down

Toast's Payment Processing Fees

We know every dollar is hard-earned in the restaurant industry. Now more than ever it is important for us to be transparent with you about where payment processing fees go when a customer pays for their order.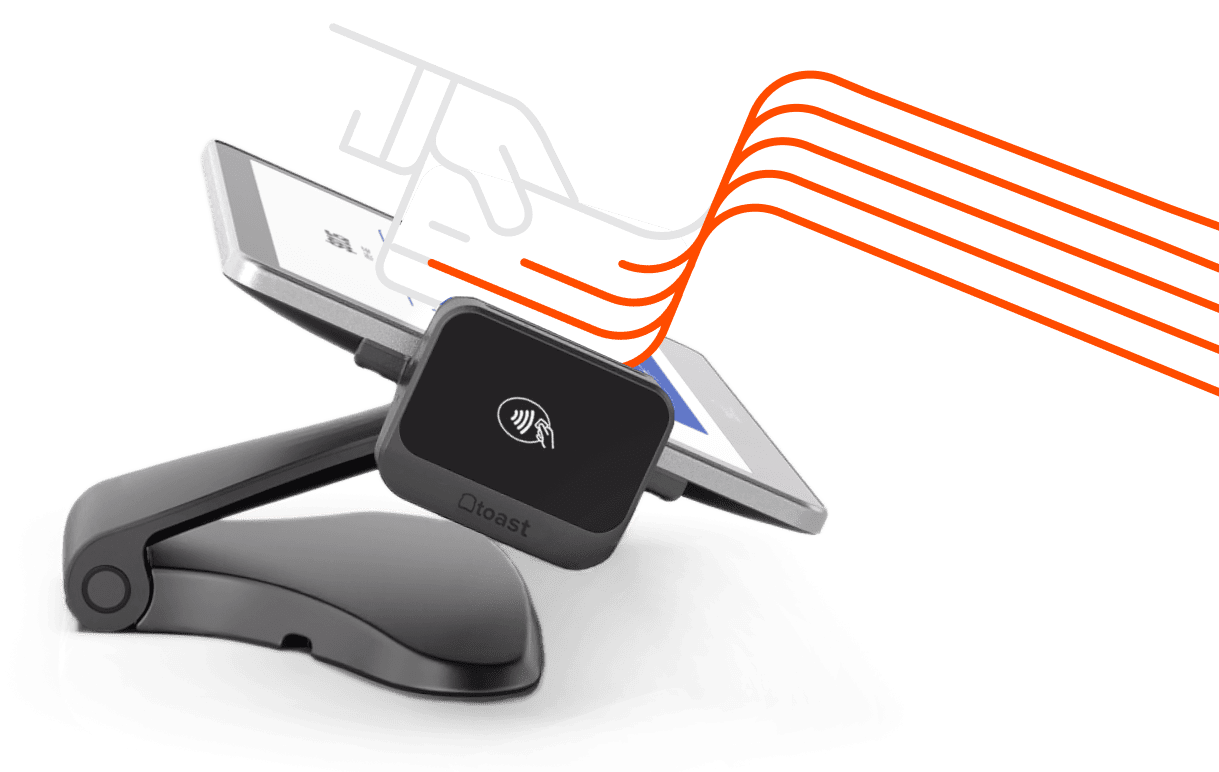 Payment Types
One important category that impacts payment processing fees is whether the transaction itself is a card-present or card-not-present transaction.
Card-present (CP) transactions
A card-present ("CP") transaction occurs when payment details are captured in-person at the time of the sale via a successful swipe, dip, or tap.
Card-not-present (CNP) transactions
A card-not-present ("CNP") transaction occurs when a cardholder and their card are not physically present at the time of sale and/or the card information needs to be "typed-into" a card reader. Common types of CNP transactions include orders placed online or via phone.
Understanding the processing fees
The Breakdown
See Where Your Money Goes
Every time a customer pays for their order, that transaction is securely processed through Toast and Toast collects a processing fee from your restaurant for its services. Below, you can see an interactive breakdown of interchange and network costs alongside Toast's fees based on check size.
$2.06

Payment processing fees
58¢

Reinvested in Toast
$1.48

Interchange and Network Fees
$72.94

goes straight to your restaurant
Glossary
About the Fees
Two major components that make up your total payment processing cost are interchange fees and network fees. These fees are set and controlled by the card networks and banks.
Interchange fees make up the bulk of processing fees. They're set by card networks and are paid to the bank that issued the card that is used for each transaction. Typically, interchange is made up of a percentage of volume and a flat per transaction fee (e.g. 2.00% + $0.10). Note that for American Express transactions, these fees are named "discount fees" rather than "interchange fees."
Network fees are set by card networks and are paid to the card network. These fees differ depending on several factors, similar to the variances seen with interchange fees. Network fees are sometimes named "assessments" or "association fees."
Issuing banks, or issuers, are financial institutions that issue payment cards and credit lines to businesses and consumers. These cards are branded by card networks. Some examples of issuing banks include JPMorgan Chase and Bank of America.
Card networks provide the infrastructure that connect banks to allow them to handle payments. Card networks are sometimes referred to as "card brands" or "card associations." Visa and Mastercard are examples of card networks, while American Express and Discover are both card networks and card issuers because they can issue cards on their own.
For a restaurant to be deemed PCI compliant, it must conform to a set of rules and regulations that apply to every business that accepts credit or debit cards. Toast itself is a PCI-compliant as Level 1 Service Provider, but the restaurant must take measures to establish its own operating environment as PCI compliant.
Merchant banks, or acquiring banks, are financial institutions that allow merchants (such as restaurants) to accept card payments and handle the merchant's flow of payment funds.
Toast Products and Solutions
Powered by Payment Processing
We believe you should get more from your card processor than statements. By processing transactions through Toast, you gain insights into your business and access to products and resources that drive ROI.
Toast's Payment Processing Pricing Options
Our goal at Toast is to provide our customers with a clear and transparent payment processing rate ー no hidden fees, no bait and switch, no unexplained rate hikes; what you see in your quote is exactly what you'll get. We'll work with you to build a custom rate specific to the characteristics of your restaurant.
Schedule your free demo of Toast today.
Get a Demo