DISCLAIMER: This content is provided for informational purposes only and is not intended as legal, accounting, tax, HR, or other professional advice. You are responsible for your own compliance with laws and regulations. You should contact your attorney or other relevant advisor for advice specific to your circumstances.
After being put through the wringer for the past nearly three years, restaurants are finding their footing.
Restaurant owners and staff have found ways to adapt to the ongoing challenges present in 2022. In the past year alone, the hospitality industry has been contending with massive inflation, widespread COVID surges, an ever-present staffing crisis, and skyrocketing location costs.
Restaurant management teams have had to get incredibly creative with how they respond to each challenge. They've had to shake up their business models completely, pare down menus, experiment with service charges, increase prices, track costs down to the penny — it's been a year of embracing change and continuing to be as flexible as possible in order to keep customers coming back, day after day.
Food trends come and go, but great food service has always hinged on community and connection: when a server gets to know a returning customer and they become a regular, when a group comes in to celebrate a major life milestone, when a kid knows they'll get an extra treat from the bakery because they've been going there all their life — that's why restaurant owners and staff do what they do. They have persevered through ever-present challenges in the food industry, some long-standing, some related to the pandemic, and are continuing to push through and make it to the other side.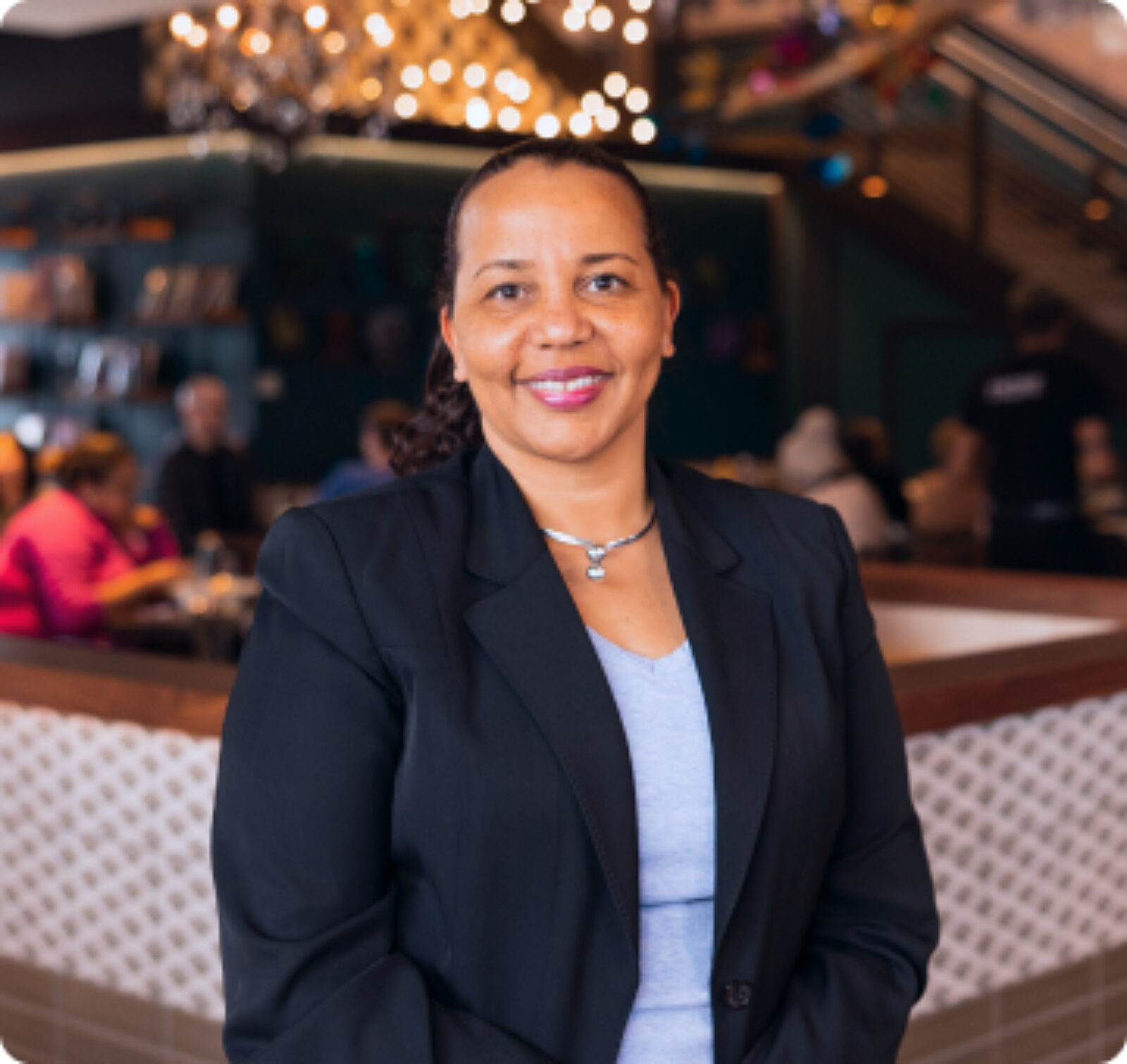 Learn how to build (and rebuild) your team with Joy from Busboys and Poets.
Your Guide to: Restaurant Staffing
Restaurant industry market analysis
Today, full-service establishments are finally hitting restaurant sales numbers that haven't been seen since pre-pandemic. And quick-service restaurants are almost at pre-pandemic sales, too.
Restaurants are having to increase their prices to cover their inflation-era costs, and hiring and retaining staff continues to be a concern.
We'll get into the current state of the restaurant industry, covering how businesses are approaching the challenges in this sector and what kinds of opportunities they're embracing.
Restaurant industry trends emerging in 2022
On-premise dining continues to grow
Consumers have long been enjoying a steady return to the in-house dining experience, especially in full-service restaurants which were the hardest hit during the height of COVID. Now, demand for on-premise dining is at the highest it's been since before the pandemic, increasing by 22% in Q2 compared to Q1.
Diners continue to be excited to eat in restaurants again — though many have been doing so for well over a year — and are happy to connect with friends at restaurants at bars, become regulars again, and try out restaurants that opened in their cities throughout the pandemic.
Different restaurant business models have continued to make it work — and in some cases, break their own records — throughout the summer and into the fall, from fine dining establishments to family restaurants and everything in between.
In the realm of on-premise dining, there's long been an emphasis on creating a truly memorable customer experience, since loyal returning customers are a lifeline for businesses of all kinds. Throughout 2022, restaurants of all kinds have invested in implementing new technologies that help provide smoother service that delights guests and keeps them coming back.
Contactless payments
The pandemic accelerated the adoption of contactless payments, whether they're in the form of a QR code or a contactless card reader, in order to reduce the exposure of customers to staff, and vice versa.
And customers are here for it. Almost 50% of consumers report that they will only shop at establishments with contactless payment options after the pandemic. With staffing shortages, contactless payments and mobile ordering (even for sit-down restaurants), help to improve the customer experience and reduce staff burnout.
Increased prices, increased food cost awareness
As mentioned above, record-breaking inflation has led to restaurants increasing their prices and investing their time in tracking food costs more closely than ever.
Chicken wings have been an indicator of wild food cost increases. As reported by the Washington Post, the cost of a 40-pound box of chicken wings used to be $85. Today, it's as high as $150.
For a long time, restaurants were very hesitant to pass along any more costs to the customer, especially seeing as so many customers were doing their best to support their local businesses through the nightmare that was 2020. They were largely afraid that they'd scare off repeat business if they charged too much.
But with costs nearly doubling, most restaurants have had no choice but to increase their prices and explain to their customers why it's happening. Not only do they need to cover exorbitant food costs, but restaurants are also aiming to increase staff pay and provide benefits, so there's often no way to do it without raising prices.
Many restaurants took a data-backed approach to managing their costs, like doing a round of recipe costing and menu engineering to find the menu items that cost too much to make for how little revenue they generate. Restaurants everywhere have pared down their menus to focus on the dishes they can make in a cost-effective way — that still delight their customer base.
Online ordering and delivery still have their place
There are still many reasons why restaurant customers are continuing to go for takeout and food delivery. COVID-conscious diners, including those who are immunocompromised, still feel more comfortable with takeout and delivery over dining in, especially during case count surges. Plus, consumers across the board simply got used to eating more takeaway and delivery during the height of COVID, and the habit has stuck. Takeout and delivery, or off-premise dining, grew by 6% in Q2 of 2022.
Third-party delivery services and their mobile apps continue to be very popular among millennials and Gen Z, even though they're expensive both for the consumer and the restaurant. Many restaurants do find that the price is worth the orders, because being listed on these popular apps works as a minimal-effort form of marketing. Some offset the cost by pricing menu items differently on third-party platforms as opposed to when offering the same items for pickup or on-premise dining.
But there are delivery services that minimize or cap the commission taken by the company and leave as much money as possible in the hands of the restaurant, like Toast Delivery Services.
The labor shortage and staffing crisis is as challenging as ever
The pandemic hit restaurant staff hard. Many were laid off immediately and then asked to come back within a couple of months, even when the danger of COVID was critically high. Stressed customers and their bad behavior, coupled with constant COVID exposure, low pay, and nonexistent benefits, have led workers to leave the restaurant industry in droves. 32% of existing restaurants report moderate or extreme challenges when hiring, and among new restaurants, that number climbs to 44%.
Restaurants that are experimenting with increasing food prices, charging service fees, or bringing in new revenue streams in order to provide good pay and benefits to their teams are relieved to see a sharp reduction in turnover — especially when coupled with a positive work environment and culture.
Even with food costs as high as they currently are, the primary way to fix restaurant staffing woes is to increase pay and provide better benefits. In fact, 52% of hospitality employers increased wages two to three times in 2021 alone. They've accepted that higher labor costs are worth it, especially when the cost to hire a new employee is around $2,000.
Learn from Joy at Busboys and Poets about how their company has built a strong, happy team — despite the challenges of the past three years.
Ghost kitchens continue to open
All over the country, real estate has continued to increase in price, with restaurant properties ranging from barely affordable to astronomical to nearly impossible to afford.
As a result, restaurant operators have started trying out the format of ghost kitchens, which are delivery-only restaurants popularized during the height of the pandemic. Since they only have to pay for kitchen space, and have no need for front of house staff or seating space, the cost of operating a ghost kitchen is much lower than a typical brick-and-mortar. The location can also be further out of the city, where rents are lower, since customers will never actually visit the location.
Ghost kitchens rely on great marketing and prominent placement on delivery apps, since there won't be any walk-by marketing happening for them.
Some full-service restaurant owners are earning a little extra cash by renting out their kitchens to ghost kitchen operators during days when they're closed. Other ghost kitchens operate out of shared commercial prep kitchens, operating like virtual food courts optimized for delivery only.
Though they became popular during lockdowns, ghost kitchens show no sign of closing up shop. Starting a ghost kitchen is a great way for prospective restaurant owners to test out their concepts before they make the jump to renting or buying a full-scale commercial space of their own, and when it comes down to it, consumers still love delivery.
Tip fatigue is a myth
Despite reports of "tip fatigue" — of diners being fed up with tipping more than they did pre-pandemic to support local businesses and workers — the data shows that it's more empty complaints than a real trend.
Across the US, customers continue to tip well: the average tip was 19.6% in full-service restaurants, and 16.9% in quick-service restaurants.
The data did also show that on-premise tips are higher than takeout and delivery tips — with customers tipping an average of 19.7% when dining in, but averaging 14.5% when just doing takeout or delivery.
Diners know that while we continue to operate in a tipped system, workers rely on tips to make rent, feed their families, pay for school, and generally make ends meet. And in today's very precarious economic climate, where inflation has sent costs skyrocketing, workers need those tips more than ever. Customers continue to be ready to help.
Restaurant tech innovation continues
Consumers have grown accustomed to the convenience of contactless and online payments, and they're not going anywhere. And other forms of restaurant technology and automation, like all-in-one POS systems, have proven to be necessary to doing business — no longer just a nice-to-have. Online ordering and QR codes are still widely-adopted technology options, and employee scheduling platforms help keep teams organized and ready for a great shift. The customer data collected by modern POS systems is a godsend for low-cost, highly effective restaurant marketing, and businesses have been able to cut costs where possible with robust recipe costing platforms and sales data.
The days of pen, paper, and vintage cash registers are long gone. Modern POS technology helps restaurants provide a better customer experience while managing the many challenges of operating restaurants.
What will 2023 look like?
The tumultuous nature of the past three years has left the restaurant industry reeling — but this time period has also shown how resilient the owners and workers of this industry truly are.
These years have shown us all that we truly can never say for sure what the future holds, but we do know that the restaurant industry will find unique ways to overcome challenges and keep their customers — and staff! — happy and well-fed.
Related Restaurant Resources
Opening a Restaurant Checklist
So many things go into opening a restaurant. Use this free PDF checklist to set your new restaurant up for success.
Get free download