How to Ask the Right Questions on Your Restaurant's Comment Cards
Check out these effective ways to get high-quality guest feedback by using restaurant technology and restaurant comment cards.
Soliciting, collecting, and incorporating customer feedback into your restaurant's operations is the essence of giving people what they want.
Your restaurant is your baby, the physical embodiment of your lifelong passion realized. You are one of the lucky few who followed your dreams and turned them into reality – your very own restaurant –making it hard to take a step back and analyze your concept from an objective lens. It's perfect to you, no doubt, but it may not be perfect to whom it counts most: your customers.
For a while now, the most common method restaurants use to collect guest feedback are good old fashion comment cards. You know the sort: the either paper or digital end-of-meal survey guests are extended that includes such nondescript questions as:
Please rate your overall experience (from 1-5 stars).
Please rate the food.
Please rate your service.
Please rate the ambiance.
Is there anything else you would like us to know?
These cards are just about as boring as watching paint dry, and they're not going to set you up with the sorts of insights you need to improve your restaurant.

RESOURCE
Guide to the Restaurant Guest
Learn how to navigate changing guest expectations during and after the COVID-19 health crisis.
The Problem With The Current Restaurant Comment Card Method
No customer should leave your restaurant unhappy with their dining experience.
We, better than anyone else, know that an unhappy or unsatisfied customer can usually be won over when your restaurant's management is given the chance to put their hospitality skills to work. Unfortunately, the way the current restaurant guest feedback model is built is holding you and your team back from ever getting that chance.
The biggest problem, you see, is that your team is getting access to valuable insights that could have helped you patch up a hairy situation after the guest has left your establishment.
Now it turns into waiting game. Considering 65% of bad online reviews are posted within 24 hours of a poor dining experience taking place, and a one-star change in rating can affect revenue by five to nine percent, you'd just as soon assign a manager to stand at the door every shift to analyze guests' faces for signs something's amiss as they leave your restaurant. In addition to that, 35% of guests discover restaurants through online reviews. So updating the way you react to customer comments is vital to your current and potential new business.
That's not a bad idea by any stretch, but it's an expensive one, and as we in restaurant management know, the name of the game is cutting costs, not adding more.
Comment cards exist to solve a glaring problem in a cost effective way; they help restaurants and those in them improve in order to meet guests' expectations the next time. Meeting guests' expectations is the operative phrase here: In 2015, the team at Corporate Executive Board conducted a study to get at the root of customer loyalty. After 97,000 customer interviews, CBE concluded that "customers became loyal if their expectations were consistently met with quality service in both the digital as well as the brick and mortar space".
Here's the thing: consistently meeting your guests expectations will keep the doors open, but exceeding their expectations is what grows you into a multi-unit enterprise. How is this done? Well, it takes a dash of delicious dishes and a heaping helpful of hospitality, garnished with guest feedback that enables your restaurant management team to be proactive rather than reactive.
Two Solutions To The Tired Restaurant Comment Card Route
Option #1: Get Guest Feedback In Real Time By Investing In Restaurant Technology
While there are a variety of methods you can use to solicit and collect guest feedback – including comment cards and surveys sent from your restaurant's CRM system – the best by far is the instant guest feedback feature available through Toast.
Imagine being able to approach and appease every unhappy or offended guest before they leave your restaurant. When you consider that US consumers, on average, tell 15 people about a negative customer service experience they'd endured, the ability to curtail negative feedback from spreading could have a substantial revenue impact for your business.
After extending payment once their meal is finished, guests are invited to share with management their thoughts on their dining experience in one of two ways: either directly on the Toast Go handheld where they paid their bill or via the digital receipt sent to their email.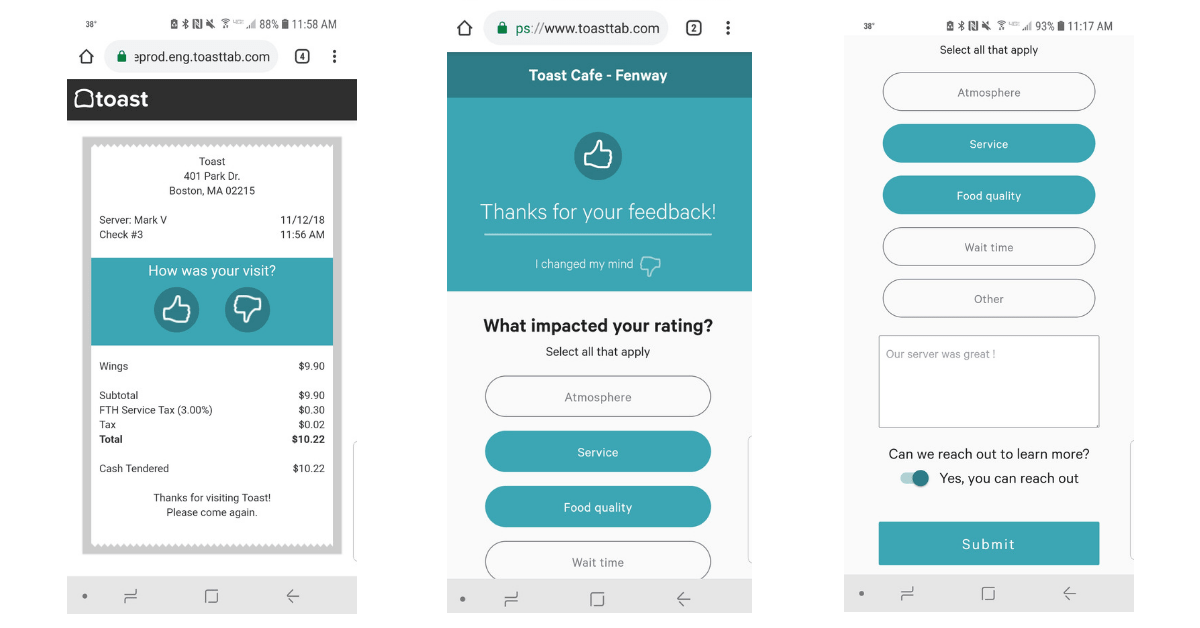 The guest's feedback is then delivered instantly to managers' phones via SMS notifications.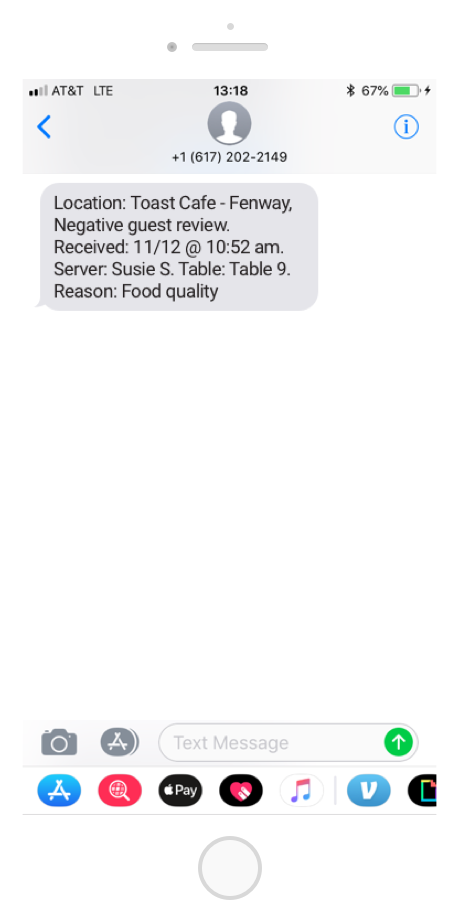 This is the kind of access to guest intel we only once dreamed possible. Now, either you you or a member of your restaurant's management have the opportunity to stop a bad review from happening right in it's tracks and, more importantly, build a strong, face-to-face rapport with a customer. Talk about exceeding expectations.
Option #2: Ask Better Questions to Get Better Answers
If you've found that guests regularly engage with your comment cards but you're not receiving the sorts of feedback you need to improve your restaurant's operations, or you're not quite ready to make the investment in the latest restaurant technology (though you should reconsider: a recent study found that 73% of diners believe technology enhances their dining experience) here's another option: you might be asking the wrong questions.
Since your aim is to exceed guests expectations, why not just ask them directly if you and your team did just that? Consider adding these to your restaurant's existing comment cards:
Did we exceed your expectation? Yes or No
Why?
Can we follow up with you? Yes or No
What is the best way to get in touch with you?
That's it.
If you did exceed expectations, they will tell you why. Keep doing more of that!
If you did not, they will tell you why, and through some brief analysis of the comments, you will find out what their expectations were and how you can adapt when you start seeing patterns emerge from the comments.
I believe that if you want different results, you must do what others won't. Most everybody is going to use their simple, easy, same old strategy to execute comment cards just so they can say "we are doing it" and sleep well at night.
But keep in mind: the old approach to restaurant comment cards isn't helping your business grow, it's helping you tread water. Maybe it occasionally brings a few new things to light, but it's generally reactive - not proactive - and it's not going to help you attract a flood of new customers in the new year.
RESTAURANT RESOURCE
Restaurant Survey Template
Use this template to ask your guests about their experiences in your restaurant. These survey questions will give you the data you need to make informed changes and improve the overall dining experience.
Be Proactive, Not Reactive
Whether you're using comment cards, religiously checking your Yelp and TripAdvisor pages, or you prefer to let restaurant technology help, it's important to let your guests know you're not only open to receiving their feedback, but that you're listening to what they say and value their input and patronage.
Related Restaurant Resources
DISCLAIMER: This information is provided for general informational purposes only, and publication does not constitute an endorsement. Toast does not warrant the accuracy or completeness of any information, text, graphics, links, or other items contained within this content. Toast does not guarantee you will achieve any specific results if you follow any advice herein. It may be advisable for you to consult with a professional such as a lawyer, accountant, or business advisor for advice specific to your situation.