DISCLAIMER: This content is provided for informational purposes only and is not intended as legal, accounting, tax, HR, or other professional advice. You are responsible for your own compliance with laws and regulations. You should contact your attorney or other relevant advisor for advice specific to your circumstances.
Nightclubs are all about the experience – give people a reason to celebrate! Your visitors don't come for cheap drinks, they come to have a good time.
Nightclubs aim for opulent, luxurious experiences, and the economics of other restaurants just don't apply. Use your nightclub's business plan to create a design that suits your brand's identity and the project's budget.
There are lots of options to explore when designing your nightclub. We put this list of decor ideas together to help you bring your most extravagant dreams to life.
10 Nightclub Decor Ideas
Bring Your Brand to Life
Your vision for your club and customers should guide your design decisions. The hard part is choosing a focus – is your nightclub a throwback to a different era? An over-the-top sensory phenomenon?
This huge neon backlight at Icon in Boston keeps focus on the brand – and ensures that their club stands out from the crowd.
Use Basic Color Psychology
Use colors strategically for the emotional responses that they elicit in people. Color communication helps put people in the right mood. Everyone has different relationships with colors, but certain tones evoke similar feelings.
Bold, saturated colors will liven the mood and get people excited to visit your club. The rich crimson of this seating at Monroe in San Francisco sets the tone.
Create the Right Lighting
Lighting is everything in nightclubs. Lighting features can get people on their feet or attract people to a space.
Choose a bold lighting design that combines form and function. Be sure to provide enough light for people to navigate high-traffic areas. The lighting features at KAYO club use different textures to create an intricate and exciting atmosphere.
Thoughtfully Select Tables and Seating
Furniture is a powerful driver of the guest experience – choose pieces that are comfortable, safe, and match the aesthetic of your nightclub.
Choose furniture with bold colors and elegant designs that elevate the experience. Another angle of Monroe in San Francisco reveals these stylish, intimate seating areas.
Curate Your Guests' Experience
Curate pieces carefully to build the experience you envision providing your guests.
Think about how people, light, and energy flow through your club with the help of the Chinese art of feng shui. Keep your space open so that everyone feels like a part of the same community. Walk through the space and picture how decor and furniture will look from different angles.
The intricate play of patterns on the walls, ceilings, and seating guide customers through the Greenhouse Club in New York.
Find Unique Wall Decor
Wall decor adds a lot of flair and character to a space. Rather than leaving open walls bare, find interesting pieces that complement your nightclub's overall design. You might find interesting contemporary metalwork sculptures that are durable and easy to clean. Or hang mirrors to make tight spaces look bigger.
Create a Photo Op
Your guests are some of your best marketing opportunities, especially in the luxury market. Set them up to be the best brand ambassadors possible.
This neon sign at La Boom in New York begs to be photographed and lets everyone know where to find the party.
Party on the Patio
If you're lucky enough to have a patio space, extend the vision of your brand outdoors. You'll likely want to leave the space open enough so that people can enjoy the fresh air. Use lighting and design elements that are consistent with the interior of the club.
Display Your Spirits
An iconic feature of any nightclub is the bottle display. Build a well-lit display to draw customers to your bar's impressive lineup of spirits, wines, and beers. A cocktail bar with a wall of rare imported spirits is sure to turn heads.
This bar at Hey Chica in Brisbane, Australia nailed the assignment – the play of colors and textures draws attention to the spirits.
Design Stylish Bathrooms
It might sound strange, but customers love when restrooms have cool details. They can make or break a visitor's decision to return to your club. Although the main priority is cleanliness, restrooms should be accessible and attractive, too.
This fun, bold print is reflected in the mirrors at The Friendly Society in Elora, Ontario. Talk about memorable.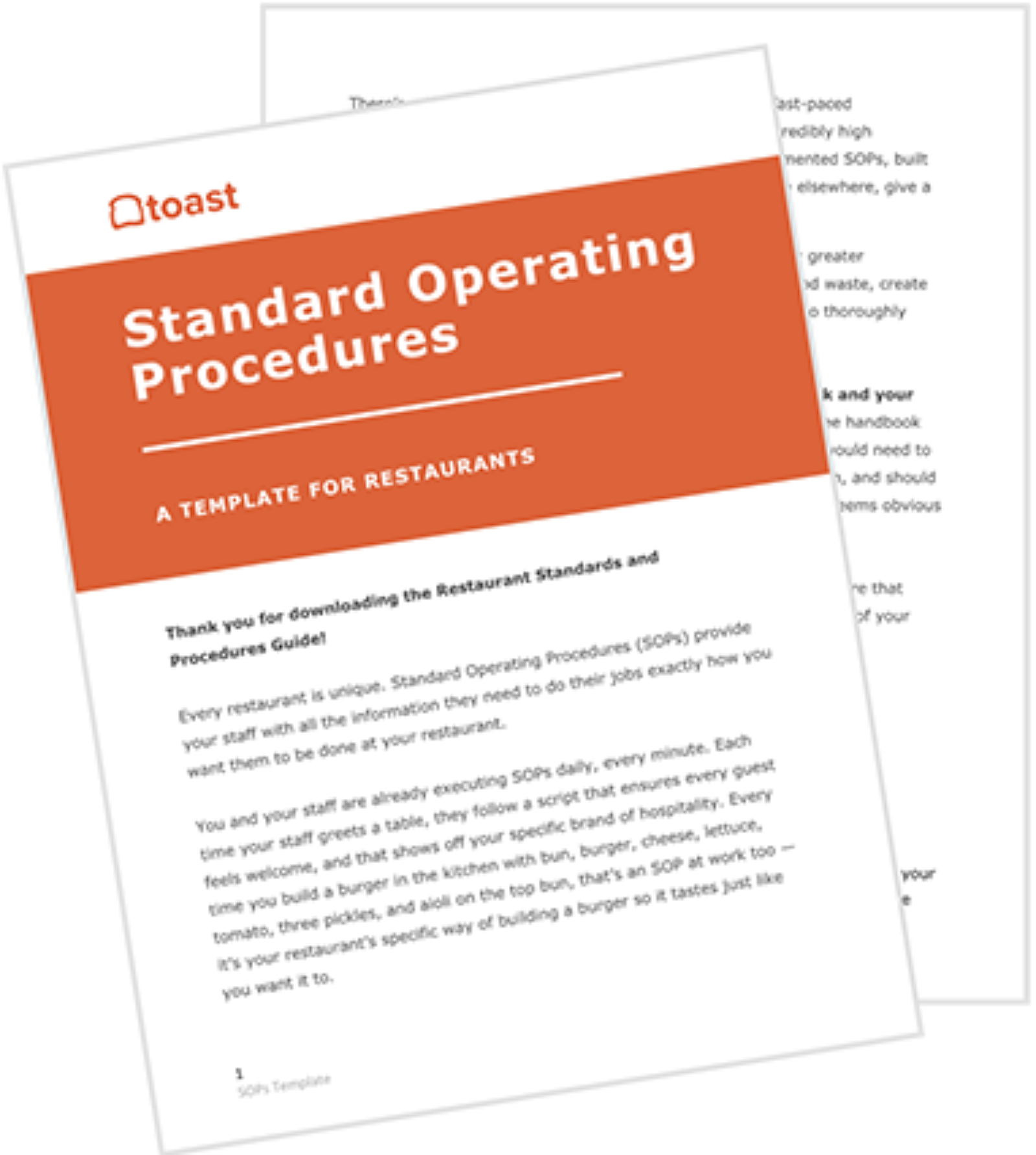 SOPs Template
This template will help you create SOPs for your entire business, so you can create consistency and easily train employees.
Download