DISCLAIMER: This content is provided for informational purposes only and is not intended as legal, accounting, tax, HR, or other professional advice. You are responsible for your own compliance with laws and regulations. You should contact your attorney or other relevant advisor for advice specific to your circumstances.
Increasing lunch sales is key to greater profitability in restaurants.
In full service restaurants, most of the costs associated with preparing for the dinner rush happen during the daytime.
Think about it: you are paying rent and utilities whether you are generating sales or not. You front labor costs to get all the prep done to have a successful dinner shift. If you could generate enough sales to at least cover the daytime expenses, the next shift becomes a pure profit center.
Basically, the busier you make your lunch business, the sooner you start making money.
However, this is easier said than done for lunch – the industry has seen shaky lunch sales in the past decade, due in part to higher lunch prices set to meet higher restaurant food costs and a rising minimum wage.
So, what can you do to drive lunch business your way? Here's a four-pronged approach to increasing your restaurant lunch sales.
Powered by Froala Editor
The Guide to Restaurant Sales
In this Guide to Restaurant Sales, you'll learn the metrics you need to measure to understand the financial health of your restaurant. Plus, you'll get tons of great ideas that'll help you learn how to improve sales in your restaurant.
Get free download
Part 1: Focus on the Customers
You must understand who your lunchtime customers are.
Are they business people who only have an hour for lunch, meaning you must get them in and out of your restaurant within 30-45 minutes? Are they housewives or stay-at-home parents who are looking for a longer, more social dining experience? Are they millennials who are on a limited dollars and looking for speed in a social environment?
This may be the most important piece to the puzzle of increasing your lunchtime sales, because restaurant marketing is meaningless if you don't know who you are marketing to.
Part 2: Perfect the Menu
There are four things to consider when looking to create or change your lunch menu:
Speed.
Price.
Dietary restrictions.
Portions.
1) Speed
Speed is essential. Most companies give their employees only an hour for lunch, which means you have to act fast. Those in the millennial generation are also looking for speed, which is why they are flocking to fast casual restaurant concepts.
If your restaurant generally has ticket times longer than ten minutes, you may want to consider a special lunch menu that is built on speed.
2) Pricing
Pricing is important. While minimum wages are going up all over the United States, costs are rising with them. This means potential guests are brown-bagging it more and more.
The addition of value-driven lunch items has become increasingly important. Make sure your lunch offers and prices are enticing enough to attract the money-conscious diner but also high enough to turn a profit.
3) Diets & Allergies
Dietary restrictions are extremely prevalent with today's diners. Remember some years ago when many restaurants said "this gluten-free thing" is just a fad and will go away like the rest of them? Well, I've got news for you. It has turned out to be more than a fad.
In fact, the list of dietary restrictions is growing larger. Today's diners are looking for gluten-free, nut-free, low-carb, no-carb, paleo, keto, and vegetarian menu items because of health concerns.
If you plan on adding items or labeling items to take care of these customers, make sure you understand the difference between a dietary need and an allergy (yes – there is a big difference). One could make a customer sick, while the other could kill them. Resources, such as AllerTrain, help with staff training around dietary restrictions and allergies.
Powered by Froala Editor
4) Portion Size
Smaller portions are key to increased sales. Not only are people aggressively counting calories, studies are showing that millennials are changing their eating patterns from three meals a day to five or six small meals a day. This movement screams for smaller portions.
The crazy thing is that, in my experience, many customers who are looking for smaller portions and can't find them at your restaurant will never tell you – they'll just stop showing up.
Part 3: Master the Service
As restaurant operators, if we want to make price less important and set ourselves apart from the increasing competition, we must deliver "WOW" customer service.
What is "WOW?"
In his book Secret Service, Customer service guru John Dejulius says that "with WOW customer service, you make price irrelevant."
Let's remember one very important fact: as a restaurant, you are not competing as a food business. If you were, you would be competing with a gas station. They sell food, right?
Restaurants are in the hospitality business. You create memories, and great service is critical to building sales. Period.
It doesn't matter how good your food is. If your service is lacking, your customers will find somewhere else to spend their dining dollars. Make training your team a top priority.
Part 4: Obsess Over Accessibility
At lunchtime, accessibility is key given the time crunch. Again – not everyone has over an hour to wine and dine, which is why restaurants like Buffalo Wild Wings have made lunch a more efficient process for diners with their 15-minute guarantee.
Here are two of the most effective ways your marketing efforts can pay off in driving lunchtime business by making your restaurant more accessible.
Online Ordering
Online ordering has become a norm to many of our current and potential customers because of the convenience and speed factors. In fact, 81% of restaurant-goers have used a restaurant's website to order food online.
Online ordering allows the person who only has a limited time to eat lunch to speed up the whole dining process. Considering that cell phones have overtaken computers for web browsing, it also translates to a change in customers dining behaviors. Customers are ordering online for pickup or delivery at a rapid pace.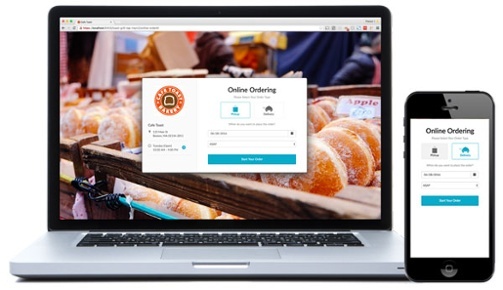 Make sure your restaurant is equipped with a reliable online ordering software that streamlines the ordering process for your guests and your staff. No one likes manually inputting online orders, after all.
Powered by Froala Editor
Delivery
While some people get an hour for lunch, some get even less than that or don't want to leave their desks. Delivery is a great way of filling seats in your restaurant that don't exist!
There are a few very important things to think about before you start promoting delivery in your restaurant. Two of them are the type of food you offer and the packaging of your takeout containers.
If your food shows up at a person's home or office and it has degraded greatly, they will get the impression your restaurant isn't worth a second visit. For example, you place a beautiful burger with hand cut fries in a styrofoam container. By the time it is delivered, the burger bun and fries are soggy because the heat created a rain forest in the closed container.
Delivery is a key component to accessibility during lunch, but you need to be prepared with the right tools to ensure a positive guest experience outside of your walls.
Not at liberty to hire a full-time delivery driver? Look into partnering with a delivery service like Favor, UberEats, or Peach.
Selling More at Lunchtime
If you are looking to increase your lunchtime sales, follow this four-step plan. From there, the marketing will be effortless, and you'll benefit from outstanding word of mouth marketing from happy guests.
But do understand, while the plan looks easy, it will take work and a commitment of time and financial resources from you and your management team.
Start by having a meeting with your team to discuss each point discussed in this article.
Create an action plan for each task and person involved.
Make sure your plan is put into action and continue to review your plan.
Related Restaurant Finance Resources
Powered by Froala Editor