DISCLAIMER: This content is provided for informational purposes only and is not intended as legal, accounting, tax, HR, or other professional advice. You are responsible for your own compliance with laws and regulations. You should contact your attorney or other relevant advisor for advice specific to your circumstances.
Millennials, loosely defined as individuals born between 1980 and 1995, have surpassed the Baby Boomers to become the nation's largest living generation with a number of over 75 million.
Within this populous group exists a unique breed of individuals - college students. In the Boston metropolitan area alone (where Toast's HQ lies), there are over 250,000 college students. Just think of what that means for your restaurant's sales!
As this young population grows and starts families of their own, the number of college students rises, too. This poses significant potential for restaurants to attract new customers and grow their business.
Whether they make up the bulk of your sales from September through May or flood home to your town in the summer months, read on for 5 ways to make your restaurant more appealing and attractive to the nation's growing number of college students.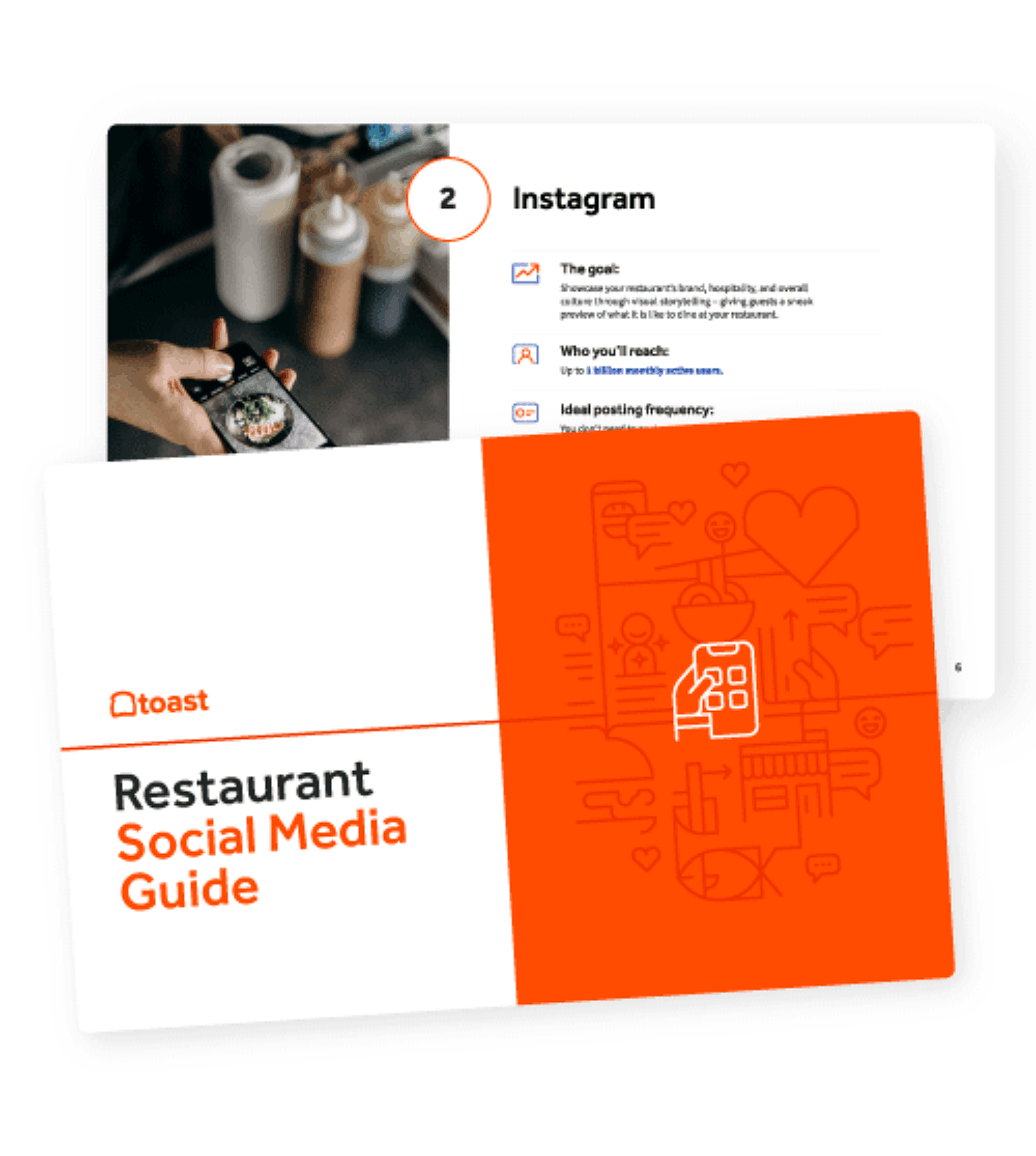 Guide to Restaurant Social Media Marketing
Learn how to optimize your social media presence to showcase your brand, tell your story, attract new customers, and engage with your audience.
Download
1) Establish a Social Media Presence
It goes without saying that today's restaurants must leverage technology to engage with their customers. Establishing an online presence via social media is a great way to do so. There are different ways to approach your restaurant social media strategy.
For example, Trident Booksellers & Cafe serves delicious brunch options, but is also a bookstore. Trident's Instagram page is focused solely on their book collection and events based on the central theme of reading. This helps to bring in local college students in Boston with the appeal of books (and makes them stay for the food).
Another effective way to market your restaurant to college students is to integrate user-generated content on a regular basis. Blaze Pizza, a fast-casual pizza chain, reposts images from its customers on its own Instagram page. This encourages customers to share their meals at Blaze and creates a culture of sharing among the Blaze community.

Blaze re-posted this photo on Instagram originally uploaded by an aircraft pilot who brought his Blaze pizza along with him for the journey. Only because the pizza chain built a culture of sharing did they know about the pilot with the box of their pizza.
They also use general food-related hashtags on Instagram, which helps them with discovery and optimizing for searches. A combination of user-generated content, an underlying theme, and targeted hashtags must have contributed towards achieving almost 74,000 followers.
Tagging can also help drive engagement and outreach on social media. Saloniki Greek, a fast-casual Greek restaurant serving custom plates, pitas, and more posted an Instagram about their star co-founder Jody Adams and tagged MIT students to showcase their work towards a current event.
Simple steps such as tagging relevant colleges or students groups could potentially attract new customers and increase awareness for your brand.
2) Appeal to Students On the Go
With classes, assignments, exams, extracurricular involvement, and budding social lives, college students are always on the move to make the most out of their day. Oftentimes, we (for the record, I'm currently a college student at Northeastern) do not have time for a relaxed sit-down meal and need a nutritious on-the-go option before the next class begins.
As a result, we turn to technology to ensure healthy eating in the bustle of a fast-paced lifestyle.
Almost one in three 18-34-year-olds consider the technology for quick service restaurants, and 28% say tech plays a role in their decision-making for full service restaurants, according to the National Restaurant Association. Millennials clearly value the integration of technology across the dining experience.
Notably, we place importance on mobile ordering and delivery services. Online ordering systems integrate directly with the point of sale and sends tickets directly to the kitchen. College students adore a seamless ordering online experience from to receive their energy boost at the doorstep of their school library.
3) Cater to Colleges in Your Neighborhood
Several restaurants in the vicinity of Northeastern University such as Boston House of Pizza and Temptations Cafe accept Husky Dining Dollars. All Northeastern freshmen receive a certain amount of dining dollars that can be spent at on-campus locations or eligible restaurants off-campus. Partnering with the school and sticking a decal on your window highlighting this payment option can definitely encourage college students to frequent your restaurant more.
Some restaurants also offer a discount to college students who present their student IDs. This could increase sales from young customers and spur word of mouth among their friends and social networks. Playing off of sporting events, school colors, and mascots at the institutions near your restaurant is a highly engaging way to differentiate yourself and tailor your marketing efforts towards college students.
4) Build a Relationship With Student Groups
While it is important to have an online presence when marketing to college students, it is even more effective coupled with an offline presence and in-person interactions. You can employ guerilla marketing tactics by handing out fliers on the street near academic buildings with high foot traffic. Your physical advertising will benefit you to break through the clutter and truly get noticed by the fresh eyes on campus.
Many fraternities, sororities, and other student organizations hold fundraising events with a restaurant and establish a partnership. Look into developing a similar co-marketing relationship with prevalent and influential groups on campus to boost your repeat sales and brand recognition.
5) Show Transparency
Restaurant-goers, especially college students, have become more health conscious and value knowledge of the food they are consuming and where it originated from.
Sharing your core values and story in a visible location such as on your website shows your commitment towards full transparency. Restaurants such as ZUUK Kitchen and Oath Craft Pizza have beautifully displayed their story and the sourcing of their ingredients in a clear and compelling way on sections of their websites.
Start with your why. Young customers who share your values and beliefs will be more likely to become repeat customers and ultimately an influencer for others' business in your establishment.
Your relationship with your customers goes beyond the dining experience. It boils down to your founding story and the values your establishment embodies on a daily basis. Clearly show your unique aspects in the store or online. It will resonate with many college students who appreciate your level of transparency and will soon become a regular face in your restaurant.
Attracting College Students to Your Restaurant
Young people love their food, and they love brand loyalty. Whether you're the late-night pizza delivery joint down the street or the more elegant place where student groups have their end-of-year banquet, taking the time and effort to effectively market to college students in your area can boost revenue and make your restaurant any university's place to be.
Related Restaurant Marketing Resources