DISCLAIMER: This content is provided for informational purposes only and is not intended as legal, accounting, tax, HR, or other professional advice. You are responsible for your own compliance with laws and regulations. You should contact your attorney or other relevant advisor for advice specific to your circumstances.
Are you considering opening a restaurant or expanding to a second location? Before you take the plunge, it's vital that you calculate how much your new business will be able to bring in every month. It's one of the most important restaurant business KPIs — read on to learn the industry average and how to calculate average restaurant revenue for your business.
What is restaurant revenue?
Revenue is the money your restaurant generates. Not to be confused with profit margin — which is the amount of revenue left over after you've paid all of your operating expenses — revenue is the money that comes into your business through any of your revenue streams. This includes food sales, beverage sales, merchandise, online orders, phone orders, gift cards, consumer packaged goods, and more.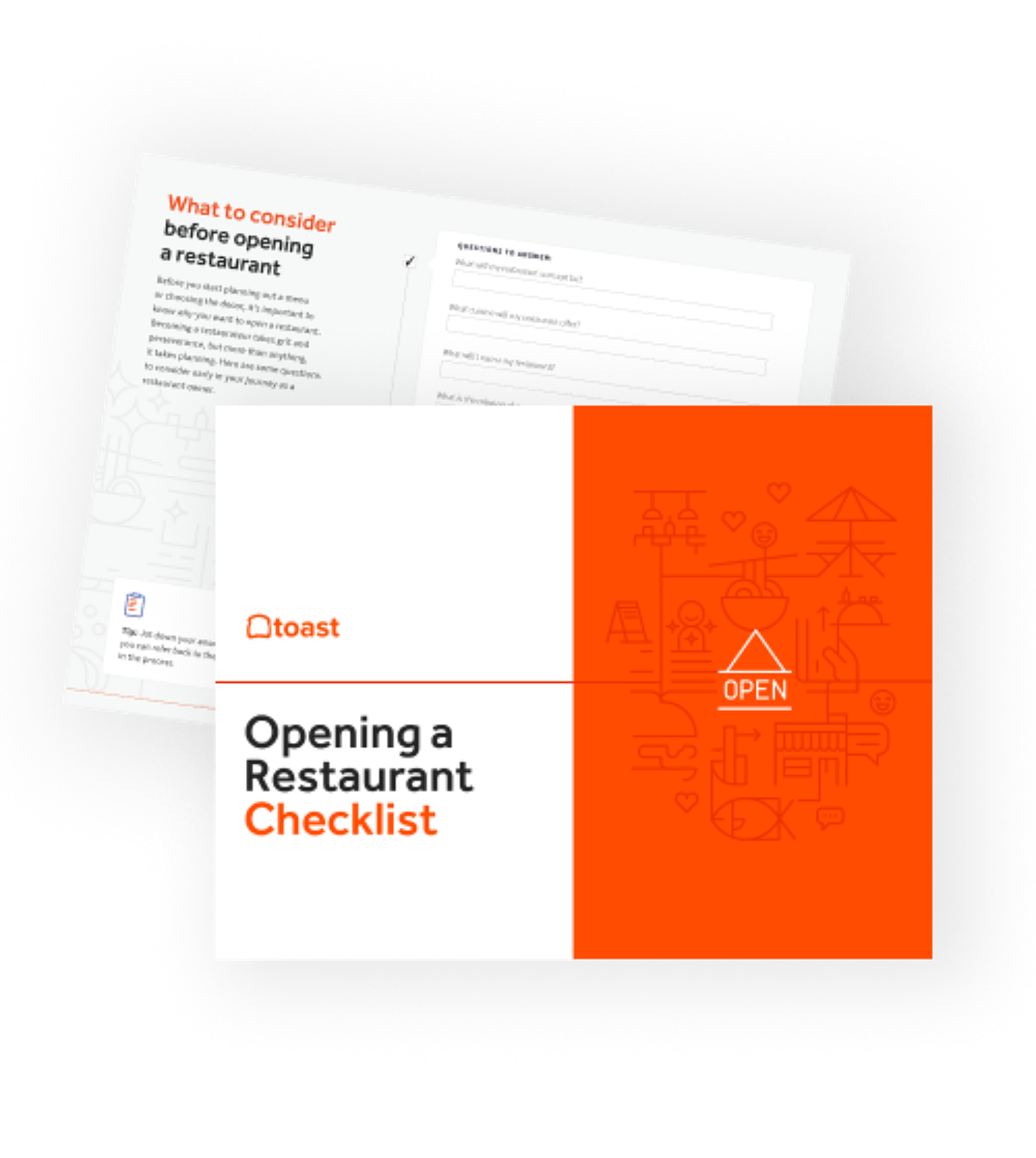 Opening a Restaurant Checklist
So many things go into opening a restaurant. Use this free PDF checklist to set your new restaurant up for success.
Download
What is the average revenue for a new restaurant under 12 months old?
Like everything in the restaurant industry, average revenue varies massively across types of restaurants, regions, sizes, and service models. A fast-food restaurant and a fine dining establishment are such different business models that it's hard to compare one to another.
When reviewing your restaurant business plan, the best way to roughly calculate what you can expect in revenue is to ask your peers who have similar establishments — the same concept, in the same area, with a similar capacity and menu style.
However, if you're still looking for a benchmark: The average monthly revenue for a new restaurant that's less than 12 months old is $111,860.70, according to exclusive Toast survey data where 43 new restaurateurs told us their average monthly revenue for the 2019 Restaurant Success Report.
A new location of a multi-location restaurant may have somewhat higher revenue than a brand-new one because the brand is already known and trusted in a community, but this is a good number to work off of as an average — because this benefit could be offset by unexpected bumps in the road.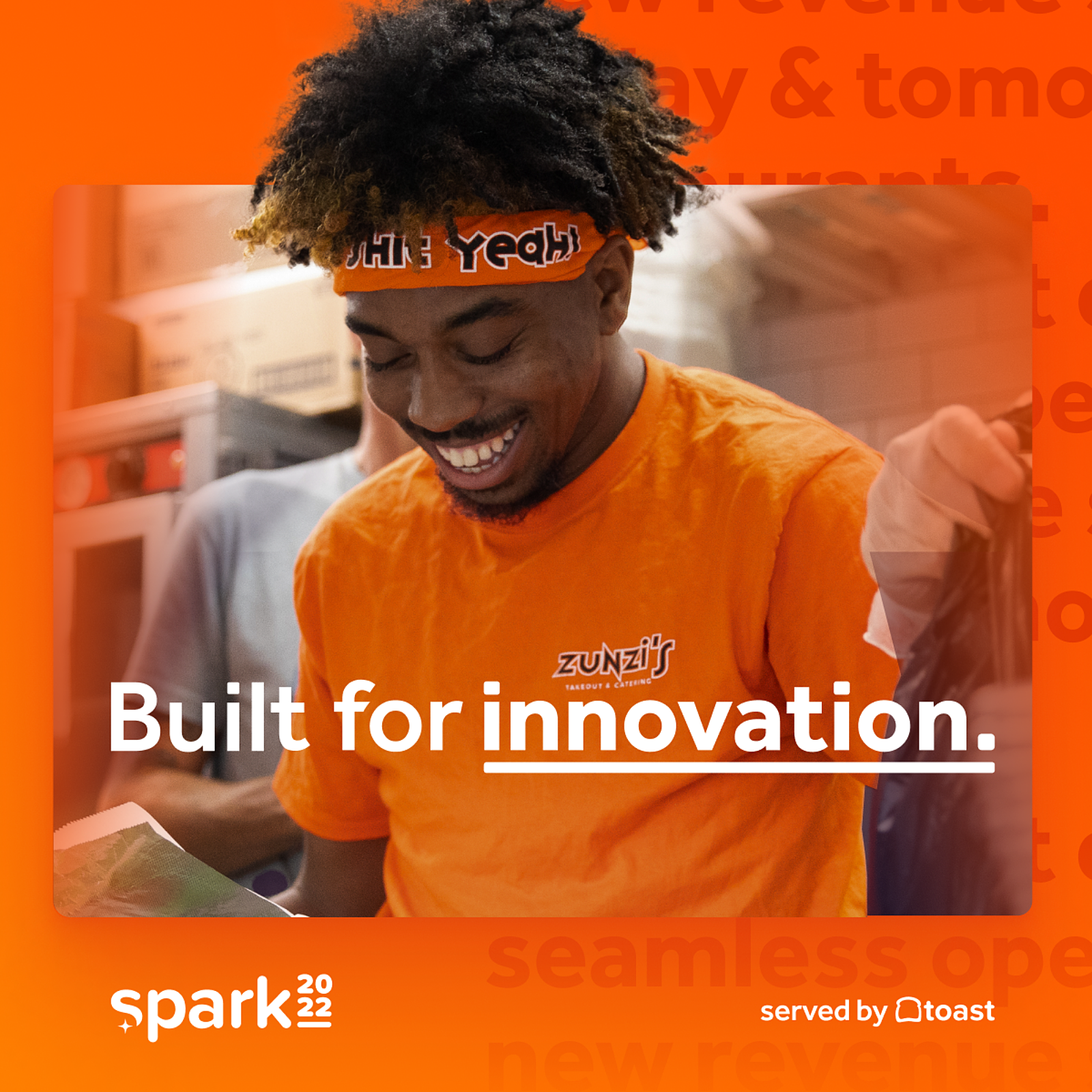 Spark: Served by Toast
Learn how Toast is building better experiences for restaurants, guests, and staff at Spark, an innovation event for restaurant people.
How to Estimate Revenue for a New Restaurant Concept
The amount of revenue your new restaurant will generate is contingent on dozens of factors, including your location, your menu prices, your concept, and the number of tables you have.
Average Restaurant Revenue for a Second Location
If you're opening a second location and not starting fresh, you're at an advantage: You already know how much revenue your first location brings in and are all too familiar with the factors that can impact revenue, like seasonality, events, or unexpected occurrences (like a pandemic).
Whether your goal is to open a new location, invest in new equipment, or just manage cash flow over the next few months, be sure you have a reliable source of funding to make your dreams a reality. Toast Capital provides eligible Toast customers with access to loans from $5K to $300K that can be used for any restaurant need. Toast Capital Loans have one fixed cost with automated repayment that flexes with sales* – with no compounding interest and no personal guarantees. Once you've been approved and signed your Toast Capital Loan agreement, you can expect funds to be sent to your bank account in as soon as one business day**.
Toast Capital Loans are issued by WebBank. Loans are subject to credit approval and may not be available in certain jurisdictions. WebBank reserves the right to change or discontinue this program without notice.
*Toast Capital Loans offer different target repayment terms ranging from 90 days to 360 days, depending on eligibility. The maximum repayment term is 60 days following the end of the target repayment term. Any outstanding balance due at the end of the maximum term will be collected automatically via ACH.
**Funds are typically disbursed within 1-2 business days following application.
The best way to estimate how much your new restaurant or new location will bring in is to calculate your restaurant's monthly revenue, and then calculate what 75% capacity could look like at your business because that's what you can expect within the first year of business.
To start, you'll need to know your restaurant's daylong capacity for covers and the average ticket size.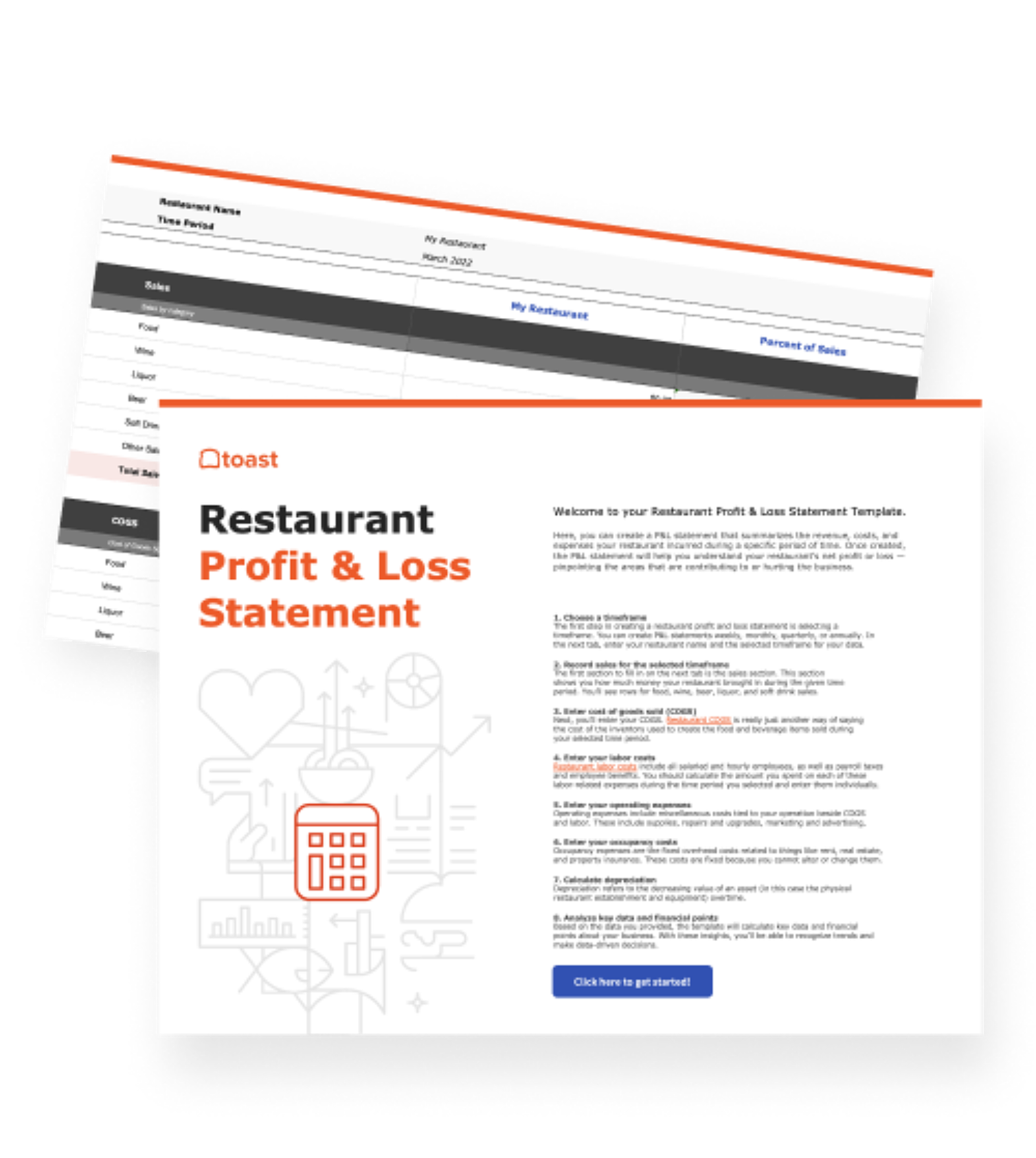 Restaurant Profit and Loss Statement Template
Evaluate your restaurant's financial strengths and weaknesses with the free P&L and income statement template.
Download
Capacity for covers is easy to calculate — how many guests you can accommodate in your restaurant multiplied by how many table turns you average. For example, if you have 80 seats, and throughout the whole day (lunch and dinner shift), each table can usually host six different parties, you've got a capacity of 480 covers a day.
Next, calculate the average order amount. This is where the advantage of the second location comes in: You already know the average order amount at your first location, and if you don't, you can use sales data from your first location to easily calculate it. If your restaurant point of sale keeps sales data, it can probably tell you this information easily. But if you're calculating it yourself, here's how:
For a full week, add up all the lunch tickets and divide by how many tickets there were, then add up all the dinner tickets and divide by how many tickets there were. Add the two numbers together and divide by two.
By doing a full week's worth of sales calculations, you balance out the Mondays with the Saturdays in terms of order behavior and volume.
Example:
Monday average lunch ticket: $20
Tuesday average lunch ticket: $18
Wednesday average lunch ticket: $20
Thursday average lunch ticket: $35
Friday average lunch ticket: $45
Saturday average lunch ticket: $55
Sunday average lunch ticket: $70
Lunch average: [20 + 18 + 20 + 35 + 45 + 55 + 70] / 7 = $37.57
Monday average dinner ticket: $60
Tuesday average dinner ticket: $58
Wednesday average dinner ticket: $60
Thursday average dinner ticket: $85
Friday average dinner ticket: $150
Saturday average dinner ticket: $150
Sunday average dinner ticket: $80
Dinner average: [60 + 58 + 60 + 85 + 150 + 150 + 80] / 7 = $91.85
Ticket size average: [37.57 + 91.85] / 2 = $64.71
Now you can finally find out your potential monthly revenue.
If you do catering or merchandise sales, be sure to take them into account as well. Find out how much you sell every month in merch or catering and add this to your total monthly revenue.
Final formula:
[Average ticket size x # of daily covers x number of day in the month] + [monthly catering or merch revenue] = total monthly revenue
Total monthly revenue x 0.75 = projected total monthly revenue for a new business
Average New Restaurant Revenue
If you're starting anew, there's a lot more estimation to be done when figuring out your potential revenue. You won't know your customers' ordering behavior until they get in the door, and you won't know how quickly your servers can turn tables yet.
However, you do know your restaurant's capacity, so that's where to start.
Say we're dealing with the same restaurant as above, with 80 seats.
For a full-service restaurant, average table times can range between 45-90 minutes or longer. You can figure out your rough estimate by thinking about what kind of experience you're trying to provide.
Are your dishes made to order or mostly pre-prepared? Will you serve multiple courses or a prix fixe menu, or have it be more casual and quick? Once you have your ideal table turn time, figure out how many times you'll be able to turn each table throughout the day, including a lunch and a dinner shift.
Then, take your capacity (80 seats) and multiply it by the ideal average number of table turns per day. That's your number of potential covers.
Finally, you'll need to estimate your average check size. You can go through your menu and try to predict which types of items will sell more at different times and mock-up an average lunch ticket and average dinner ticket, but a more exact way to go about this is to ask a peer in the industry with a similar concept how much their average ticket size is.
Once you have that number, the formula is the same as for a new location:
Final formula:
[average ticket size x # of daily covers x number of days in the month] + [monthly catering or merch revenue] = total monthly revenue
Total monthly revenue x 0.75 = projected total monthly revenue for a new business
How to boost revenue in a new restaurant
If you're thinking about how to increase restaurant sales and overall revenue in your new location or brand-new restaurant, there are many things you can try. You can create a promotion where guests of your new business are given 10% off their bill of $50 or more. You can also throw an epic grand opening (which is most effective when they're over several weeks), find ways to increase your table turns, host community events, trivia nights, or live music, and train your front-of-house staff to upsell effectively.
Predicting restaurant revenue can be challenging. But it's much easier if you follow a methodical approach.

If you're expanding, you can use the data you have from your first location, and put all your long-tested best practices into place from the beginning to set you up for success on your expansion journey. If you're starting new, talk to your peers and ask for advice wherever you can.

One final word of advice: It's always better to over-prepare and budget more than you think you need because it can take time to set up and maximize your revenue streams.
Related Restaurant Financial Resources